Reviews
Dirty John Season 2 – The Betty Broderick Story Review: Trashy True Crime With Tragedy Underneath
Netflix series Dirty John returns with an 80s set story of love, betrayal and the horror of divorce.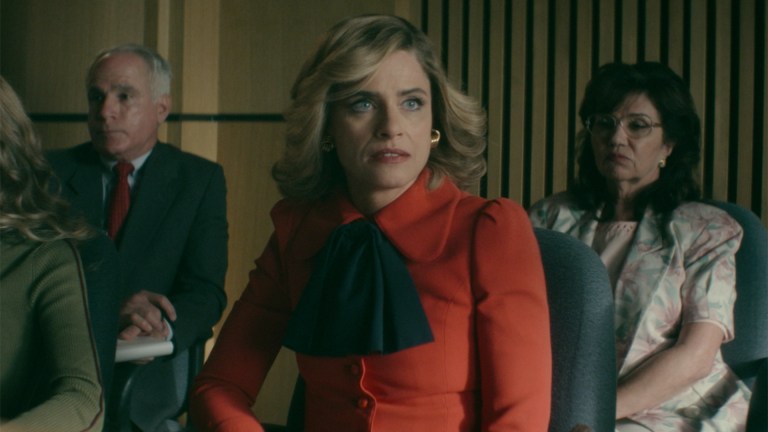 Before Dirty John, the Netflix dramatisation, came Dirty John the wildly popular LA Times podcast featuring the real voices of Debra Newell and her family and hosted by award winning journalist Christopher Goffrey. The podcast has been downloaded over 50 million times and while the Netflix version starring Connie Britton and Eric Bana had a glossy, trashy appeal it couldn't live up to the podcast both for being not actually real, and also too tethered to the real, never quite being able to reach the full on bonkersness of fiction series like You.
Dirty John was the nickname of John Meehan, the confidence trickster at the centre of the original case and while at first it was hard to imagine how a season two would be possible, Meehan's story having been concluded, the show has expanded its remit so it can serialise and dramatise other true crime cases with a focus on stories where love went bad.
Season two is the tale of Betty Broderick (played by Amanda Peet), a woman raised with strong Catholic values primed to be a perfect housewife by her strict parents, who married up and coming doctor, and later lawyer Daniel Broderick (Christian Slater). Despite sharing four children and moving to California where they lived what looked like an idyllic life, in the mid 80s their marriage dissolved bitterly and very publicly, ending in tragedy.
This is a fairly well known case (in the US at least) and the first episode (of eight) reveals that by the end of this story Daniel will be dead by Betty's hand. Not a whodunnit then, or even so much the story of what was done, but more a journey showing how a seemingly perfect couple could generate so much raw hatred between them that it led to homicide – and specifically homicide by a woman and mother of four.
Set mostly in the 80s with some flashbacks to the couple's early life – Riverdale's Tiera Skovbye plays a young Betty with Chris Mason looking uncannily like Christian Slater as young Dan – the present day Betty we find is a woman going through extreme stages of grief and anger with the man who has left her and now has custody of the children and control of their finances while they wait for a divorce settlement.
Through a fug of hair spray and garish outfits, 80s tunes and endless awkward brunches between Betty and the friends who eventually grow tired of her mania and obsession with Dan, season two leans into a sparkly soapy aesthetic. At the start at least, the show almost plays Betty's outrageous behaviour – driving her car into Dan's front door, leaving endless abusive messages on his phone, breaking in and vandalising his house – as an occasionally humorous, if stressful 'woman scorned' narrative. Amanda Peet's excellent performance, though, elevates it and turns the story into something akin to tragedy by the end. Slater is great too and the show takes pains not to entirely vilify either party – both could have done things very differently and averted an awful outcome all round.
The human interest element is the heart of the show but perhaps most interesting is the details of the legal battles that added to Betty's extreme frustration. Dan's status as a high ranking lawyer makes it hard for Betty to get representation. And while her utter refusal to be controlled by Dan is both maddening and understandable, her flip from perfect caregiver and devoted family woman to furious advocate of her own rights is fascinating on a wider level. Betty gave up her chances of a meaningful career to support Dan in his, which after the separation left her broke and apart from her kids while he controlled the vast funds he laid claim to – it was the subject of real controversy at the time.
Dirty John season two tries not to come down too hard on exactly who the 'Dirty John' is here, instead showing the ruthlessness of divorce. There is an LA Times podcast which was released ahead of the show's initial broadcast in the states – it comes with extra interesting details and the voices of some of the people involved though it doesn't prove anywhere near as compelling as the original Dirty John pod. Perhaps in a way that's what makes this a slightly more successful show than season one, with creator Alexandra Cunningham able to take a few more liberties stylistically and also with the facts and characters – which is pointed out at the close of every episode. 
Dirty John Season 2: Betty Broderick works as both trashy true crime and rather disturbing look at how women's rights were eroded in the past. This in no way justifies the brutal crime at the center of the story, but it does depict the legal system as being at least one of the Dirty Johns on display.