Features
Dexter: New Blood's Setting and Location Explained
Iron Lake, New York on Dexter: New Blood is not a real city. But it is a nice spot for Dexter Morgan to spill some warm red blood on fresh white snow.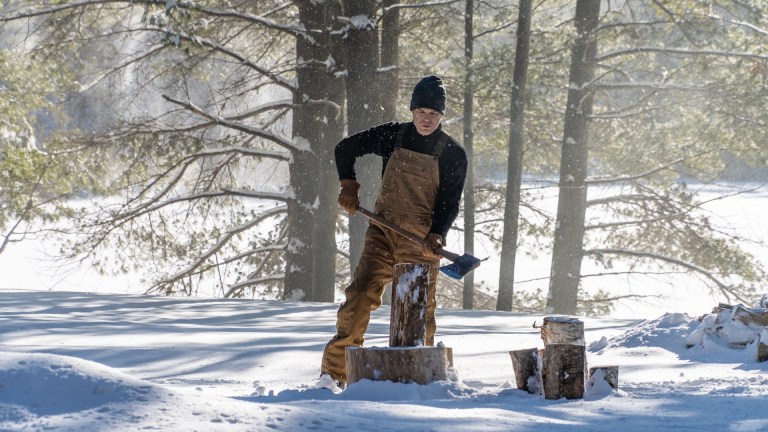 When it comes to television, Miami and vice go hand in hand. Something about a vibrant multicultural city covering up a seedy human underbelly is too good for TV storytellers to pass up. So just as the classic '80s cop procedural delighted in juxtaposing the Southern Florida sunshine with the uglier aspects of living in a big city, so too did Showtime's Dexter.
Miami-Dade County was the unspoken MVP of the serial killer drama's eight season run. Miami was so integral to the show's vibes that, in lieu of killing its titular lead character in the series finale, Dexter just moved him to Oregon to be a lumberjack. Because being away from the Slice of Life docked in Bay Harbor is as good as dead.
That's why the new setting for the long-awaited ninth season, Dexter: New Blood, is so jarring. Gone are both the Miami palm trees and the Oregon normal-ass trees. In their place is the frigid locale of Iron Lake, New York – a fictional village in upstate New York where the defining geographical feature is snow…lots of snow. With Miami so inextricable from the original Dexter's DNA, why did this latest version opt to move him to a new environment?
"One of the big reasons why we wanted to do this in Iron Lake was just how beautiful blood on snow is. That red against the white, it excited us, you know," Dexter producer Scott Reynolds told journalists during the show's TCA press tour appearance this summer.
As its name implies, Dexter: New Blood is a fresh saga for the beloved Showtime drama. After the original series finale was received poorly by fans and critics alike in 2013, the show's star, Michael C. Hall, and original showrunner, Clyde Phillips, opted to return for one more season to take another crack at it. Since New Blood takes place many years after the series finale and is its own unique beast – something between a straight up continuation and a limited series – a new setting goes a long way towards setting it apart from its preceding Dexter seasons. 
The new setting also presents some new storytelling possibilities that Miami did not.
"Putting Dexter in the small fictional town of Iron Lake, New York (population: 2,760) means that there is so much less temptation for him to go out and do what he does," Phillips told reporters during TCA. "The whole point is to put him in this tiny town so that everybody he passes is a potential victim. He's really got to do the work to find who deserves for him to take a stab at it, as we would say."
Though Iron Lake is fictional, Dexter: New Blood did film on location in some real places. Production on the season ran for 119 days amid COVID restrictions in the Western Massachusetts towns of Worcester, Shelburne Falls, Holden, Gardner, Lancaster, and Sterling. Shelburne Falls in particular serves as Iron Lake's downtown area. So if you want to find Jim Lindsay at Fred's Fish and Game shop, that's the place to look. Atlas of Wonders has a good breakdown of all the other major filming locations over here.
While the change of scenery injects some fresh life into Dexter: New Blood, it did also require an adjustment period for its cast and crew. During the aforementioned TCA 2021 summer press tour, Hall told journalists that he promised himself he wouldn't complain about the cold on set. But everybody's human, whether they have a dark passenger or not.
"There were a couple of nights where I let myself maybe moan a little bit. One day we shot until about 3:00 or 4:00 in the morning, and it was like two degrees. But I liked actually being cold, as opposed to acting like it was cold when it was 80 degrees. It was a lot easier to just be cold."
Dexter: New Blood airs Sundays at 10 p.m. ET on Showtime.