News
Dexter Gets Limited Series Revival at Showtime with Michael C. Hall Returning
Showtime is bringing ethical serial killer Dexter Morgan back for a limited run with star Michael C. Hall and showrunner Clyde Phillips in the fold.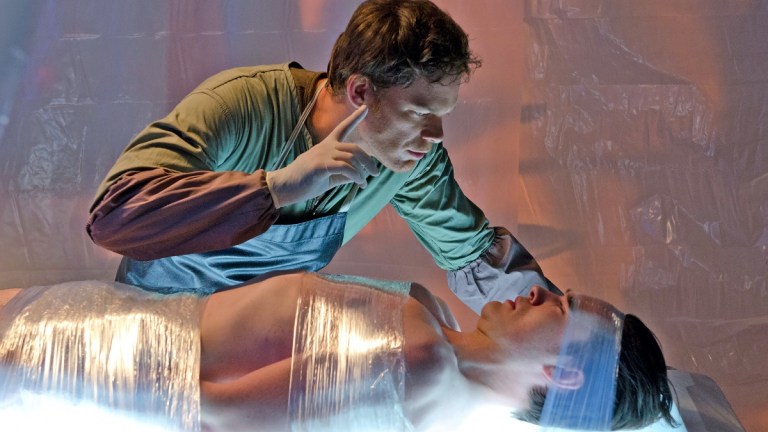 A tired, sick, and hungry nation calls out for something…anything to distract from its miserable current state of affairs. Showtime steps up and responds with "Best we can do is another season of Dexter."
Yes, Showtime announced today that it has ordered one more season of its hallmark bloody drama Dexter. The new Dexter will be a 10-episode limited series that will feature star Michael C. Hall in the title role and bring back showrunner Clyde Phillips, who guided the show through its first four seasons. 
Production is set to begin early next year with an eye toward a fall 2021 premiere date.
"Dexter is such a special series, both for its millions of fans and for Showtime, as this breakthrough show helped put our network on the map many years ago," Showtime Entertainment president Gary Levine said in a statement. "We would only revisit this unique character if we could find a creative take that was truly worthy of the brilliant, original series. Well, I am happy to report that Clyde Phillips and Michael C. Hall have found it, and we can't wait to shoot it and show it to the world."
Dexter first premiered on Showtime in October of 2006. The show dealt with a sociopath named Dexter Morgan (Hall) who, with the help of his adopted cop father, channeled his desire to kill people into the practice of killing only other killers. He worked by day as a blood splatter analyst at the Miami Metro Police Department alongside his adopted sister Debra (Jennifer Carpenter). The character of Dexter was based on a series of true crime novels from Jeff Lindsay.
The series concluded after eight seasons with a widely derided finale in 2013 that found Dexter leaving the avenging life behind in favor of becoming a bearded lumberjack in the Pacific Northwest…as one does.
Though the news of Dexter's return can and should be derided as another example of a creatively bankrupt industry running out of ideas, there is some semblance of hope tucked away in the announcement. The return of Phillips as showrunner is not an insignificant one as he guided the show through its best four seasons, before giving way to Chip Jonanssen for season 5 and Scott Buck for seasons 6 through 8. Philips' run on the show netted Golden Globes for Hall and guest star John Lithgow (who portrayed the terrifying Trinity Killer) and ultimately led to a series high in viewership for the season 4 finale.
If there's a world where new episodes of Dexter prove worthwhile, it's a world with Phillips at the helm. Now let's see if that's the world we get.