Features
Dexter: New Blood – Deb Will Be the New Harry
New details have emerged for Showtime's new Dexter series including the roles that Harrision and Debra will be playing in the Bay Harbor Butcher's return.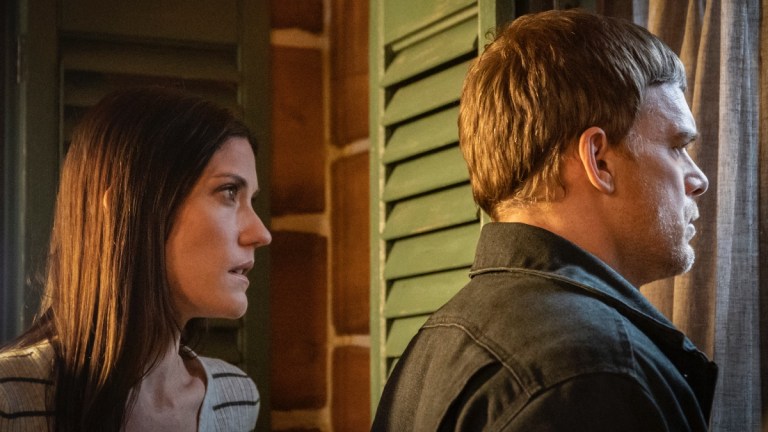 Yesterday at the 2021 Television Critics Association summer press tour, journalists were given a lot of new information about Showtime's upcoming Dexter revival, Dexter: New Blood. The continuation of one of Showtime's most popular dramas is one of the most anticipated series of the year, but so far, few details have been revealed. That all changed when showrunner Clyde Phillips and stars Michael C. Hall and Jennifer Carpenter started to spill their guts, metaphorically speaking, about what fans and skeptics alike can expect from the forthcoming miniseries.
First and most importantly, Phillips and co. knew that in continuing the story, they would have to contend with the original series' infamous, contentious ending, and that there was no way to erase the sight of Dexter Morgan: lumberjack.
'What we wanted to do was acknowledge the fact that almost a decade has passed," Phillips told TCA attendees. "We didn't want to just say to the audience 'Oh, lumberjack. Forget it. Sorry.'"
When delivering his own part of Showtime's presentation, Showtime Entertainment President Gary Levine called the ending of Dexter's original run "a burr under [his] saddle." Dexter himself, Michael C. Hall, didn't go as far in expressing his own disappointment with the finale, but acknowledged that the original ending did not satisfy audiences.
"I think the way the series proper ended has a great deal to do with why we're revisiting the show and the character," Hall said. "A lot of what was mystifying or dissatisfying to people is a lot of what creates the appetite that we're hopefully satisfying now. The show did not end in a way that was definitive for people or gave anybody a sense of closure."
There were many complaints from fans and critics alike when Dexter took a bow in 2013, but a recurring criticism was Dexter's treatment of his son, Harrison. After his own traumatic upbringing, fans couldn't fathom that Dexter would simply abandon the child he had with Rita. Dexter didn't always think and feel like a regular person, but the love that he had for his son was one of his most relatable motivations. While it's understandable that Dexter would want to distance his son from the dangerous pull of his Dark Passenger, simply leaving him with only a phone call didn't sit right. Thankfully, this is a thread that Dexter: New Blood aims to pick up.
Harrison will appear in Dexter: New Blood, now played by Jack Alcott, and the fractured relationship between father and son will weigh heavy on the season.
"When we sat down and figured out what we were going to do, the theme of the season quickly became fathers and sons," Phillips said. "And you can't do a show about Dexter without bringing back his son. Dexter had left his son when he was five years old, and the son has always thought he was dead, and then found out he was alive, and has a great resentment. And Dexter has a lot of work to do to win his son back and prove that he's a good father." 
Dexter and Harrison will likely be reconnecting in the town of Ironside in upstate New York, the setting of the new season. In Ironside, Dexter is living a simple life as hardware store owner Jim Lindsay, pursuing a romantic relationship with the town's police chief, played by Julia Jones. Dexter's quiet new life is threatened when a series of violent murders triggers his insatiable Dark Passenger. Could it be Harrison behind the killings? Or perhaps the reported primary villain of the season Kurt Caldwell, played by Clancy Brown? There will be plenty of new characters to choose from, such as a true crime podcaster played by Jamie Chung, but there will also be a few familiar faces.
Among them will be Jennifer Carpenter, returning as Debra Morgan. Fans may remember that Deb was killed off in the series finale, but that won't stop her from returning as the voice of Dexter's conscience, a role once held by Dexter's father, Harry (James Remar). Swapping out Ghost Dad for Ghost Deb seems like an upgrade. Carpenter sees this version of Deb as "an echo or an inconvenient truth for Dexter."
"Being uninvited inside Dexter's psyche, I feel like sometimes the Dark Passenger is the passenger directly behind the wheel, and it was an opportunity not to be an angel or a devil on his shoulder, but to jerk the wheel to the right and the left against Dexter's will," Carpenter said. "It was something entirely different than some sort of ghost entity."
Hall agreed with that sentiment. "I think Harry was like a North Star for Dexter. He was sort of always — he had that sort of consistent point of view. Whereas Deb in the context of this world, was coming from everywhere," Hall said. "I think it represents just how far he's come or how far he's fallen, or how much he is internally reeling and without a compass."
Seeing Dexter out of control was certainly not uncommon, but from the way Hall describes it, we're going to see an untethered version unlike what has come before. Whether taken as a mea culpa or an intriguing opportunity to revisit one of Peak TV's most beloved monsters, Dexter: A New Blood certainly sounds like it has its priorities straight, intentions clear, and themes locked down. Here's to hoping it makes the right kind of splash when it debuts on November 7 on Showtime.