Reviews
Dexter: New Blood Episode 1 Review – Cold Snap
Is Dexter: New Blood a fresh start for the Bay Harbor Butcher? Or just some shameless IP mining? Episode 1 "Cold Snap" may clear that up.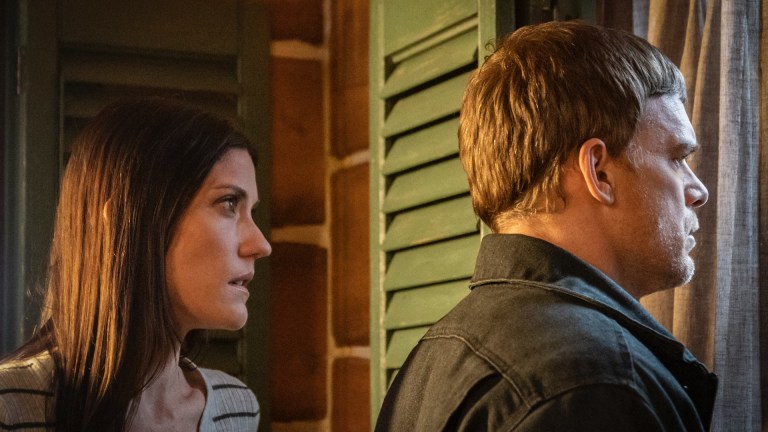 This Dexter: New Blood review contains spoilers.
Dexter: New Blood Episode 1
While first-person writing is often avoided in my reviews, I can't resist it when talking about Dexter. I started writing for Den of Geek as a college student in 2012. Dexter was the first show that I was assigned to review. This sounds completely ancient, but I had binged the first five seasons using DVDs I ordered from my local library.
Like everyone else, I thought that season 4 was a gripping watch, and the finale had my mouth agape and mind racing, wondering where Showtime would take this unconventional drama next. Season 5 felt a bit like a letdown but didn't necessarily spell doom for the series. I was eager to see if the show had the ability to recapture its former heights. What proceeded was a series that completely went off the rails and progressively got worse until its frustrating, perplexing, awful finale.
Occasionally Dexter would introduce an interesting thread or end an episode on a cliffhanger that felt like it had potential to develop into something juicy, only for the subsequent episode to immediately return to a weird, Dexter-worshipping status quo. As the character was pushed more into traditional leading man waters, the worse things got. Dexter got close to facing consequences, but the writers recoiled every time.
Whenever another character stepped in to save Dexter from making a difficult decision, and this happened a lot, stakes evaporated. The show could not lose its procedural formula and suffered for it. Dexter proved to have an interesting premise that was simply unsustainable. When it was announced that the show would be returning, my first question was "Why?"
After watching the premiere, "Cold Snap," that question hasn't really been answered for me. Dexter: New Blood does not erase the disastrous final season, but finds Dexter Morgan away from the Pacific Northwest and now living life as Jim Lindsay, a clerk at a hunting goods store settled in the fictional small town of Iron Lake, New York. Jim is dating the town's chief of police, Angela (Julia Jones), and hasn't given in to his Dark Passenger in over ten years. His inner conscience, once represented by his adopted father Harry, now assumes the identity of his deceased sister, Deb. But Deb is proud of the person Dexter has become. At least for now.
That all changes when two wayward sons arrive in Iron Lake. The first is Matthew Caldwell, the rich son of a popular resident who has returned for hunting season along with many other wealthy tourists. Caldwell attempts to buy a gun from Dexter's store, and his dickish behavior immediately irks him. If there's one thing that can be immediately enjoyed about New Blood, it's Michael C. Hall returning to this role and delivering his classic, barely concealed bemusement at human behavior that escapes his nature.
Anyway, Caldwell is denied the purchase because of an FBI hold on his background check. This is likely because Caldwell was involved in a boating accident that killed five people. Caldwell feels like a perfect mark for the Dexter of old, but the new Dexter doesn't indulge in that kind of behavior.
That is until Dexter is forced to finally deliver the gun to Caldwell's house after the background check passes. There, Dexter learns from Bill, a drugged up, disgruntled friend of Caldwell, that Caldwell actually was the person driving the boat and that the crash was no accident at all. Later, when Dexter is admiring a white buck in an up-close fashion, Caldwell uses his new gun to kill the deer, almost harming Dexter in the process.
Dexter is no longer able to keep his dark passenger at bay and knocks Caldwell out. As soon as he gives into his base instincts, the famous Dexter voice over reappears. It's a decent touch. Sure enough, Caldwell ends up on the famous kill table and after some "my father"-based threats, Dexter relapses into his old ways.
The relapse is likely the product of the second wayward son arriving. Harrison Morgan, the child Dexter fathered with Rita and abandoned in the series finale, comes looking for his father. Harrison breaks into Dexter's home and confronts him, but Dexter denies his true identity, hiding under the guise of Jim. Ghost Deb pleads with Dexter to keep Harrison at an arm's length, reminding him that when he gets close to innocent people, they die. If that's the case, then why is Deb ok with Dexter's relationship with Angela? Regardless, Harrison's arrival triggers the long dormant personality of Dexter Morgan. After he murders Caldwell, he returns to Harrison to confess that he is actually his father, perhaps motivated by Caldwell talking about his own abandonment issues with his father.
Fathers and sons appear to be the main theme of Dexter: New Blood and exploring the Dexter-Harrison relationship now that Harrison is grown up is an avenue to go down, I guess. Promotional materials ahead of this new season celebrated the fact that original showrunner Clyde Philips, who oversaw the glory years of Seasons 1-4, was returning, but though Philips is back, a lot of the things that made those early seasons interesting are gone from this revival.
The setting of Miami, with its vibrant colors and sunshine contrasting Dexter's dark nature, is sorely missed. Also regretfully absent are the show's quirky supporting characters and sense of humor. A gag about a dog named Garfield isn't enough to recapture that off-beat magic. Dexter lost its cheeky tone after season four, and it sadly looks like it will not return, even if we'll get a couple of chuckles out of Dexter's reactions. I can't lie and say I didn't get a kick out of watching Dexter's gears turn as he's sizing up a new, perfect victim, but I'm also highly skeptical that the show will avoid the same old pitfalls. There's very few new tricks here, save for a horror-leaning dream sequence.
Overall, "Cold Snap" doesn't introduce any new wrinkles or compelling ideas that show this return is warranted. I'm open to subsequent episodes proving me wrong, but so far this reeks of Showtime thumbing through its old IP for relevancy. Dexter is back, but only time will tell whether that's a good thing.