News
Daredevil: Born Again Rumored to Give Kingpin Unexpected New Marvel Role
New photos from the Daredevil: Born Again set hint that Vincent D'Onofrio's Wilson Fisk may be moving beyond his role as the Kingpin of Crime in the MCU.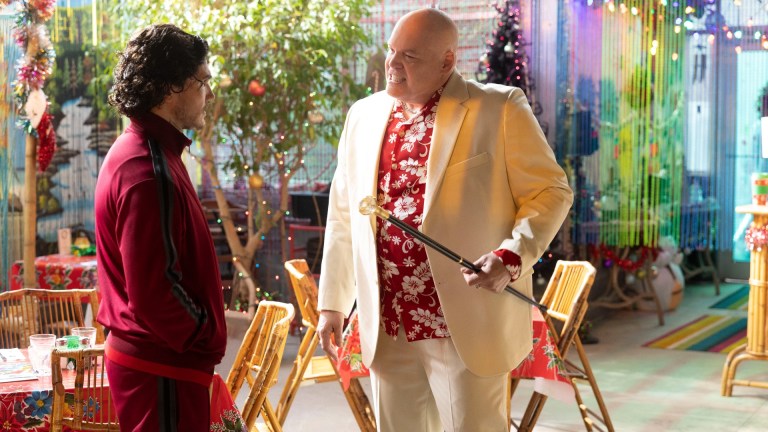 Everybody knows that Wilson Fisk is the Kingpin of Crime, not a legitimate business and political figure. I mean, it's right there in his name! So when Vincent D'Onofrio made his surprise cameo in the finale of Hawkeye, it made sense. He was the menacing figure behind the tracksuit mafia who had been manipulating Maya Lopez aka Echo (Alaqua Cox) all along. And while his Tommy Bahama casual wear was quite a break from the dapper brute we got to know during three seasons of Daredevil on Netflix, he still felt like the same guy, a mobster whose social graces barely cover his criminal cruelty.
But the most recent set photos from the upcoming Disney+ series Daredevil: Born Again lend credence to long-held rumors that Fisk is giving up his life of crime in the new series, at least on the surface, to run for Mayor of New York City.
In one set of images, we see a crowd gathered in New York's Times Square for New Years' Eve celebrations. Among the revelers is a man holding a foam fist with the world "Fisk" in bold, capital letters (less pertinent, but interesting, are the celebratory doo-dads bearing the name of PymVanDyne, the company we met briefly in Ant-Man and the Wasp: Quantumania).
Another shot shows D'Onofrio's Fisk standing in front of what may be a construction site (or a section of the city partitioned off for filming). Gone is the tan leisure wear he sported in Hawkeye, replaced by a more conservative suit combo. If one did not know the Kingpin as the Kingpin, they might mistake this well-dressed man as a respectable civil servant. And that may very well be the costume designer's intention.
We already know that Daredevil: Born Again will blur the line between continuation and reboot of the TV-MA rated Netflix series, carrying over some elements, such as star Charlie Cox and Jon Bernthal's Punisher, while leaving behind some of the plot points of the past series, as well as Elden Henson's Foggy Nelson and Deborah Ann Woll's Karen Page (at least for now). It's also unlikely that Born Again will adapt the Marvel comic book arc of the same name, in part because it was already covered in season three of the Netflix series.
The Fisk as Mayor rumors point to a different, more recent comic book run as inspiration for the Man Without Fear's Disney+ adventures. 2017's Daredevil #595 — written by Charles Soule, drawn by Stefano Landini, and colored by Matt Milla — saw Fisk rise to New York Mayor on a law and order platform, despite his gangster leanings (mirroring a real New York-based figure who won elected office in 2016). The political rhetoric did not prevent Fisk from shoring up his power and continuing his criminal activities in secret, which made life that much more difficult for poor Matt Murdock.
Of course, as mayor of the most important city in the Marvel Universe, Fisk changed the status quo for more characters than just Daredevil. Mayor Fisk not only turned public opinion against superheroes, even beloved figures like the Fantastic Four, but eventually completely outlawed superheroes in New York. Although that decision led to Fisk's eventual ouster in the recent Devil's Reign storyline by writer Chip Zdarsky and artist Marco Checchetto, he managed to ruin a lot of lives along the way.
Should Born Again follow this comic book storyline, it will help the new series further distinguish itself from its Netflix forerunner, while still establishing Fisk as a formidable threat for the Devil of Hell's Kitchen as well as the other heroes of New York City. And with D'Onofrio confirming that Marvel has plans for a second season of the show, Mayor Fisk's term in office could be a very long one in the MCU.
Daredevil: Born Again is slated to hit Disney+ in early 2024.