News
Daredevil: Born Again Set Photos – Charlie Cox Gets Down to Business as Matt Murdock
Daredevil: Born Again is now filming in NYC, and it appears Matt Murdock has a mysterious new friend in the upcoming Marvel Studios series.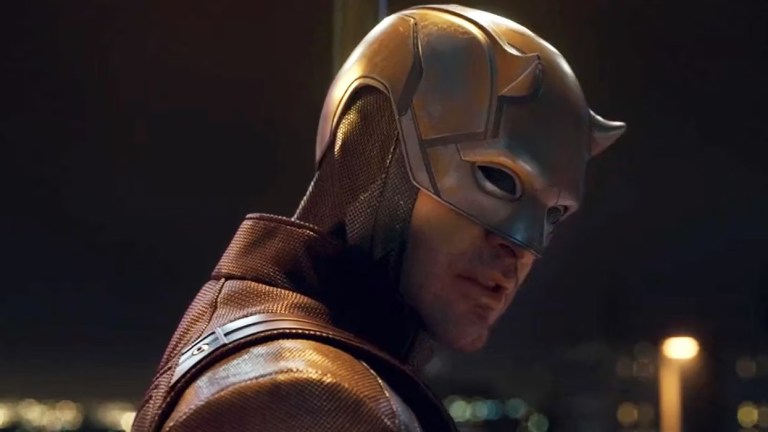 With filming on Disney+ Marvel series Daredevil: Born Again now well underway in New York City, star Charlie Cox has been spotted back on set dressed as lawyer Matt Murdock, complete with the character's iconic red glasses and cane.
Cox is accompanied in the new Born Again set photos by smartly-dressed co-star Nikki M. James (Severence), who plays a new addition to the Marvel Cinematic Universe in the upcoming Disney-fied version of the Netflix show. Marvel has not confirmed the name of James' character, but she's rumored to be playing assistant district attorney Kirsten McDuffie, who was once romantically linked to Matt in the pages of Marvel Comics. To be fair, you can't throw a stone in the Marvel Universe without hitting someone Matt's been romantically linked to! The old dog.
After helping (ahem) Jennifer Walters out on the West Coast in Marvel's She-Hulk: Attorney at Law last year, Matt appears to be back in NYC on some rather more serious lawyering business. It's still unclear whether this version of Daredevil will be retaining the altered red and yellow costume he wore on She-Hulk, but we're keeping our eyes peeled for any leaks as the shoot embarks on its more action-centric scenes.
In the meantime, you can see Cox and James on the Born Again set below…
Cox was also snapped on the Born Again set posing with fans while wearing a puffy black coat to cover his costume, as notices were posted around the neighborhood that referred to the Marvel project's shoot as "Out The Kitchen". Some fans have speculated that this new series will see Daredevil leaving Hell's Kitchen and setting up shop in California, since the Netflix version of the series already adapted some of the more major elements of the Born Again comic story by Frank Miller and David Mazzucchelli.
This does track with the possibility of Marvel setting up a West Coast Avengers squad that could include She-Hulk (Tatiana Maslany), Wonder Man (Yahya Abdul-Mateen II), Kate Bishop (Hailee Steinfeld), America Chavez (Xochitl Gomez), Echo (Alaqua Cox), and Moon Knight (Oscar Isaac), with a team mentor possibly set as Hank Pym (Michael Douglas), or James "Rhodey" Rhodes (Don Cheadle). However, this shift in setting currently remains a rumor, with Marvel Studios keeping tight-lipped about the plot of Born Again.
We do know that Matt will be joined here by the villainous Kingpin (Vincent D'Onofrio) and the notorious antihero Punisher (Jon Bernthal) from the Netflix series, but it appears that Cox's other co-stars Deborah Ann Woll and Elden Henson, who played Karen Page and Foggy Nelson over three seasons of that show, will not be making appearances in this one.
Daredevil: Born Again has been created for Marvel by Matt Corman and Chris Ord (Covert Affairs). It stars Charlie Cox as Matt Murdock/Daredevil, Vincent D'Onofrio as Wilson Fisk/Kingpin, Jon Bernthal as Frank Castle/Punisher, and Sandrine Holt as Vanessa Fisk. Michael Gandolfini, Margarita Levieva, Nikki M. James, and Michael Gaston fill out the cast. At least one episode will be helmed by Dexter producer Michael Cuesta. Marvel has previously announced an early-2024 release window for the series, which will consist of 18 episodes.