Features
Daisy Jones & The Six Ending Explained: What Happened at Soldier Field?
Fictional '70s band Daisy Jones & The Six burned too brightly to last long. Here is how the group (and the show) ends.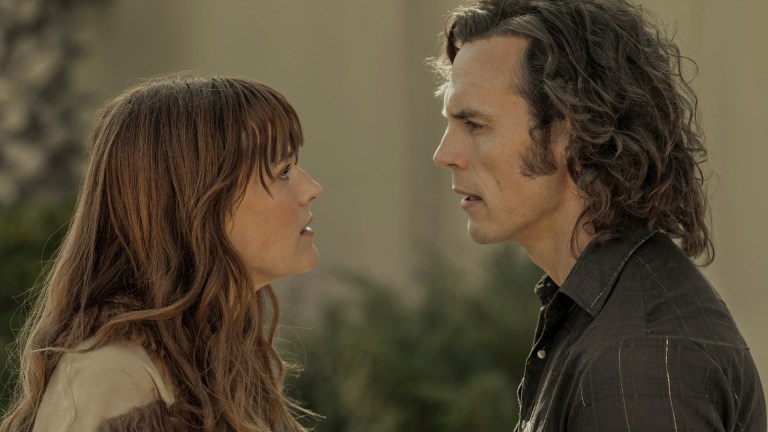 This article contains spoilers for Daisy Jones & The Six.
Daisy Jones & The Six has finally careened towards the gig that ended it all. At the start of the 10-episode season, viewers were told the band broke up with no official reason why on Oct. 4, 1977 – now we finally know (well… unless you've read the book in which case you already knew.)
So what exactly happened to this group that was inches away from international domination? Here's everything you need to know as the series reaches its heartbreaking conclusion.
What Happened at Soldier Field?
This episode, more than the others, chucks us around timelines significantly. There's Soldier Field in Chicago, the gig that ended it all, the linear timeline that has tracked the band from the start of the '70s, and then there's the Behind The Music style documentary, set around 1997.
Episode 10, "Rock n Roll Suicide" starts at Soldier Field, only unlike before this time we have a little more context. As the group performs "Regret Me," the crowd might be cheering along, but the entire band is hanging by a thread, trying their best to keep their game faces on as they'd rather be anywhere than on a stage.
Karen and Graham are giving each other heartbreaking looks and trying not to cry, bassist Eddie has a black eye, and Billy is dipping off stage to chug from a whiskey flask after falling off the wagon after years of sobriety. Then there's Daisy, who is off her head on cocaine and booze more than usual. Drummer Warren is the only one remaining any kind of chill, though in a cut to the documentary being filmed 20 years later, it's revealed he just "didn't want to see" his band was collapsing around him.
The bitter conclusion was hours in the making. Daisy, knowing she's in love with Billy, is using drugs to deal with those feelings in a way she only knows how, but is ready to get out. She tells Simone after the gig, she's out. Meanwhile Billy is feeling just as torn, amplified by wife Camila, who isn't blind to the fact there's something between her husband and Daisy. He insists nothing's going on, and there's never been more than one kiss, but he stops short at assuring Camila he doesn't love Daisy. When Eddie comes to his hotel room with his own chip on his shoulder at being shoved out of the band, Billy snaps when Eddie suggests he's slept with Camila, giving Eddie the black eye he's later seen on stage with, and smashing up his guitar.
He later goes down to the lobby to call producer Teddy for comfort and a sobriety check, but doesn't get through to him. As he leaves, a fan offers to buy him a drink and he accepts, marking the start of a downward spiral that continues at the gig. Meanwhile Daisy and Camila have a confrontation. While Daisy assures Camila that nothing has happened between them, she hits a nerve by suggesting Billy is only still with Camila out of family obligation to her and their daughter rather than actual love. Daisy then starts her own spiral, calling her mother who scolds her for being a "pretentious little shit" and being told that "while a million people love her, no one knows her". She buries her upset in a bag of cocaine and a bottle of wine.
Then there's poor Graham and Karen who, after legitimately falling in love, have to make a decision to part ways after Karen secretly gets an abortion, telling him afterwards she "took care of it" in the hotel elevator. Karen makes it known she has no intention to ever have children. Heartbroken, Graham doesn't understand why she doesn't want that and would put her career first. At a stalemate, their relationship breaks down.
Does Billy Choose Daisy or Camila?
Billy and Daisy both miss sound check, but when they finally arrive Billy grabs Daisy and passionately kisses her. While she's initially fine with it, she realizes he's been drinking again, and that it's a cause for concern. Billy also goads Eddie on stage, hyping him up before whispering in his ear that "he's done". The pair switch their rock star personas on in time to get on the stage. There are moments where Billy looks like he's set to kiss Daisy, which unnerves her as she realizes something is wrong. Meanwhile Camila is watching this all from the crowd, upset at what her marriage has become.
Tour manager Rod (Timothy Olyphant) notices too, asks if Billy's OK, but he's shrugged off with Billy telling him he's "never been ok". In another passionate kiss backstage, Billy tells Daisy they can be "broken together" but she pushes him away, telling him she doesn't want to be broken. When the band go back on stage for the encore, the fans are demanding "Honeycomb (Look At Us Now)," but instead Daisy approaches the microphone and gives a speech about how love hurts, and how you need to find your "light" to look after you, even at points you don't deserve it. Realizing she's telling him to go back to Camila, Billy breaks down in tears, before he and Daisy give a knowing nod to each other, and he storms off the stage and rushes to return to his wife, leaving the fans to sing his part.
Who is Filming the Documentary?
At this point it's revealed the filmmaker in the '90s, the one who's convinced the entire band to finally share their story, is Billy and Camila's now-adult daughter, Jules (Seychelle Gabriel). Jules admits she remembers parts of that night, especially interrupting her parents having a tear-filled conversation back at the hotel. Back in the 70s timeline, Daisy reaches out to Simone and agrees it's time for rehab. Billy also agrees to put the work in and also go back to rehab.
The next morning, while the bus is being packed up, the band go their separate ways. Eddie takes a cab, while Graham lays down his guitar and walks away too. It's revealed in the years that follow, the band make names for themselves in different ways. Karen continued to make music, fronting her own band and becoming a success story but admits she "wasn't entirely honest" with Graham by breaking up with him. Graham moved back to his hometown and now has a wife and kids, saying what Karen did was for the best. Eddie started his own band, but it never amounted to anything, while Warren became a session drummer, marrying his girlfriend Lisa, having kids and now lives on a boat. Simone opened a club with girlfriend Bernie, becoming the queen of disco, while Teddy died "doing what he loved in 1983", passing away in a recording studio after working all night.
Billy worked hard to earn back Camila's trust, and they remained together until she got sick, ultimately dying off camera. Her interviews had been filmed before she died, something viewers weren't privy too until that moment. Daisy successfully got sober, had a daughter, went solo, and "fell in love many times". She and Billy both admit they did love each other, but were ultimately too volatile to work during their time in the band. Jules reveals to them both Camila had spoken about her thoughts on the relationship before she died, and shows them the footage. She says she was always Daisy's biggest fan and was happy for how her life turned out, before encouraging Billy to call her. In the final moments, Billy knocks on Daisy's door and they share a knowing smile as they're reunited, with Camila in the voiceover telling Jules: "At the very least, those two still owe me a song."
All 10 episodes of Daisy Jones & The Six are available to stream now on Prime Video.