Features
Why Terry Silver's Betrayal Changes Everything for Cobra Kai Season 5
With Sensei John Kreese in jail, Sensei Terry Silver steps up as the new and improved Cobra Kai Season 5 villain.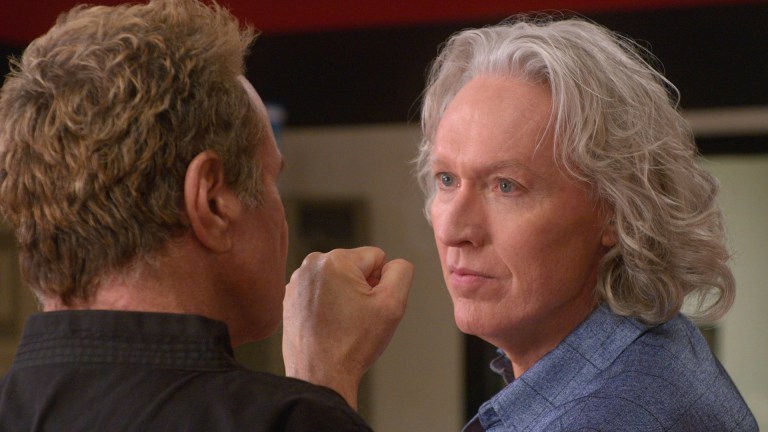 This Cobra Kai article contains no spoilers for season 5.
One of the many elements that makes Cobra Kai work is its sense of poetic parallelism. Some might simplify this to well laid Easter eggs, but it's an aesthetic device akin to literary symmetry, layered screenwriting that elegantly fuses storytelling and homage.
For example, in The Karate Kid Part III, Sensei Terry Silver (Thomas Ian Griffith) sent Sensei John Kreese (Martin Kove) away to Tahiti where he got bodywork from shadowy Tahitian gals. In the Cobra Kai season 4 finale, Silver sends Kreese away once again, but this time, to the slammer where he gets a different kind of bodywork from his fellow inmates.
That finale left fans gobsmacked with Silver's betrayal of Kreese. After exhibiting dubious motivations throughout season four, the real Silver is revealed in all his manipulative glory. Kreese appeared to be pulling the strings, guilt tripping Silver with constant reminders that he owed him for saving his life. However, Silver just was biding his time, waiting to strike back at his former Captain.
"Everyone has a weakness, John," says Silver. "And mine is you."
By betraying Kreese, Silver sheds his weakness. While sipping a 1998 Bollinger (a champagne that goes for over $1500 a bottle nowadays), Silver waves Kreese off with a dismissive piano-playing gesture as the cops take him away. In season 5, Terry Silver emerges as the top villain of Cobra Kai.
Reprising Terry Silver
Terry Silver's return marks a significant turning point in Cobra Kai. The Cobra Kai dojo was reborn under Johnny Lawrence (William Zabka) in the first season. But then Kreese reentered the story with that brilliant cliffhanger finale. It was a clever play, almost guaranteeing that the show would get picked up for another season. And when Silver's return was teased in the cliffhanger finale of season 3, fans were drooling with anticipation. Throughout season four, Silver's madness was revealed slowly, setting up fans for another yet jaw dropping season finale that left Silver in control of Cobra Kai for season five.
When Silver first appears in Cobra Kai, he's a distinguished man of wealth, a far cry from the coked-out maniac he was in The Karate Kid Part III. He was rich back then too, the CEO of the shady toxic waste disposal company DynaTox Industries, which he got by inheritance not his own hard work. He plotted to use Mike Barnes (Sean Kanan) to destroy Daniel LaRusso (Ralph Macchio). But through the power of Miyagi-do, Daniel was once again victorious, claiming victory at the Under 18 All Valley Karate Championships for the second year in a row. Keep in mind that all three movies in the original trilogy take place within a little over a year – LaRusso wins two consecutive annual championships, one at the end of part one and the other at the end of part three. In between those competitions, he squeezes in a deathmatch in Okinawa with Chozen (Yuji Okamoto). LaRusso's teen years were hectic.
The Karate Kid Part III left Silver in ruins in the end. In Cobra Kai, Silver reflects on his loss, saying that he "hit rock bottom" afterwards. DynaTox is long gone, but somehow, Silver 'found clarity" and built himself back up. He has made another fortune somewhere else, although what he actually does for a living has yet to be made clear. Whatever business he's in now, he's done extremely well for himself, living a refined life of high standards. His home is a spectacular seaside mansion, and he's accompanied by a lovely, and much younger, partner named Cheyenne (Salome Azizi). However, Cheyenne hasn't been seen since Silver rejoined the Cobra Kai dojo.
Terry Silver 1989 vs. Terry Silver 2022
The Terry Silver in The Karate Kid Part III was a fairly one-dimensional character, the sort of stereotypical over-the-top villain that was prominent in eighties martial arts movies. In Cobra Kai, Silver is more sophisticated and cunning, cleverer, and more mature.
"I spent months terrorizing a teenager over a high school Karate tournament," admits Silver in season 4. "It sounds insane just talking about it."
His confession to being a coke addict is just enough justification for his maniacal actions thirty years ago so that we can move on. With ten episodes per season, Cobra Kai provides plenty of opportunities for characters to grow.
"We gave him a lot of complexity," Griffith tells Den of Geek of his character Silver. "In season 4, you saw his resistance, you saw where he was coming from, you got to understand what he had been doing for the last 30 years."
Silver's development and expansion was a key element in enticing Griffith to return.
"I had no interest in just repeating a character. If you're going to bring back the Terry Silver from Karate Kid 3 it's like, where are you gonna go?" Griffith says
In real life, Griffith is a towering figure. He stands 6' 5" and holds black belts in Taekwondo and Kenpo Karate. After The Karate Kid Part III, Griffith's first film, he acted in movies and television, until 2013 when he shifted his focus on writing and producing. He was a writer and co-producer of the show Grimm for five years. Reprising Terry Silver marks his return to acting.
"I think that that's what made the character so appealing for me," says Griffith, "because he's such a smart character."
Griffith attributes Silver's ability to relate to the people he manipulates comes from his worldliness. He finds a commonality of the most human element he can exploit.
"He can walk into other people's worlds and find his place and know his place. And I think that's a great quality for a villain, because then you go, 'That felt so sincere.' And then when he gets burned, it's like, yeah, he's gonna get that much more upset about it because he was sincere."
Defending Silver's Villainy
If it sounds like Griffith is defending Silver's villainy, that is his prerogative. He feels Silver comes into Cobra Kai with "a pure quality" to try to make the Cobra Kai dojos work. And then, as the elements turn against him, as he finds himself betrayed and manipulated, and ostracized due to his past, Silver returns to the dark side, albeit a more refined darkness than how he was portrayed in The Karate Kid Part III.
"He's not maniacal, you know, but there's a madness," asserts Griffith. "But in that madness, we have those little bits of truths that I think people can go 'Oh, yeah, yeah, yeah, that's the point,' and we can sort of be on his side."
Given the merciless beat down Silver did to Stingray (Paul Walter Hauser), staying on his side is a stretch for most viewers, but ultimately, an earnest villain must believe he or she is in the right, and that carries over to Griffith's immersive portrayal.
"He still has that quality," Griffith says, "which I think is what makes Terry Silver is that glee to say, 'If it's a challenge, if it's a worthy adversary, bring it on. I want to do it.'"
"I think that's something that's just fun to watch, you know? Love him or hate him, you gotta watch him."
Cobra Kai Season 5 premieres Friday, Sept. 9 on Netflix