News
Cobra Kai Season 3 Release Date Teased for 2021 with Preview Footage
Netflix-bound Karate Kid sequel series Cobra Kai reveals a 2021 release window with the first teaser footage.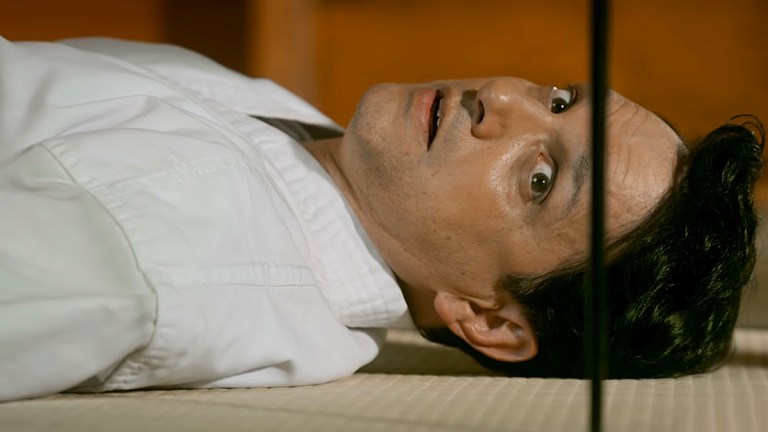 Cobra Kai Season 3 is officially set to premiere on Netflix in 2021.
The series—a contemporary-set sequel to the 1980s cinematic splendor of The Karate Kid franchise—has enjoyed the status of an acclaimed cult favorite scripted standout on streaming service YouTube Premium before it exited the content-shrunken platform this past May, only to be snapped up by Netflix in June. Now, Cobra Kai is heralding the Netflix premiere of Seasons 1 and 2 this Friday with a trailer that serves the dual purpose of providing a quick synopsis of the two existing seasons and revealing the heretofore mysterious plans for Season 3. Thus, we now know that Cobra Kai Season 3 will hit Netflix in 2021 on a date to be revealed.
As you can see, the trailer (seen just below,) ups the ante for viewers by concluding with the very first teaser footage from Cobra Kai's long-awaited third season. The scene in question, brief as it may be, proves to be a powerful preview, confirming a notion that was teased over a year ago, namely that Daniel (Ralph Macchio) will return to Okinawa, the southern Japanese prefecture setting of 1986 sequel movie The Karate Kid Part II, which is excellent news for fans of that notably-lauded entry in the film franchise.
Indeed, contrasting with initial peaceful seaside imagery from Okinawa, the clip shows Daniel in what's presumably the Miyagi family dojo getting judo-tossed by an unnamed, black-gi-sporting character, who comes within inches of impaling Daniel with his sai. Yet, what makes the scene so poignant to the show's plot is the depicted scuffle's context-setting voiceover, in which a perturbed and incredulous Daniel is heard angrily stating that "Mr. Miyagi treated me like a son. He wouldn't keep any secrets from me," after which a mysterious voice ominously answers, "Are you sure about that?" Consequently, one might want to wait before belting out a nostalgic line or two from Peter Cetera's movie soundtrack hit, "Glory of Love," since this visit will clearly reveal some startling, potentially disillusioning secrets to Daniel about his late sensei.
Now, fans are left to theorize about the nature of said secret, which we can presume centers on something that directly affects Daniel. Indeed, speculation is already proliferating, pointing to the possibility that Daniel may have unwittingly sired a child with his love interest from Part II, village girl Kumiko; a secret that Miyagi might have kept from Daniel, who's now married with two children. Moreover, when one gives the Zapruder film treatment to some of the footage, it vaguely shows Daniel's opponent to be an Asian man who could either be the wayward love child in question OR Yuji Okumoto as Chozen, Daniel's belligerent main rival from Part II, with whom he shares a legacy in the annals of Miyagi-Do Karate.
Pertinently, the role of Kumiko was played in Part II by Tamlyn Tomita, an Okinawa-native actress, for whom the 1986 film served as her onscreen debut. Her involvement with Cobra Kai in Season 3 has long been the subject of speculation, and has not been confirmed. Yet, the possibility seems strong, with Tomita fielding several prominent TV roles these days, most recently as the villainous Commodore Oh on CBS All Access's Star Trek: Picard. It makes sense that the actress would want to reprise the role that put her on the map, notably with Season 3 having filmed in home country Okinawa, as opposed to Part II, which mostly substituted Oahu, Hawaii for the setting.
Nevertheless, it will be interesting to see the dramatic trajectory for Cobra Kai Season 3, especially after Season 2 ended in such a dark place for both Macchio's Daniel and William Zabka's Johnny Lawrence, the latter of whom saw his dojo dreams collapse, and his beloved student, Miguel (Xolo Maridueña) left seriously injured after a fight with biological son Robby Keane (Tanner Buchanan), who seems to be going down a dark path. The possibilities are certainly exciting.
In the meantime, you can acquaint yourself (or re-watch) Cobra Kai Seasons 1 and 2 when the series makes its Netflix arrival on Friday, August 28.