Features
Cobra Kai Season 4: The Best Karate Kid and Martial Arts Easter Eggs
Season 4 of Netflix's Karate Kid series Cobra Kai serves up more clever Easter eggs by the dozen.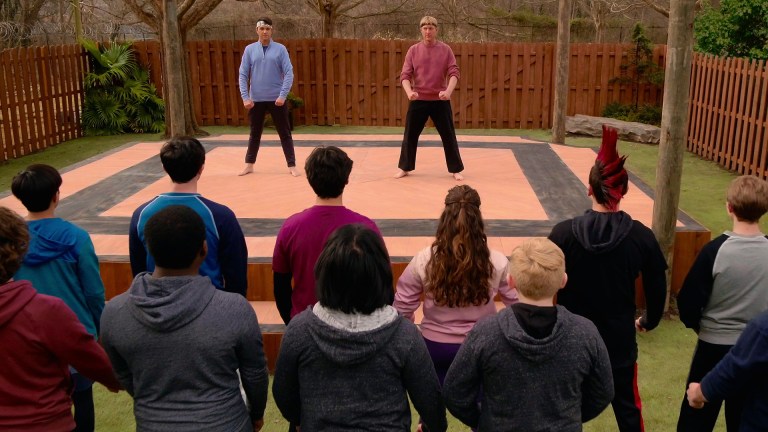 This article contains Cobra Kai season 4 spoilers.
Throughout the series, Cobra Kai has taken Easter egging to new levels with constant shout outs to the original Karate Kid film trilogy. Season 3 saw some major throwbacks with the return of Ali (Elisabeth Shue), Chozen (Yuji Okumoto), Kumiko (Tamlyn Tomita), and more. That was a hard act to follow, but the return of Terry Silver (Thomas Ian Griffith) was an enormous Easter egg from Karate Kid Part III, tapping the franchise's deep lore.
However, it's those esoteric Easter eggs that are the most tantalizing, the ones that are hidden in plain sight.
That Yellow Convertible
At the start of season 4, Daniel (Ralph Macchio) implements Mr. Miyagi's (Pat Morita) "wax on, wax off" training regimen for his new Miyagi-Do recruits. Once again, students are polishing that classic yellow 1947 Ford Super Deluxe Convertible to hone their blocking skills. That car has been a constant throughout the series and makes plenty of appearances in season 4 as more students learn Miyagi-Do. In all fairness, the convertible is more of a fixture than an Easter egg. However, it plays a special part, not only for its role in waxing, but as the steppingstone for Daniel to inevitably become a car salesman.
The convertible was gifted by Mr. Miyagi to Daniel in The Karate Kid. In The Karate Kid Part II, Daniel claimed Ali wrecked it, but Ali refuted that claim when she returned to Cobra Kai last season. But that wasn't all.
In real life, Ralph Macchio still owns the treasured original vehicle, which was given to him as a gift from when he made the first film. But in Cobra Kai, David called the iconic ride a "piece of junk", which it certainly is not. The Miyagi-Do lot is packed with vintage cars – a collection must be worth a fortune. You'd think that the owner of the LaRusso Auto group would store them in a covered garage. But for the sake of cinematic homage, they still sit in front of Miyagi-do's original dirt yard lot, unprotected from the elements and as Anthony (Griffin Santopietro) learns this season, bird poop. At least they're waxed a lot.
The Balancing Boat
In that same dirt lot, across from the cars is a boat. Chris (Khalil Everage) barfs into it after some rigorous Eagle Fang training in the season 4 premiere episode. Although we can't see it clearly, it appears to be another vehicle from The Karate Kid – the boat in which Daniel learns balance. The original boat had white siding and the one in Cobra Kai is weathered with age. However, it's been over 30 years, probably sitting in that same dirt lot next to those vintage cars and hasn't had the benefit of getting regular waxing.
Kanpai! Cobra Kai Drunken Style
There's a lot of booze throughout Cobra Kai. Johnny (William Zabka) is constantly chugging Coors Banquet Beers throughout the entire series, so much so that he could be their new advertising front man. And season 4 reveals why – a Coors can is among the only mementos he has of his father who abandoned him.
But that's not the only beer Johnny drinks. When he agrees to learn some Miyagi-Do Karate, he finds himself doing the kinds of tasks he did at the beginning of Cobra Kai when he was working odd maintenance jobs to make ends meet. Daniel preaches Miyagi's regimen of house painting, deck sanding and car waxing – all while annoyingly quoting Mr. Miyagi's fortune cookie wisdom and pretentiously echoing Miyagi's clipped English grammar.
There's a lot of lines repeated from the films beyond Daniel quoting Miyagi, especially where Karate lessons are concerned. One of Terry Silver's first lessons to Robby after he catches him teaching Kenny some Miyagi-Do balance techniques is "A man can't stand, he can't fight." That's Rule #1 of Silver's intensive training program that he dubbed "Quick Silver" in Karate Kid Part III.
But back to beer, inevitably Johnny gets fed up with Miyagi-Do house painting and snakes one of Daniel's beers, so Daniel puts him in his place by chopping the bottleneck off. This is just like Mr. Miyagi did to ward off some racists in The Karate Kid, only that was four bottles.
Being a Coors man, Johnny complained about the 'fruit' in Daniel's beer, but it's worth noting that the label of Daniel's brewski is clearly placed. He drinks Blue Moon Belgian White, which is owned by Johnny's favorite brand, Coors.
However in all fairness, it hasn't all been about Coors product placement. Cobra Kai has a keen eye for the right regional liquors. In season 3, Daniel drowned his sorrows with Suntory Whisky Toki when in Okinawa. And when Kreese loses a bet with Silver in season 4, he rewards him with a sixer of Ba Muoi Ba, a.k.a. 333 Premium Beer, an uncommon import from Vietnam.
Perhaps this alcoholic awareness is related to the wittiest season 4 Easter egg of all. At the end of the season 4 premiere, Silver rediscovers his Karate nature in his wine cellar and kicks a bottle from Kamen Estates Wines. The Kamen winery is in Sonoma, California, named for its founder and proprietor, Robert Mark Kamen. Kamen is the original screenwriter of the Karate Kid films, as well as other classics including Taps, Fifth Element, Taken, and the Transporter series. While Kamen isn't directly involved with Cobra Kai production, perhaps the show's overall spotlight of spirits is an homage to his expertise as a vintner.
Hey, What Kind of Belt Do You Have?
When Daniel posed that question to Mr. Miyagi in The Karate Kid, he quipped back "Canvas. JC Penny. Three ninety-eight. You like?" But Cobra Kai has a Black Belt, literally. In season 1, Johnny reads an issue of Black Belt magazine. And the Feb/Mar 2021 issue of Black Belt featured Zabka, Macchio, and Kove on the cover for a story about Cobra Kai. Just like with Blue Moon Beer, this makes sense when you know that Black Belt is owned by Century, a real martial arts supply company.
Century gets ample signage at the All Valley Karate Tournament as the tournament sponsors. And Century equipment is all throughout the Cobra Kai Dojo, even more so in season 4 after Sensei Silver upgraded all the school's gear and equipment. Even though they haven't given a close-up to the brand logos, it's a good bet that Miyagi-Do gis are coming from Century too.
That Other '80s Martial Franchise
When Miyagi-Do and Cobra Kai confront each other at a drive-in, the movie playing is Bloodsport. Bloodsport came out four years after The Karate Kid and it was a breakout success for Jean-Claude Van Damme. JCVD played Frank Dux, a real-life martial artist who claimed to have studied ninjitsu and won 329 matches. He also claimed to have been awarded the Medal of Honor and worked for the CIA, but that has been refuted by many authoritative sources. Nevertheless, Bloodsport was a successful grindhouse film that has earned cult status and is just the sort of cinema that would appeal to Johnny and the Cobra Kai Dojo.
It spawned three direct-to-video sequels, none of which starred JCVD. Dux was replaced by Alex Cardo (Daniel Bernhardt) for the next two films. Bernhardt took on an alternate role as Keller in the fourth and final installment, Bloodsport: The Dark Kumite, and is currently playing Agent Johnson in The Matrix Resurrections, reprising his role from The Matrix Reloaded.
Where this becomes an Easter egg with Mr. Miyagi. Pat Morita had a recurring role in half of the Bloodsport franchise. He played David Leung in Bloodsport II and Bloodsport III. Leung is a wealthy businessman, and the first sequel revolves around the theft and recovery of Leung's prized sword by Cardo. In the threequel, Cardo gets help from Leung who directs him to a shaman.
But this is Cobra Kai so there's more. In 2011, they were planning a re-Dux (pardon the pun but it's irresistible). The screenwriter for this project was none other than Robert Mark Kamen.
Cobra Kai has made cinematic Easter eggs like this before. Earlier in the show, Johnny expresses admiration for the 1986 film Iron Eagle, another eighties four-film franchise. Rob Garrison played Packer in the first film. That role was sandwiched in between his appearances in the first and second installments of The Karate Kid as Tommy. His final acting role was to reprise Tommy in season 2, episode 6 of Cobra Kai "Take a Right" in one of the most heartfelt episodes of the series. Garrison passed away five months after season 2 was released.
Win, Lose No Matter, You Make a Good Fight, Earn Respect, then Nobody Bothers
If Mr. Miyagi's observation on a "good fight" above was true, Cobra Kai wouldn't exist. The rivalries never die. And within those fights, there are choreographic nods to the original films. After Kenny (Dallas Young) gets catfished by Anthony and his clique, he is tricked to show up at a park cosplaying his video game favorite Dr. Scribblebottom and humiliated. They chase him into a cyclone fence, a scene that is a shout out to when Johnny and his Cobra Kai gang chased Daniel into a fence and beat him. They were all in costume then too because they had come from a Halloween dance.
The biggest season 4 Easter egg fights come at the All Valley Karate Tournament. Like the '47 Ford Convertible, the All Valley is a fixture in Karate Kid lore, however these Easter eggs are embedded in the bouts. When the final fight between Robby (Tanner Buchanan) and Eli (Jacob Bertrand) goes into sudden death overtime, the announcer proclaims that this is the first time that has happened since 1985. The 1985 final match was between Daniel and Mike Barnes (Sean Kanen) in The Karate Kid Part III.
The grand finale bout between Sam (Mary Mouser) and Tory (Peyton List) also echoes Daniel versus Barnes. Sam recites some traditional Kata before engaging her. This is the same strategy that Daniel used to put Barnes off his game for their finale. Tory is similarly thrown off, but ultimately, the results are entirely different.
Cobra Kai season 4 is available on Netflix. Spot anything we missed? Give us a shout on Twitter or let us know in the comments, and if it checks out, we'll update this piece!