News
Cobra Kai Season 3 Clip: Chozen Teases Miyagi Secrets to Daniel
Mr. Miyagi kept a crucial secret from Daniel, if a returning Chozen is to be believed in this Cobra Kai Season 3 clip.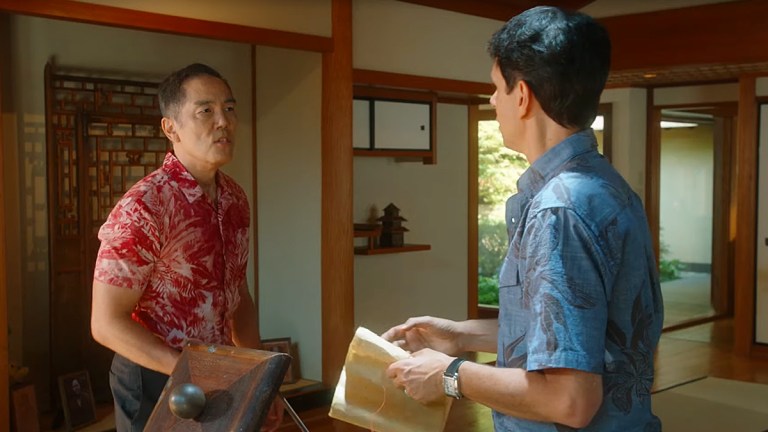 Cobra Kai Season 3's arrival is nigh, mercifully ending the twenty long, eventually pandemic-permeated months that passed since Season 2; a hiatus recently made slightly shorter by new platform Netflix, which moved up the premiere to New Year's Day. However, that hasn't stopped the streamer's influx of more exciting preview material, namely new footage that sheds light on a potentially explosive narrative teased in one of the previous clips, focused on a potentially sinister secret that the late Mr. Miyagi hid from Daniel.
We've known for some time now that Cobra Kai's third season will delve into the sequel side of its cinematic roots by having Daniel return to the Okinawa setting of 1986's The Karate Kid Part II—this time having skipped a repeat shoot in Hawaii for actual filming in the southern Japanese island prefecture—along with the return of two key characters from that film, Daniel's main antagonist, Chozen (Yuji Okumoto), and love interest Kumiko (Tamlyn Tomita). Yet, the new clip has answered (and arguably spoiled) one of the biggest questions raised in Season 3's preview ephemera, which asked if the belligerent, fight-to-the-death-challenging Chozen has turned over a new leaf? Well, based on this clip (seen just below), the answer is "hai" ("yes").
As star Ralph Macchio revealed to EW, Daniel's return to Okinawa is a two-episode odyssey spanning Season 3's fourth and fifth episodes, facilitated by a trip to Japan, where he hopes to secure investors to save his struggling auto dealership. As the clip makes evident, Daniel and Chozen seem to be getting friendly(ish) inside what appears to be a rebuilt Miyagi family dojo—a place that Chozen and his thuggish friends wantonly wrecked in Part II. Yet, it seems that Chozen's array of unsavory habits—be it bullying people, defrauding poor villagers with overcharged vegetables, to not honoring his own bets—were effectively drum-punched out of him during the movie-climactic duel with Daniel. Thus, we see the two former rivals (who, in the trailer, were seen having a sparring session,) share a moment that acknowledges their respective roles in the legacy of Miyagi-Do karate, with Daniel obviously having learned the art from de facto father Mr. Miyagi, and Chozen having learned it from his uncle, Sato, who was taught by Miyagi's own sensei father; something that, as Daniel points out, essentially makes them "karate cousins."
However, Chozen's apparent face turn on Cobra Kai also comes with some intriguing dimensions, and we see evidence of lingering tension when Daniel's act of reaching for another apparently-ancient item from the Miyagi-do archives is met with a familiar aggressive interjection of "oi!" from Chozen, who immediately snatches it from Daniel's hand, saying that it's "not for you," since he is a "foreigner." Of course, as Daniel retorts to Chozen, Mr. Miyagi was also like a father to him, embodying a paternal dynamic that was a central theme poetically in Part II, which brought Miyagi and Daniel to Okinawa to visit the former's dying father.
In a revelation that's profound for a simple preview clip, we also see the straight-and-narrow-set Chozen reveal that Sato has since passed away (the actor who played him in Part II, Danny Kamekona, died in 1996), but not before an apparent reconciliation of some kind, reversing the split we saw between the two after Chozen's recalcitrant revenge acts went too far even for his uncle/master. Indeed, it seems that Sato, just before his death, gave Chozen all of the Miyagi family artifacts, notably an ancient scroll that depicts Daniel's tournament-winning Crane Kick, along with the aforementioned foreigner-forbidden material. Thus, Chozen, as the living proprietor of Miyagi-Do karate, hints that he knows a crucial, potentially game-changing secret that the late Mr. Miyagi kept from Daniel. Obviously, the nature of said secret—and its context—is being kept from us in the time being, driving up anticipation for the new season's imminent arrival.
Cobra Kai Season 3 will deliver a parting Crane Kick to the proverbial face of the nightmare year 2020 when it hits Netflix on Friday, January 1, 2021.