Features
Cobra Kai Season 3: What to Expect
Ralph Macchio, William Zabka, and Mary Mouser reveal what corners of The Karate Kid universe Cobra Kai still has left to explore in season 3.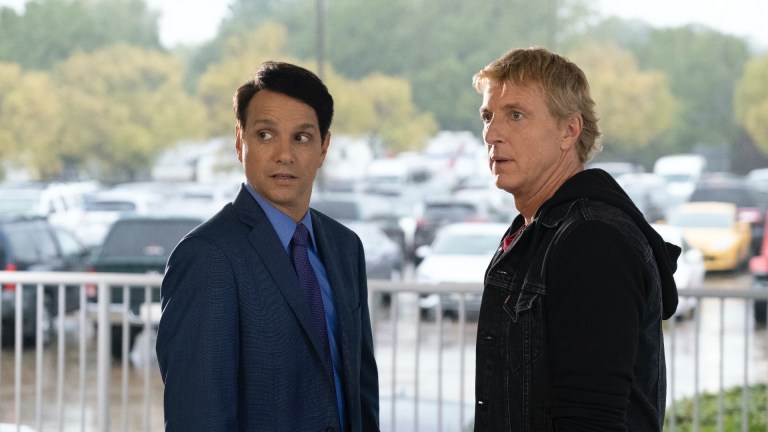 This article contains spoilers for Cobra Kai season 2.
It's been a year and a half already since the Cobra Kai season 2 finale cliffhanger took the show literally over the edge.
The climactic West Valley High School fight in "No Mercy" pushed Miguel (Xolo Maridueña) over that cliff – off a hallway balcony and onto a back-shattering staircase rail. It was a first-rate "long take" fight scene (what's called a "one-er" in the film biz), the epitome of stunt cinematography because it is so technically challenging. The slightest mistake from anyone involved and everyone must start all over again. That season 2 finale fight was the best piece of fight choreography of the entire franchise, finally levelling up Cobra Kai to the martial arts showcase it always deserved to be. The challenge for season 3 is whether the show can top itself.
Cobra Kai has been a surprise hit from the very start, already triumphing against major challenges. Launched in 2018 as a tentpole show for YouTube Red, Cobra Kai appeared doomed after YouTube's foray into a subscription-based premium access service model fell short of expectations. YouTube let go of all their original scripted shows not bound by contract. Even though the Cobra Kai season 2 premiere set a record for the platform, it seemed destined to end after two seasons all the same. That was until Netflix picked it up, restoring the series like Mr. Miyagi's healing hands. The show has since become a breakout hit all over again on its new home.
Now season 3 is the first true Cobra Kai Netflix exclusive. After the "cruel summer" of 2020, Cobra Kai season 3 is set to arrive in January and Den of Geek spoke to its stars about what it means for the beloved Karate Kid franchise.
Flashback to Karate Kid Part II
Netflix dropped its first Cobra Kai season 3 teaser last August, and ended it with a mysterious offscreen line "Are you sure about that?" Fans quickly surmised that the speaker was Chozen (Yuji Okumoto), the villain from The Karate Kid Part II. It wasn't hard to guess. The teaser showed Daniel (Ralph Macchio) returning to Okinawa, and some press coverage revealed that season 3 had shot there, so who else would it be? The stabbing sai was another telltale giveaway because it was Chozen who brought traditional Okinawan weapons into the Karate Kid fray.
The potential of Chozen's inclusion in Cobrai Kai has enormous, and perhaps dangerous implications. While Johnny Lawrence (William Zabka) beat up Daniel-san in some high school fights, Chozen and Daniel were full-on prepared to fight to the death. As Mr. Miyagi (Pat Morita) said just prior to their match, "Daniel-San, this not tournament. This for real." Cobra Kai has been masterfully placing Easter eggs that hail back to the original '80s films throughout the series with cameos of many members of the original cast. Adding Kreese (Martin Kove) to the cast for season 2 was a game changer. Chozen was a perfect tease from Netflix because anyone who saw The Karate Kid Part II would hazard a guess that the conclusion of their death match did not restore Chozen's honor.
When the official Season 3 trailer dropped in December, Netflix gave Chozen's inclusion away. Not only did we see Chozen, but we also see Kumiko (Tamlyn Tomita), Daniel's second love interest from The Karate Kid Part II. Tomita just beamed down from playing the inscrutable Commander Oh on Star Trek: Picard. She's been working steadily in television ever since her breakout role in The Karate Kid Part II.
What's more, there were a lot more merciless fight clips in that trailer. It was another well played lure for fans of both the original and the ongoing series. Great throwbacks, great humor and great drama are what makes Cobra Kai so engaging. And now that they've upped the ante in the fight choreography department, can they keep the momentum going? Will we see another death match between Daniel and Chozen? That stabbing sai landed so close to Daniel's head and that's a good way to put out an eye.
Growing Challenges
"The challenge of season 3 is obviously cleaning up the mess that was created both on LaRusso's watch and Johnny Lawrence's watch," says Ralph Macchio, who first began playing Daniel LaRusso in 1984.
The "No Mercy" High School fight left every character horribly scarred, both physically and emotionally. In its wake, Amanda LaRusso (Courtney Henggeler), Daniel's wife, told her family "No more Karate. It's over," prompting Daniel to take down Mr. Miyagi's picture from the Miyagi-Do dojo wall. Carmen (Vanessa Rubio), Miguel's mom and Johnny's (William Zabka) love interest, told Johnny "I never want to see you again." When Johnny goes to his Cobra Kai dojo, he is greeted by Kreese who repeats his meme-worthy line from the original The Karate Kid, "We have a visitor." With both Miyagi-Do and Cobra Kai dojos out of their hands, what's left?
"The biggest challenge of season 3 was probably stepping out," reveals Zabka.
"What is Johnny going to be without the skin of Cobra Kai? But it was also kind of a rebirth because at the end of season 2, Kreese takes the Dojo. So who is Johnny without the Cobra Kai banner wrapped around him? That was a fun challenge."
After all the tragedy that befell their teenage kids, can Johnny and Daniel finally bury the hatchet for the sake of their children? Macchio says they will try in season 3, but we'll have to watch and see how that goes.
"From a performing standpoint, there was an excitement to it because I knew script wise, I was going to step up to Johnny Lawrence and say, 'Let's put our differences aside and let's go help this kid, your son, my student,' and set off on that journey," Maccho says. "Upfront in the season, these two rival characters have to coexist and work together, where so often in the previous two seasons, it wasn't until late. We have a handful of scenes during the year in the season."
However, there's much more to Cobra Kai than Johnny and Daniel's 30+ year feud. This is a Karate soap opera for the next generation. Teen drama was the heart of the original films, the story of Daniel-san's coming of age. Now it's about Johnny's son Robby (Tanner Buchanan) and Daniel's daughter Sam (Mary Mouser) and all their high school friends and rivals. It's their turn to find themselves and they'll have to do so in a much different world than that of Johnny's and Daniel's.
"I'm excited for people to see it," says Mouser. "In Season 3, it's just recovery and growth, and learning from her own mistakes, learning from other's mistakes, and trying her best to be the better next generation. I think that's everybody's goal all the time. We're learning from our parents, we're learning from the past, we're learning from history, and we're learning from each other. We're doing our best to improve as people. So I hope Samantha continues on that path. Although, sometimes she falls off the wagon."
What about Ali with an 'I'?
Prior to the season 3 premiere, the possibility of the most requested cameo remains unknown. At the end of season 2, Johnny's Facebook pinged the acceptance of his friend request to Ali Mills Schwarber (Elisabeth Shue). What a tease! Fans have been clamoring for the return of that Encino cheerleader who stole all our hearts so many years ago. 
Shue has been steadily working in TV and film since her breakout role in The Karate Kid. She was nominated for Best Actress at the Academy Awards for her gritty soul-baring performance in Leaving Las Vegas and was recently seen playing Madelyn Stillwell in The Boys. With the return of Chozen and Kumiko, might Ali make a cameo too? There's no hint of her in the trailer. No spoilers here. You'll just need to wax on, wax off, and tune in.
Cobra Kai season 3 premieres Jan. 1 on Netflix.