News
Bruce Campbell Helps Impractical Jokers Recreate an Iconic Scene
Q learns to never meet his heroes as a chance encounter with Bruce Campbell on Impractical Jokers leaves him covered in blood.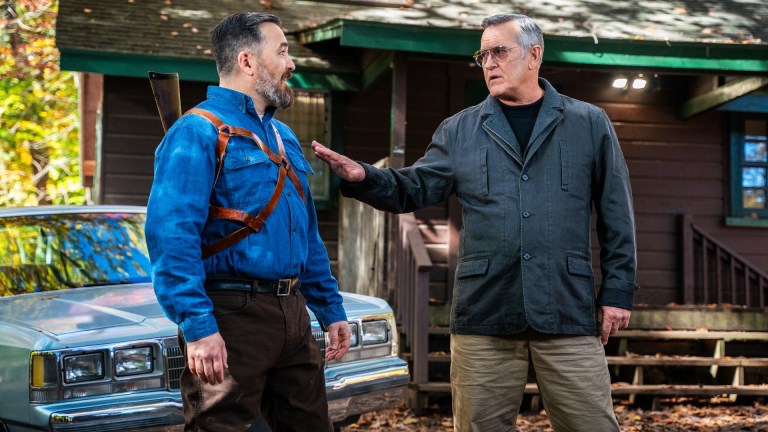 You know how they say "never meet your heroes?" But what if your hero lets you wear his chainsaw-hand? What then???
Such is the situation facing Brian "Q" Quinn of TruTV's Impractical Jokers. Like every American pop culture addict born before 1980, Q is a big fan of Sam Raimi's 1981 gore-tastic opus The Evil Dead and its winsome shotgun-wielding star Bruce Campbell. Unlike most people born before 1980, Q has a job that regularly brings him into contact with very famous people … like Bruce Campbell. You see where this is going.
Since original Joker Joe Gatto left midway through the long-running prank series' ninth season, remaining Jokers Q, Sal Vulcano, and James "Murr" Murray have welcomed a new guest star in each episode. The show's 10th season, which premiered Feb. 9, has enjoyed the likes of Post Malone, Kesha, Kal Penn, and more. With this season's 9th episode, airing April 13 at 10 p.m. ET on TruTV, it's time for Bruce Campbell to make his impractical joking debut.
What will it look like when the ultimate Evil Dead fan meets none other than Ashley Joanna "Ash" Williams? We're glad you asked as we just so happen to have the footage of that encounter right here. Give it a looksie below.
"Is this a punishment or am I supposed to love this?" Q asks near the beginning of that clip.
It's a valid question as, at first, it seems as though Q is living out any horror aficionado's dream. The Staten Island native is clad in Bruce Campbell's iconic blue shirt, chainsaw-hand, and garish shotgun bandolier. He's also stationed in front of a spooky cabin that bears more than a passing resemblance to the setting of the original 1981 film. What's more: this is apparently a location of great sentimental value to Q as he frequently playacted as Ash Williams there in his youth.
But lest you think this is a rare example of a "kind" punishment on Impractical Jokers, Campbell fully understands the punitive nature of the assignment. Dashing the young Q's hopes and dreams, Bruce gets into character and refers to Brian as "Ryan," continually dismissing his childlike wonder, and even holding his on-camera release form metaphorically over his head. And then there's the blood…oh so much blood.
TruTV's hired zombie can scarcely hide her delight as she fires gallons upon gallons of blood into Q's face. This is technically still an honor for a horror fan, but a very sticky and uncomfortable one.
After The Evil Dead first premiered in 1981, it was followed by two Sam Raimi-directed theatrical sequels: 1987's Evil Dead II and 1993's Army of Darkness. The franchise received new life in 2013 with the reimagining Evil Dead, featuring Campbell's Ash only in a brief cameo. Then Campbell reprised his role from the films on television for Starz' Ash vs the Evil Dead in 2015. Next up for the franchise is Evil Dead Rise, directed by Lee Cronin and set to arrive in theaters on April 21.
If that film is anywhere near as bloody as Q's punishment, then there might be some (undead) life left in this saga yet.
Impractical Jokers season 10 episode 9 premieres Thursday, April 13 at 10 p.m. ET on TruTV.