Features
Evil Dead Rise Is a Horror Gorefest That Will "Punch You in the Face"
Exclusive: Director Lee Cronin brings gross-out scares and old-school terror to the latest installment in the Deadite-fueled franchise with Evil Dead Rise.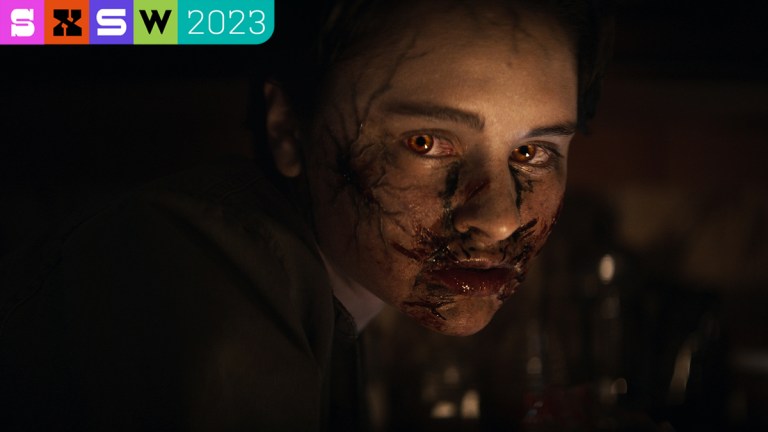 "Make sure there's scary Deadites, and use the book."
When Lee Cronin assumed writing/directing duties for Evil Dead Rise, those were Sam Raimi's requests. Of course, there were other ingredients for the fifth installment of The Evil Dead horror franchise—launched in 1981 by director Raimi, producer Rob Tapert, and Bruce Campbell—such as blood, gore, chainsaws, and boomsticks.
But then the Irish filmmaker and lifelong Evil Dead fan reveals to us he had his own mission: "To bring you in, wind you up, and then punch you in the face for an hour."
Handpicked by Raimi, who was impressed by Cronin's short film "Ghost Train" and first feature, The Hole in the Ground, the director began filming Evil Dead Rise in New Zealand in June 2021. With all three serving as producers, Tapert joined the shoot on the ground while Raimi and Campbell supported his vision from afar.
"They wanted it to be something different," Cronin says, and Raimi advised him to use his instincts and "do what you got to do." What he had to do was "take it somewhere new."
Cronin calls the original film, remake/sequel Evil Dead II (1987), and the Fede Álvarez-directed "re-imagining" Evil Dead (2013) the "O.G. cabin in the woods teenager stories" (1992's Army of Darkness and the 2015–2018 TV series Ash vs. Evil Dead were sequels to part two, focused on Campbell's iconic Ash Williams). So he wanted a "different angle" while keeping the "gorefest and rollercoaster ride of horror" elements.
To do so, he's relocated the action to an urban domestic setting in a run-down Los Angeles apartment building. Rather than teens, it's a family reunion between Beth (Lily Sullivan), who travels with a band and doesn't have her life together, and sister Ellie (Alyssa Sutherland), a newly single cool mom to three kids (Morgan Davis, Gabrielle Echols, Nelle Fisher). Of course, there's the evil force waiting to be discovered in a vault and a book bound in human skin that unleashes a whole lot of hell.
"I think placing horror in recognizable domestic circumstances is often a really great shortcut to connect with an audience, and I thought it'd be very interesting if we could take the malevolence of the Deadites into the city," Cronin says. "Sam, Rob, and Bruce, being the protectors of all that is Evil Dead, were on board instantly and liked taking it into that space."
Even if the cabin is mostly absent from this story, Rise fits within the series continuity. Cronin points to the scene in Army of Darkness when Ash encounters three books bound in flesh. That stuck with him, and he wrote with the idea that all three—the Naturom Demonto, Necronomicon Ex-Mortis, and simply the Book of the Dead in Rise—exist in the same universe. There's one in Raimi's world, another in Alvarez's, and a third here. "They might have slightly different edges to them in terms of what they can do, and there's a little subtle change or two to the incantations," Cronin says. Rise's Book of the Dead is a "bastard cousin" to the others, with Celtic influences, Cronenbergian sketches, sharp teeth, and veins. This book also creates a pathway to "open up the door for more Evil Dead stories moving forward by changing it up."
Regarding those incantations and atmospherics, Cronin reveals Campbell visited the sound sessions in Ireland and brought a set of original Evil Dead audio files recorded on Nagra reel-to-reel, which they incorporated "so it's all wrapped up inside the movie."
Aside from books of evil and mocking Deadites "who want to have fun and play" by possessing humans, the series of films is still best known for chainsaws, shotguns—aka "boomsticks"—and Ash Campbell appearing in every installment, even in the 2013 film where Jane Levy starred as protagonist Mia, but Ash cameoed in a post-credits scene.
Sullivan's blood-soaked Beth wears a blue denim shirt reminiscent of Ash's, but he is not to be found in Rise. Yet she is an imperfect hero, just like Ashley J. Williams.
"I remember having this discussion with Rob Tapert," recalls Cronin. "When you watch the original, Ash is not the hero right away; he's not necessarily even the lead." Similarly, Beth "picks up the chainsaw and wears that mantle" but isn't an action hero and doesn't even know how to use a gun.
"Even when she fires a gun, it throws her off balance," the director notes. "All of those things add to making her feel real…but I never thought about trying to replace Ash; I just thought about her as somebody new with a certain pressure on her shoulders."
Along with all that pressure, Beth ends up with a lot of blood on her shoulders. Production used 6,500 liters of movie blood (about 1,717 gallons), which required opening an industrial kitchen to cook up the sticky stuff. Expectedly, Cronin also conjures incredibly gross-out gore moments.
Perhaps two that will be debated as favorites involve a dislodged eyeball and open mouth and the use of a cheese grater. The eyeball "gag," one of Cronin's personal favorites, is a twist on what's been seen before. The novel leg-shredding grater came to him when he was writing the script, walked into his kitchen, and saw it as a eureka moment.
Rise also includes more Deadite dialogue than before, which Cronin says is justified by the intimate setting and familial relationships. That leads to memorable lines from Sutherland's Ellie—such as "Mommy's with the maggots now"—which Cronin jokes will make it onto T-shirts. Along with tees, it is an obvious question if the success of Evil Dead Rise might lead to a sequel.
"I was never trying to bait for sequels," says Cronin, who was only aiming to make a great movie. But he leaves up to four avenues of the story open, including one that picks up 20 minutes after the final shot. There's an intentional reason he closes out Evil Dead Rise the way he does.
"And it's not for the story to just end when the credits roll."
Evil Dead Rise screens at SXSW and opens in theaters on April 21.