Reviews
What We Do in the Shadows Season 4 Enlists an Impractical Joker as a Character Reference
Family values get sucked dry when What We Do in the Shadows exchanges wit for wisdom in "Private School."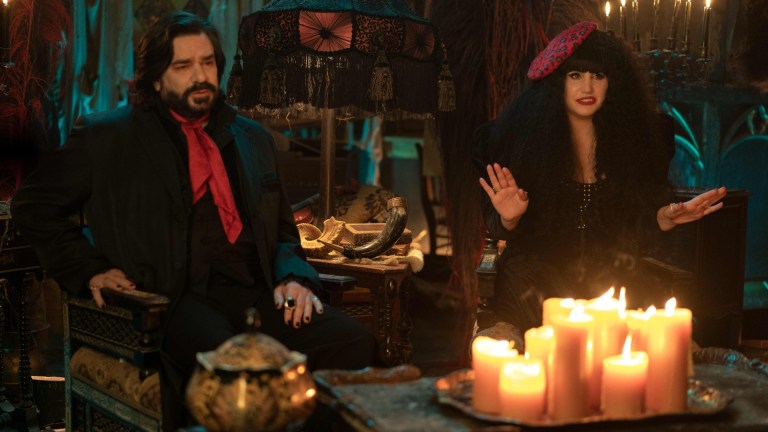 This What We Do in The Shadows review contains spoilers.
What We Do in the Shadows Season 4 Episode 5
The child which crawled its way out of the abdominal cavity of Colin Robinson (Mark Proksch) has reached that wild age where sitcom parents have to learn to jump a shark or lean into it. What We Do in the Shadows season 4 episode 5 "Private School," bashes it in the nose with a ball peen hammer. Let that be a lesson.
Laszlo (Matt Berry) is in denial. As the ad hoc self-proclaimed caretaker of baby Colin, he feels responsible for its cultured evolution. Laszlo is putting on the brave face of a proud father, in full belief that the energy draining antics of the ever-energized young lad is the spark of something, anything, interesting. Berry puts his full and rapt focus on this conviction. It is as strong as his dedication to sex, which is given full and hearty endorsement in the episode from all interested, and some initially disinterested, parties. Everyone is invited into Laszlo's enthusiasms at all times.
One of the best bits in the episode is also one of the most disturbing. Colin, who dances as a novelty at Nadja's, the vampire nightclub, breaks character from the stage to accost what he thinks are fans his own age. He begins to enthuse about a YouTube video and is harshly shut down. "We may look as children but we are 143 years old," he is told. This is both a nod to Claudia, the eternal vampire in Anne Rice's Interview With the Vampire, and a wink at Laszlo's hidden nature. The eternally youthful looking ancient vampire is one of the most disturbing images conjured in the history of horror, and Laszlo is surreptitiously caring and protective. He comforts the young, possibly hormonally-aware youth by saying "they don't know what they're missing," probably because of his own hormonal awareness.
The getting-a-kid-into-private school scenario at the center of the episode is a too-well-worn trope in family shows. Its deconstruction under the vampires' roof is debilitating, I've never been so cocksure in my life. All the bits are funny, but we get the sense of the setup, rather than spontaneous eruptions. The montage climax, however, is spot on. It is so increasingly cartoony it causes involuntary laughter.
The interview preparations are brilliantly scattered examples of organized chaos. Colin is dressed in a tux and twirling a dancing cane. Nandor (Kayvan Novak) walks into the private school pre-interview in a vintage zoot suit, but his face looks like it ran out of a Botox procedure both prematurely and belatedly. His adult-onset-yet-inborn narcissism is an overtly transparent act of misplaced altruism because he's afraid of walking down the altar. The facial reconstruction bit gets a little forced.
Nadja (Natasia Demetriou) is the picture-perfect figure of a pillar of society, during the Kennedy administration. Her vintage pink Chanel and her affected love of pizza effectively cancel each other out in a stylistic stalemate. Demetriou has never been afraid of using all her voices, even as her now superpowered voice implodes eardrums with a voodoo beating. Tonight, Nadja flows into Madeline Kahn territory, operatically correcting baby Colin's age and un-snakelike tendencies like mini-arias. In all manner of melodic hypnotics, Nadja outdoes herself tonight. Dropping the school admissions appraiser Headmaster Warren, and the vampires' human neighbor Sean Rinaldi (Anthony Atamanuik) into deeper states of the unconsciousness and ridiculous.
Guillermo (Harvey Guillén) is the epitome of the gracious straight man in the twisted comedy of errors and connective tissue. He has to play against himself while everyone else gets to play with themselves, and has to defend himself against an accusation of homophobia. The ensemble presents a raucously inviting door into the fluid sexuality of the vampire world. The sequence gives the feeling it is about to go too far, while remaining fully aware it can never go far enough.
Every comic possibility is explored at the snap of a finger, veering so far into the realm of animated shorts it loses all humanity. Which is of course the point. Every possible coupling gets a happy ending. Doll-Nadja makes an unforgettable appearance. But before Nador gets to hear "scritchy scratchy" on his door in the middle of the night, the squirrelly Laszlo learns to bury his own nuts.
Just when it appears it is all an elaborate prank, Sal Vulcano, from Impractical Jokers, sticks his neck out for the flailing supplicants. Polyamorous or filthy hippies, the montage will someday double as its own blooper reel. It is a shame they put Colin to bed so early. Given the little Proksch gets to do under all the child guises, some enforced direct interaction would have kept the active chaotic agent grounded, and fidgety.
The final twists tie the episode to the philosophies of the classic sitcom The Addams Family. In a house of cutthroats who spill half their blood before swallowing, an embezzler is properly familiar. What We Do in the Shadows avoids pratfalls which have befallen shows with child characters thrust upon them by toppling headfirst. This may get it all out of their system or it may be forgotten. If the vampires have learned nothing in "Private School," and they haven't, at least they have nothing to retain.
What We Do in the Shadows airs Tuesdays at 10 p.m. on FX, and streams the next day on Hulu.