Features
Netflix's Anna Nicole Smith Documentary Retreads Tragic Legacy of Fame in Reality TV Era
Anna Nicole Smith: You Don't Know Me frames a familiar and tragic cautionary tale... all while still indulging in the type of crass media obsession the film wants to criticize.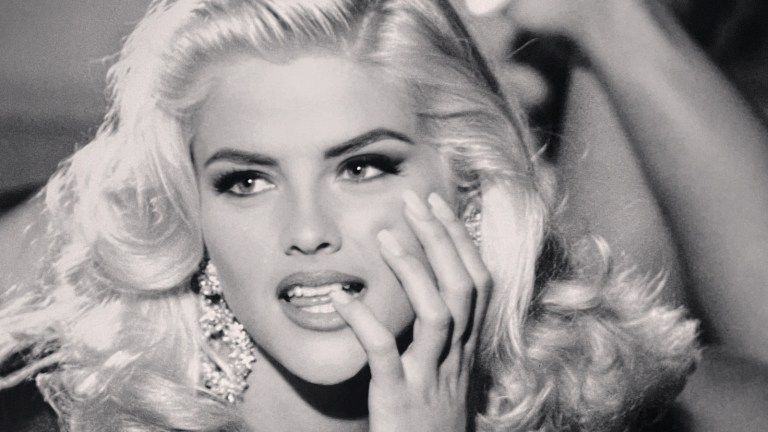 "This may say a lot about our current culture of celebrity and media these days: all the major cable news networks switched over to non-stop live coverage this afternoon when word arrived that Anna Nicole Smith had died," we hear an archival Brian Williams report in the opening segment of Anna Nicole Smith: You Don't Know Me. The tabloid sensation died at age 39 on Feb. 8, 2007. Williams' implication persists 15 years later, evolving still as new players enter the scene. All the same, Anna Nicole Smith remains a modern icon. She weaved a life's tapestry that became a blueprint for celebrity fame in the early 21st century. She was also one of the first superstar casualties of the 24-hour news cycle.
It was Anna Nicole's job to be iconic. That's why her Guess? Jeans image persists to this day. Smith captured the mood of the 1990s. That 1993 Miami photoshoot by Wayne Maser Fourteen was recreated by Guess 14 years later in an ad which closed with the phrase "Did You Miss Me?" Netflix now says yes, because no one wants to let go of an icon with tragic flaws everyone can relate to, and who achieved heights we can only imagine. Then she fell. It is a reality everyone feels compelled to tune into. Anna Nicole was her own brand.
Guess? Jeans co-founder Paul Marciano replaced Claudia Schiffer as its longstanding model in a campaign that featured Smith. The photos were also intended to be a tribute to Marilyn Monroe. That Hollywood icon of yesteryear was famously the cover girl for Playboy's December 1953 issue, erroneously known as the magazine's first. It was there that Marciano became the first male power player to notice Anna Nicole. "She was the most beautiful girl I had ever seen without makeup," Playboy photography editor, Marilyn Grabowski, recalled in the documentary.
The Netflix doc was directed by Ursula Macfarlane, who made Untouchable about Harvey Weinstein. In her time, the subject of Anna Nicole Smith: You Don't Know Me came across as accessible, almost approachable, an all-American apple-pie face on a body which was born and reared in Texas, but not tamed. Smith dropped out of Mexia High School in her sophomore year, worked at a Crispy Fried Chicken, got married to its cook when she was 17, and had a son, Daniel, to keep her company. After alleging spousal abuse, Anna took her son with her to Houston where she worked odd jobs until landing a spot as a dancer. She learned top-heavy performers also came out on top at the tip jar.
"I wasn't very popular in high school, I was flat-chested," the documentary shows Smith saying in Playboy's 1993 Video Centerfold shot. "But now I have curves. See? Ooh la la!" In retrospect, it's easy to see this as an early warning sign for the first missed offramp in a familiar narrative, as Anna Nicole became both an early celebrant and victim of body modification.
Silicone breast implants had been around since 1961, and by the time Smith earned enough money for the procedure in the 1990s, Houston was the implant capital of America. It also held a worldwide record for settling lawsuits linking scleroderma, lupus, and chronic fatigue with the local procedures. One of Smith's implants ruptured, requiring reconstructive surgery, and resulting in chronic pain, which ultimately led to a dependence to a medical smorgasbord. She paid the premium.
Houston was the biggest implant destination because it was also a boom town in the true Texas sense: Oil money and men who had nothing to spend it on but strip clubs. As the documentary notes, Smith met the wealthy J. Howard Marshall after graduating to one of the higher scale adult entertainment clubs. He was 63 years older than her, had a record of losing his mind over dancers, and was a billionaire. "With a 'B,'" said Anna Nicole's workplace friend and former lover, identified only as "Missy," in the doc. 
The documentary wants to have it both ways. Talking heads nod while assuring us Smith was no gold digger; we hear about Smith refusing Marshall's persistent marriage proposals "so nobody could call me a gold digger." However, cameras later linger over a string of unanswered phone messages from the elderly tycoon pleading, "This is your man, trying to find his lady fair."
Smith was and remains a role model. Often depicted as a survivor, Smith was also a victim. She was a martyr, exploited by the male-dominated media and pigeonholed by reality TV into the surreal world of total access. Anna Nicole Smith was manufactured. She renamed herself "Nicky" as a dancer and then "Anna Nicole Smith" when she stepped up to model. Underneath it all, she was Vickie Lynn Hogan, a small-town Texas girl who wanted to be world-famous and changed her world to do it.
Reinvention doesn't have to end with tragedy. She landed an unforgettable spot in the Coen Brothers film The Hudsucker Proxy. Archival footage shows Smith turning down a really good part in The Mask, which she enthused "[had] Jim Carrey in it, that funny guy," because it only paid $50,000. Meanwhile she could get a lot more for a featured cameo in Naked Gun 33⅓: The Final Insult. She opted for the less complementary role.
When it first aired, EW dubbed E!'s The Anna Nicole Show an "obscene train wreck" which exploited a barely coherent Smith. But the series died because it replaced the rags-to-riches story of the American dream with the nightmare of the failed promise. No matter how many people adore her success, Smith is a reminder it can all be lost in one bad judgment. She never escaped her country roots in the eyes of the press or how her show exploited that attention. Smith's public revelations now look lie precursors to the likes of Here Comes Honey Boo Boo. "It all disappeared as fast as it came," sang the theme song, as the advertising made it seem Smith was having a rummage sale on her life. Once you've escaped poverty, no one wants to see you sell your insides out to buy your way back in.
The documentary splits its presentation of the return of Smith's father. Footage captures Smith telling viewers that "things just keep getting better and better"' since her 1993 Playboy shoots. She has the ranch of her dreams and the money to track down her long-estranged dad. Talking heads remember Donald looking "like Elvis," with a pronounced pompadour hairstyle and cowboy ways when Smith brings him to the celebration party honoring her as Playmate of the Year. Then he tried to assault her. "He's a monster," Smith's biological brother said. "I was always afraid of him."
Smith's fall was more entertaining than her rise to television producers, but the public was disgusted by the waste. She made tons of money and lost everything. Her 1994 wedding at the age of 26 to 89-year-old Houston oil tycoon J. Howard Marshall had already made her a tabloid legend. His death cemented the myth. The inheritance trial after the death of her billionaire husband gave Court TV another must-watch trial.
Smith infiltrated America's consciousness as a possible Marilyn Monroe of the 1990s but is burned in memories as a 2000s reality TV celebrity meltdown broadcast directly into millions of homes. Fans watched her take acting lessons, take off makeup, and explore her true essence under hypnosis. She would go on to update reality shows like The Bachelorette with her own dating contest where five guys were in the running.
This documentary shows sympathy for Smith while at the same time saying she weaponized beauty, and two of her oldest friends call her manipulative. The new persona is a character which hides Smith's identity, and psychologically guards her from her past, and can be shaped for fortune. Smith was complex, controversial, and beloved.
The film criticizes the media's fascination while nonetheless celebrating it. Smith was going through withdrawal (while being heavily photographed) when she checked into Cedars-Sinai Medical Center in April 2006. She went cold turkey when she became pregnant.
A tabloid photojournalist says people didn't associate drugs with Smith's image until the first overdose, shortly after the overdose of River Phoenix, also on the L.A. strip. But once it did, the media jumped with paparazzi commanding $5,000-$7,500 for a brief clip of Anna Nicole. "She came alive when she would see us," one photographer said. Later in the documentary, we hear about cameras being stuck up over the walls after the death of Daniel, who overdosed at the age of 20 in 2006, three days after Smith had given birth to a daughter, Dannielynn. The media treated a mother's grief like tabloid gossip.
Tabloids published photographs of Smith's last moments with Daniel's body, video clips ran on cable news, all the time, ticking down every hour until finally replaced by the "Chilling FINAL IMAGE of Anna Nicole Smith," featured in National Enquirer. The media presented Smith's final moments in the Seminole Hard Rock Hotel and Casino as a preordained end. The sudden death at 39 paralleled Monroe's death in 1962 at 36.
The prefabricated façade of the fabricated persona works well on reality TV, which may not be scripted but knows the stories to be told, but not as a buffer from the many inconsistencies. In an era where "keeping it real" ruled the airwaves, some of Smith's revelation went beyond pulling in pieces of her friend Missy's abusive backstory as her own, while stories of Smith's abusive law enforcement mother, including "whippings" and "rape," were excused as good press.
"I make more money telling sad stories than I make telling good stories," Smith told her mother, Virgie Smith. Sad stories made tabloids. Monica S. Lewinsky was an unwitting pawn in a ratings game; Prince Charles' affair with Camilla Parker Bowles was publishing gold; Amanda Bynes became SEO clickbait. Today, we get a mixed bag through longer form journalism. Pamela, A Love Story lets Pamela Anderson control her narrative. Brooke Shields speaks for herself in Pretty Baby: Brooke Shields.
When Anna Nicole died, tabloids predicted Britney Spears was headed down the same path. Framing Britney Spears was out of Spears' hands. Anna Nicole also has no say in Anna Nicole Smith: You Don't Know Me.
"I would just advise people to follow their dreams," Smith says in the film. "They can come true. I'm living proof." Anna Nicole Smith: You Don't Know Me matches its subject matter's legacy. No matter how many details we get about the person underneath the creation, Anna Nicole Smith will be remembered as a cultural obsession which obscured the real person.Anna Nicole Smith: You Don't Know Me is streaming now on Netflix.