Features
Best Returning British TV Series 2022: the Most Anticipated Series Coming Back This Year
From Peaky Blinders to Derry Girls to Gangs of London, Happy Valley and His Dark Materials and more, here are the British TV shows we're excited to see return in 2022.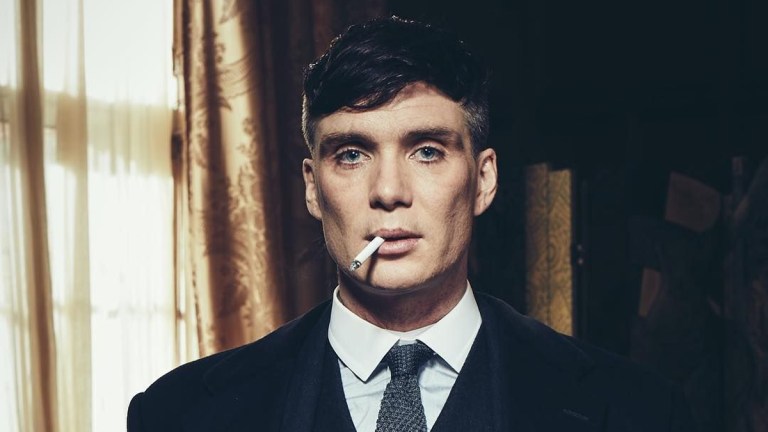 Prepare to welcome back some TV favourites in 2022, and also to say goodbye to a fair few. Of the selection below, a clutch are due to end this year including Sky fantasy A Discovery of Witches, Northern Irish Channel 4 comedy Derry Girls, BBC crime drama Happy Valley, BBC thriller Killing Eve, BBC fantasy adaptation His Dark Materials, BBC comedy Man Like Mobeen, BBC gangster period drama Peaky Blinders and Netflix historical action drama The Last Kingdom. Some solace is here for fans of those last two, as both have been announced to be continuing with a feature film after the TV series comes to an end.
Take a look at the best of the British shows due to return in 2022 below. We'll keep this list updated throughout the year as new recommissions and release dates are announced.
A Discovery of Witches Season 3 (January)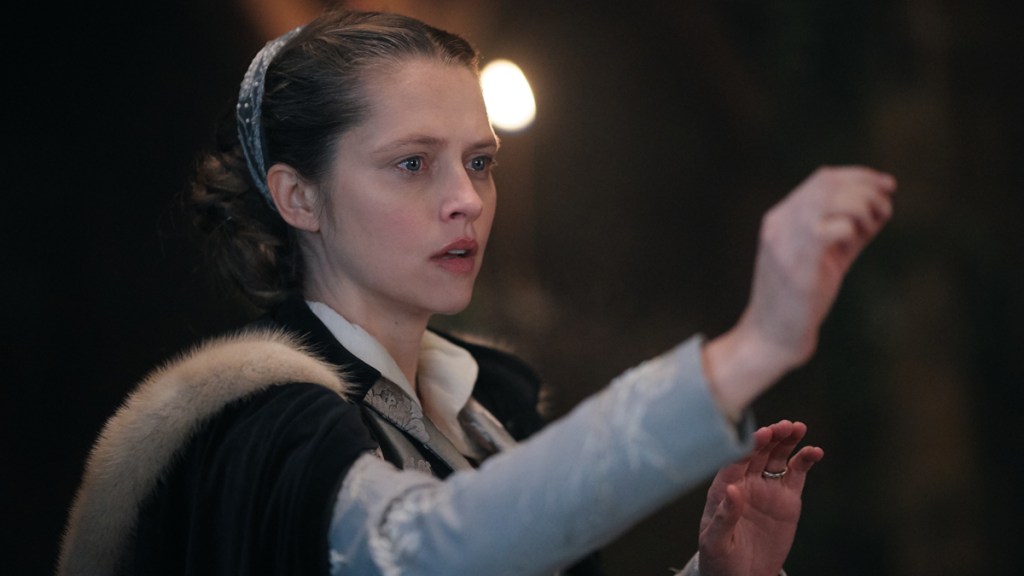 Last we saw Diana and Matthew, they were about to do the time warp back from Elizabethan England, having travelled all over Europe to confront past demons and retrieve the Book of Life. For season three, they're going back to the future, where a world of pain awaits in both Sept Tours and Oxford. Will the newly trained Diana be able to stop Knox? This chapter will adapt the third novel in Deborah Harkness' trilogy, and bring this fantastical romance to a close. It starts on Friday the 7th of January on Sky One, NOW TV and Sundance.
Breeders Season 3 (tbc)
Breeders, from Simon Blackwell and Chris Addison, is a terrific comedy-drama about the pain and joy (but mostly the pain) of parenting, marriage, and growing up at any age. Martin Freeman and Daisy Haggard play Paul and Ally, London-based parents to Luke and Ava. Series two focused on the increasingly fractured relationship between Paul and his teenage son, and ended on a cliff-hanger that saw him move out of the family home. Series three began filming in late 2021.
Derry Girls Season 3 (tbc)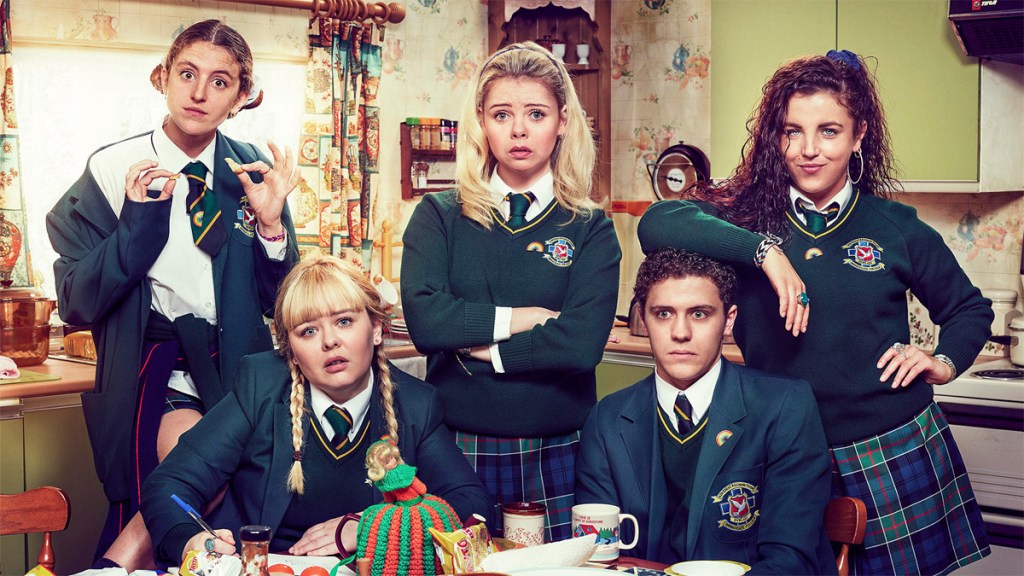 Lisa McGee's terrific 90s-set Northern Irish comedy is set to return for a third and final series about the lives of secondary school students Erin, Orla, Clare, Michelle and James. Filming was due to begin in June 2020, but Covid-19 disrupted that schedule so we're still waiting for this one. Set in the 1990s, Derry Girls is a coming-of-age nostalgia-flood with characters to love and jokes to spare, in which crushes and friendship fall-outs are dealt with in the same breath as dangerous political turmoil. Cracker.
Gangs of London Season 2 (tbc)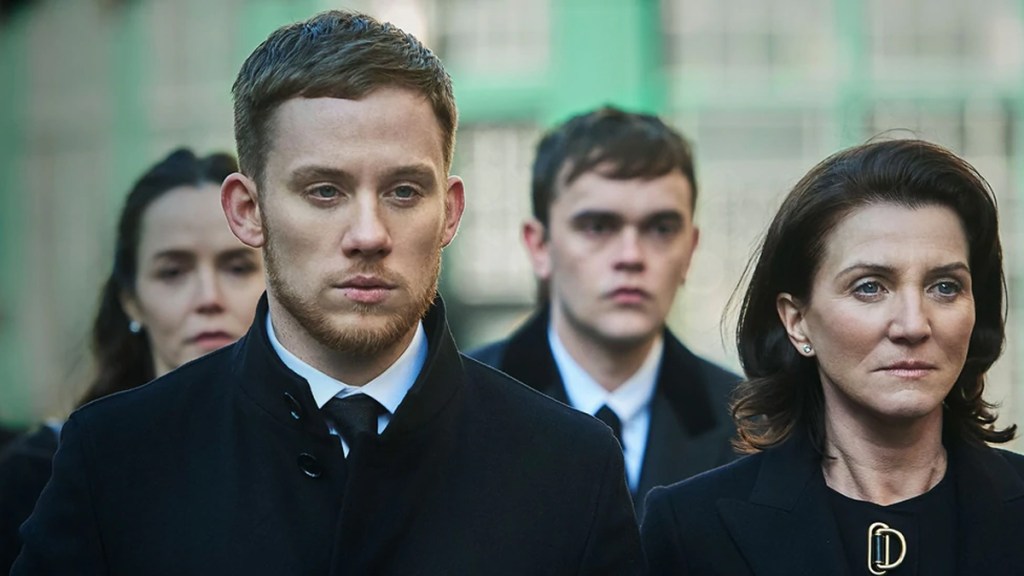 The body count was high in Sky Atlantic's ultra-stylish, ultra-violent 2020 thriller Gangs of London, but enough characters made it all the way through for a second season to be commissioned. When it eventually arrives, expect more expertly choreographed fight scenes, more international crime family intrigue and more betrayal. Co-creator Gareth Evans and his fellow directors gave us a taste of what to expect from the new run here.
Gentleman Jack Season 2 (tbc)
Renewed even before series one had aired, Sally Wainwright's Gentleman Jack arrived on BBC One in the UK and HBO in the US with a bang. It stars Suranne Jones as real-life trail-blazing lesbian industrialist Anne Lister, with a cast including Sophie Rundle, Gemma Whelan and Rosie Cavaliero. It's witty and dynamic, offering television a new 19th century hero at whom to marvel (here's our episode one review). The eight-episode second series started filming in November 2020.
Ghosts Season 4 (tbc)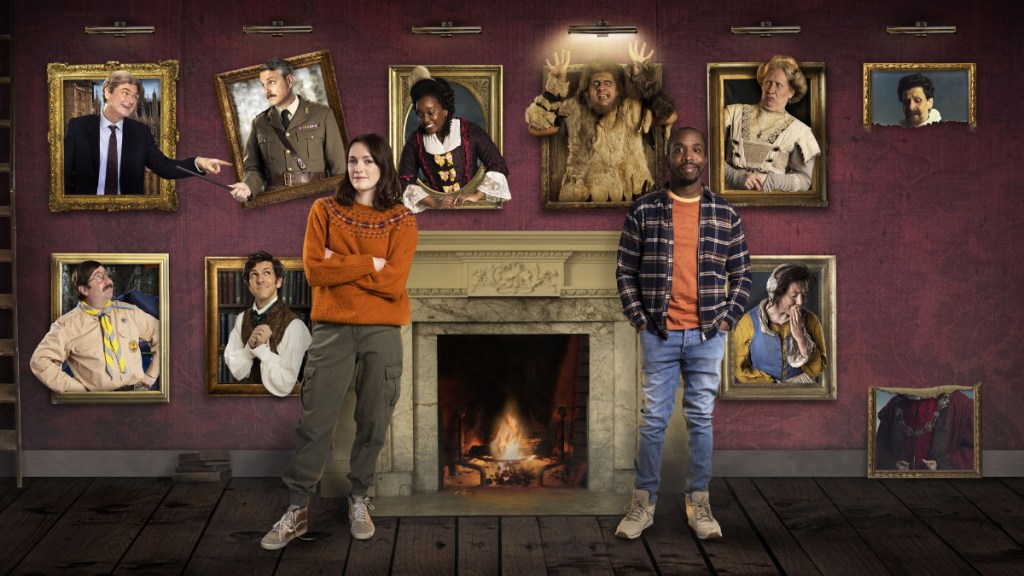 Proof that there is justice in this world – terrific BBC One comedy Ghosts has been renewed for a fourth season. If you've yet to have the pleasure, it's the story of Alison and Mike, the living residents of a manor house haunted by a collection of ghosts through the ages, played by the creators and former Horrible Histories team. Watch all three series so far on BBC iPlayer, and don't miss the two Christmas specials.
Good Omens Season 2 (tbc)
It was the news few were expecting but everybody was delighted to hear: Good Omens is returning, with leads Michael Sheen and David Tennant back in the roles of angel Aziraphale and demon Crowley. Seeing as the first season rounded off the events of the Terry Pratchett-Neil Gaiman book from which it was adapted, this second run will take in unused plot ideas and sequel plans discussed by Pratchett and Gaiman. Filming in Scotland began in early November 2021.
Happy Valley Season 3 (tbc)
Sally Wainwright's excellent crime drama Happy Valley is one of the very best of recent years, so when long-awaited confirmation arrived in October 2021 that season three was really happening, people got rightly excited. Sarah Lancashire, Siobhan Finneran and James Norton are all confirmed to be returning to their respective roles of Sgt. Catherine Cawood, her sister Clare, and jailed villain Tommy Lee Royce. Filming is due to begin in early 2022.
His Dark Materials Season 3 (tbc)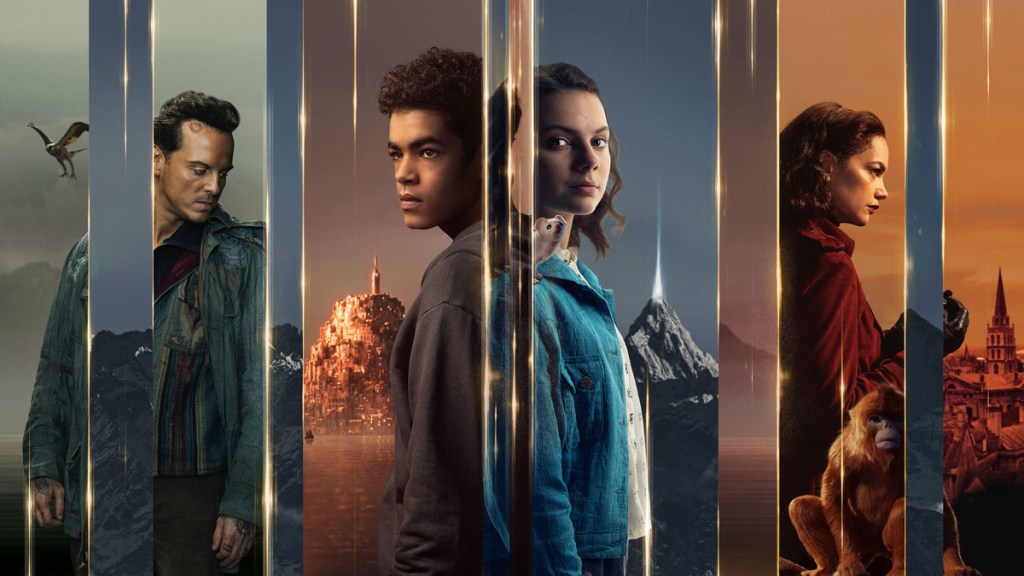 Filming officially wrapped in November on the epic third season of this stunning adaptation of Philip Pullman's book trilogy, starring Dafne Keen and Amir Wilson. Season three will tell the story of The Amber Spyglass, taking Lyra and Will to even more new worlds, where they'll meet strange creatures and have to face a weighty choice. Here's a taster of what we might expect to see.
I Hate Suzie Season 2 (tbc)
If you missed it at the time, seek out the first season of Sky's inventive, surprising I Hate Suzie, from actor-director Billie Piper and playwright-screenwriter Lucy Prebble (Succession). Piper plays a former pop star-turned-actor whose personal photos are leaked online, creating a tidal wave that threatens her marriage, career and sanity. Shifting genres, with musical sections and wild, expressive surprises, made this an unforgettable watch. Bring on season two.
Inside No. 9 Season 7 (tbc)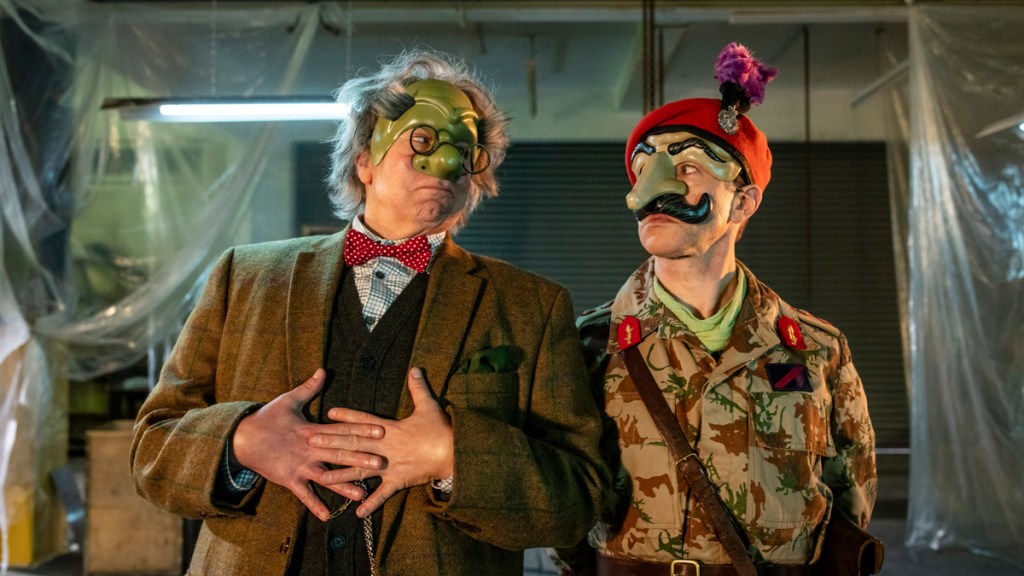 Consistently one of the most inventive, surprising and entertaining shows around, Inside No. 9 returns for its seventh season with new guest stars Jason Isaacs, Daniel Mays, Sophie Okonedo, Jessica Hynes, Diane Morgan, Daisy Haggard, Annette Badland and more joining creator-stars Reece Shearsmith and Steve Pemberton. All previous episodes of this anthology comedy drama are available to stream on BBC iPlayer.
Killing Eve Season 4 (tbc)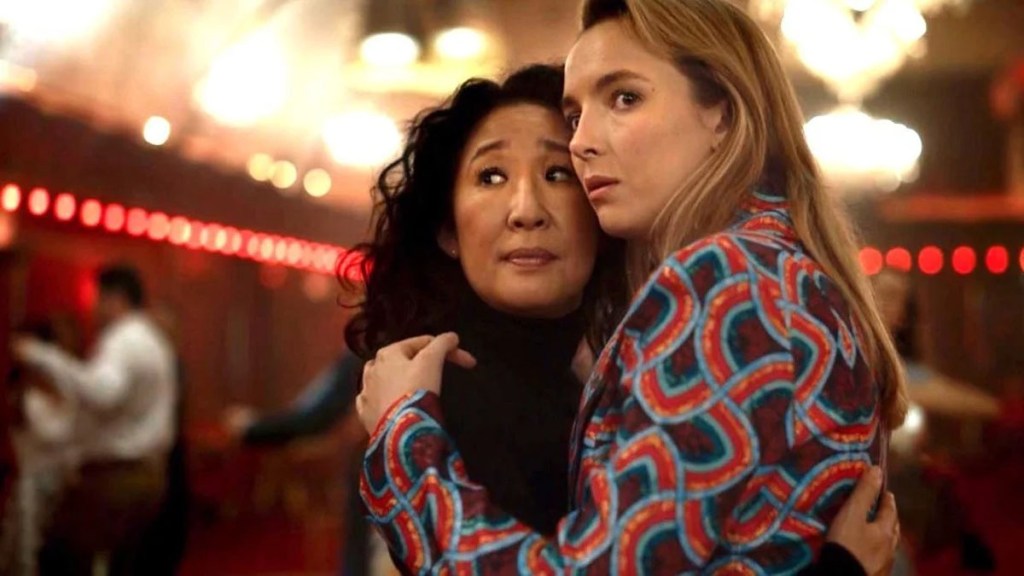 Season four of mega-hit spy thriller Killing Eve was announced back before season three aired, so we've known it's coming for some time. The question is: when? As the show films across various European locations, it was hit harder than many by the pandemic restrictions, but and filming on the fourth and final run finally began in October 2021. Don't hold your breath for the usual April start date.
Luther (tbc)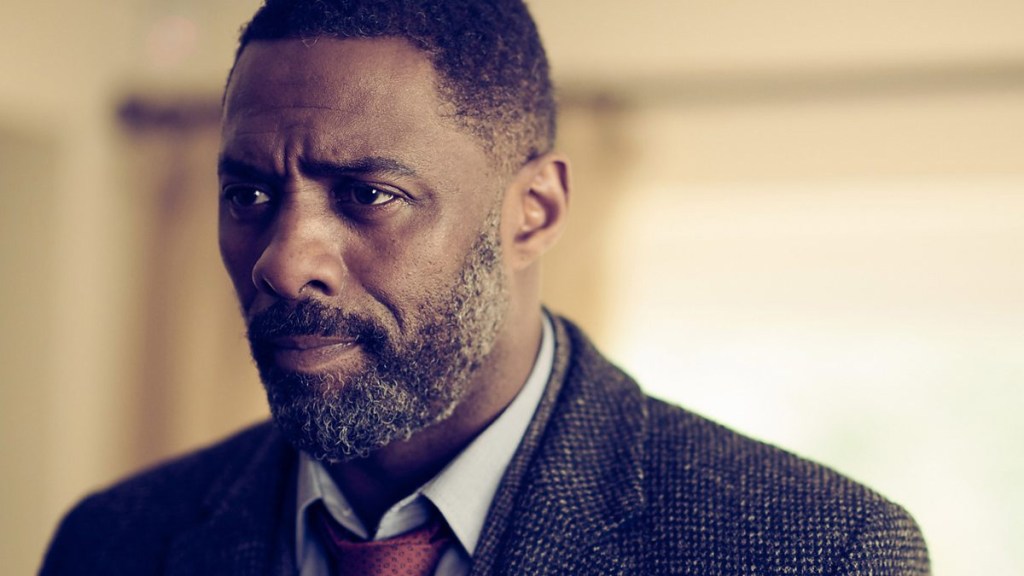 This won't be a new series of Neil Cross' London-based detective drama Luther, but a one-off film coming to Netflix. Idris Elba returns as John Luther, alongside confirmed guest cast Andy Serkis and Cynthia Erivo. Filming officially began in November 2021, so expect to wait a little while before this one lands on the streaming service.
Man Like Mobeen Season 4 (tbc)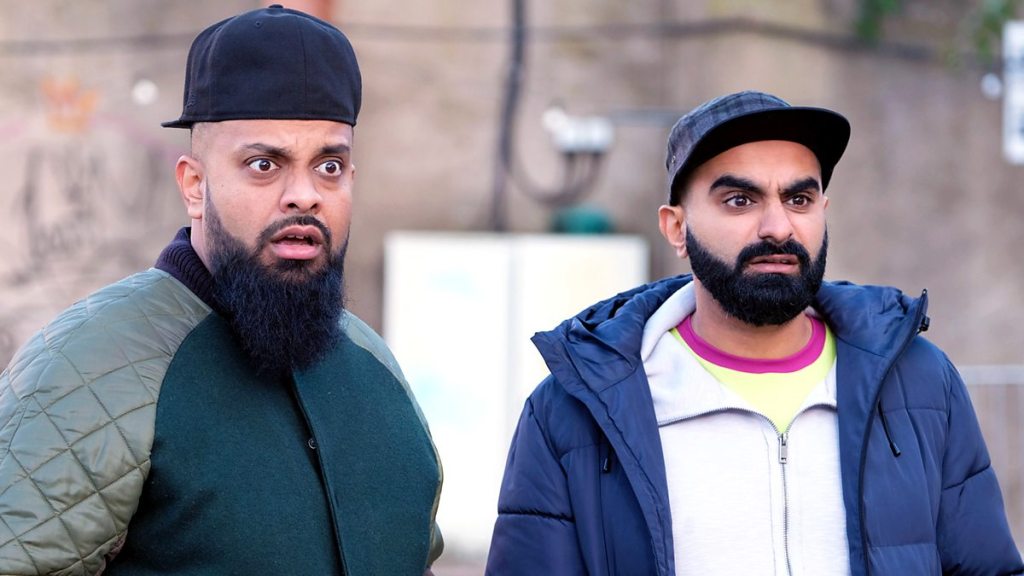 Announced on creator and star Guz Khan's Instagram account in September 2020, as reported by Comedy.co.uk, hit BBC Three comedy Man Like Mobeen will return in 2021, and will conclude the story of Mobeen, a young man trying to go straight and be a good role model for his younger sister. Series three left fans on a serious cliffhanger that saw Mobeen doing time despite his best efforts to stay out of trouble. Catch up on BBC iPlayer here.
McMafia Season 2 (tbc)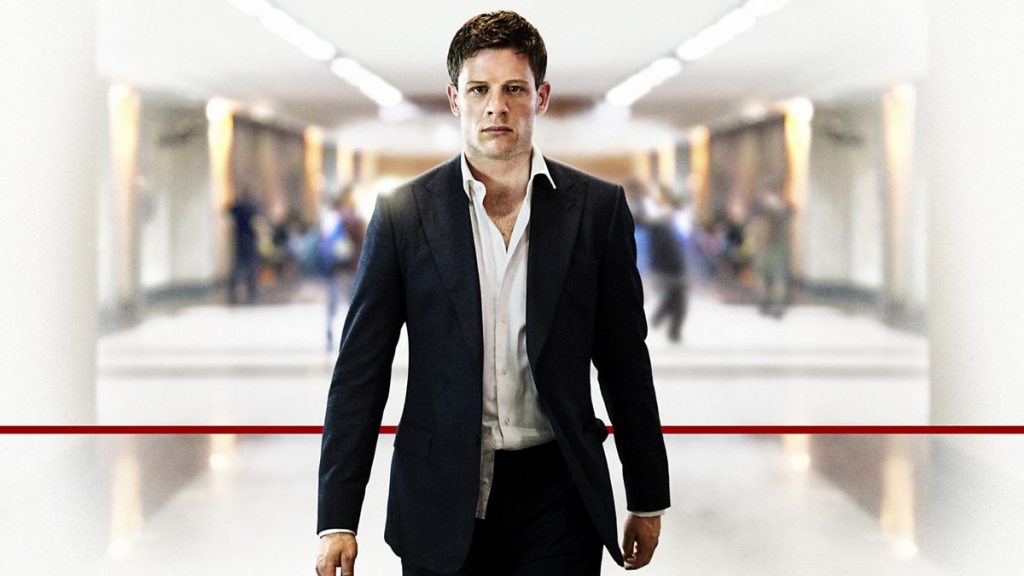 Starring James Norton as the conflicted British son of a Russian mob boss, McMafia was BBC One's big, glamorous New Year drama for 2018. It was renewed for another eight episode season a good while back but updates on progress have been very thin on the ground since then Whenever it arrives, expect more double-crossing and high-stakes violence set against the backdrop of gangland London. Read our series one episode reviews here.
Noughts + Crosses Season 2 (tbc)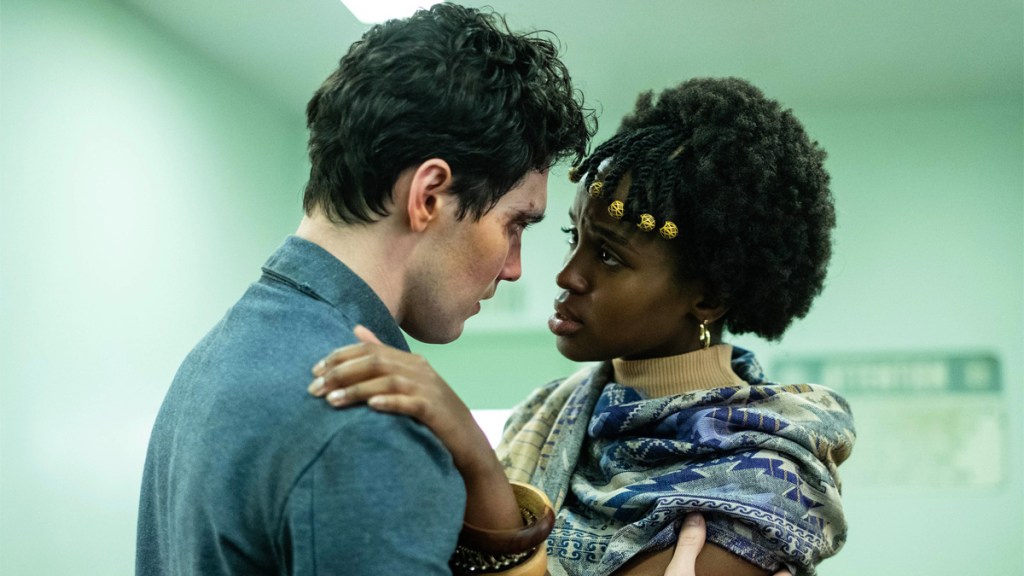 Sephy and Callum return for the next run of this BBC Malorie Blackman adaptation, set in an alternative England named Albion where history, status and the power balance between the races has been inverted. The Romeo and Juliet-referencing tale stars Masali Baduza and Jack Rowan as the young lovers up against it all.
Peaky Blinders Season 6 (tbc)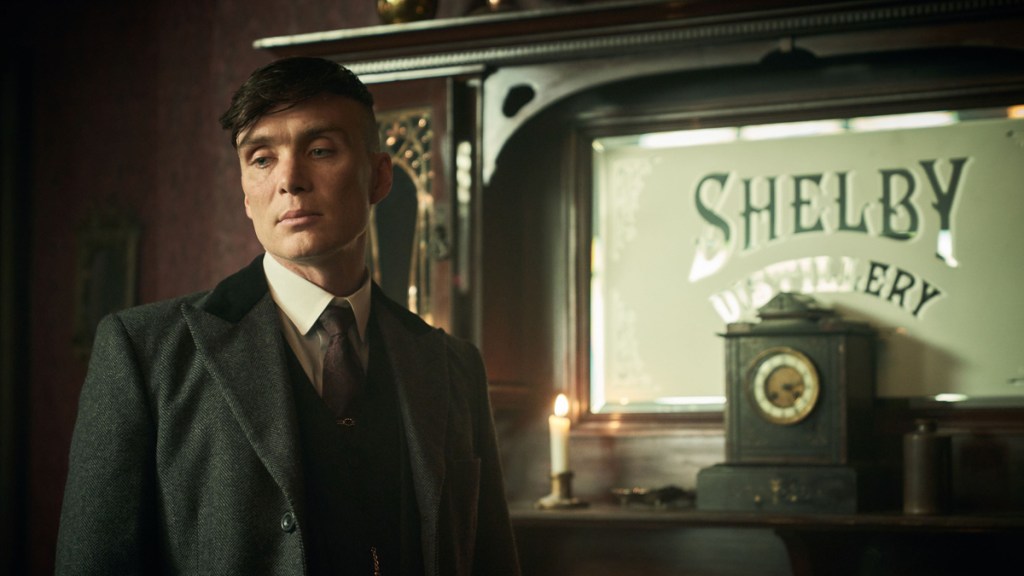 Peaky Blinders, Steven Knight's BBC Two crime saga following the ascendancy of Birmingham's Shelby family in post-World War One England, will conclude its TV run with series six, and then return for a feature film in 2023. Series five left fans with a cliff-hanger that saw Cillian Murphy's Tommy Shelby seeming defeated for perhaps the first time, and series six is set to pick up right where that left off.
Taskmaster Season 12 (tbc)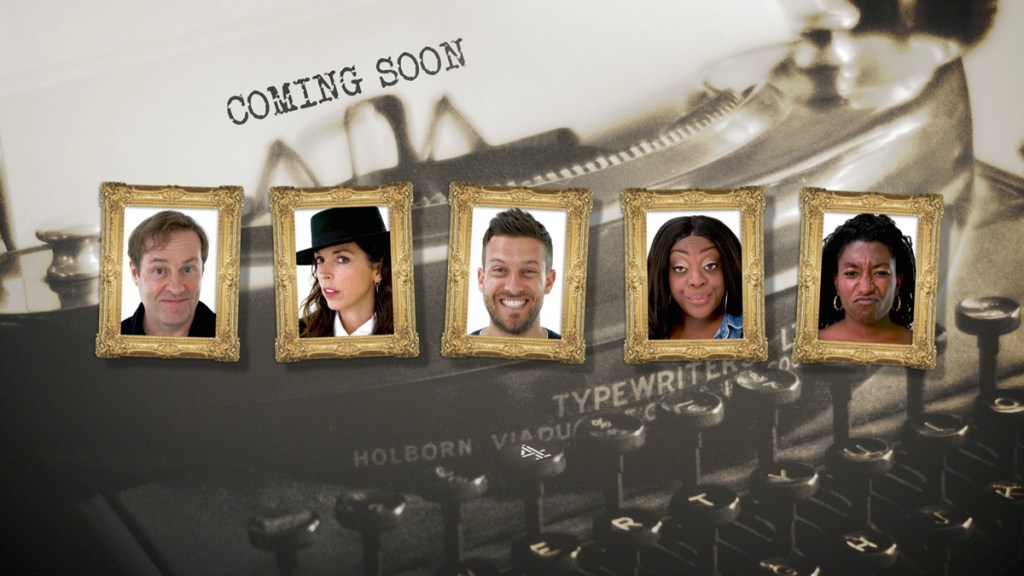 Competing for the Taskmaster's approval in Series 12 will be Ardal O'Hanlon, Bridget Christie, Chris Ramsay, Judi Love and Sophie Duker – a new clutch of comedians ready to do very daft things on national television all in the name of having a laugh. Taskmaster remains one of the most reliably funny comedy shows around and never fails to unearth gems from contestants you didn't know, and weird character traits from those you did. Always a joy.
The Capture Season 2 (tbc)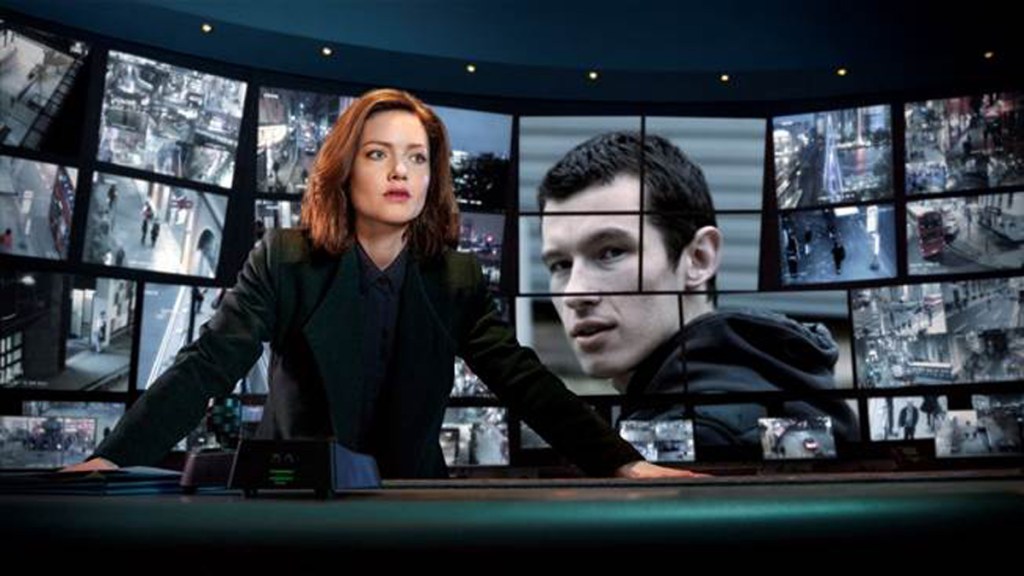 Ben Chanan's BBC One thriller The Capture was a high-stakes crime drama that tackled the question of what truth and innocence mean when video evidence can be so easily manipulated in the modern age. It starred Strike's Holliday Grainger, and Fantastic Beasts and Where to Find Them's Callum Turner, and was renewed for a second series in summer 2020 and filming began in summer 2021.
The Crown Season 5 (tbc)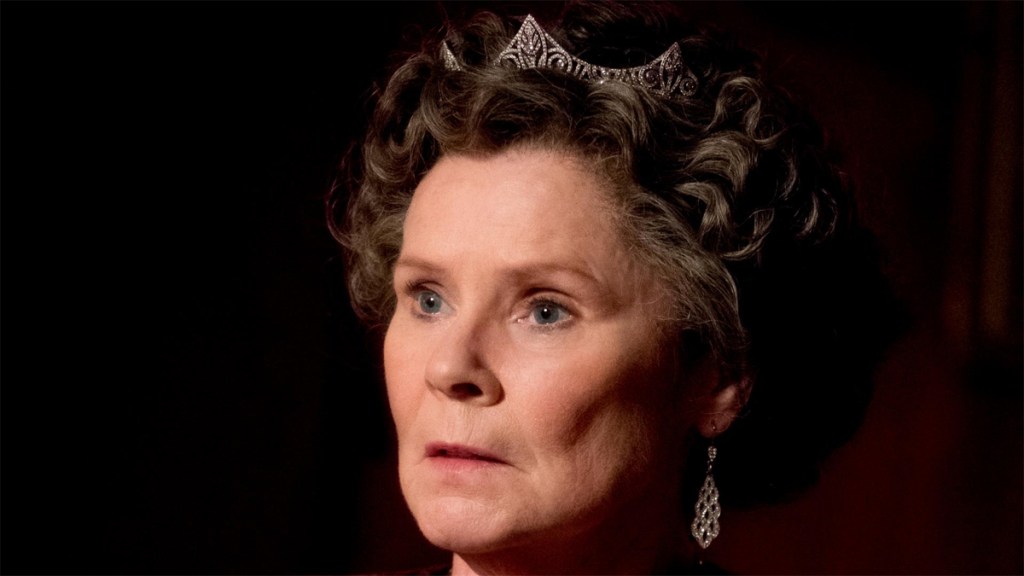 Olivia Colman took over from Clare Foy as HRH Elizabeth II in The Crown series three. The time jump saw Matt Smith replaced by Tobias Menzies as Prince Philip and Helena Bonham-Carter take the reins from Vanessa Kirby as Princess Margaret, with Gillian Anderson playing Margaret Thatcher. For season five, the palace welcomes Imelda Staunton (pictured) and Lesley Manville as the Windsor sisters.
The Last Kingdom Season 5 (tbc)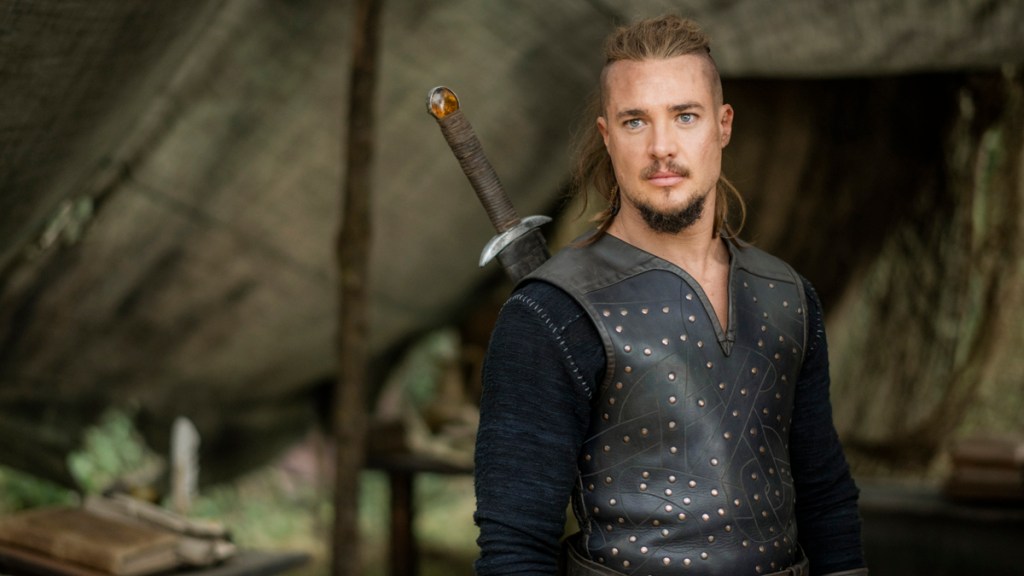 The Last Kingdom series five will adapt the next two books in Bernard Cornwell's Saxon Stories series: Warriors of the Storm and The Flame Bearer. Starring Alexander Dreymon as Viking-raised-Saxon Uhtred of Bebbenberg, it's an action-packed historical drama filled with wit and characters to love. After that, they're all coming back for a movie titled 'Seven Kings Must Die'. Read our spoiler-filled episode reviews and more.
The Nevers (tbc)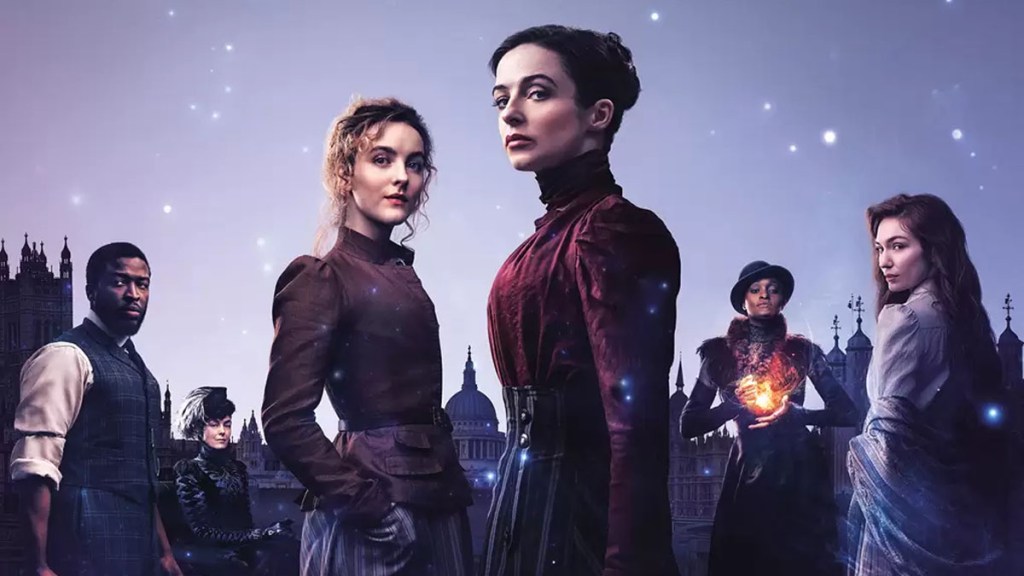 Technically, the next six episodes of HBO and Sky Atlantic's The Nevers will complete its first season (which was supposed to be 10 episodes, but was shortened at a natural cutting-off point due to the pandemic). The new eps, which went into production in summer 2021, also signal a change in showrunner, after Joss Whedon exited the show in 2021 and was replaced by Philippa Goslett. The story's about super-powered Victorian women, and the 'finale' took such an ambitious swerve that even those initially unconvinced will want to check in and see what follows.
Toast of Tinseltown (January)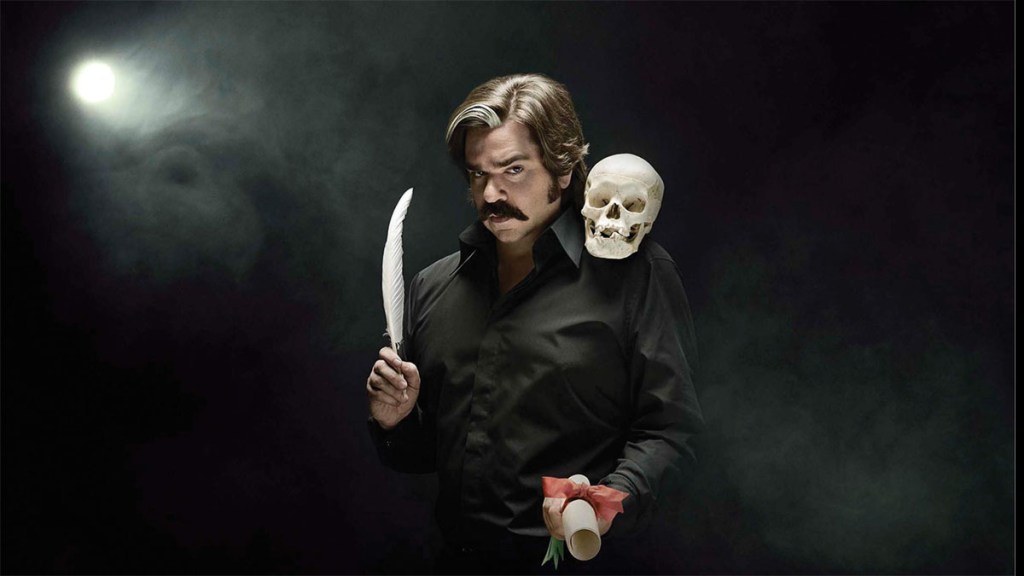 The BBC snapped up Matt Berry's Toast of London for a brand new six-episode series following star of stage and screen Steven Toast as he conquers Hollywood. Toast of Tinseltown starts on the BBC on January 5th, and will co-star many of the original series favourites alongside Year of the Rabbit's Susan Wokoma, Fred Armisen and more.
Unforgotten Season 5 (tbc)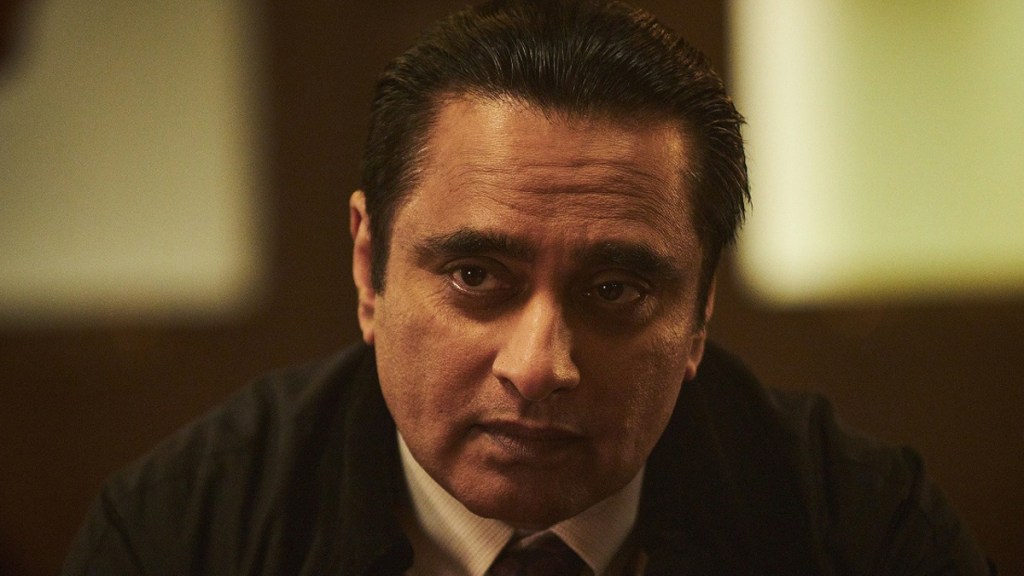 Chris Lang's much-loved ITV crime drama will return for a fifth season, following on from the heartbreaking events of the series four finale. The team will be back investigating another cold case, following clues through a network of seemingly unrelated characters who, by the end, will turn out to be tightly knitted by shared secrets. The guest cast has yet to be announced, but expect a good selection of British talent, as ever.
War of the Worlds Season 3 (tbc)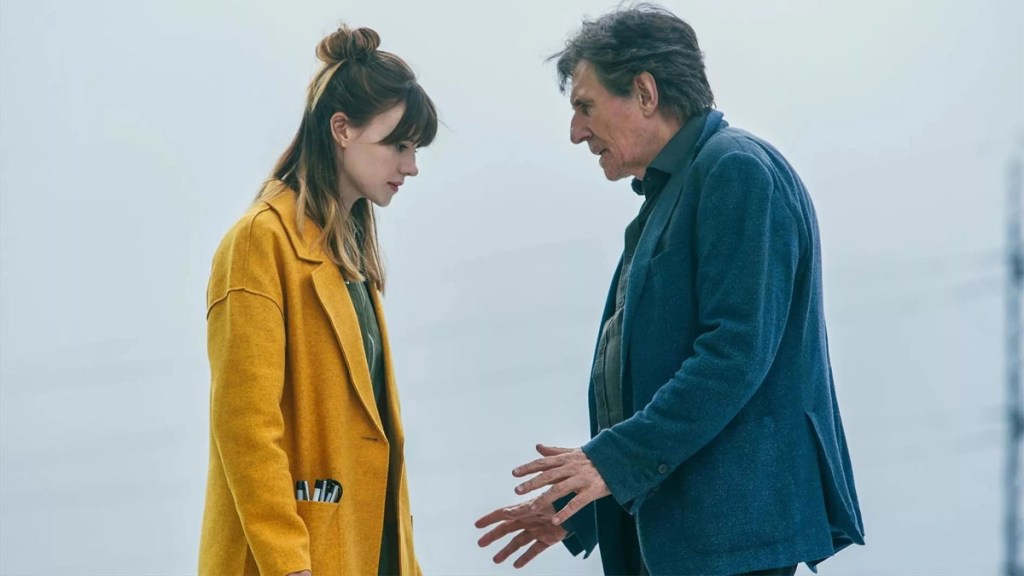 Well, they couldn't very well leave it on that cliff-hanger could they? Thankfully, Epix has renewed this alien invasion thriller (let's drop the pretence that it has anything to do with the H.G. Wells novel by now, that was just a title grab) so sci-fi fans can find out what happens next to Emily, Bill and the invaders from outer space. Expect season three to arrive on Disney Plus in the UK.
Wolf Hall Season 2 (tbc)
It's been a long time coming, but word arrived in mid-2021 that work was now underway on this TV adaptation of the second in Hilary Mantel's rightly celebrated series of novels about the life of Thomas Cromwell. Details are still thin on the ground, but it's hoped that Mark Rylance and Damien Lewis will reprise their lead roles as Cromwell and King Henry VIII in the next adaptation of a planned three. Claire Foy unfortunately can't come back as Anne Boleyn because of well, history. More news as it arrives.
World on Fire Season 2 (tbc)
To the delight of fans following series one's tense cliff-hanger ending, Peter Bowker's WWII drama following multiple interconnected stories from around the world during the war, was recommissioned in November 2019. Then, the pandemic intervened. The stories of Harry (Jonah Hauer-King), Kasia (Zofia Wichlacz) and Lois (Julia Brown) will continue in the second run, alongside those of Lois' conscientious objector father Douglas (Sean Bean) and Harry's ice-cold mother Robina (Lesley Manville).
Also returning in 2022:
Around the World in Eighty Days (Season 2)
Bloodlands (Season 2)
Bloods (Season 2)
Code 404 (Season 3)
Finding Alice (Season 2)
Grantchester (Season 6)
Industry (Season 2)
Ladhood (Season 3)
Sanditon (Season 2)
Sex Education (Season 4)
Professor T (Season 2)
Taskmaster (Season 12)
The Larkins (Season 2)
The Mind of Herbert Clunkerdunk (Season 2)
The Outlaws (Season 2)
The Split (Season 3)
We Are Lady Parts (Season 2)
See the new British TV shows due to arrive in 2022 here.