Features
What Will Good Omens Season 2 Be About?
Good Omens season 2 is unexpectedly in the works, but with the only book already adapted, where can the story possibly go?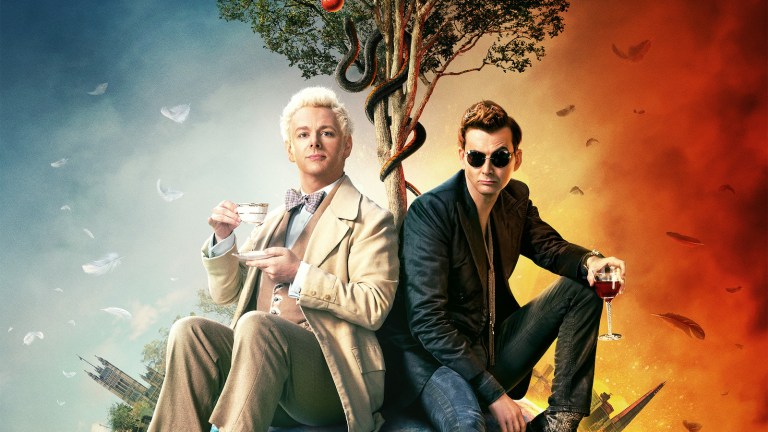 Amazon recently announced that Good Omens season 2 would be returning for a six-episode run, and those who read the single novel written by Neil Gaiman and Sir Terry Pratchett uttered a collective, "Huh?" The show was logically conceived as a limited series given that what is now season 1 already adapted the entire existing story. However, it turns out that Gaiman, as executive producer, left himself some openings to continue the tale, the seeds of which do exist.
It turns out that Gaiman and the late Pratchett had discussed a possible sequel to their popular collaborative novel, and some elements from that effort, which would have been titled 668: The Neighbor of the Beast, have already been introduced. "The fact that we have Jon Hamm as the impossibly irritating angel Gabriel is something from the sequel we slid back in, [including] the relationship between heaven and hell, where we keep going back and forth between these two appalling places," Gaiman told Variety back in 2019.
Amazon has confirmed that Good Omens season 2 will have that conflict at its core while also exploring, according to the press release, "storylines that go beyond the original source material to illuminate the uncanny friendship between Aziraphale, a fussy angel and rare book dealer, and the fast-living demon Crowley. Having been on Earth since The Beginning and with the Apocalypse thwarted, Aziraphale and Crowley are getting back to easy living amongst mortals in London's Soho when an unexpected messenger presents a surprising mystery."
Gaiman elaborated on that last teaser a bit more in a statement tied to the renewal. In Good Omens season 2, he says, "We are back in Soho, and all through time and space, solving a mystery, which starts with an angel wandering through Soho, with no memory." Expect David Tennant and Michael Sheen to reprise their roles as a couple of celestial beings who, perhaps temporarily, have fallen off of Heaven and Hell's radar.
It seems unlikely that we'll see many of the other characters from the first season of Good Omens whose arcs have concluded. The Antichrist will hopefully have his own uneventful but happy childhood, and the Witchfinders won't be necessary with Newton and Anathema blissfully ignorant of any prophecies, having forgotten most of the averted apocalypse. But anything is possible!
Pratchett's brand of humor is in good hands with Gaiman's writing partner for Good Omens season 2, John Finnemore. The comedy writer is known for his hilarious radio sketch comedy show, John Finnemore's Souvenir Programme, and he was the creator of the radio sitcom Cabin Pressure, which featured a pre-Sherlock Benedict Cumberbatch. Filming begins for the second season later in 2021 in Scotland.