Features
Best Horror Anime To Watch on Crunchyroll
The Halloween season is upon us, so let's break down the best horror and supernatural anime that's available to stream on Crunchyroll.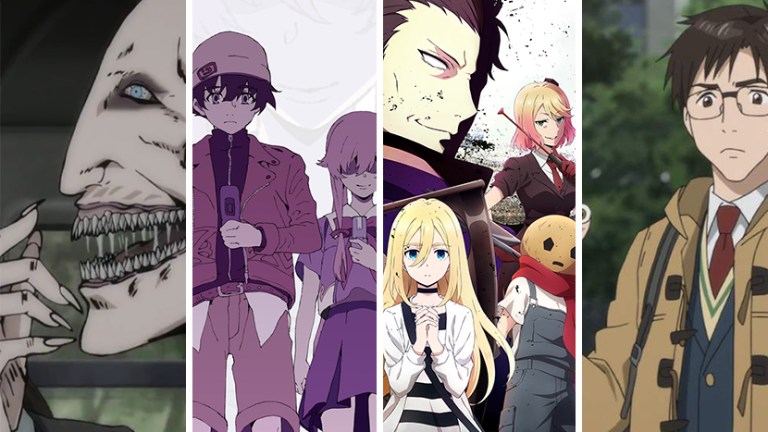 One of the best things about October is how every content provider gets infected with Halloween madness and succumbs to horror-centric programming. Some networks even curate a full 31 days of scary content to prove just how gung ho they are about this spooky holiday. At this point it's likely that you've already made your checklist for all of the big horror films that are on the horizon and all of the older classics that you need to catch up on. However, if you're still starved for even more horror-based content, then look no further than Crunchyroll and their catalogue of frightening anime. 
Whether you're a committed member of the anime streaming service or you've never checked out the site before, it's likely that the service will have something that catches your eye. It can sometimes be rather overwhelming to sift through a whole collection of anime, especially when you have no idea what's supposed to be good or not, let alone a series that's actually scary. In order to make your Halloween a little less frightening, we've streamlined a list of some of Crunchyroll's most notable anime series—both in terms of horror shows that go straight for the jugular as well as lighter fare that centers around a supernatural premise—to make the experience as easy as possible for you.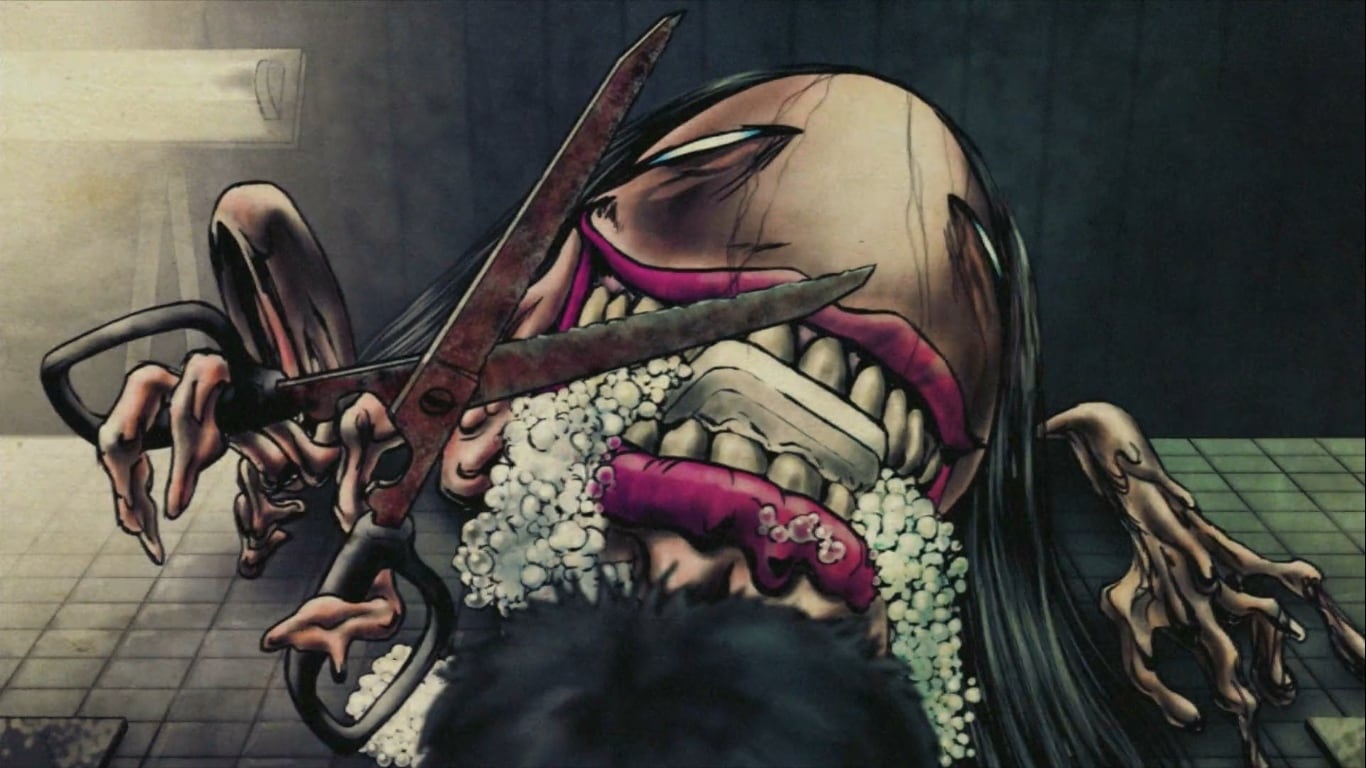 Yamishibai: Japanese Ghost Stories 
How Many Episodes: 72
Sub Only
Yamishibai has steadily been trucking along for over six seasons and it's turned into one of the more traditional horror anime staples in Japan. The series gets its inspiration from classic urban legends and ghost stories from Asian culture and distills them into brief four-minute bursts of horror. A lot of Yamishibai's charm comes from its creepy atmosphere and short stories, but the anime's quality wildly fluctuates over the show's six seasons. Some episodes are more uncomfortable or strange than terrifying, and the show's low production values may deter some viewers, but it's a great source to learn about all kinds of creepy new stories.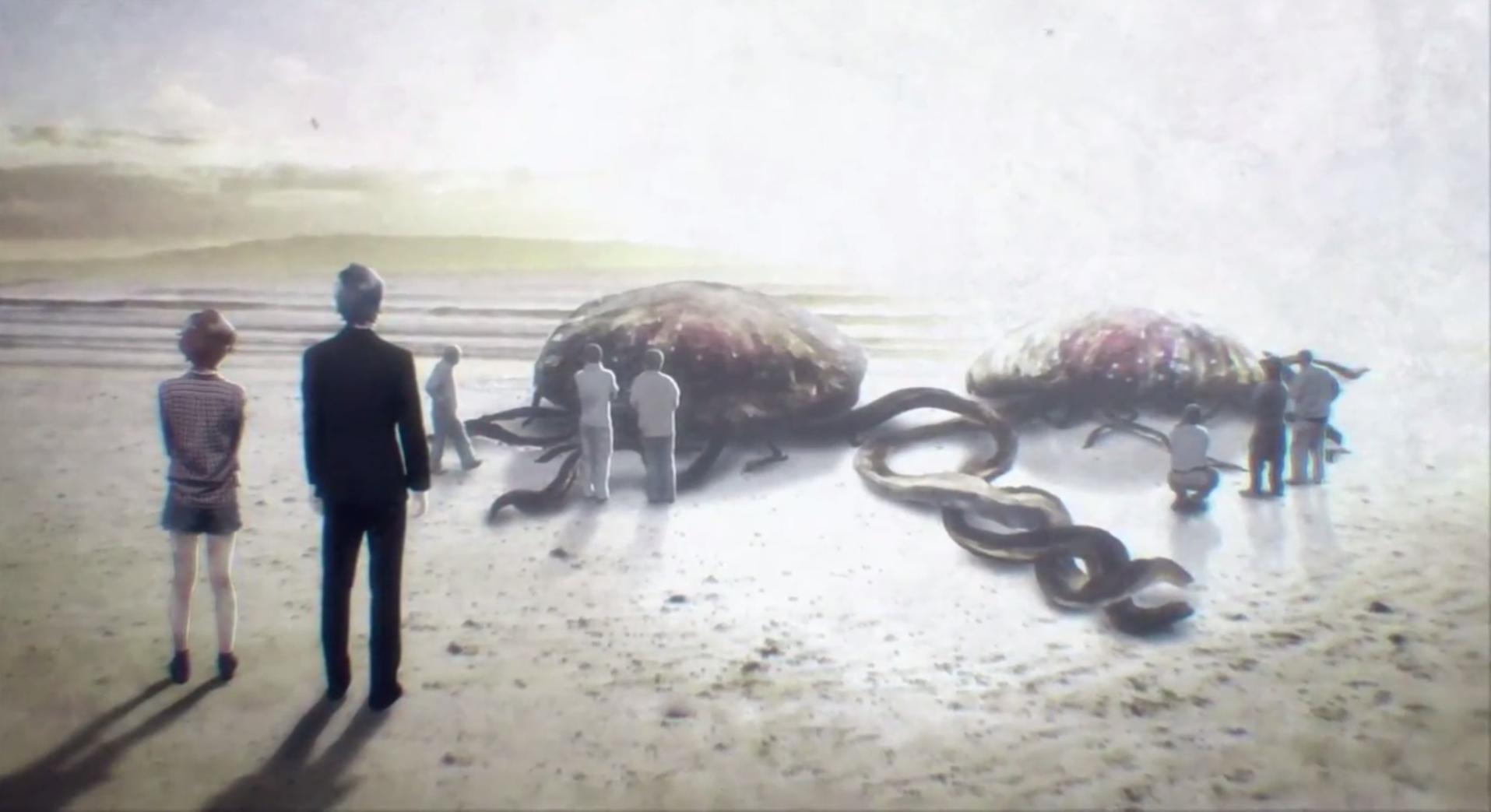 Kagewani
How Many Episodes: 13
Sub Only
Kagewani looks at a desperate video blogger who attempts to find success by faking the appearance of cryptids and monsters in his videos. Before he knows it, there are real monsters that are loose on the city and a growing epidemic begins to sweep the community. This hapless blogger, Sousuke, attempts to eliminate these creatures, but the mystery he's put himself in continues to deepen. Kagewani is easy viewing with its short seven-minute episodes and even though the art style leaves plenty to be desired, it features creative monsters designs and a mystery that holds up until the end. Dedicated fans can also check out the show's sequel series, Kagewani: Shou.

Angels of Death
Sub and Dub
Angels of Deathis a boiled down psychological horror title that throws its characters and audience into a high concept premise. A young girl named Rachel wakes up in the basement of an abandoned building and has no idea how she got there. It's not long until she encounters Zack, a man who's completely covered in bandages and has a penchant for waving a sickle around. Angels of Death explores the unconventional friendship between these two as they try to figure out where they are and how to get out. The prison that Rachel and Zack find themselves trapped in is full of unusual horror-friendly characters and the series understands how to make this action-packed mystery engrossing rather than draw out the adventure and withhold answers.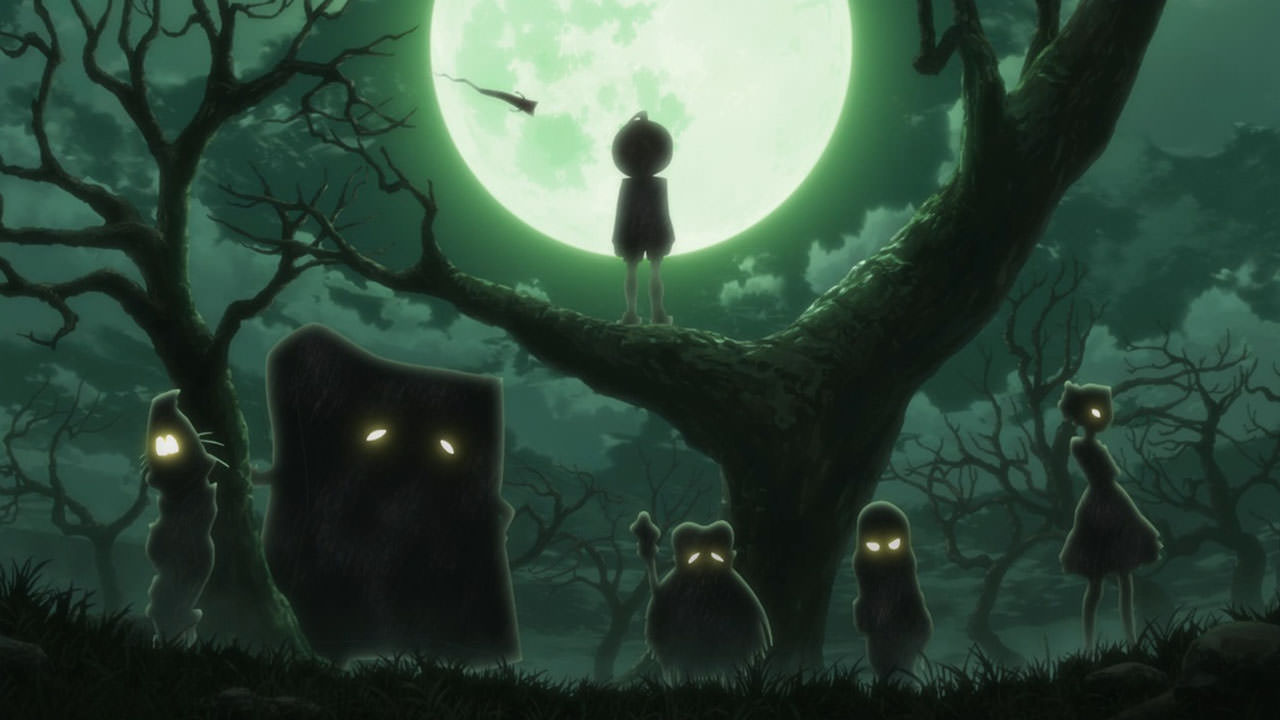 GeGeGe no Kitaro (Kitaro of the Graveyard) (2018) 
How Many Episodes: 27 (and still running)
Sub Only
GeGeGe no Kitaro is an anime series that's actually been around since the 1960s, but every decade has featured some fresh attempt at remaking the series. 2018's rendition of GeGeGe no Kitaro seems to have learned much from its predecessors and feels like the most polished execution of the anime yet. The series focuses on a number of yokai that are determined to keep the world safe from the more dangerous spirits that are out there. Each episode features a "yokai of the week" that must be handled, but a larger serialized story also courses in the background. GeGeGe no Kitaro has a wide cast of weird, enjoyable characters and even though it skews younger, it still manages to surprise. The basic premise behind the series may sound played out, but incredible art design and addictive storytelling help keep this anime on top.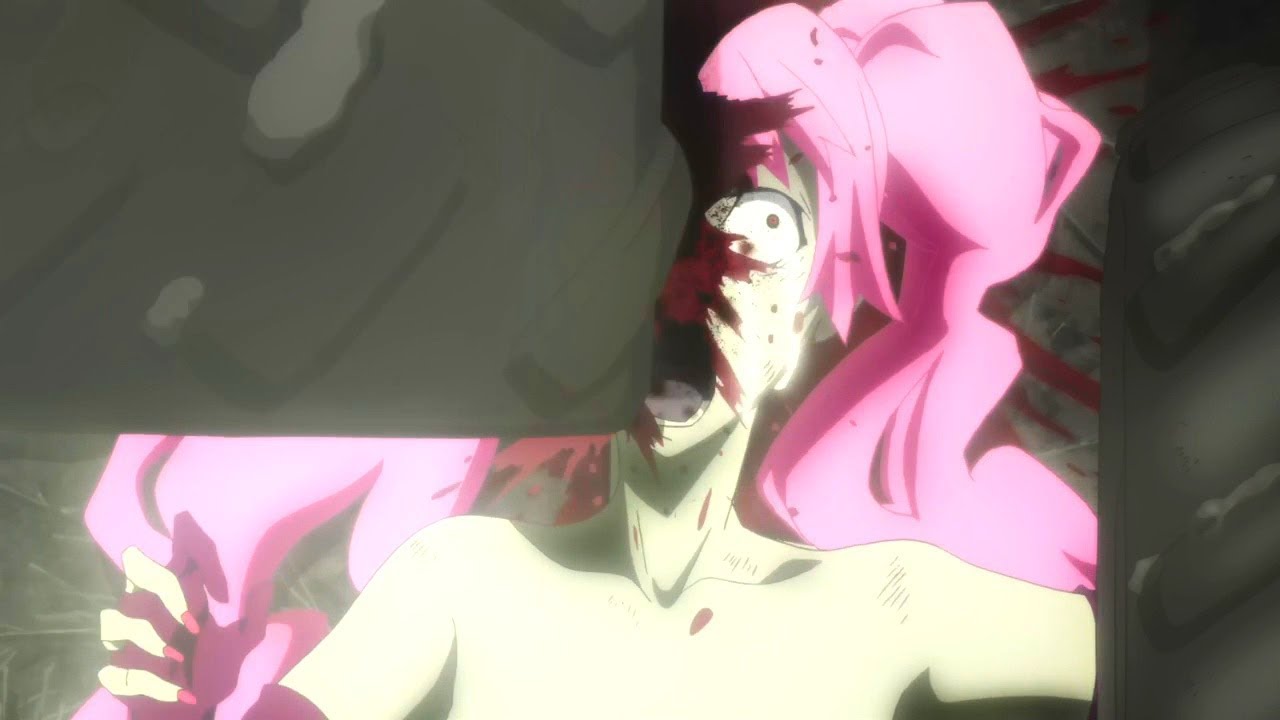 Shiki
How Many Episodes: 22 
Sub and Dub
On its surface level, Shiki tells the story of a contagious epidemic that sweeps the village of Sotoba and turns much of their population into the ferocious, bloodthirsty vampire-esque, Shiki. The Shiki virus cripples the town of Sotoba, but some unlikely individuals arise to try to properly understand and eliminate this virus. Shiki contains lots of gruesome murders and some terrifying monsters, but it's more interested in the theological questions of good and evil that that the Shiki address. This is a show where it's never exactly clear who's good or who's evil and it's a balance that's consistently in flux. Come from the vampires, but stick around for the heady debates about the morality of man.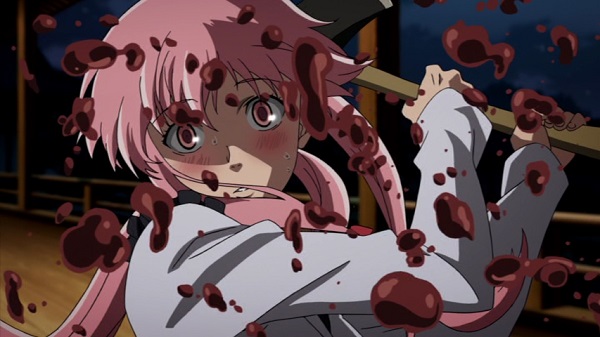 The Future Diary
How Many Episodes: 26
Sub and Dub
The Future Diary feels a bit like if Death Note and Battle Royale had a baby. The series focuses on a meek high school student, Yukiteru Amano, who spends most of his writing in his diary and chatting with imaginary friends, Deus Ex Machina and Murmur. Well, it turns out that Yukiteru's friends are not only real, but they're the God of time and space and entrust Yukiteru with a pivotal mission. They give him a diary that contains entries that spell out the future. However, eleven other individuals have been given similar tomes. These 12 individuals who possess these future diaries must engage in battles to the death and the one lone survivor will become the new God of time and space. 
The Future Diary has quite the ornate premise and while it tells an engaging story, it does progressively fly off the rails as the series goes on. The Future Diary may ultimately grow too ridiculous for some, but it's still one of the more creative takes on a "survival game" that you'll find.
Another
How Many Episodes: 12
Sub Only
Anothertells an unnerving mystery that sees class 3-3 in a middle school turn into a hotbed for supernatural activity after a popular girl passes away in the '70s. Now in the present, a new transfer student enters class 3-3 and he's the only one that's able to see Misaki, the girl who passed away over 20 years ago. Mysteries continue to grow and this transfer student forms an unexpected alliance with the mysterious Misaki to figure out what evil forces have ahold of their school. Another plays up the mystery and suspense angle over pure horror, but it still knows when to turn up the blood and guts when it's appropriate. Another benefits from a concise 12-episode story and even though the series' central mystery changes in some major ways in the second half of the season, it's always engrossing. You truly want to see Kouichi, the transfer student, find some peace and hopefully be able to give Masaki's soul some rest, too.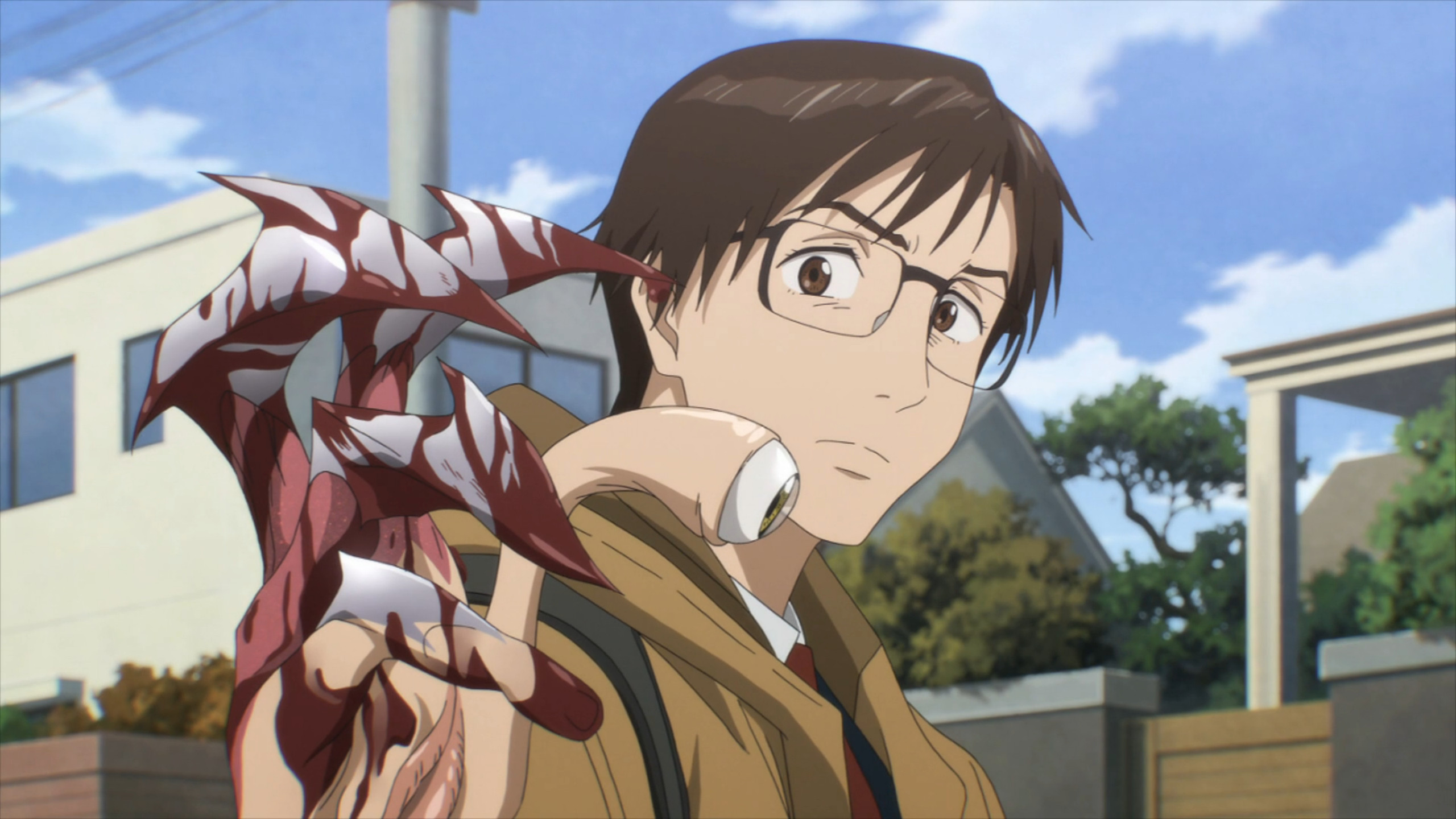 Parasyte: The Maxim
How Many Episodes: 24
Parasyte: The Maxim hits the ground running and is bonkers from its very first frame. The series revolves around a number of alien parasites that have landed on Earth and start possessing hosts. Shinichi Izumi is a mild-mannered high school student whose life drastically changes when one of these parasites possesses his right hand. This sets Shinichi on a dangerous journey to wipe out the other parasites that have landed on Earth, as well as figure out how to work alongside his new alien host, and if there's a way to rid himself of this threat. Parasyte: The Maximoperates like a superhero series at times as Shinichi acclimates to the new strength and powers that his parasite gives him. The series also navigates tricky moral territory as Shinichi, who's now a human-alien hybrid, must fight against the aliens that are now part of his biology (think Tokyo Ghoul, but with aliens instead of vampire demons). 
The path that Shinichi finds himself on gives the anime a strong narrative drive, but honestly, this is just a beautiful show to watch in motion. The fluid, bewildering effects that Shinichi's parasitic hand puts to use are ridiculous and it's just crazy to watch a boy partner up with an alien version of his hand for an entire series. H.P. Lovecraft would give this madness his full stamp of approval.
Death Parade
How Many Episodes: 12
Sub and Dub
Death Parade is pure bliss and it's one of those special anime that you wish was twice as long. The series operates as a soft anthology in the sense that each episode features two new characters who must engage in a match for the safety of their soul. When two people pass away at the same time, they're sent to Death Parade's purgatory-like Quindecim bar. There they must engage in some sort of competition—billiards, darts, bowling, air hockey, even Twister—and the winner's soul will get to go to Heaven, and the loser's is sent to Hell. Death Parade gleefully finds dark spins on all of these mundane games, but the best part of the series is the complicated human stories that it tells through its various competitors. The series taps into the humanity and pain of these characters and pulls off engrossing stories that feel like something out of the Twilight Zone or Black Mirror. Death Parade is a staggering mix of murder, competition, and character study that tops itself with each new episode.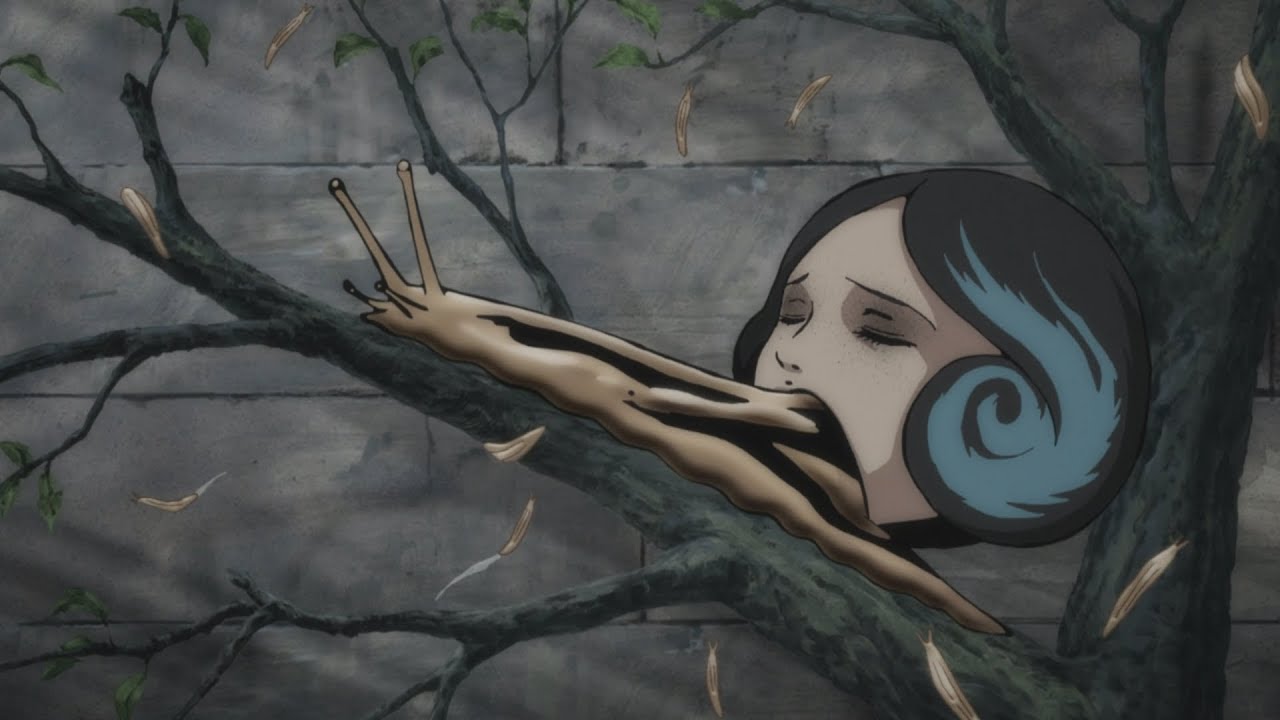 Junji Ito Collection
Sub and Dub
If Yamishibai is the tame horror anthology that you can watch before going to bed, then Junji Ito Collection is pure nightmare fuel. This is not a series that should be watched with the lights turned off or even with a large amount of shade in the room. The series adapts some of the most disturbing stories from renowned horror manga artist, Junji Ito. Junji Ito Collection packs two sordid stories into each episode and the subject matter ranges from supernatural curses, to deranged killers, to some of the most extreme body horror you'll ever see in an anime (can David Cronenberg please take on a live-action adaptation of "Honored Ancestors"?). Ito conjures up unbelievable ideas that are truly a rarity for horror and stories like "Greased," "Long Dreams," "Slug Girl," and "Blood-Bubble Bushes" are all behemoths of horror.
Unfortunately, not all of the Ito stories that the anime chooses to adapt are winners, but the series' unsettling art design still helps the weaker tales carry a strong punch. With any justice a second season of this will soon be announced to terrify anime fans well into 2019.
Other horror-centric or monster-based anime titles to check out on Crunchyroll when you've scared yourself stiff off of everything else: Muhyo & Roji's Bureau of Supernatural Investigation, Kakuriyo: Bed & Breakfast for Spirits, The Garden of Sinners, Interviews With Monster Girls, and of course, there's always the body horror colossal terror that Attack on Titan brings to the table…
Daniel Kurland is a published writer, comedian, and critic whose work can be read on Den of Geek, Vulture, Bloody Disgusting, and ScreenRant. Daniel knows that the owls are not what they seem, that Psycho II is better than the original, and he's always game to discuss Space Dandy. His perma-neurotic thought process can be followed at @DanielKurlansky.
Read and download the Den of Geek NYCC 2018 Special Edition Magazine right here!