Features
My Hero Academia: The Rise of Jiro and the Future of Dubbed Anime
Trina Nishimura discusses the end of Attack on Titan, Kyoka Jiro's moment in the spotlight on My Hero Academia, and her diverse voice acting career.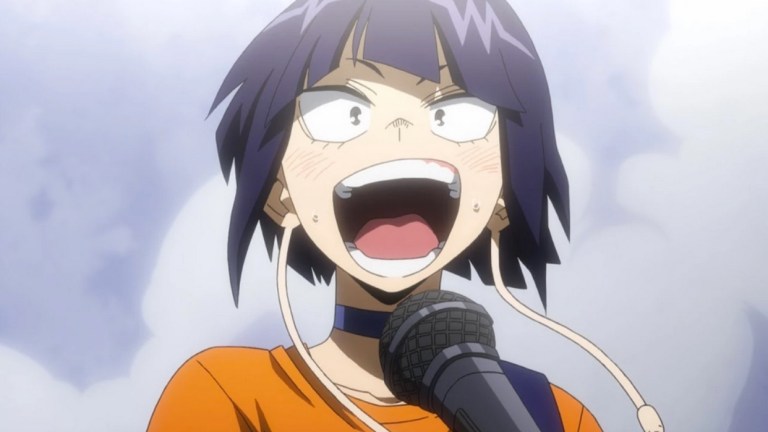 Funimation is one of the leading companies in the anime business and they've been instrumental in bringing many popular series over to America, along with producing excellent dubs that are actually able to improve upon the source material. My Hero Academia and Attack on Titan are easily some of the biggest anime of the decade and Trina Nishimura voices two pivotal characters in the series, My Hero Academia's Kyoka Jiro and Attack on Titan's Mikasa Ackerman.
The anime dubbing industry has had to roll with a lot of changes due to the COVID-19 pandemic, but it hasn't stopped Trina Nishimura or Funimation from getting the job done. Taking some time to discuss her career at FunimationCon 2020—a virtual anime convention—Nishimura opened up on the meteoric rise of her My Hero Academia character and how she's terrified over Mikasa's safety and how the dust will settle in the final season of Attack on Titan.
Den of Geek: The final season of My Hero Academia got impacted by COVID-19. What has the process been like to record at home?
Trina Nishimura: It was really hard! It was a challenge to go from having so much support in a professional studio environment and being together with the director and engineer, to then immediately be in a situation where you're in a closet and do everything yourself. I've never really done a lot of engineer work, where you like edit and move things. It was initially a little daunting, but Funimation was really kind and patient about it all. Just so nice. I think I had a two-hour session where they just walked me through everything and I just silently dealt with my heart palpitations.
It was challenging in a lot of ways, but it's just been so cool. I have a small little setup, but some of the other people who are recording from home have much more advanced stuff. With My Hero Academia, Funimation made sure that there was always support that you could call like before your session if you're freaking out.
It's been interesting to witness that from the other side of things, too. You guys have developed a real rhythm for the releases and kept up with everything.
It's the future!
You play Kyoka Jiro in My Hero Academia who's typically not a huge character, but she really takes the spotlight during those final episodes with the performance that the class puts on. Was that a fun change of pace?
I've been looking forward to that particular character arc for a while now! I've been really excited and nervous for it, but then COVID hit and we were like four episodes away from it all! It was really scary! Actually, My Hero Academia was the last thing that I recorded in a professional studio and the director Colleen [Clinkenbeard] was amping me up for the arc coming, but then everything closed down.
It was intimidating to have this arc that's so important to the character and something that I've been looking forward to for forever, but then need to record it all from home. It was scary, but Funimation and specifically Colleen were such a calming force through all of this. It was just great to finally get into that arc and show a little more of what Jiro is really all about.
I think those episodes have made a lot of people Jiro fans. I've definitely noticed an increase in Jiro fans since then.
Yeah! I've been getting a lot more messages concerning Jiro lately, which has been such a fun experience. I play a lot of quiet characters and Jiro is certainly one too, but it was a lot of fun to see her come out of her shell more and own who she is.
It's also a fortunate situation that the song that Jiro performs is already in English, but was there discussion over you re-recording the song?
I did not re-record the song. It's a beautiful song though. It's just beautiful. I've rocked out to it myself! It's just so sweet and happy. I really like it.
That performance is such a high point for the series. This was easily my favorite season and seeing Eri smile from that song is so sweet.
I feel like in any good media or story it can be exhausting if it's just constantly heavy and full of that weight. Now I say this, but I'm also on Attack on Titan! But those little moments of calm and hope that bring it back to the characters and focus on them as people are so important.
On the topic of Attack on Titan, that anime is heading into its final season and Mikasa is such a beloved character in a series where everyone really gets to grow and change. Has it been rewarding to get to voice someone so complex?
It's been really cool to voice a character that goes on such a drastic journey and experiences so many tragedies and hardships, but then watch how she changes from a child to a young woman. It's really rewarding. I love Mikasa for a number of reasons and I love Attack on Titan for the same reason that I'm fond of the character, which is how they approach gender roles. It's so important and reflective of today's society.
Mikasa is a woman, but she's also such a strong fighter. Armin on the other hand is a man, but he's also the least physically strong character, but highly intelligent and emotional. He gets to cry, which men often don't do in media. There's also a character on the show whose gender is never specified. I think not just that portion of it, because there are so many layers to Titan, but it's amazing to be a part of that world and in Mikasa's shoes. It's been incredible. Attack on Titan has honestly changed my life for the better. I've met so many amazing people through it.
More than any other series, Attack on Titan is a show where I'm just legitimately worried for the characters as they head into this final season.
I'm terrified! We don't get the manga ahead of time, so I've been expecting to get killed off since season one! I don't know what's happening and I'm just hopeful everything works out. I'm not at all prepared for what's to come. Actually, during the very beginning of the show, the English dub's director, Mike McFarland, said that he wanted me to go on the journey along with Mikasa and be as blind as she is. He said that there are things that are going to happen to Mikasa that she doesn't know about, so I shouldn't know about them either. He didn't want me to read ahead or anything, which is great because that's how I prefer to work anyways.
Now some of that has to do with how Mike and I are familiar with each other. We've worked together before and he's such an amazing director and a great leader. But it can be heartbreaking to head into a session with a cheerful mood, record two hours of depressing content, and then leave a wreck because you didn't know it was coming. So I'm in the dark on what happens, just like a lot of other people, but I'm such a colossal fan of everything that the show does. I'm so excited and so scared.
We've talked about a bunch of your bigger characters, but are there any other roles that really stand out for you?
Kurisu Makise from Steins; Gate is my jam! She was such a fun character to voice because of her emotional depth and all the trauma. Actually, I don't know what that says about me…"Hmm, this character cries a lot and is so messed up in the head. Wonder if Trina's available?"
But the sillier ones also made a big impact on me, like Francesca Lucchini from Strike Witches. She's hilarious. Navirou from Monster Hunter is another one who was super close to my heart. That series had like 54 episodes so we worked on that show for like a year. I love all of my characters for different reasons, which I know a lot of people say, but it's true!
My Hero Academia and Attack on Titan are both available to stream on Funimation.com.