News
Good Omens Series 2: New Characters and Cast Photos Revealed, Release Date Teased
Good Omens returns in summer 2023 and will introduce new characters, some with familiar faces.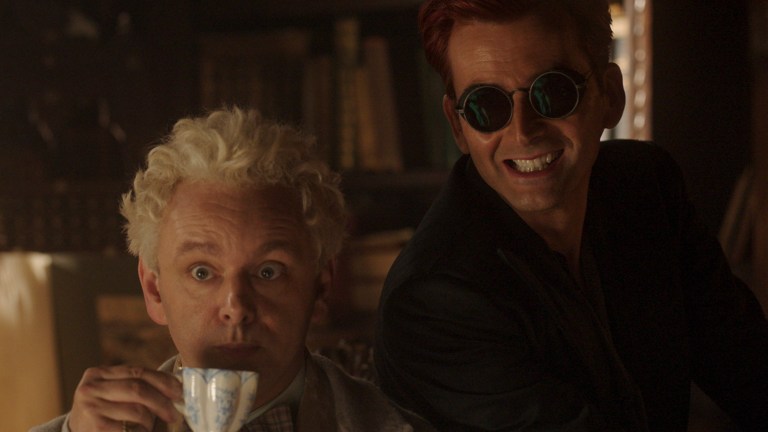 Expectations were high for the Good Omens panel at New York Comic Con today, with fans keeping fingers crossed for any signs of a series two release date, some new imagery, and maybe even a teaser clip or trailer. To our delight, we got everything we wanted and more.
The panel guests consisted of Showrunner Neil Gaiman, Executive Producers Douglas Mackinnon and Rob Wilkins, and Good Omens cast members Maggie Service, Nina Sosanya and newcomer Quelin Sepulveda.
Good Omens series two release date
Neil Gaiman relished telling the crowd that we can expect series two of Good Omens in 'summer 2023'. This news was later posted on Twitter, along with an exclusive new poster for the series:
Fans on social media were quick to point out that Aziraphale and Crowley's wings make the shape of a heart, only adding fuel to the fire of a certain subset of the fandom that we will see a romance between the two.
Good Omens cast members returning as new characters
Nina Sosanya and Maggie Service played nuns in the satanic Chattering Order of Saint Beryl, and met a fiery end in season one. At the panel, they confirmed they are returning as two new characters, who are also called Maggie and Nina!
Service explained her new character Maggie 'runs the record shop next to Aziraphale's bookshop in Soho', a shop that has 'passed through her family for generations'.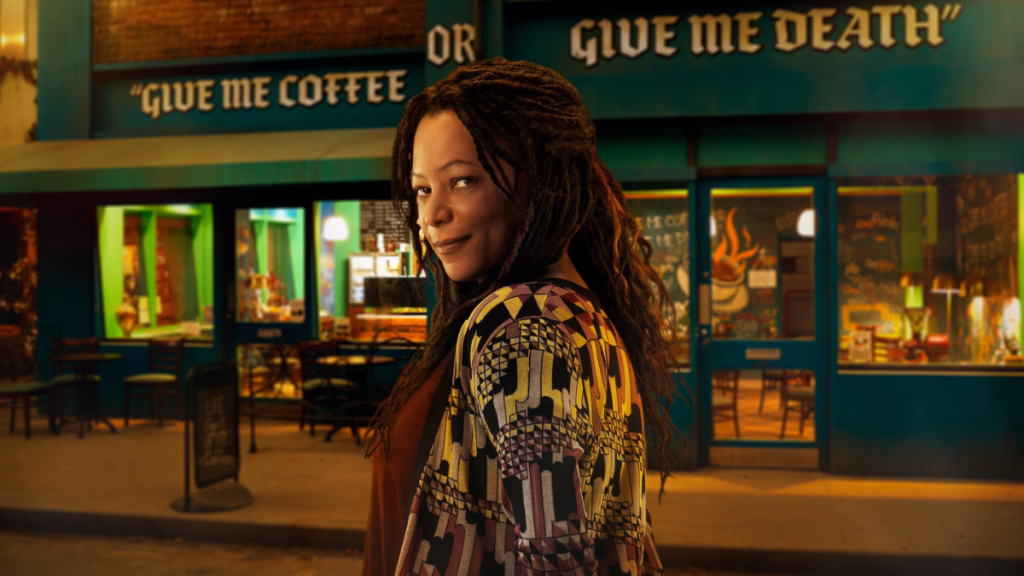 Sosanya's 'grumpy' new character Nina runs a coffee shop across the road from Maggie's record shop, which Sosanya exclusively revealed to the panel is called Give Me Coffee or Give Me Death. She described her new character as 'good at dealing with the kind of people who come into a coffee shop in Soho… she's not afraid of dealing with people. She's not afraid of anyone.'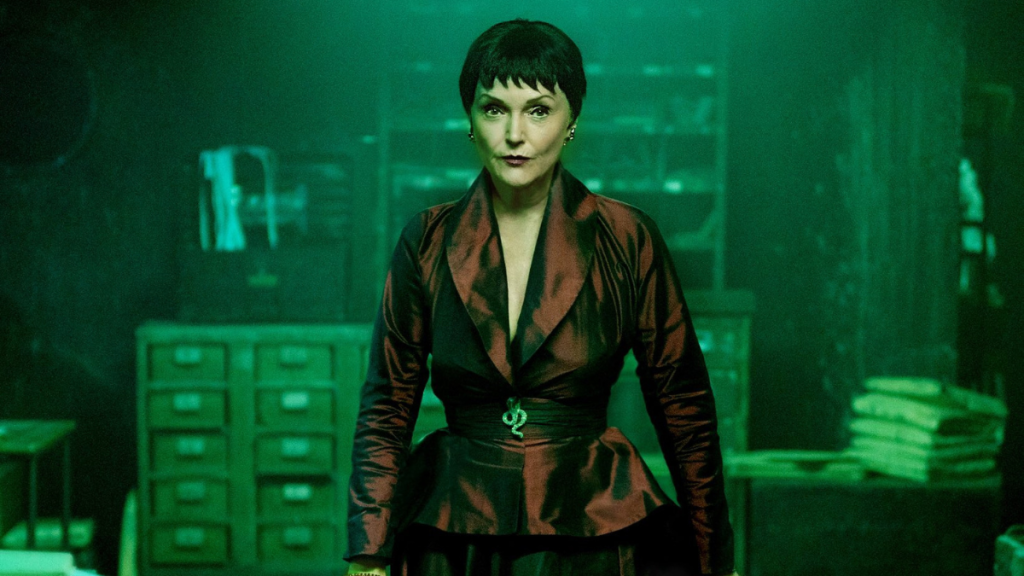 Neil Gaiman then confirmed that Nina and Maggie aren't the only two cast members returning as new characters: Gaiman explained he also couldn't imagine doing series two without Miranda Richardson, but the Madame Tracy storyline had ended, so he wrote a new part for her.
Miranda Richardson will return as Shacks, the demon on earth who takes over from Crowley after he's sacked.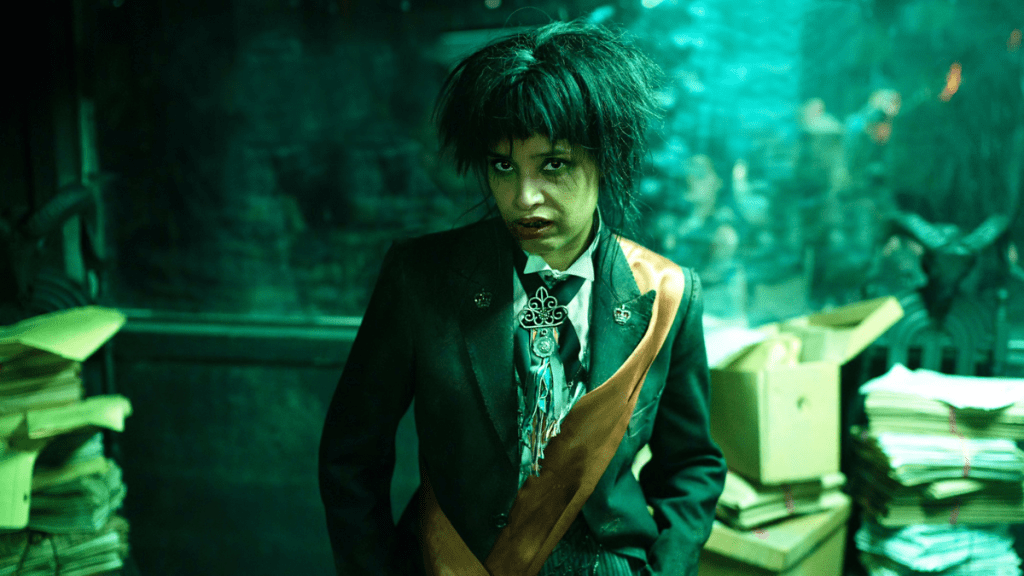 Anna Maxwell Martin will not return as Beelzebub
Gaiman also revealed that sadly Anna Maxwell Martin was tied up with two other TV roles and a stage play, so wasn't able to return to her role as Beelzebub. The role has been recast with Shelley Conn. 'She's every bit as awful as Anna Maxwell Martin was,' Gaiman assured fans.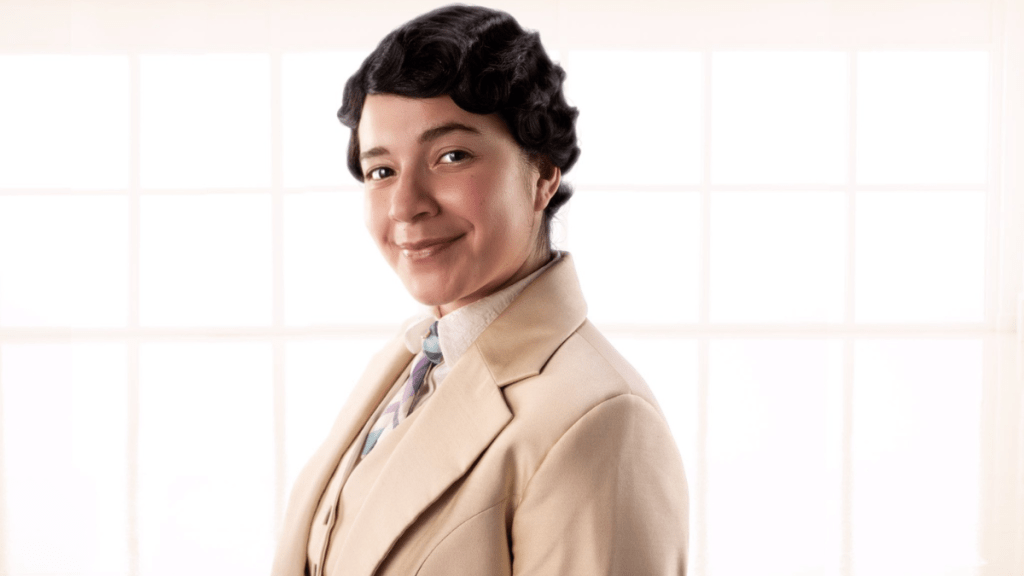 Quelin Sepulveda will play a new angel called Muriel
Newcomer Quelin Sepulveda confirmed she found out she had been cast while home alone wearing her pyjamas. Her new character is Muriel, a 'curious' angel who has spent six thousand years in the same heavenly office filing things, wishing for something interesting to happen. Gaiman explained he wrote the role because he realised Good Omens didn't have any 'good' angels.
Sepulveda explains it will be the naive Muriel's first time on earth: 'It was so fun trying to figure out how she would interact with it all.'
The Sandman's Donna Preston will play new character Mrs Sandwich
Gaiman confirmed Donna Preston – who played Despair in The Sandman – will play the amusingly named Mrs Sandwich. 'We're never quite clear on her profession,' Gaiman said, 'but she's definitely in Soho.'
NYCC fans got an exclusive teaser clip of Good Omens Series Two
Neil Gaiman introduced the clip, explaining fans would see Quelin's new character, as well as Nina and Mrs Sandwich, beginning with Nina – whose love life is seemingly doomed – receiving passive aggressive texts (which were apparently enormous fun to write) from a character called Lindsay.
While the amusing clip hasn't been released publicly yet, and wasn't shown on the live stream, we did get audio. We heard Nina defending herself to Mrs Sandwich, claiming to be perfectly happy with her love life, while Mrs Sandwich is distracted by the sight of someone who's 'got a sense of humour or an interesting kink'.
It sounds as though the person she saw was new angel Muriel dressed unconvincingly as a police officer, because the scene then cuts across the road to Aziraphale answering the door to Muriel. who greets him by saying "Ello, 'ello, 'ello, what's all this then?' Aziraphale humours her ridiculous claim that she's 'a human police officer', much to her open delight, and acquiesces to her request to come inside so she can 'unobtrusively monitor him'. He makes her a cup of tea which he has to explain she's supposed to drink.
They are interrupted by Crowley, who is far less willing to maintain Muriel's obvious and increasingly unravelling facade, especially when she accidently answers 'yes' when Aziraphale asks if it's her first time on earth. Clearly feeling sympathy for her, Aziraphale suggests perhaps she means it's her first time in London, which she agrees with, not helping herself by expanding on this claim: 'Yes, I was transferred here from… another human settlement.'
The clip ends with Crowley and Aziraphale going for a 'private chat' about their guest. When Muriel objects to this because she supposed to be monitoring them, Aziraphale easily reassures her that they'll simply tell her everything they said afterwards.
There was a surprise video from Michael Sheen, David Tennant and Jon Hamm
Sheen, Tennant and Hamm appeared in a short, Staged-style clip filmed over Zoom, bickering with each other about who is the biggest star, and answering some fan questions.
Good Omens Series Two returns to Amazon Prime Video in summer 2023