News
How Zack Snyder's Rebel Moon Revives His Rejected Star Wars Project
Netflix is teaming with Zack Snyder for another movie, this one set to revive the director's old Star Wars pitch.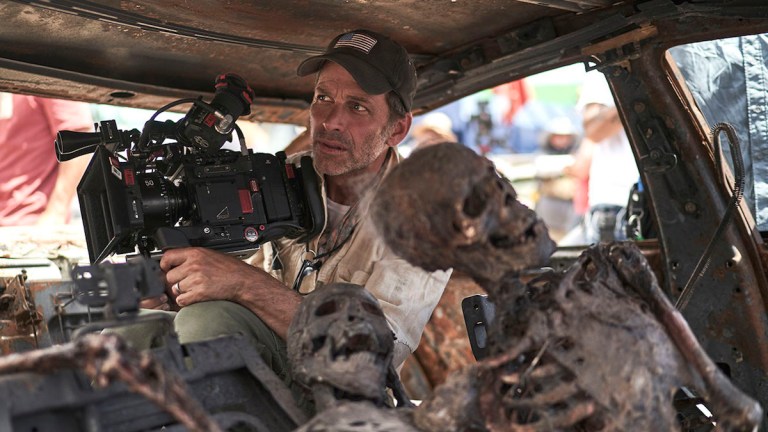 Zack Snyder's newfound partnership with Netflix will soon yield more than burgeoning franchise Army of the Dead, as evidenced by the streaming giant's official reveal of sci-fi movie Rebel Moon. Interestingly enough, the space-set project will allow the oft-discussed director to finally manifest his ideas for a Star Wars movie. Indeed, it appears that Netflix is facilitating the realization of the Star Wars Snyder Cut—well, at least an approximation of such a concept.
Rebel Moon's very title may sound like a mishmash of Star Wars concepts, and that seems to be by its very design. That's because the project is essentially a repurposed platform for a story Snyder conceived a decade ago for a pre-Disney pitch to Lucasfilm for what the director described as "a mature" take on the space epic set a long time ago in a galaxy far, far away. Now, Snyder is set to direct his own Star Wars-esque adventure, which will work off a screenplay he will co-write with familiar collaborators Shay Hatten and Kurt Johnstad.
Brandishing a yet-to-be cast female protagonist for a familiar-sounding premise, Netflix's official logline for Zack Snyder's Rebel Moon teases, "When a peaceful colony on the edge of the galaxy finds itself threatened by the armies of the tyrannical Regent Balisarius, they dispatch a young woman with a mysterious past to seek out warriors from neighboring planets to help them take a stand." Indicatively, the project—adding the element of space—will adhere to the now-conventional story of a warrior forming a ragtag posse to stand up to bandits besieging a small village, which was historically popularized by the classic Japanese cinema of director Akira Kurosawa, specifically 1954's The Seven Samurai.
Kurosawa's 1958 adventure epic, The Hidden Fortress, also presents a story of accidental antiheroes who stumble into the rescue of a princess from an intimidating enemy stronghold, and—among other familiar-framed scenes—even closes out with a wide-shot ceremony that continues to leave uninitiated Star Wars fans doing a double take, wondering if Chewie will somehow show up to finally get his medal.
The director's Edo-period-set masterpieces not only famously inspired the Western genre's rise stateside, but would become one of the main aesthetic influences for George Lucas's original concept for Star Wars. This was notably evident by the fact that Lucas originally wanted esteemed actor Toshiro Mifune—who starred in many of Kurosawa's classics, including the aforementioned films—to play Obi-Wan Kenobi well before Alec Guinness entered the picture.
"This is me growing up as an Akira Kurosawa fan, a Star Wars fan," Snyder explains to THR of Rebel Moon's influences. "It's my love of sci-fi and a giant adventure. My hope is that this also becomes a massive IP and a universe that can be built out."
Of course, Snyder rose to prominence off different, more crimson-spilling fare in 2004 remake zombie epic Dawn of the Dead and 2006 Frank Miller graphic novel adaptation 300, moving on to loftier comic book movie tasks starting with his 2009 take on Alan Moore's Watchmen. Yet, his appetite for franchises increased even after he became Warner's appointed visionary for its DC Extended Universe films with 2013's Man of Steel, 2016's Batman v Superman: Dawn of Justice and—by way of a Joss Whedon pinch-directed 2017 theatrical release—the March-dropped Zack Snyder's Justice League, which was a lengthy, non-canonical epilogue to his tumultuous tenure with said studio. However, Star Wars has long-been the white whale of a film franchise that frustratingly eluded his grasp, and he never quite let go of the plans he unsuccessfully pitched to Lucasfilm, which similarly bore no fruit after Disney's 2012 acquisition.
"We talked about it, but it never [happened]," Snyder stated of his pre-Disney pitch on the Happy Sad Confused podcast (via The Playlist) this past May. "I've been working on it away from the Star Wars universe, on my own, as a sci-fi thing…It's still a sci-fi thing. It's the same story. Now, I'm just going to let Star Wars be Star Wars."
Indeed, with the franchise having undergone an immense multimedia evolution under the purview of Disney, Snyder is now resigned to the fact that Star Wars—if it ever had any interest in his ideas to begin with—has clearly passed him by, fortuitously affording him this chance to create what could become an original franchise altogether, albeit one that's loosely derivative. In fact, he acknowledged the notion of a potentially problematic oil-and-water relationship with the Star Wars franchise overseers of Disney in a May interview with the UK's The Times, in which he stated, "Like, I would love to make a Star Wars movie, I know a lot about it—but I don't think I would survive that." After all, Snyder essentially had creative free reign over the DCEU going into Batman v Superman, and, while his methodically dark style certainly agrees with his vocal fandom, it created animosity with Warner Bros, a dynamic that would likely have been replicated exponentially with the detail-oriented Disney.
Consequently, while Rebel Moon will be the de facto Star Wars Snyder Cut, it will nevertheless take shape as a showcase of the director's altered vision, for which he tells THR is now "pretty far along." He'll have plenty of familiar faces helping in that process, since the task of penning the script puts him with Army of the Dead writer Shay Hatten, who, having co-wrote John Wick: Chapter 3: Parabellum, has also been tapped to work on two back-to-back entries for the Keanu Reeves-starring action franchise. The film's other co-writer, Kurt Johnstad—who, alongside Snyder, nabs a "story by" credit here—previously worked with the director on 2006's 300 and 2014's Noam Murro-directed sequel, 300: Rise of an Empire, and comes into the project having most recently worked on the screenplay to 2017 Charlize Theron actioner Atomic Blonde.
Netflix's Rebel Moon doesn't have a release date as of yet, but it is expected to commence production sometime in early 2022.