Features
What The Marvels Got Right
The Marvels may not have made waves at the box office, but the women-led MCU movie still has its merits.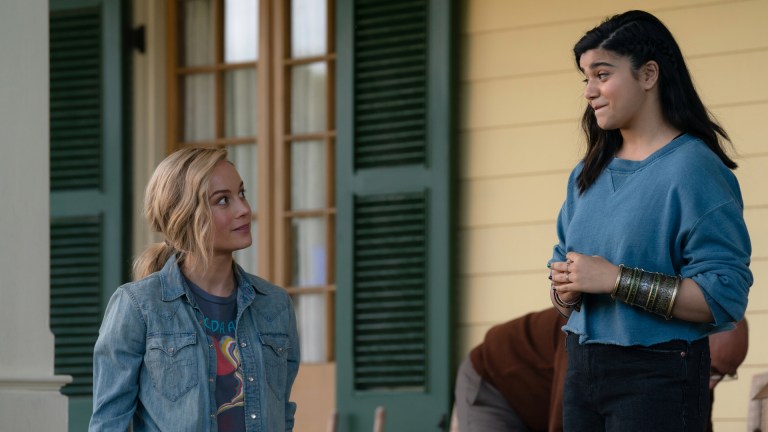 This article contains spoilers for The Marvels.
There's been a lot of discourse surrounding The Marvels and its less-than-ideal performance in theaters. With all of the interconnected movies and TV shows that Marvel studios has been releasing over the last few years, it's not hard to understand why some people are starting to experience "superhero fatigue" and no longer feeling the need to see these projects the instant they release. At the same time, it's a shame that the movie solely focused on female heroes directed by a Black woman is where a lot of people have decided to draw the line.
The Marvels isn't a perfect film by any means, but it deserves a lot more credit than it's gotten for the things that it does get right.
The Length Is a Welcome Change
Do I wish that I could have spent more than an hour and 45 minutes with Kamala, Carol, and Monica in The Marvels? Absolutely. I'd spend hours with these characters if I could. But after spending six hours across several weeks slogging through Secret Invasion this summer, the brisk pacing of The Marvels was a welcome reprieve.
I won't deny that there were still some pacing issues across the movie, but at the same time I was entertained throughout the entire hour and 45 minutes and felt satisfied by the time the movie was over. Despite the shorter runtime, The Marvels still tells a compelling, empowering, and fun story without missing out on too much.
The Marvels Is Already the Highest Grossing Movie Directed By a Black Woman
A lot of news surrounding The Marvels has been framing it as a box office failure for Marvel. Grossing $110 million in its opening weekend, it's the lowest opening ever for an MCU movie, so this isn't wholly inaccurate. However, it's still the highest grossing opening weekend for a theatrical film directed by a Black woman. Even though it's considered a greater critical success, Nia DaCosta's previous film Candyman (2021) only grossed around $22 million in its opening weekend.
The Marvels Passes the Bechdel Test With Flying Colors
The Bechdel Test is one of the lowest bars of female representation, and yet it's remarkable how many movies and TV shows still manage to fail it. In order to pass, the movie or TV show has to feature at least two women that talk to each other about something other than a man. Sounds easy enough to pass, and yet a majority of Phase 1 fails this benchmark. The Marvels, however, passes this test with ease, and goes beyond that to show the MCU's first all-women team.
The Marvels is so much more than just a feature-length version of the Avengers: Endgame women hero team-up shot. The movie puts together a group of powerful yet imperfect women and lets them have a great time while saving the world, galaxy, and multiverse. Even though Monica (Teyonah Parris) and Carol (Brie Larson) have some family drama to work through, there's no posturing between them or Kamala (Iman Vellani) regarding leadership or who gets to make the decisions for the group. The women see themselves as equals from the beginning. Obviously Kamala looks up to Carol and Monica given their age difference, but they do their best to not infantilize Kamala. In the sequence where they learn how to use their power-triggered body-swap situation to their advantage, they are all back at square one for a time. They have to learn how to use their powers once again, and trust each other in the process.
The Marvels is the kind of movie that I've been dying for since I first started watching superhero movies as a child – it's a group of women, kicking ass, having fun, and saving the day. It's understandable that this movie won't be for everyone, but after sitting through nearly two decades of movies that weren't necessarily made for me or the young girl I was when this franchise first began, it's nice to add The Marvels to the short list of superhero movies that do.
The Cats Needle-Drop Is Perfection
Watching a herd of baby Flerken kittens running around eating scientists on a malfunctioning S.A.B.E.R. space station while the song "Memory" from the hit Andrew Lloyd Webber musical Cats plays in the background was definitely not something I expected to see this year, but now that I have, I never want to go back. I applaud Nia DaCosta, Megan McDonnell, and Elissa Karasik for their impeccable taste and vision for this scene – the needle-drop, the look on Fury's face when he realizes that the Flerkens are the only way to evacuate everyone safely, the sheer terror of the scientists as they try to avoid being eaten, the adorable yet deadly kittens prancing around doing their little cat thing – it's everything I could have asked for. This scene is pure fun and shenanigans, and truly what more could you ask for from a comic book movie?
The Marvels Sets Up Two Women-Led Superhero Teams
Speaking of women teaming up to kick ass and have fun, The Marvels further connects the threads for a potential Young Avengers-style team. Not only does this movie see Kamala team up with Monica and her idol Carol, forming a team she affectionately dubs The Marvels, but it also features an important next step for Kamala in Monica's absence. In the final moments of The Marvels, we see Kamala appear in Kate Bishop's (Hailee Steinfeld) apartment Nick Fury-style and try to recruit her.
Kamala also mentions Ant-Man's daughter Cassie (Kathryn Newton) as a potential member of their team. With Riri Williams a.k.a. Ironheart (Dominique Thorne), Shuri (Letitia Wright), and America Chavez (Xochitl Gomez) also coming into their powers and abilities in recent MCU projects, the Young Avengers could potentially be made up of all or mostly young women in its first MCU iteration. Considering that Black Widow (Scarlett Johansson) was the only woman on the original Avengers team for a while, and didn't get her own solo movie until after her character died in Endgame, an all-women start to the Young Avengers would be a huge step forward for the MCU.