News
The Marvels Will Feature Callback to Big Avengers Moment
The team-up between Carol Danvers, Kamala Khan, and Monica Rambeau in The Marvels has the potential to be as exciting and powerful as The Avengers.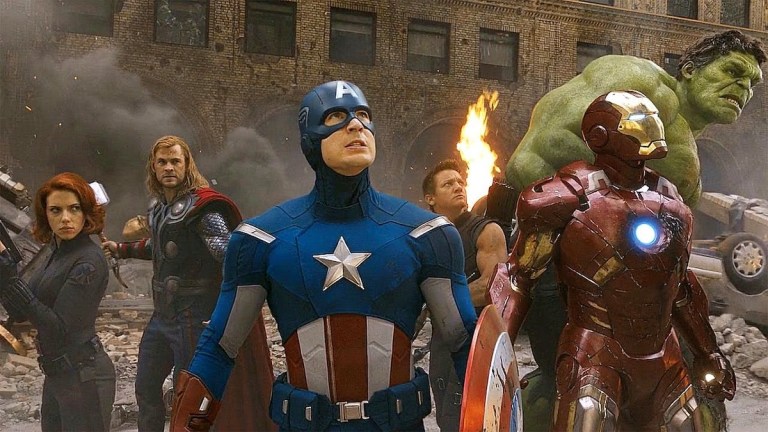 The first Avengers movie may feel like small potatoes now compared to the increasing scope of the MCU's Multiverse Saga. But even as we see more and more heroes team-up to fight against forces that seek to control the multiverse, there's no denying the impact that The Avengers still has on fans to this day. Maybe it's because I was fourteen when I saw it for the first time, but the now iconic shot of the original six Avengers standing together during the Battle of New York is seared in my memory to this day as one of the coolest MCU team-up moments. This scene may not be as epic as the portals scene in Avengers: Endgame or as tense as the airport fight in Captain America: Civil War, but for many Marvel fans this was the first time we saw a team-up of this scale on the big screen. 
According to Marvel mastermind Kevin Feige however, the upcoming movie The Marvels will also feature a callback to this big moment in MCU history. In an interview with Entertainment Weekly, Feige says "there's something immensely powerful about seeing Monica and Kamala and Carol together in a frame. To me, it's only akin to the first Avengers movie and seeing the six of them together in a frame. It's chill-inducing. They're so great together, and they all have different histories with one another."
Considering the backlash that some of the women-led projects like Captain Marvel and She-Hulk have gotten, it's great to hear the head of Marvel himself compare The Marvels to this big moment in The Avengers. The MCU has come a long way since the first Avengers movie in terms of giving heroes other than cis-het white men their due. Black Widow (Scarlett Johansson) is no longer the only woman on the team, and not just because of her unfortunate death in Endgame – other female characters are finally getting to lead their own movies and TV shows, and are starting to join and form teams of their own within the MCU.
Movies like Black Panther: Wakanda Forever and Black Widow have also shown us the power of women teaming up together (sorry, the "girl power" scene in Endgame barely counts). Captain Marvel showed us that Nick Fury (Samuel L. Jackson) named the Avengers Initiative after Carol's air force call sign because he thought she was that much of a badass, so it's only fitting that her team-up with other cosmically-powered badasses Kamala Khan (Iman Vellani) and Monica Rambeau (Teyonah Parris) evokes such iconic and powerful imagery.
While we don't know much else about The Marvels yet, this comparison bodes well for fans concerned that the body-swapping premise of the film would keep Monica, Carol, and Kamala apart for too much of the movie as they try to figure out why their powers make them swap places. In regards to their team dynamic, Feige compares Kamala in The Marvels to Peter Parker (Tom Holland) in Civil War saying, "She can't believe she's with these other heroes, and can't believe that she finds herself in these places. And that's fun because we want to be that. I want to be that."
While Kamala will be beyond excited to see Carol in person, Monica likely won't be at first. Despite their close relationship when she was a child in Captain Marvel, Monica's attitude toward Carol when she's brought up in WandaVision indicates that she likely feels abandoned by Carol, especially after the death of her mom Maria. But regardless of how rocky things start, seeing these women team-up for the first time seems like it will be well worth the wait.