Features
The Marvels Box Office Failure Suggests Superhero Movies Are at Tipping Point
With a North American debut of $47 million, The Marvels is the lowest opening in Marvel Studios' history, but the problem extends beyond one film.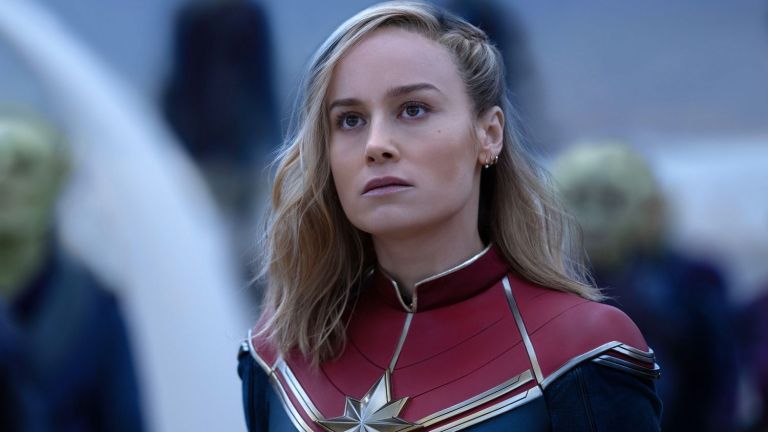 A little over four years ago, one of the loudest cheer moments in Avengers: Endgame was when Brie Larson's Captain Marvel went toe-to-toe with Thanos (Josh Brolin), the long built-up big bad of the Marvel Cinematic Universe, and beat him like an Army drum. Anecdotally, I can attest people were on their feet in my theater, and in that moment the Marvel Cinematic Universe, like Larson's Carol Danvers, looked nigh unstoppable.
Which makes recent developments endured by both the MCU and the larger superhero genre fairly stunning. In just a handful of months, the most popular form of escapism in this century has apparently bled quite a few fans, and even the surest of sure thing franchises is visibly vulnerable. This past weekend brought that into clear relief when Disney's The Marvels, which again stars Larson as Captain Marvel, as well as Teyonah Parris and Iman Vellani in roles they originated on Disney+ shows, opened in North America at an estimated $47 million across three days. The film also grossed $110 million worldwide in its global launch.
While a large number in a vacuum, that $47 million is the lowest debut in Marvel Studios' history; lower than Eternals' scrutinized $71 million debut in 2021, and lower than The Incredible Hulk's $55 million launch 15 years ago in 2008—a number that was considered soft even then for a four-quadrant superhero movie. It's also lower than this summer's already infamous box office misfire, The Flash, which stumbled out of the gate with $55 million of its own in June.
What's striking, however, isn't just that The Marvels fell below a film like The Flash, but that the new sequel opened a shocking 70 percent beneath Captain Marvel, which began its billion-dollar run ahead of Avengers: Endgame in 2019. In fact, not only is The Marvels eerily down from Captain Marvel's $153.4 million kickoff, but it's even beneath the first film's second weekend, which earned another $68 million for Carol Danvers.
For a studio that already appeared vulnerable following the underperformance of Ant-Man and the Wasp: Quantumania last spring, and reportedly underwhelming ratings for Secret Invasion over the summer—as per third party analytics firms since Disney does not share its Disney+ viewership numbers—this is the worst black eye yet, and one which will undoubtedly seed a lot of finger-pointing. The most hideous and sinister will come from toxic corners of online fandom and social media, which promoted a negative smear campaign against The Marvels for months due to largely racist and misogynistic resentment toward a superhero film starring three women, two of them people of color. These nastier elements of fandom are why I was personally rooting for The Marvels to beat its low box office tracking, even if I was disappointed with the film.
However, this online perception that The Marvels was too feminine, or feminist, for the larger mainstream audience is a delusion of the terminally online and miserable. Larson, after all, led the aforementioned first Captain Marvel film to $1 billion. And while that film undoubtedly received a boost of anticipation because it was sandwiched between Avengers: Infinity War and Avengers: Endgame (the latter of which Danvers was an MVP in), a film doesn't gross $1.1 billion on just tangential hype, or receive a sterling "A" CinemaScore, as per the industry-trusted pollsters of opening weekend audiences. Beyond Captain Marvel, there are other films like 2017's Wonder Woman, last year's Black Panther: Wakanda Forever, and the entire Hunger Games franchise that disprove this insidious and blatantly racist and sexist orthodoxy.
In other words, the problem extends beyond just The Marvels. Still, it's worth noting that The Marvels unto itself seemed to struggle with audiences. For starters, the film received a "B" CinemaScore, which is generally considered lethal because it means tepid word-of-mouth. The only other Marvel Studios films to receive such ignominy from polled audiences are the aforementioned Eternals and Ant-Man and the Wasp: Quantumania.
There are also other factors that obviously did not play in The Marvels' favor, including how the film was released right at the end of the SAG-AFTRA strike, meaning that neither Larson or her co-stars could promote the film, be it on late night television or viral interview games that could've easily dominated TikTok and YouTube. However, just last month, another brand that needs no introduction to younger audiences, Five Nights at Freddy's, also featured no cast members doing promotion and still managed to open at $80 million. And that was with the film being released simultaneously on the streaming service Peacock (and therefore pirate sites as well).
In the end, The Marvels fits into a pattern that has seemingly grown in speed throughout the year as nearly each new superhero movie stumbled at the box office: Ant-Man 3, Shazam! Fury of the Gods, The Flash, Blue Beetle, and now finally The Marvels have all fallen well beneath expectations, with most of these films flopping. The two bright spots for the genre in 2023 were Marvel's Guardians of the Galaxy Vol. 3 and Sony's Spider-Man: Across the Spider-Verse, which earned $846 million and $691 million worldwide, respectively. Yet both of those films starred some of the most popular superhero characters of the last decade (if not earlier) via the Guardians and Spider-Man. And more troubling for Marvel, the Guardians' narrative has ended—at least with James Gunn as its architect.
At this point, it is hard to deny that the superhero genre is at a tipping point and might even be on the precipice of rapid decline. Audiences are simply not showing up the way that they used to, and that is occurring in a year when they are turning out in droves for new franchises like Barbie and The Super Mario Bros. Movie, and even an adult drama like Oppenheimer. It's therefore fair to wonder if a lot of viewers have moved on from superheroes.
It's possible, but that doesn't necessarily have to be a bad thing.
Superhero movies have lost some of their key allure for studio executives: a guarantee that audiences will show up, and thus a risk-free investment. However, audiences are still showing up, even if not in the numbers they once were. Guardians Vol. 3 and Across the Spider-Verse made money. While a major factor for both of them was brand loyalty, they also were widely received as genuinely good movies by critics and fans alike. In fact, Across the Spider-Verse is a major contender at next year's Academy Awards after its predecessor Spider-Man: Into the Spider-Verse took home the Best Animated Feature Oscar. And here's the crucial bit: Across the Spider-Verse only cost $120 million to make.
That is a much smaller budget than The Marvels' reportedly $220 million price tag. The Flash and Ant-Man 3 are alleged to have cost in the same ballpark while the tangentially related Indiana Jones and the Dial of Destiny at Disney's Lucasfilm cost an eye-watering $295 million. By comparison, Barbie cost somewhere between $120 million and $145 million while Oppenheimer cost a cool $100 million. If audience interest in superheroes is waning, these astronomical budgets really need to be reined in, a fact that Marvel Studios appears acutely aware of. According to Variety, the forthcoming Blade reboot starring Mahershala Ali is budgeted at under $100 million and will be rated R.
That R rating also seems like a positive sign—not because all superhero movies need blood and gore, but because Blade as a character naturally lends himself to such aesthetics. So if Marvel Studios is open to going in that direction now, it suggests the studio is willing to branch beyond what's become a very well-known (and well-worn) formula. One of the reasons The Marvels appears to be struggling with connecting to a wider audience is that the film looks and plays like a lot of Marvel films, right down to characters having a big space battle where they trade energy blasts and quips while dueling over some magical couture (bracelets now, in lieu of last season's gauntlet). Conversely, Across the Spider-Verse wasn't just cheaper than most modern Marvel movies, it was also a lot more experimental and exhilarating, dabbling in various art styles and animations to tell a story with an emotional weight that landed on audiences, who awarded the film an "A" CinemaScore.
It is no doubt disconcerting to Disney's C-Suite that Marvel Studios' name alone no longer mitigates risk. But even if the audience has somewhat thinned, there is opportunity for the company and especially the filmmakers who work at it to spend less and swing more for something audiences will feel like they haven't seen before. It might be a tipping point, but it doesn't mean the genre needs to tip over.
(Also making viewers feel like they need to watch the Disney+ streaming shows to know who's on the big screen probably should stop.)