Features
T.I.M. Cast: Meet the Actors Behind Netflix's Sci-Fi Thriller
The cast of Netflix's tech chiller T.I.M. is small but features some recognizable faces.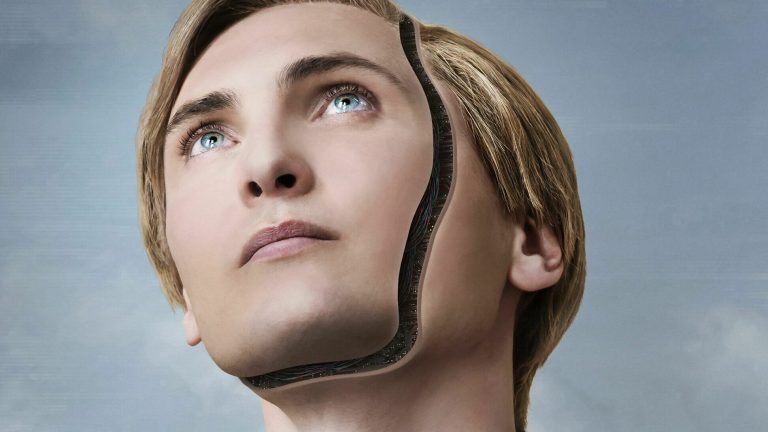 Netflix's new techno chiller T.I.M. follows a career-conscious woman called Abi as she moves into a new smart home with her seemingly not-very-trustworthy husband Paul. Even as she tries to make an impact with her new employer, he decides to gift her a "Technologically Integrated Manservant" (T.I.M.) to fuss around the house and help her out while she's busy at work. T.I.M. might be the creepiest robot version of Alexa possible!
It's not long before T.I.M. is taking it upon himself to do more than re-up groceries and sweep the floors, becoming obsessed with Abi and having a marked distaste for her formerly wayward husband. Things soon spiral out of control in the spotless smart home while Abi is distracted by the wild demands of her boss. Can T.I.M. be stopped from doing something deadly before it's too late?
If you're checking out T.I.M. on Netflix, some of the stellar cast of the movie might seem familiar. Here's a handy guide to where you've seen them before!
Georgina Campbell as Abi
To horror movie fans, Georgina Campbell might have become a familiar face over the last few years! Not only was she the lead in the low budget cult hit Barbarian, starring as a woman called Tess who chose the wrong rental home to shack up in for a few days (and that's an understatement), she also appeared in Netflix's Bird Box Barcelona this year as Claire.
Previously, Campbell has also popped up as Kay in King Arthur: Legend of the Sword, and Detective Constable Katie Harford in Broadchurch. She was also Abigail in the critically acclaimed Channel 4 series Flowers.
Mark Rowley as Paul
Starring as the apologetic and guilt-ridden husband Paul in T.I.M. is Mark Rowley, who also has plenty of Netflix experience under his belt! For five years, Rowley played Irish warrior Finan in the medieval drama series The Last Kingdom, and he recently appeared as Prince Alvitirin in The Witcher: Blood Origin.
Rowley has additionally fielded roles in BBC's The North Water, and Starz's The Spanish Princess.
Eamon Farren as T.I.M.
Eamon Farren is certainly an incredibly distinctive-looking actor. Before playing the homicidal T.I.M., the 38-year-old Australian appeared in Twin Peaks: The Return as the despicable (and unforgettable) Richard Horne. He also starred in horror movie Winchester and The ABC Murders in 2018, before booking a plum role as Cahir in Netflix's The Witcher alongside Henry Cavill.
Amara Karan as Rose
It never seems to pay to be a nice, thoughtful neighbor, and Rose certainly doesn't get treated very well in T.I.M.! Amara Karan, who plays Rose, was an investment banker before she turned to acting, and made her debut in Wes Anderson's The Darjeeling Limited back in 2007. Since then, Karan has starred in HBO's celebrated crime drama series, The Night Of, as well as Doctor Who and Stan Lee's Lucky Man.
Nathaniel Parker as Dewson
Abi's annoying boss Dewson is played by Nathanial Parker. Parker has had an extensive career on stage and on screen. Though he is probably best known for his role as DI Thomas Lynley in The Inspector Lynley Mysteries, he also starred as Agravaine de Bois in Merlin, and as Master Gracey in The Haunted Mansion. You might have caught him as Dunstan Thorn or Caspian IX in The Chronicles of Narnia: The Voyage of the Dawn Treader!