News
The Rock Claps Back After Black Adam Trailer Confuses Fans
When Twitter users pointed out DCEU heroes' past willingness to kill, Black Adam star Dwayne Johnson stepped in to explain.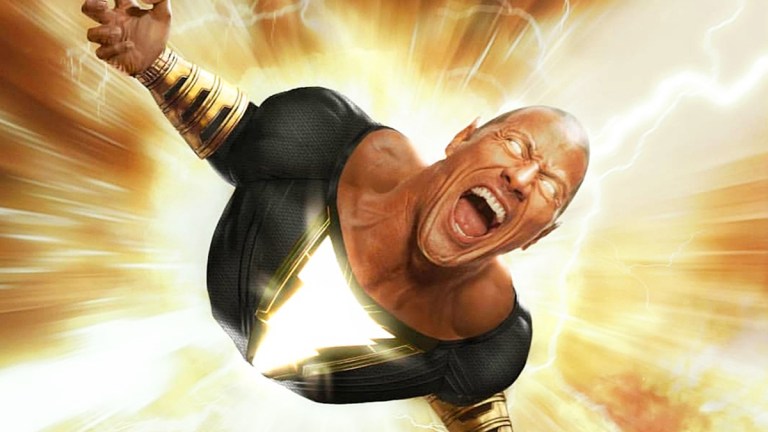 Do heroes kill? The Rock certainly isn't the first person to raise this question, but he does need to answer it after fans expressed frustration with the latest trailer for his upcoming DCEU movie, Black Adam.
According to reports about the new trailer released at CinemaCon this week, the Rock's character Black Adam declares, "Heroes don't kill people… Well, I do." Responding to a report on the trailer from Fandango reporter Erik Davis, a Twitter user pointed out that several DCEU heroes have killed, including Superman and Batman, deciding, "That line doesn't make sense."
That tweet queued the The Rock's entrance music, forcing the People's Champion to set the record straight. "Once you watch Black Adam you'll understand the context of the line," he tweeted. "It makes sense. The mythology of Teth/Black Adam. Ruthless with zero regard." To be sure, glimpses we've already seen of the movie lean heavily on the character's ruthlessness. Footage from DC Fandome last year showed Black Adam using his electricity to fry an assailant, crushing the skeletal remains with his bare hands.
But the footage also showed us other costumed characters who will likely lead Black Adam on the path to good. "It's a glorious world out there," intones Pierce Brosnan's Doctor Fate, as Aldis Hodge's Hawkman, Noah Centineo's Atom Smasher, and Quintessa Swindell's Cyclone all appear.
Should director Jaume Collet-Serra keep the morally ambiguous tone suggested by the CinemaCon trailer, he will be remaining true to the character's comic book roots. Black Adam first appeared way back in 1945's The Marvel Family #1, written by Otto Binder and drawn by C.C. Beck. An ancient Egyptian servant of the wizard Shazam, Teth-Adam had been corrupted by his massive power and eventually locked away. Most stories found Black Adam challenging the wizard's current hero, Billy Batson aka Captain Marvel (as the superhero Shazam was known for most of his existence).
But starting with 1994's The Power of Shazam! by Jerry Ordway, more heroic elements were restored to the character. By the time Black Adam became a regular member of the Justice Society of America in Geoff Johns and David Goyer's JSA comics, he was an anti-hero – committed to justice, but willing to make draconian decisions. For example, Black Adam dealt with d-list Superman villain Terra-Man in the series 52 by ripping the baddie in half. "It's time for heroes who don't just patrol the world," he states as he flies away from Terra-Man's remains.
Given the Rock's preference for playing likable characters, it seems unlikely that his take on Black Adam will go quite so dark. While the aforementioned Twitter user was correct in saying that many DCEU heroes have killed in movies such as Zack Snyder's Justice League and Man of Steel, upcoming releases Batgirl, The Flash, and Shazam! Fury of the Gods have lighter tones. Even a decidedly gothic movie like The Batman makes a point of saying that the hero doesn't kill and should inspire people. Will Black Adam follow suit? We'll know for sure when the movie releases on October 21.