News
Black Adam Set Photos Tease Dwayne Johnson Costume and Massive Scale
Dwayne Johnson provides a close look at his Black Adam costume and some supersized set destruction for the DC movie.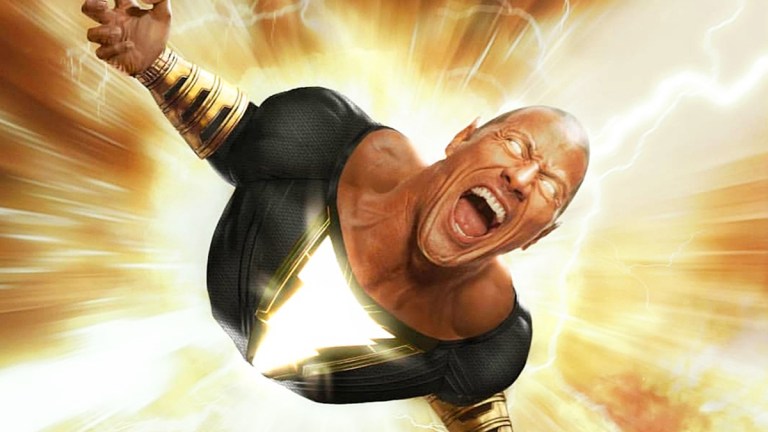 Black Adam, the long-gestating Dwayne Johnson DC Extended Universe entry, may have started out as a cold-introduction Shazam spinoff affixed to the stardom of a huge headliner, but the film is poised to become a watershed entry in Warner Bros'—to put it generously—confusing cinematic continuity. Besides having today's biggest action star atop its marquee, the film is set to bring several other notable DC Comics characters to life on the big screen, and, from a technical standpoint, operates on a stunning scale, as Johnson himself has been teasing with a new look at his onscreen costume.
"You also see a little of the intricate and beautiful textured detail of Black Adam's body suit. (This is not your typical DC or Marvel padded muscle suit)," says Johnson in the latest of what has thus far been years' worth of Instagram posts about the film. Of course, this tease is the most revelatory one yet, showcasing the first substantive, non-concept-art glimpse of his Black Adam body suit against the backdrop of wide-shot imagery of wanton destruction. Additionally, besides the foreground dominance of Johnson's muscle-bound head, the photo also shows a set littered with broken, ancient-looking statues, which, as he states, "gives you a tactile sense of the absolute massive scale and size of our movie" and "a glimpse of the enormous and appropriate destruction."
While the black-and-white photo only shows the suit from the back, the tightness of the shot reveals the unprecedentedly complex designs for the character's costume, which is adorned with the quasi-Egyptian aesthetics that Johnson proudly describes as "intricate." This idea connects to Shazam-powered Black Adam's ancient origin as Teth-Adam—some 3,600 years ago—in DC Comics' fictional Egypt substitute land of Kahndaq, a place whose eventual destruction Adam would have to witness, during which his wife and children were killed.
It should come as no surprise, then, that Black Adam is more of an anti-hero than an altruistic force for good in the DC pantheon. As Johnson teases: "As we all know, superheroes have a code of justice and don't kill the bad guys. But, Black Adam does. The hierarchy of power in the DC UNIVERSE is changing. Antihero. Man in black."
The costume tease was preceded by a post commemorating Black Adam's last week of shooting, in which Johnson hypes the technical side of the production. It seems that technology will facilitate the film's more groundbreaking shots, specifically an advanced rail-running robot arm known as a BOLT, which he describes as "the fastest in the world with a high speed PHANTOM camera that shoots me at an insane 960 frames per second (normally movies are shot at 24 frames per second)." Indeed, it appears that the film will enjoy the benefits of scenes that simultaneously showcase the speed of tracking shots with the majestic dynamics of jib shots, thanks to this new technology. Of course, the accompanied image of the BOLT also happened to be obscured by an image of a shirtless, jacked Johnson, who, at 49 years old, is showing no signs of slowing down his workout regimen, and seems physically ready for a prospective return to his roots for more skirmishes in the WWE ring.
Lest we forget, Black Adam will see Johnson's eponymous anti-hero joined onscreen by an array of debuting DC Comics characters from the lineup of the Justice Society of America, notably exemplified by former James Bond Pierce Brosnan, who dons the golden mask of Kent Nelson, a.k.a. Dr. Fate. Additionally, Straight Outta Compton's Aldis Hodge takes flight as the DCEU's version of Carter Hall, a.k.a. Hawkman, Quintessa Swindell is set to spin as Maxine Hunkell, a.k.a. Cyclone, and Noah Centineo will (literally) grow into his role as Al Rothstein, a.k.a. Atom Smasher. Moreover, the film's co-star and presumed romantic co-lead, Sarah Shahi, is set to play Kahndaq professor/freedom-fighter Adrianna Tomaz, who, in the pages of DC Comics, has been portrayed as the reincarnation of Adam's ancient beloved. Yet, that character also happens to be a modernized reinvention of the character known as Isis, the ancient-amulet-powered superheroine popularized in the 1970s live-action television series, which typically accompanied the franchise-pertinent Shazam! series. Thus, the film is going to become a bonanza of live-action debuts for this post-Zack Synder restructuring of the DCEU.
Black Adam is currently scheduled to hit theaters on July 29, 2022. However, moviegoers won't have to wait that long to get another film collaboration from director Jaume Collet-Serra (The Commuter, Orphan) and star Dwayne Johnson, since their work on Disney ride adaptation Jungle Cruise is set for release at theaters and Disney+ Premier Access on July 30, 2021.