News
Dwayne Johnson Teases Black Adam v Superman Fight
Dwayne Johnson still seems intent on seeing Black Adam and Superman fight in the DCEU.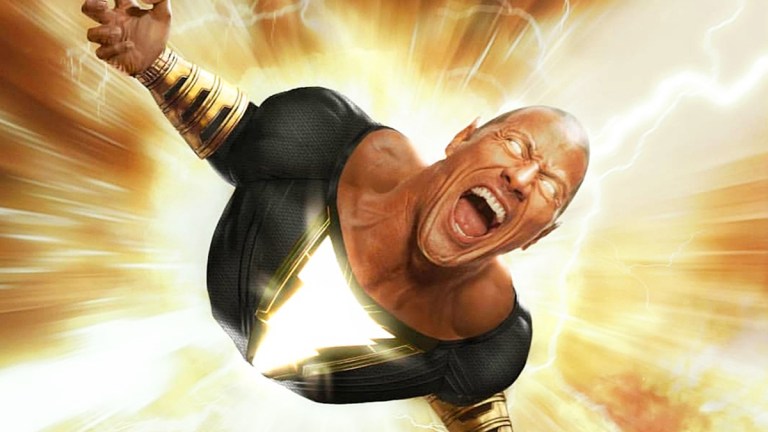 Dwayne Johnson's Black Adam movie is finally becoming a reality. Having recently wrapped principal photography, the antihero driven movie about an ancient champion with the power of Shazam is due to open on July 29, 2022. It's a movie that will fill out considerable chunks of DCEU history, from some ancient history hinted at in the first Shazam! movie to the fictional DC nation of Khandaq, to the introduction of the big screen version of the Justice Society of America.
But it's important to remember that Johnson has been associated with the character of Black Adam for as long as the DCEU has been a thing. Despite having been officially announced in the role years ago, he has yet to make an appearance on screen. And despite his ties to Shazam history, he was deliberately left out of that character's film other than a passing mention.
While the character began in the comics as a villain, he eventually evolved into an antihero, one who has associated with the Justice Society, the Justice League, and others. While many heroes in the DC Universe don't agree with his methods, it has been quite some time since Adam has been a truly malevolent force. And it's this antihero version of the character that Johnson will be exploring.
But Johnson has long had a vision for how Black Adam should fit in the DCEU. The tagline for Black Adam has been promising (or threatening) that "the hierarchy of power in the DC Universe is about to change." And what better way to measure that than against the most powerful hero in the DCEU, right?
Speaking to Total Film, Johnson expressed his hope that Black Adam will square off with Superman in a future film. After expressing his own reservations and concerns about how the DCEU got out of the gate, he talked about the possibility of a Superman and Black Adam fight.
"Let's make sure we respect tradition and mythology, but let's not be handcuffed creatively," Johnson said. "We can do anything if we keep the audience first. So to me, there's a battle that's going to go down one day, between Black Adam and Superman."
Of course, the status of Superman on the big screen has been in constant flux. Henry Cavill hasn't played the role since Justice League in 2017, and while he remains open to a return, it seems like Warner Bros. has other plans for the character, including one written by Ta-Nehisi Coates that may include a new, Black Superman, and a Michael B. Jordan produced project in development at HBO Max that would focus on an alternate universe version of the Man of Steel: Val-Zod. Johnson acknowledged those challenges, however.
"I don't know who that Superman is going to be, and I don't know who's going to play him," Johnson said. "That's OK. I don't need to know right now. But I'm confident in knowing that [laughs]. And that's based out of what fans want. We worked backwards from there."
While Johnson is hedging his bets about which Superman his Black Adam might fight, it's good to remember that Johnson and Cavill had a mysterious summit over drinks back in 2016, where Johnson hinted that "we're excited for what the future brings."
In 2016, Cavill was fresh off Batman v Superman: Dawn of Justice and Zack Snyder's troubled Justice League was going into production. At the time, the future for the DCEU seemed assured. While we may never know what was discussed here, it's fair to speculate that a Superman and Black Adam fight may have been one of them.
Most fans have assumed that after Black Adam in 2022 and Shazam: Fury of the Gods in 2023, the next logical step for the Shazam corner of the DCEU would be a Shazam and Black Adam fight. But there's precedent for Superman getting added to that mix.
For one thing, it's already been established that Billy Batson's Shazam has contacted Superman as a way to surprise his foster brother Freddie (as seen at the end of Shazam!). And in a terrific, underrated comics story, Superman/Shazam: First Thunder, Superman serves as a bit of a mentor to Billy Batson during the early days of his superhero career. There's also a cool DC animated movie called Superman/Shazam: The Return of Black Adam, which could also provide a blueprint for how this fight may go down.
While it looks like Black Adam will focus on Adam's journey from ancient champion, to corrupted villain, to anti-hero in the modern day, perhaps his redemption story won't quite be completed in that film. Maybe it will take an encounter with Superman and/or Shazam in order to fully bring him around. Hopefully, whatever route this theoretical fight takes, it won't involve an "evil" or somehow "corrupted" Superman, an incredibly tired trope that needs to be retired at the earliest possible opportunity.
Black Adam opens on July 29, 2022. Shazam: Fury of the Gods opens on June 2, 2023. The full schedule of upcoming DC superhero movies can be found here.
How would you like to see a Superman and Black Adam fight play out? Let us know in the comments!