News
Black Adam Set Photos Reveal Hawkman Costume and New Look at Dwayne Johnson Suit
Wait until you see what Hawkman is going to look like in the upcoming Black Adam movie!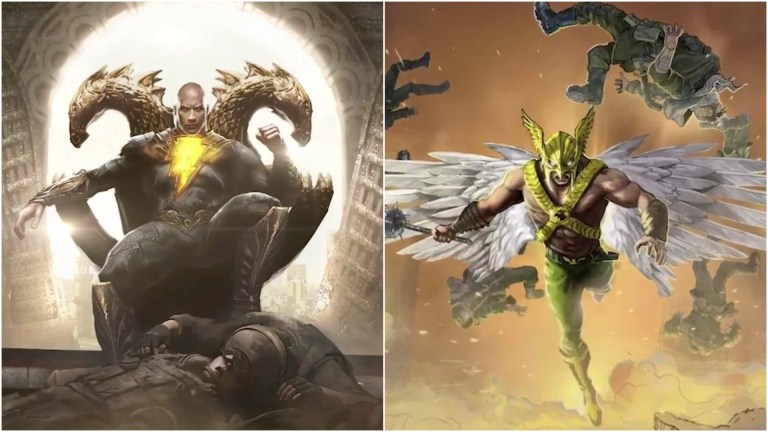 The hierarchy of power in the DC Universe is changing. That's what Dwayne Johnson promised while promoting Black Adam at last year's Fandome digital event. The new DCEU film stars the Hollywood superstar as rogue anti-hero Teth-Adam, one of the most iconic comic book supervillains of all time. You likely know him best as the archnemesis of superhero Shazam, although the movie is a Black Adam origin story and won't feature Zachary Levi's quipping do-gooder.
But even if Johnson's presence is enough to chew up any scene, Black Adam won't come alone. The movie is being positioned as an entry point for many of DC's lesser-known characters. Interestingly enough, many of them hail from the Justice Society of America era of the DCU, a team that in-universe predates the modern Justice League.
Noah Centineo (The Fosters) plays Atom Smasher, a JSA hero who has the power of growth and super strength (not unlike other, more famous DC and Marvel characters). Sarah Shahi (The L Word) is Adrianna Tomaz, a resistance fighter from Black Adam's land of Kahndaq. In the comics, Tomaz becomes a hero called Isis, who is bestowed the magical and physical abilities of the Egyptian goddess of the same name. It remains to be seen if we'll get to see this transformation in the movie.
Quintessa Swindell (Euphoria) plays Cyclone, another JSA member in the comics who can control wind. She's accompanied by the biggest surprise casting of all: former 007 Pierce Brosnan as Dr. Fate, the powerful sorcerer who's long been a mainstay of DC's magic realm as well as a founding member of the JSA. It sure is beginning to look like this is not only a Black Adam (and Isis) origin story but also one for the Justice Society of America, a superhero team that could lend itself to other big-screen adventures down the line.
And we've not even mentioned Aldis Hodge (The Invisible Man), who will bring future JLA member Hawkman to life in the movie. Arguably the most high-profile DC character in this film besides Black Adam himself, Hawkman is Carter Hall, an archaeologist who is the reincarnation of an Egyptian prince.
This is all brings us to the latest photos leaked from the set of Black Adam, which not only reveal a better look at Johnson's Black Adam suit but also our first peek at Hawkman's extremely accurate helmet and armor. You can check out the pictures below:
Yes, that is indeed a hell of a helmet. It's clear Warner Bros. is pulling out all the stops when it comes to introducing these characters to general audiences who might not know them. Cool costumes are a good start, but it'll ultimately be the writing and the performances that will have to sell these comic book icons.
Hodge has previously talked about the responsibility of not only being faithful to the comics version of Hawkman but also bringing a new Black superhero to the screen.
"I think about the representation aspect of that, because I didn't grow up watching superheroes that look like me." He explains, "I remember in my early-teens maybe we came into [African-American heroes] Spawn and Blade, and that was awesome. So, to know that young kids are going to be able to see that and see opportunity, and have an awareness that I didn't have at a young age about what they can accomplish, that really is fantastic."
We look forward to seeing Hodge, Johnson, and the rest of this cast of heroes when Black Adam (directed by Jaume Collet-Serra) hits theaters on July 29, 2022.