Features
The DCEU is Alive and Well and Coming to DC FanDome
There are plenty of DC superhero movies in the works, and the continuity of the DCEU itself isn't going anywhere any time soon.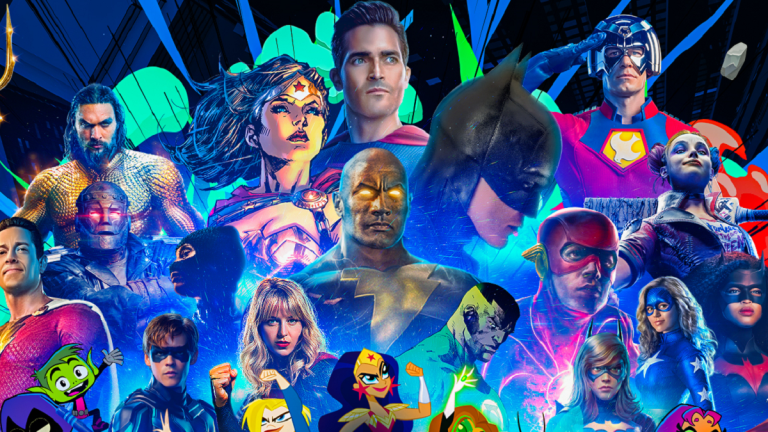 Count the DCEU out at your own risk. After eight years of doomsaying by critics (and some fans), hawk-ish box office watching, and yes, the occasional creative stumble, Warner Bros. shared universe of DC superhero movies is still thriving. And despite its commitment to only maintaining the loosest of continuity connections between its films, they aren't blowing the DCEU up any time soon.
Warner Bros. has announced this year's installment of DC FanDome, it's massive virtual event where they lay out everything the DC Universe has planned, from comics to video games to TV to movies. You only need to take one look at the FanDome schedule to see that the DCEU remains a priority for the studio. 
This year promises new footage from Matt Reeves' The Batman (whose first footage at last year's FanDome was the highlight of the weekend), the first looks at footage from The Flash, Black Adam, and HBO Max's The Suicide Squad spinoff Peacemaker, not to mention  behind-the-scenes looks at other DCEU sequels like Aquaman and the Lost Kingdom and Shazam! Fury of the Gods. With the exception of The Batman, which creates an all-new vision of the Caped Crusader and Gotham City from the one originally brought to life by Ben Affleck in Batman v Superman: Dawn of Justice, each of these projects has at least a tangential connection to the vision of the DCEU first envisioned by directors like Zack Snyder and David Ayer. 
Black Adam is part of the Shazam mythology, and the first Shazam! movie referenced events from Batman v Superman and Justice League, and even featured a cameo from Henry Cavill's Superman (well…his costume). Peacemaker follows the events of James Gunn's The Suicide Squad, which brought back characters from both David Ayer's 2016 Suicide Squad and Cathy Yan's 2020 Birds of Prey. Aquaman and the Lost Kingdom is a sequel to a film that verbally acknowledged the events of Justice League as canon, while The Flash is the 2nd solo film spinoff of Snyder's troubled opus. All of these projects combined have release dates that stretch into 2023.
In other words, the DCEU is alive and well. Yes, The Suicide Squad was crushed under the weight of pandemic concerns at the box office and further hindered by a day-and-date streaming release, but it has since gone on to become the most-watched DC movie on HBO Max (besting both Wonder Woman 1984 and Zack Snyder's Justice League) and its second most successful day-and-date offering since it began the (temporary) practice this year. Perhaps the studio didn't do it any favors by giving it an almost identical title to a movie that isn't exactly beloved, but that's neither here nor there. 
And while Peacemaker, starring The Suicide Squad's John Cena was already in development long before WB execs could have made any kind of determination about the viability of a TSS related franchise based on box office or streaming numbers, it's yet another indication of the studio's commitment to director-driven projects, with James Gunn serving as writer, executive producer, and director of most episodes of the series. There's also a Gotham Central series in development, a prequel to the world of Reeves' Batman film, and a Green Lantern Corps project which may or may not tie into the DCEU as we know it.
And there are other indications that the continuity of this universe will live on on the small screen, as well. HBO Max will be the home to a Black Canary feature film from Lovecraft Country's Misha Green, and that will see Jurnee Smollett return to the role she made famous in Birds of Prey, a film which starred Margot Robbie's Harley Quinn, who of course was introduced in early DCEU entry Suicide Squad. A Batgirl movie will also go directly to HBO Max, and that sees JK Simmons reprise his role as Commissioner Gordon, the role he played in Zack Snyder's Justice League, tying this character back to the original DCEU vision, as well. A Blue Beetle movie is in the works for the streamer, although it's place in the DCEU remains unclear at this time.
And while there's long been a theory in certain fan circles that The Flash movie, which will explore DC's multiverse in some creative (and Bat-centric) ways is going to account for perceived continuity hiccups, potentially paving the way for Robert Pattinson's Batman to be more fully integrated with the other movies, I wouldn't hold my breath. Is it possible that some audiences will be confused by the notion of how Pattinson's Batman doesn't line up with the rest of the DCEU? Sure. But it's far more likely that general audiences don't really think too hard or care all that much about this stuff, they simply want to see a good Batman movie.
And ultimately, for as much as superhero fans (and DC fans especially) love continuity, the only thing that really matters is the quality of the films themselves. Given the DCEU's track record for the last few years, and the studio sticking to its guns about keeping these projects director driven rather than universe driven, that shouldn't be a problem.
DC FanDome takes place on Oct. 16. You can watch it live here.