Sponsored
The Road Warrior, The Shining, and The Best Movies Free on Plex in December
These are all the big film classics you can watch on Plex this month!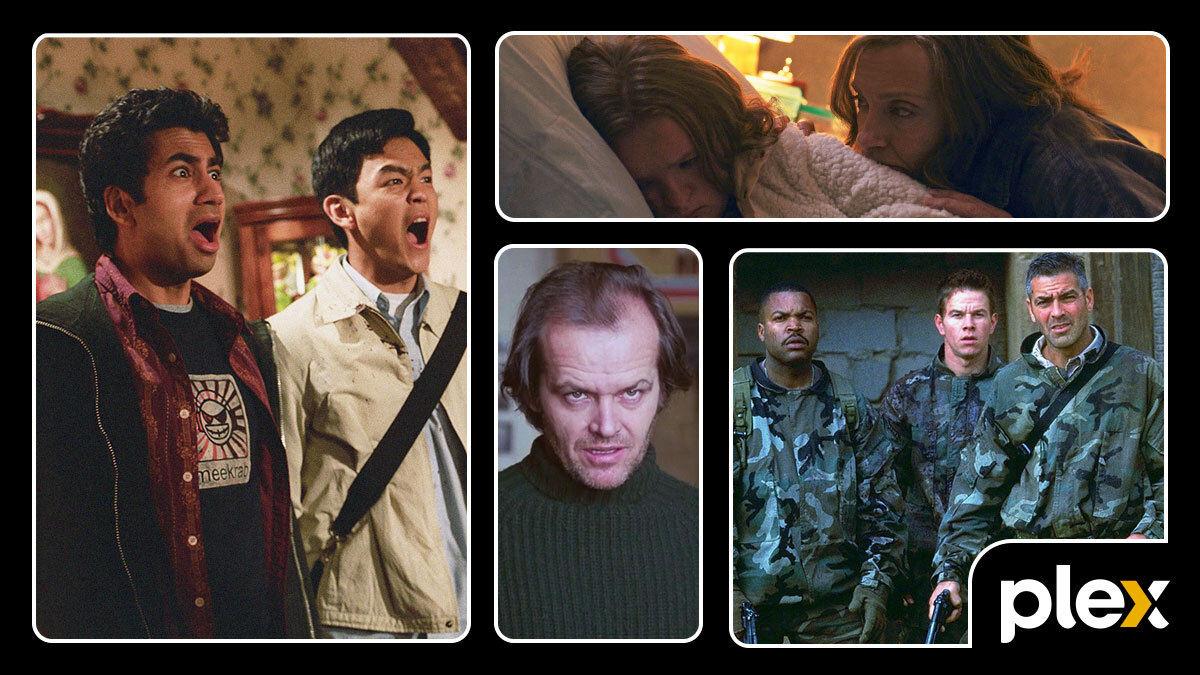 This article is presented by Plex
The holiday season is officially here! If the visions of sugar plums dancing in your head aren't quite cutting it in the entertainment department, allow Plex TV to keep you entertained this December. Our December picks were chosen with counterprogramming in mind; if you're a bit burnt out on the typical holiday classics, these picks will get you out of the yuletide funk.
Plex offers a one-stop-shop streaming service offering 50,000+ free titles and 200+ of free-to-stream live TV channels, from the biggest names in entertainment, including Metro Goldwyn Mayer (MGM), Warner Bros. Domestic Television Distribution, Lionsgate, Legendary, AMC, A+E, Crackle, and Reuters. Plex is always overflowing with thousands of new and familiar favorites on its platform and we're here to happily select the cream of the crop.
Jingle all the way over to Plex TV now for the best free entertainment streaming and check back each month for Den of Geek Critics' picks! Here are all of our favorites for December…
Three Kings
This time of year probably brings Three Kings to mind, but likely not this 1999 black comedy war film from director David O. Russell. Set in Iraq at the conclusion of the Persian Gulf War, Three Kings tells the tale of a group of American soldiers who, while hunting down a series of secret bunkers containing gold bullion, get caught up in a skirmish between Iraqi soldiers and anti-Saddam Hussein dissidents. Starring George Clooney, Mark Wahlberg, Ice Cube, and director Spike Jonze, the cast is uniformly excellent and the movie expertly melds the action and comedy genres while also thoughtfully exploring and satirizing the military, U.S. diplomacy, and the media. Three Kings is a dizzying, fun film that delivers a picture of modern warfare that will leave a terrible taste in your mouth.
Watch Three Kings on Plex here
Harold & Kumar Go to White Castle
Every generation deserves its stoner comedy classic, and for the aughts, we have Harold & Kumar. The slacker duo played with effortless chemistry by John Cho and Kal Penn won over the hearts of bros everywhere with their singleminded pursuit of White Castle's simple, yet satisfyingly tasty little burgers. The film also kickstarted a fascination with Neil Patrick Harris that led to How I Met Your Mother and a late-career resurgence. While Harold and Kumar returned for sequels with diminishing returns (including a Christmas movie!), the original is still a fun, surprisingly subversive comedy that will leave you with a hankering for some chicken rings.
Watch Harold & Kumar Go to White Castle here
Hereditary (Starts 12/15)
Ari Aster burst onto the scene with his feature film debut, Hereditary, a horror movie so harrowing and unsettling that it was immediately hailed as one of the scariest movies ever made. While we wouldn't go that far, Aster's 2018 feel-bad hit is something of a masterpiece, exploring grief, generational trauma, and parenthood with unflinching, icy precision. Toni Collette leads the film as a woman still processing the death of her mother when another tragedy strikes her family, and her searing, vulnerable performance will linger with you long after the credits roll. Packed with visual easter eggs and bolstered by a menacing score from Colin Stetson, Hereditary is the kind of film that gets under your skin and never truly leaves.
The Road Warrior
George Miller's 1981 sequel to Mad Max, The Road Warrior once again finds Mel Gibson's Max Rockatansky wandering the post-apocalyptic highways of the Australian outback before he stumbles upon a relatively peaceful group of settlers whom he feels compelled to defend against a roving band of marauders. Using a light Western motif, the film is pure, uncut kinetic energy, with Miller using an increased budget and leveled-up skills to up the go-for-broke ante of the original. Forget about the plot and focus on an endless cycle of stunts and chases that will keep you on the edge of your seat. Pure pedal-to-the-metal adrenaline, The Road Warrior is an action classic.
The Shining
Hey, this one ends with a snowman! Well, kinda. Plenty of ink has been spilled about Stanley Kubrick's adaptation of Stephen King's classic novel. King hated the approach, and movie-goers didn't understand it at the time of release, but the movie has stood the test of time as an iconic horror classic, with many even believing the Kubrick littered the film with conspiratorial references to the faking of the moon landing, the cultural assimilation of Native Americans, and the Holocaust, among others. What we know for sure is that this is a chilling, meticulously crafted, expertly paced, claustrophobic horror movie, that for this writer, explores themes about the maddening creative process. But Kubrick's film is so wide and open for interpretation, you owe it to yourself to see what you make of it all.