Features
The Little Mermaid, Disney, and the China Relationship That Changed Hollywood Forever
The Little Mermaid's sinking at the Chinese box office acts as a bitter post-script for a relationship between Disney and China that once seemed golden in the days of the '90s Mulan, but has since curdled.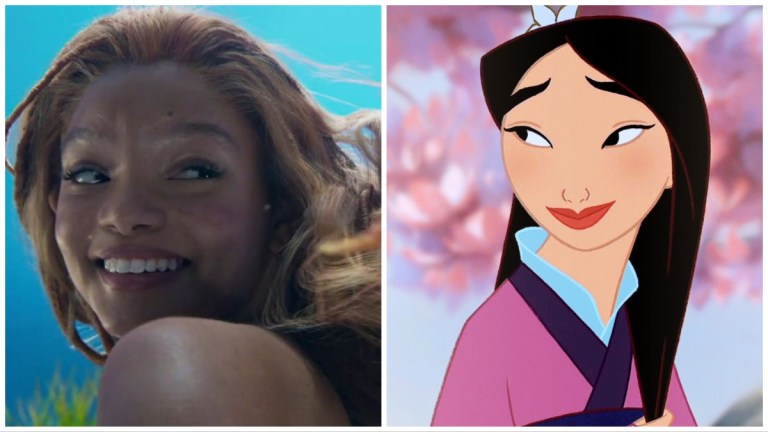 The release of The Little Mermaid—the latest in a long line of live-action remakes of Disney's animated classics—brought with it a hell of a lot of discourse. Much of the noise surrounding this film, which received mostly solid reviews, was blatantly bad-faith, obsessed with the apparent fantastical notion of a Black woman in a leading role.
At a time when forced culture wars so thoroughly dominate every entertainment-related topic, navigating the racism swarming around The Little Mermaid has been tough. And the distressing realities of this bigotry reared its ugly head after it was reported that the film was struggling in key foreign markets, apparently in part because of racist backlash. More damning still for the film's box office, The Hollywood Reporter cited headlines from government-affiliated publications in China that claimed The Little Mermaid suffered from "forced inclusion of minorities in classic films."
Not so long ago, one wouldn't usually think to place so much importance on whether or not a major American blockbuster was pleasing the Chinese government. Yet for over two decades now, Hollywood has invested astonishing levels of financial and cultural clout into China, changing the face of American media itself as a result.
Nowadays, The Walt Disney Company is seen as utterly indomitable, but the current era of monopolistic rule is a stark contrast to the Disney of the 1980s, a time when the company came close to bankruptcy. The Disney animation renaissance of the following decade changed that trajectory, and that evolution involved expanding their reach to untread international territory. But it was with one specific animated film from this period—a film that turns 25 this year—that Disney paved the way for the modern Hollywood of the 21st century.
Her Name Is Mulan
1998's Mulan is a film stuck between two eras at Disney: a classic musical that still diverges from the princess mold that had served them so well for decades; and an action-focused comedy with high stakes that are interrupted by a sassy dragon voiced by Eddie Murphy. Ask most '90s kids about it, and the chances are they'll have fond memories, thanks to its beautiful animation, strong and determined heroine, and a series of absolute bangers on the soundtrack ("I'll Make a Man Out of You" remains one of the great Disney earworms.)
As Disney wanted to step away from fairytales and expand its scope beyond its by then well-worn formula, films like Mulan, Tarzan, and Treasure Planet were intended to appeal not only to older kids but non-American ones. That meant tapping into China.
By the '90s, it became clear to American studios that the Chinese market contained immense and untapped financial potential. The government had begun to allow a more capitalist presence in the country, which meant that many Hollywood studios could get a foothold within the most populous place on the planet. The Lion King had been released in China in 1994 and brought in $3.6 million. Pixar had proven particularly popular with audiences, especially Toy Story. There were plans for a Disney theme park on mainland China, and further expansion into the territory as the decade came to a close. So what better way to do so than adapting one of the most famous stories in Chinese mythology?
Stories of Hua Mulan, a girl who disguised herself as a man to go to war in her father's place, have been part of folklore in the country since at least the Northern Wei dynasty (386–535 AD), and it's inspired dozens of adaptations. Chinese cinema had been making Mulan movies since the 1920s. Aside from the striking narrative, it's not hard to see why Disney was so taken with the idea of adapting such a popular tale.
Disney's Martin Scorsese Problem
Before Mulan could be released in China, however, Disney had some groveling to do. Two years prior, Disney, via Touchstone, had released Kundun, Martin Scorsese's epic biopic of the life of Tenzin Gyatso, the 14th Dalai Lama. The film, which is one of Scorsese's most sumptuous dramas, depicted the Dalai Lama's discovery and education, followed by him fleeing Tibet when the communist Chinese government invaded the country.
This was a passion project for screenwriter Melissa Mathison, and a risk for Scorsese given how much Kundun differs from his most famous works. It wasn't a typical Touchstone or Disney release either, but Scorsese's clout convinced them to support Kundun.
Because China has claimed Tibet as its own, and to this day does not recognize the authority of the Dalai Lama, the Chinese government greatly opposed Disney's plans to distribute Kundun well before it was ever released. They threatened to deny Disney access to the Chinese market, which would mean a total shutout of all films, TV series, and associated properties. This was no empty threat given the communist government's continued willingness to shut down any sign of cultural dissent from both within and outside the country.
Initially, Disney opposed this attempt at censorship. They were lauded by many, especially as other companies scrambled to adhere to China's demands. News Corp. had dropped the BBC's World Service Television news broadcast to China from its Asian satellite, and Universal Pictures had previously turned down the chance to distribute Kundun for fear of offending China's government. Richard Gere, a long-time supporter of Tibet, told Time magazine in 1995, "It's a bad precedent to be dictated to by a dictatorship. Disney made a good business decision. You have to play hardball with guys who only understand hardball."
That hardball didn't last long. China banned Disney films and began pulling TV cartoons, and soon, the House of Mouse fell to its knees. Then-CEO Michael Eisner apologized for releasing Kundun, calling the film a "stupid mistake," then saying it was good news that "nobody watched it. Here I want to apologize, and in the future we should prevent this sort of thing, which insults our friends, from happening."
What Eisner left out is that nobody saw it because Disney all but abandoned the film, discarding it to a handful of theaters for its release. To this day, it's one of Scorsese's hardest films to see and is unavailable on streaming in America.
Ironically, after all that effort and ethical compromise, Disney's animated Mulan wasn't even a hit in China. The Chinese government allowed Disney to release it but not until a year after its premiere in America, and in a limited manner. Many Chinese viewers found the film too American, nothing like the myth they'd grown up with and seen adapted several times over. On top of that, it had been readily available for months to view illegally thanks to some good-old fashioned piracy.
Hollywood's Made in China Years
As the years passed, Mulan became a minor footnote in Disney's continued plans to dominate the Chinese market. Eventually, the country's box office power exploded as its middle class grew, and every American studio sought to cash in. Many films included scenes shot in the country, with Chinese actors present and even Chinese product placement on display, as was the case for Michael Bay's Transformers: Age of Extinction (the latter became a problem for Paramount when a Chinese tourism company sued them, claiming they failed to include their company's logo in the movie as promised). Movies like The Fate of the Furious and Avatar saw intense increases to their profits thanks to Chinese releases. But this boon was short-lived.
In the post-COVID landscape of entertainment, it's clear that many of the changes the film industry were forced to confront during lockdown aren't going away any time soon. Indeed, they were inevitable, with concerns about declining cinema attendance looming overhead well before people were forced to stay home for months on end.
Some of the more pressing concerns about China's viability as a long-term market became tough to ignore. Questions arose over the accuracy of reported grosses, and an audit confirmed that exhibitors were underreporting grosses and pocketing the cash for themselves. Soon, major movies weren't even being given releases in the country, including Marvel's Eternals and Shang-Chi and the Legend of the Ten Rings. 
Disney tried to make Mulan a thing again in the country with its lavish and extremely expensive live-action remake, directed by Niki Caro. Its narrative was entirely rearranged to better suit Chinese audiences' tastes, but it failed to capture their interest once more—it was another American take on myth with plenty of actual Chinese films on the subject—and flopped on release.
Additionally, controversy surrounded 2021's Mulan because it was revealed that some filming took place in the Xinjiang region, which has faced numerous accusations of human rights abuses against the Uyghur population. Disney executives defended this decision, then later reneged on an offer to meet with Uyghur genocide victims. It felt like a sad full circle moment; the company's entrance into the Chinese market began with a willingness to censor its own content and reached a climax with an outright denial toward victims of a genocide.
China now has its own blockbuster market, with heavy stylistic inspiration from American cinema, and nine of its top 10 highest-grossing films are local productions. Meanwhile Hollywood is finding that it can have billion-dollar successes without playing in China, as evidenced by the likes of Top Gun: Maverick. But they shall always covet a presence in Chinese cinemas as long as the profit margins demand it.
Disney's original Mulan was the first true sign of Americans' willingness to adhere to a powerful foreign government's demands, against their own values. That won't end anytime soon.