Features
How The Little Mermaid Reimagined Ariel's Classic Songs for Live Action
Exclusive: Director Rob Marshall talks singing underwater, transformations, and firsts in his live action version of The Little Mermaid.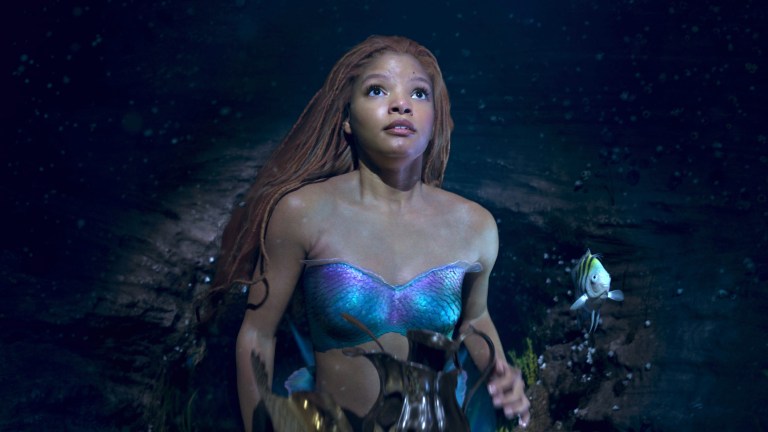 This article appears in the new issue of DEN OF GEEK magazine. Get your copy here.
If you want to see a musical adapted from stage to screen and adapted well, Rob Marshall is your dream director. For Chicago, he went high-concept, recontextualizing the Broadway songs as vaudeville numbers from the imagination of Roxie Hart. With Into the Woods, every prince, witch, and baker's wife got a show-stopping number that justified why movie audiences should care about them. Marshall is keenly aware that, while theater is a heightened space in which it's completely natural for characters to belt out their "I want" and torch songs, onscreen, it's a tougher sell.
"You have to earn a song, especially in a movie," he tells Den of Geek magazine. "It has to feel seamless coming from story and character." For his live-action adaptation of Disney's The Little Mermaid, that meant establishing rules about moving between land (more realistic) and sea (the fantasy realm), reintroducing the cherished songs once the story moves underwater and not a moment before. To wit, Marshall moved the original first song ("Fathoms Below") to later in the film, transformed it into a sea shanty, and has the live-action movie open with Ariel (Halle Bailey) singing "Part of Your World."
Marshall and Disney go way back. In 1999, he directed The Wonderful World of Disney's televised musical Annie (starring Kathy Bates, Victor Garber, and Audra McDonald) and choreographed the Brandy and Whitney Houston version of Rodgers and Hammerstein's Cinderella the year prior. Directing The Little Mermaid presented the unique challenge of the source material being not a stage show but an animated film, requiring exhaustive previsualization, shooting against a blue screen, separate rigs and stunt teams for every single actor, and digitalizing the bold world that exists "Under the Sea."
"It was a chance to reimagine something so beloved," he says, adding that he also revisited Hans Christian Andersen's story and discovered modern themes "about someone who feels that they don't belong, that they belong somewhere else, that it's not where everyone around them feels they should be, but where they feel they should be."
Embodying that journey of finding her place is Bailey, who Marshall praises for bringing to the role a mix of wisdom and naïveté, strength and vulnerability, wonder and a strong sense of self. "As a director, you pray that someone will claim the role so you don't have to even make a decision," he says. "I saw her become a star in front of me, literally."
The Oscar-winning music got a refresh, too. Returning composer Alan Menken collaborated with Lin-Manuel Miranda (with whom Marshall had already worked on Mary Poppins Returns) to produce three and a half new songs—the half being a more somber reprise of "Part of Your World." Both Prince Eric (Jonah Hauer-King) and seagull Scuttle (Awkwafina) get first-time solos: "Wild Uncharted Waters" and "The Scuttlebutt," respectively.
And if you can believe it, Ariel only had one (iconic) song in the animated film. So the songwriters gave voice to her transformation from mermaid to human with "For the First Time," a musical montage that Marshall says encompasses all of her "firsts" on land: "the experience of how beautiful it is but how scary it is, how awkward it is, how wonderful it is, how hard it is."
Most interesting is that the song occurs after Ariel has traded away her voice to sea witch Ursula (Melissa McCarthy), so the singing will all be internal. It's an unexpected homage to musical theater classics like Barbra Streisand's Yentl, which used the internal song to great effect. Marshall teases that there's "a little surprise, which I won't tell you about, that happens toward the end of it, which is really cool."
With this movie having taken nearly five years (due to Covid-related delays), one might assume that Marshall already has his next project lined up. But he's been so immersed with The Little Mermaid that he feels like (his pun) he's only just coming up for air. "I wish I were more like people that have many things happening at once," he says, "but I have never been that person because these journeys are so massive and so long." Now, Marshall must get his bearings for his next journey. "I've never done a movie like another movie," he says. "I was actually saying the other day to John DeLuca, my producing partner and partner in life, 'I don't think I could ever have done this movie prior to this moment in time.'"
No doubt, in a few years, he'll be telling us that he couldn't have made his next movie without the experience of creating The Little Mermaid. "God knows what that will be," he says. "I don't know; go to the Moon or something!"
The Little Mermaid comes to theaters May 26.