Features
Mulan: The Non-Disney Adaptations of a Classic Chinese Folklore
Can't get enough of Mulan? Check out these other adaptations of her story.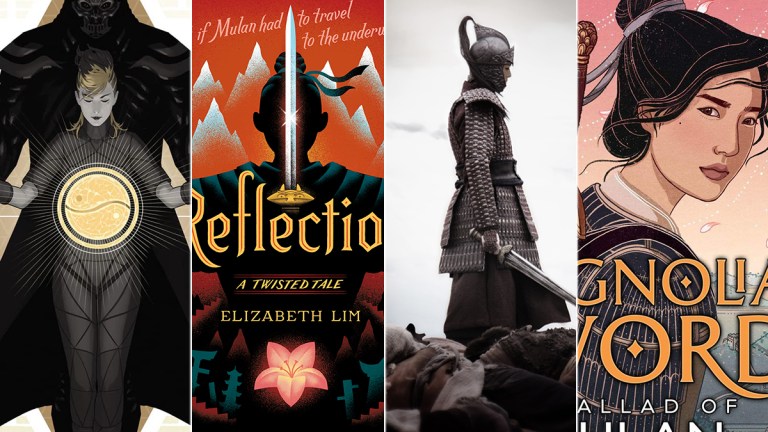 The 1998 animated Disney's Mulan introduced many in Western audiences to the legend of a young Chinese woman who disguised herself as a man to fight against an invading army. But the legend of Mulan had been around a lot longer—the first transcription of the story appears in the sixth century, and the earliest film version appeared in 1927. If you just can't get enough of Mulan, check out these other versions of her story.
The Ballad of Mulan (1998)
While this picture book is geared at a young audience, it's notable because it includes the text of one of the early poem versions in the untranslated Chinese, alongside a prose translation by author-illustrator Song Nan Zhang. It also came out the same year as Disney's animated feature, which means young readers could have picked it up around the same time they saw the film on the big screen. Although the language in the retelling is very formal, it's an accessible translation for readers who don't want to delve into the scholarship behind the legend.
The Saga of Mulan (1994)
If you're interested in seeing a classic retelling of Mulan on screen, you should track down this recorded performance of the Chinese opera. This is a film of a stage production, meaning viewers can imagine being there in person while watching the actors perform in front of them. The costumes, singing, and sets of the three hour production give Western viewers a good sense for what Chinese opera is like, and the subtitles help non-Chinese speakers catch some of the finer points of the dialog.
Mulan: Rise of a Warrior (2009)
Disney's 2020 film isn't the only modern live action retelling of Mulan. This 2009 Chinese film stars Zhao Wie, who also had a prominent role in the epic film Red Cliff, as Mulan, alongside Jaycee Chan (Jackie Chan's son). This version focuses on realistic, historical battles, giving an in-depth character development to a woman who spent twelve years fighting battles as a man, before rising to the position of general. The cinematography is reminiscent of Chinese films like Hero, and the battles are graphic and gritty. It's a more somber, adult version of the legend that Chinese film buffs will definitely enjoy.
The Magnolia Sword: A Ballad of Mulan (2019)
Sherry Thomas's adaptation of the Mulan legend, geared toward young adults, adds political intrigue and wuxia flare to the tale. Thomas was born and raised in China, and her research for the book firmly sets it within the historical period of the original legend. This version of Mulan begins as a martial artist so excellent that she's chosen for an elite team, which puts her under the command of the handsome son of a royal duke. But Mulan realizes her commander has his own secrets, and that there's a traitor in their midst. For readers who enjoyed Elizabeth Lim's Spin the Dawn (or fans of YA writers like Kristin Cashore and Marie Lu), this is a great selection.
Reflection: A Twisted Tale (2018)
Speaking of Elizabeth Lim, Disney-Hyperion brought her on to do their dark retelling of Mulan in Reflection. In this version of the story, it isn't Mulan who's injured in the avalanche, but Shang, and in order to save him, Mulan and the others have to travel through the underworld and face King Yama, the king of the dead. By drawing on Chinese legends and the courts of the Diyu—hell—the familiar story takes on a whole new shade. While this one absolutely draws more heavily on Disney's version than the original ballad, there are plenty of new angles to explore.
Wild Orchid: A Retelling of "The Ballad of Mulan" (2009)
YA author Cameron Dokey's "Once upon a Time" series revisits many of the most popular Disney princesses as main characters—as well as introducing Scheherezade of the Arabian Nights into the mix. In her Mulan retelling, she pictures Mulan as accomplished with both an embroidery needle and a sword. Her biggest challenge isn't really disguising herself as a man in this one—it's falling for her commander, Prince Jian, and deciding whether she can risk sharing her true identity if it means living happily ever after. The novel spends a significant portion early on devoted to Mulan's struggles fitting in as a child, which gives readers a longer chance to know her before the fighting breaks out.
Mulan: Revelations (2015)
One of the most divergent retellings of Mulan is this comic book from Robert Alter, Marc Andreyko, and Micah Kaneshiro that follows the story of Mulan's descendent in a futuristic China. Set in the middle of a pandemic, this cyberpunk martial arts story has a young Mulan, namesake of her ancestor, chosen by the five immortals to save the world. The series had a short run with only a four issue story arc and was never collected into a graphic novel, but the digital editions are still available from Dark Horse and on Comixology.
Mulan: Five Versions of the Classic Chinese Legend, with Related Texts (2010)
For the deep scholars out there, this text, edited and translated by Shaimin Kwa and Wilt L. Idema, features not only the earliest recorded version of the legend of Mulan, but several translations to later versions, including the 1939 screenplay for the incredibly successful Chinese action film Mulan Joins the Army. Essays trace the story and discuss its significance in Chinese pop culture, and a bibliography offers a long listing of the many versions of the legend that exist.
Honorable Mention: Picture Books
Note: This section contains affiliate links. If you use these links to buy something we may earn a small commission.
In addition to the early translation, there are several solid picture books that retell Mulan's saga for young readers. For different takes on the classic tale, many of them gorgeously illustrated, look for:
Mulan by Li Jian and Yijin Wert, told in both Chinese and English
Fa Mulan: The Story of a Woman Warrior by Robert D. San Souci
The 1993 title China's Bravest Girl: The Legend of Hua Mu Lan by Charlie Chin, illustrated by Tomie Arai (which you might have to pick up at your library, as it's out of print)
Mulan: The Legend of the Woman Warrior by Faye-Lynn Wu, illustrated by Joy Ang
The Song of Mu Lan by Jeanne M. Lee
What is your favorite version of Mulan? Let us know in the comments below!