Features
The Classic Disney Movies That Made Wish Possible
The release of Wish coincides with the centenary of Disney. We speak to the creators about making a fairytale worthy of 100 years of history.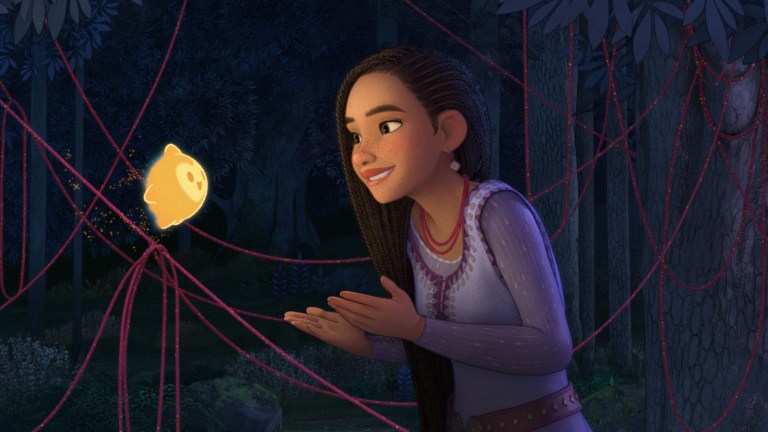 This article appears in the new issue of DEN OF GEEK magazine. Get your copy here.
When it came to creating the animated film that would be released on the 100th anniversary of Disney Studios, Disney Animation's Chief Creative Officer and co-creator of Frozen, Jennifer Lee, was deeply aware of the massive task that she and everyone at the storied animation studio would be taking on. "I started talking with my fellow Frozen director, Chris Buck, about how Disney would be turning 100 this year," Lee shared at a press event celebrating their newest animated feature. "We acknowledged what a privilege and responsibility it is at this significant time. And we thought what a wonderful way to celebrate a century of storytelling, to tell a joyful, original story with original characters and songs inspired by our legacy of films." That film is Wish, the 62nd animated Disney film that follows a young woman, Asha (Ariana DeBose), who lives in the magical kingdom of Rosas where wishes really do come true and ends up on a fantastical adventure thanks to the power of her heart's desire. 
Helmed by Frozen director Chris Buck and animator turned debut director Fawn Veerasunthorn, Wish marks an original fairytale from Disney and takes inspiration from a classic Disney tradition. "So many of our films are about characters who are longing for something greater and who, when needing or wanting something more, turn to the night sky above to dream, and you know what they say about dreams…" Lee shared before the famed Cinderella song "A Dream Is a Wish Your Heart Makes" begins to play in the El Capitan Theatre where Disney presented some early footage from Wish before we chatted to the creative team. The concept of making a wish and what that means is at the heart of of the newest Disney movie as Asha discovers a shocking truth behind her idyllic lifestyle and must fight to free the wishes of others from the greedy and villainous leader of her beloved home. 
For Veerasunthorn, the film also represents a new step in her journey from applying to work at Disney and being rejected not once but twice to directing her first feature. "I would drive by the studio and think, 'Maybe one day I'll work there.'" For Veerasunthorn, it was third time lucky and the first film she worked on was Frozen, where she met Lee and Buck. "Over the years, I continued to work on many films I enjoy, and was so excited to be head of story on Raya and the Last Dragon. So after that, I came onto Wish, which I was really, really hoping I would get to work on; it was like my secret wish." While Veerasunthorn had her theories about what the much-rumored project might be about, she was surprised to discover the truth behind Wish. "For the anniversary, there was a lot of rumbling in the building about what the studio would do. I thought maybe it would be a compilation of all the characters," she shared. "But I was so excited when I learned it's an original story with all original songs!" 
Those seven songs were written by five-time Grammy nominee Julia Michaels, who has penned tracks for stars like Selena Gomez, Britney Spears, H.E.R., Demi Lovato, and Dua Lipa. "She was already signed on at the time when I joined the film," Veerasunthorn said. "So, I was like, 'Whoa, a pop star and pop tunes in the look of a classical Disney film!' Because our goal from the start was to be able to honor the legacy of the studios, create something new and look forward to the future. So Julia with her contemporary sound really brought that for me."
Crafting something new while making sure the film honored Disney's 100-year legacy was at the very core of Wish. Buck straddles that line as someone trained under one of Walt's original Nine Old Men — the Disney founders' key animators from the 1950s — Eric Larson. That experience imbued a deep passion for hand-drawn animation before working on movies like Tarzan and, of course, transitioning into computer-generated animation with the studio's smash hit, Frozen. That gave him a unique insight. "When it came to doing this movie, the desire was how can we honor that legacy? We didn't want just to do a computer film that looked like the computer; it didn't feel right. It didn't feel like we were really honoring that beautiful legacy that is so much a part of our DNA. Then it was a matter of how can we do both. And it was the amazing artists and technicians who were able to give us this beautiful hand-drawn look to the characters, and then these beautiful backgrounds where we harken back to some of our watercolor movies." 
Looking back to the iconic and groundbreaking animated films of Disney's history was vital in telling Asha's story, and the creative team was kind enough to share some of the biggest influences they think audiences should watch before Wish. "We started with Snow White for the watercolor backgrounds," Veerasunthorn shared. "Next would be Sleeping Beauty for the Eyvind Earle of it all. We really took inspiration from those two films." She continued, "Alice in Wonderland for the fantastical elements and vibrant colors." Buck interjected, "And that was Mary Blair," shouting out the legendary Disney artist. He was also quick to share his love and the massive influence of Pinocchio on Wish. "What I love about that, besides all the art and everything, is also the story itself and that Walt was never afraid — just like fairy tales —  to get too dark. He knew he was going to tell a happy ending. He knew it would all work out. But he wanted to take the audience on that epic journey." 
Asha's hero's journey only gets harder after she fights back against the maniacal King Magnifico (Chris Pine), who it is revealed has been stealing the wishes of others in exchange for giving the people who give up their wishes a safe haven in Rosas. The charming royal is poised to be the company's newest iconic villain, complete with a fantastically over-the-top and instantly catchy villain song, "The Thanks I Get," that Den of Geek got to experience on the big screen.
A malicious and impactful antagonist was something the creative team was eager to bring to the film. "I'm very excited about Magnifico," Veerasunthorn told Den of Geek. "It's been a while since we've had a big, larger-than-life, funny, charismatic, super evil villain." Buck agrees. "He has a wonderful descent into madness. He's different from some of our other villains in that those other villains have come onto the screen and they're fully formed. Our villain is not, so you watch his descent and it's fascinating." 
His journey to villainy happens alongside Asha's quest to help her fellow citizens, which offers up some interesting parallels between the two, as Veerasunthorn explained. "We particularly love that, for a moment, Asha and Magnifico actually align philosophically. They see eye to eye on the importance of a wish before it breaks apart in a really epic way. They still believe in the same thing, but the way they go about it is different, and that's what brings on the conflict."
Wish opens in theaters on Nov. 22.