News
Tenet Eying European Release at End of August
Christopher Nolan's Tenet is delayed indefinitely in the U.S., but new reports suggest WB wants to get the movie into European cinemas as soon as possible.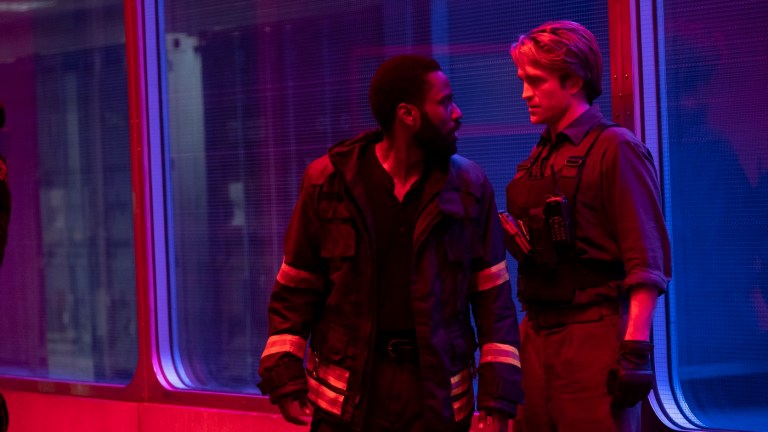 The latest delay of Christopher Nolan's Tenet is a real blow to movie theater owners the world over. Previously scheduled to release on July 17 and then July 31, the film finally abandoned its Aug. 12 date earlier this week. Even so, many (including us) noted that Warner Bros. chairman Toby Emmerich's language left the possibility for a staggered international release wide open, saying the studio would not treat Tenet like "a traditional global day-and-date release."
It appears they mean it, as per a new report from Variety which confirms the studio is currently speaking with cinema owners in the United Kingdom, France, and Spain for a release as soon as the end of August. According to the trade, plans are still in flux, especially as a month of new data on the spread of the coronavirus pandemic is imminent, but right now the studio is telling cinemas to plan on an Aug. 26 to 28 launch date for the Christopher Nolan epic.
The news follows on the heels of THR previously reporting with anonymous sources that the studio was looking at a late August launch while gearing the movie up for a bow in the U.S. in September. Variety's sources make no mention of the U.S., however they state that the studio is also looking to open in Asian markets soon. Indeed, one anonymous exhibitor noted that the plan for a staggered release apparently rests on China recently reopening movie theaters and seeing success with Train to Busan Presents Peninsula.
However, this opens up a host of other questions, including the fact that China has put a new requirement on movies opening in theaters: they must be two hours or less. Tenet, meanwhile, is estimated to clock in at around two hours and 30 minutes. That makes the Chinese market still a mystery for the Nolan film. With that said, the bitter math about opening it in Europe is clearer, albeit sobering.
While European governments by and large have done a far better job of curbing infection rates in their nations, and tracking and tracing the spread of the coronavirus, than the U.S. government, there is a fear of a second wave occurring sooner rather than later this fall, particularly in Spain. So according to the trade, WB is considering opening at the end of summer to get ahead of a second wave before Spanish movie theaters might close again.
There's a utilitarian logic here, but it does not point to when Tenet might premiere in the U.S. In July alone, positive confirmations of COVID-19 in the U.S. have gone up by more than a million cases, bringing the total number of confirmed COVID-19 cases to more than 4 million. As major cinema markets like New York City, where infection rates are down, continue to be closed while other regions of the country are on the brink of running out of ICU beds, including parts of Florida and Texas, the prospect of many theaters being open to screen Tenet in September appears remote.
That said, Nolan remains committed to theatrical cinema, which he considers to be "a vital part of our social life." He also wants to aid theatrical exhibitors who are facing an existential crisis. Hence AT&T CEO John Stankey confirming yesterday that Tenet, more than any other WB film, will be a theatrical release. So don't be surprised if it has a limited release of some kind before a dreaded second wave. After all, if business is preparing for a potentially rough autumn in Europe, one can only guess what the projections are for North America.