News
Tenet Delay Imminent as Coronavirus Spreads, Analyst Predicts
New exhibitor analysis suggests Christopher Nolan's Tenet will likely be delayed past August as the coronavirus pandemic spreads.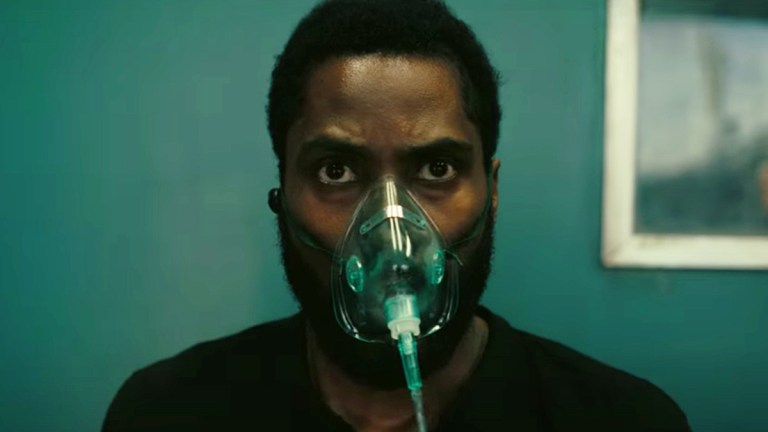 Like a magician's best illusion, the hopes predicated on Christopher Nolan's Tenet resuscitating the moviegoing experience are vanishing all around us. And adding suspense to this grim trick is a new report from Eric Handler, a leading exhibition industry analyst with MKM Partners. According to Handler, there is a "low likelihood" that Tenet keeps its scheduled Aug. 12 release date, particularly in the wake of rising rates of infection in states across the U.S., including Florida, Texas, California, and Arizona.
"The near-term outlook for exhibition related stocks remains extremely clouded," Handler wrote. "It would be surprising to see theaters able to re-open nationwide before September, at the earliest."
While this is no official confirmation from Warner Bros., it is grim news for the studio and Nolan, the latter of whom has been vocally eager to get Tenet into theaters this summer on the theory it could help rejuvenate worldwide moviegoing—or at the very least offer a temporary respite from the existential bleeding the theatrical exhibition market is undergoing in the coronavirus pandemic. Indeed, Nolan reportedly does not want the film to move from its Aug. 12 release date, just as he previously is alleged to have lobbied WB to keep the film in its original July 2020 window.
While an official decision is forthcoming, the current news regarding the coronavirus pandemic is anything but hopeful for either movie theaters or the people who might return to them. On Sunday alone, Florida passed a tragic milestone of the most positive COVID-19 tests recorded by a U.S. state in a single day: 15,300. According to CNN, if Florida were a country, it'd be the fourth highest in the world for reporting new cases of COVID-19.
Florida is also one of many states in the American South and southwest that eagerly pursued early reopenings last May—against the advice of the Centers for Disease Control and Prevention and other medical experts, but to the cheers of a reelection-focused White House—and are now seeing disastrous growth in COVID-19 infections. Florida alone has seven hospitals with ICU beds at capacity, and several areas are near running out in Texas as well.
Meanwhile the previous biggest hot spot in the world, New York City, remains relatively closed, including among movie theaters, even as it set a much more hopeful milestone this weekend by marking its first day without a single death due to COVID-19 complications. However, the city and state government are reluctant to reopen movie theaters. In fact, Mayor Bill de Blasio warned that while the death rate and new infections are down overall, there has been a rise in the infection rate among 20 to 29-year-olds, suggesting that as the city has begun its own slowly phased reopenings of bars and restaurants, it's seeing similar trends as the rest of the U.S.
Hence Handler suggesting the state's "slowed re-opening of the New York City economy" as a primary reason for Tenet being delayed from July 17 to July 31 and now Aug. 12, which he views as another missed target.
Handler similarly predicts global box office will be down 70 percent in 2020 when compared to 2019. However, he did offer a small sliver of light in his analysis, suggesting that there will be a high demand for, if gradual return to, movie theaters in 2021—presumably assuming a vaccine is discovered and made readily available.
"Beyond this year, we do believe there is pent up demand for consumers to get out of their houses for entertainment although the ramp up in attendance will likely be gradual." According to the analyst, 2021 will still be soft (but far better) than 2020, with 2022 seeing movie theater attendance "back to normal."
That might be great news for 2022, but in the immediate future it leaves Tenet in a difficult spot.