News
Tenet Release Date Delayed Again
As the coronavirus surges around the country, Christopher Nolan's Tenet moves forward in time.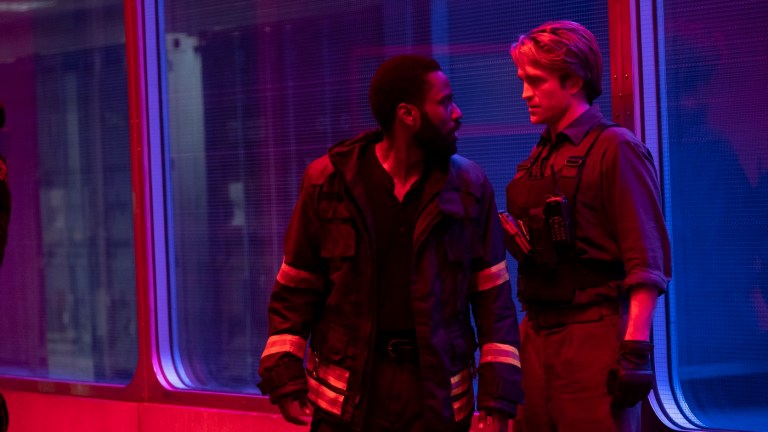 Just two weeks after moving Christopher Nolan's Tenet from its long-held July 17 release date to a July 31 opening, Warner Bros. Pictures has moved the action/sci-fi blockbuster again, this time to August 12 — a Wednesday instead of the usual Friday.
According to Deadline, the move comes in the wake of the COVID-19 outbreak spiking upward around the country, with some 45,000 new cases reported on Wednesday (June 24) alone and both Florida and Texas seeing record surges in infections. At the same time, both New York and Los Angeles — the country's two biggest markets and critical to any major film's box office fortunes — have yet to give the green light to reopen movie theaters.
The studio said in a statement, "Warner Bros. is committed to bringing Tenet to audiences in theaters, on the big screen, when exhibitors are ready and public health officials say it's time. In this moment what we need to be is flexible, and we are not treating this as a traditional movie release."
The statement added, "We are choosing to open the movie mid-week to allow audiences to discover the film in their own time, and we plan to play longer, over an extended play period far beyond the norm, to develop a very different yet successful release strategy."
Many industry observers believe it's likely that Tenet will move again, as efforts to rush the reopening of the country and the politicization of simple safety measures like wearing masks and practicing social distancing have brought the nation to the edge of a second major wave of the virus. It would not be a complete shock if Tenet jumps again to a late fall or even winter release date.
In the meantime, the 10th anniversary reissue of Nolan's Inception — which will be accompanied by footage from Tenet and other upcoming Warner releases — has followed suit and moved its arrival from July 17 to July 31. It was originally slotted on the 17th to drum up excitement for Nolan's next feature.
If Tenet stays at August 12, Warner Bros.' next big movie after that is The Conjuring: The Devil Made Me Do It. The third entry in the highly successful James Wan-created horror franchise is due out September 11. Warner Bros. has already pushed Wonder Woman 1984 twice, from June to August and recently to October 2.
Disney's Mulan is still theoretically going into battle on July 24, making it now the lead-off major studio release of this topsy-turvy season, but it's almost a certainty that the Mouse House will move the picture to a later release date or possibly premiere it on Disney+. Other titles still holding summer release dates are Solstice Studios' Unhinged (July 10), Sony's Broken Hearts Gallery (July 17) and United Artists Releasing's Bill & Ted Face the Music (August 14), although it's likely that all of those will move as well.