Reviews
Suzume Review: A Breathtaking Environmental Anime
Makoto Shinkai's latest anime epic is the inventive director's strongest film to date and the perfect synthesis of the storyteller's passions.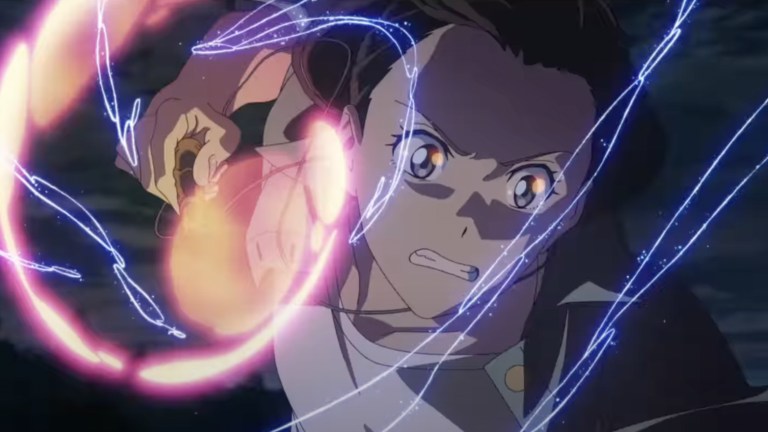 Suzume tells a distressing story about environmental awareness through a wildly fantastical lens that makes it feel like the culmination of Makoto Shinkai's filmography and a stunning synthesis of the ideas and themes that he's explored for more than a decade. There's a moment early on in Suzume where the titular character exclaims, "What is even happening right now?" which essentially becomes the movie's mantra during this road trip rom-com and coming of age story that combines natural disasters with a supernatural apocalypse. Suzume may be terrified and confused, but the audience will be delighted over this animated masterpiece that's the crowning achievement of Makoto Shinkai's acclaimed career.
Suzume isn't a short movie, but it wastes absolutely no time with its grandiose story. The film opens up its initial door and triggers cataclysmic chaos within the first ten minutes and is officially off to the races. Despite this breakneck pace, Suzume still makes sure that there's a sense of character to Suzume and the rest of the cast so that the audience cares about her when she first springs into action to assist Sota.
One of the most interesting ideas that Suzume explores is that there are invisible worms that function as destructive psychic forces under Japan that special "closers" must keep at bay, lest the country crumble into ruin. This is such an active, entertaining premise that would work well as a procedural series about loss where each episode features a new abandoned relic from a different town. However, Suzume exhibits the perfect amount of restraint on the subject. Suzume and Sota deal with just enough doors and worms that the concept never feels repetitive or that the film gets lost in a constricting formula. In fact, there's a major risk that's taken in the movie's final act that pays off well and further defies convention.
It's easy to get lost in Suzume's meticulous and lush environments, but there's also so much to appreciate in the facial expressions that are communicated by the movie's lead character and the rest of its movie's cast. There's truly so much life in Suzume's expressions–especially her worried face–and many scenes are punctuated by the sublime comedic timing of some of her facial contortions as she experiences these unbelievable events. All of this helps give the audience a great sense of the freedom that Suzume longs for as well as exactly the type of person that she is.
Suzume also properly fleshes out Suzume's friends, and aunt, as three-dimensional characters, even those who only play fleeting roles in her story. These rich and vibrant individuals cultivate such soothing moments of human connection where Suzume celebrates life's little joys. Even just the detail that Suzume wants her aunt to live and "leave the nest" rather than the other way around is a clever way to subvert this standard dynamic. Suzume makes some powerful points about growing up, finding independence, and learning how to properly grieve and accept the unpredictable nature of life.
One of the biggest catalysts in the movie is Sota's surprising transformation into an anthropomorphic kiddie chair who must hunt down a diabolical talking cat named Daijin. This all gives Suzume such a Studio Ghibli-esque creature comfort quality that's not present in the rest of Shinkai's work. This smart decision really helps transform Suzume into more of a family vehicle that skews towards younger audiences, but there's still a very dark edge to the commentary that's likely to be too intense for these viewers.
This tonal whiplash never becomes a distraction and, if anything, it merely reflects the highly nuanced nature of this story. As much as Suzume comes across as a companion piece to Shinkai's previous work like Weathering With You and Garden of Words, it also plays like an evolution of Princess Mononoke. It's a remarkable movie about the weight of people's feelings and how they can save the world. Suzume emphasizes appreciation for what's been lost and to understand–and remember–the nature of legacy. We're all broken chairs that are missing legs in one sense or another.
Suzume also thrives whenever it embraces the road trip dynamic of its cross-country narrative. The movie conveys a real sense of distance, wherein each pitstop that Suzume makes has such a distinct, authentic personality, but there's also a sheer joy for travel that's communicated as Suzume and company visit different Japanese communities and appreciate the differences that make us human. This energy feeds into some genuinely inventive setpieces that occur on a boat, a roller coaster at an abandoned theme park, and a school, all of which take advantage of these spaces and offer unique choreography that properly explores these environments rather than just turn them into visual flourishes.
Suzume orchestrates a handful of stunning chase sequences and Shinkai makes sure that they're as engaging as the apocalyptic cosmic horror that takes over the film's final act. On top of these groundbreaking visuals, Suzume also pushes an exceptionally upbeat, jazzy score that maintains the film's frenetic perpetual motion. Radwimps, who previously knocked it out of the park on Shinkai's Your Name and Weathering With You, are back in full force and their musical contributions feel distinctly different. They capture both the intimate and fantastical nature of this unconventional love story.
There hasn't been a miss yet in Makoto Shinkai's career, but Suzume is an emotional triumph that feels like the apex of an enviable filmography. Suzume has something for everyone between its playful anthropomorphic characters, unbelievable battles, and compelling emotional core. It's a rare accomplishment in animation that deserves to be seen on the biggest screen possible. It's going to be difficult for Makoto Shinkai to top Suzume's heights, but if anyone is up to the challenge, it's him.
Suzume is playing in select U.S., U.K., and Canada theaters on April 14th, in both subtitled and English dubbed versions.