News
Star Wars: The Last Jedi Release Date, Trailer, Spoilers, and Story Details
Star Wars: The Last Jedi arrives this week. Here's everything we know about Episode VIII, including spoilers!
This article contains spoilers for Star Wars: The Force Awakens and potential spoilers for Star Wars: The Last Jedi.
Star Wars: The Last Jedi continues the story of Rey's fight against the evil First Order and the Knights of Ren. Having met the legendary Luke Skywalker at the end of The Force Awakens, the young hero must now learn the true ways of the Force and understand the fine balance between the light and dark sides. 
Rian Johnson directed and wrote this installment, and it will see the return of most of Episode VII's cast as well as the introduction of a few new characters, including Kelly Marie Tran's Rose, Benicio del Toro's DJ, and Laura Dern's Admiral Amilyn Holdo.
Here's everything else you need to know about the movie:
Star Wars: The Last Jedi Trailer
A promo released on Instagram shows a shocking clip of Rey taking control of Kylo's lightsaber broadsword and striking a stance with the First Order's Praetorian guards! What does this all mean? Here's the teaser:
The latest international trailer features some never-before-seen footage of Canto Bight, the casino city introduced in The Last Jedi. Check it out below:
This next TV spot shows Rey struggling with an unknown temptation. Is it Supreme Leader Snoke?
In another TV spot, Finn finally wakes up from his sleep and it looks like he thinks he's still on Starkiller Base. He has a lot to catch up on! Here's the trailer:
This next promo is all about Rey and Luke. There's quite a bit of new footage in it, including some lines from the movie between master and apprentice which are a bit enlightening. Check out the trailer below:
The following TV spot features Poe Dameron in a much bigger way than past trailers:
A trailer that premiered during Game 7 of the World Series shows Luke entering the Millennium Falcon for the first time in years. Here it is:
The first international trailer doesn't have much if you've been keeping up with the trailers thus far, unfortunately, but there is a first look at Threepio in the movie. That's something! Check out the trailer below:
Here's an earlier trailer…
We dissected this trailer in search of all of its secrets. Here's what we found!
We also broke down this trailer and discovered many of its secrets here.
A behind the scenes video arrived at D23 2017. Director/writer Rian Johnson premiered the video, joined by cast members Daisy Ridley, John Boyega, Gwendoline Christie, Kelly Marie Tran, Benicio Del Toro, Laura Dern and of course newly minted Disney Legend Mark Hamill, who told the crowd that Johnson's script "had many unexpected elements" and was "a real game-changer."
Johnson also paid tribute to the late Carrie Fisher, with photos of her and the others on set flashing on video screens to either side of the cast. We didn't get any new revelations about the movie's plot, but no doubt fans can scour the video below for clues…
Star Wars: The Last Jedi Release Date
Star Wars: The Last Jedi will be released on Dec. 15, 2017. We have the complete schedule of upcoming Star Wars movies right here.
Star Wars: The Last Jedi Runtime
Director Rian Johnson has confirmed that Star Wars: The Last Jedi will be 150 minutes long (including end credits), according to IGN. This makes The Last Jedi the longest Star Wars movie ever. Revenge of the Sith comes in second at 140 minutes. In terms of the Sequel Trilogy, The Force Awakens was a lean 125 minutes. 
Star Wars: The Last Jedi Plot
Director Rian Johnson finally opened up about the plot of his Star Wars sequel, a highly anticipated installment that will answer some of our burning questions about The Force Awakens. He spoke to USA Today about the film and how it will help flesh out many of the saga's new characters. 
"I wanted to know more about each of them, and that doesn't just mean information or backstory," Johnson said. "Figure out what's the most difficult thing each of them could be challenged with now — let's throw that at them and dig into what really makes them tick by seeing how they handle that."
Rey's relationship with Luke will be a focal point in particular. Johnson described Rey's first meeting with the legendary Jedi Master, saying that the young hero finds herself "both not knowing what's going to happen and also having a lot of expectations in her head about how this is going to go. It very much feels like what we all go through in adolescence, the dawning of this new chapter of our lives."
In fact, while Rey remains the protagonist of the Sequel Trilogy, Episode VIII will once again focus on the mystery of Luke Skywalker. 
"What's going on with Luke Skywalker?" is the main question in the new movie, according to Johnson. "I'm approaching it with a take that I hope feels honest and real and is going to be interesting to folks and make sense."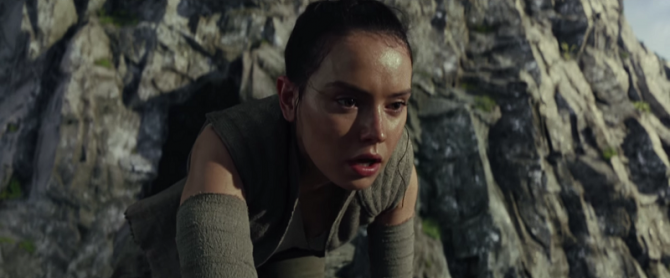 I personally want to know a lot more about the first Jedi Temple on Ahch-To and why Luke would choose that place specifically for his exile. The movie will hopefully also reveal more about the young Jedi he was training before the Knights of Ren slaughtered them all. 
But for all of the darker elements of the film, Johnson still plans to keep things light when possible. Humor, of course, is a vital part of any Star Wars movie. The Empire Strikes Back and Rogue One are two of the darkest films in the franchise, but they still manage to make you laugh throughout the adventure.
"I want [Episode VIII] to be a blast and to be funny and to be a ride the way The Force Awakens and the original Star Wars movies were."
In another piece from USA Today, Johnson shared some details about how Episode VIII will explore Luke and Rey's relationship. He didn't reveal anything groundbreaking, nothing we couldn't have guessed ourselves, but it's still great to hear that Rey and Luke will be the main focus of the film. 
Johnson confirmed that the movie will start right where The Force Awakens left off – that is, at the moment Rey offers Luke his old lightsaber.
"I don't want to skip ahead two years," Johnson told USA Today. "I want to see the very next moment of what happens."
It only makes sense that such a massive cliffhanger needs a satisying payoff, which Johnson will hopefully provide by literally showing us what happens next instead of making a time jump – as is the Star Wars tradition.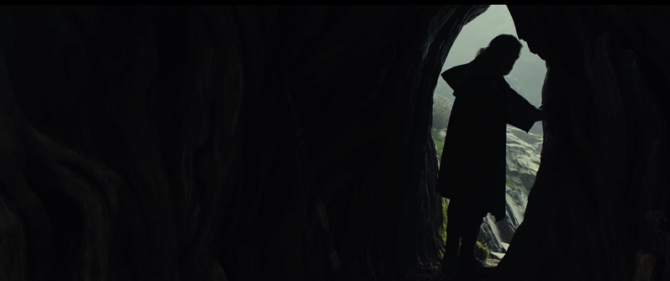 Johnson also said that "a large part of the movie" will be spent exploring why Luke exiled himself on Ahch-To prior to the events of The Force Awakens. We already know that the Jedi Master had begun training a new Jedi Order before the Knights of Ren slaughtered all of his students. It is unclear if Luke went into exile right after his new Jedi Order fell or if he made an attempt to fight back. It's also unclear if Ahch-To, where the first temple of the Jedi is located, serves some kind of ulterior motive for Luke beyond just exile. 
Rey's new Force abilities will also be addressed:
"[Rey is] taking her first step to coming to terms with this thing inside her that she never knew was there and is just starting to reveal its potential," Johnson said.
Disney has finally shown a snippet of new footage from Star Wars: The Last Jedi, a short clip featuring Luke and Rey in a direct continuation from the last scene in The Force Awakens. The short preview revealed what happened next, including Luke's first words in the Sequel Trilogy. 
According to an LA Times reporter who was at the screening, Luke's first line in The Last Jedi is "Who are you?" This is a huge teaser, especially since up until now many fans have speculated that Rey is indeed a Skywalker and a former student in Luke's shattered Jedi Academy. But the fact that Luke doesn't seem to recognize her does suggest that Luke has never met her at all. Of course, you could also say that Luke doesn't recognize her since he left on Jakku when she was a little girl. Still, he would probably be able to feel her presence in the Force and recognize her that way…
Let's not fall down the rabbit hole here. Reporter Daniel Roberts described some of the other things he saw in the footage, including appearances by Chewbacca, Leia, and Finn.
The movie will also apparently feature several different settings, including mountains, oceans, forests, and deserts, according to Roberts. 
Finally, there was also a brief sequence featuring an X-wing:
In other news, Adam Driver also talked about what we can expect to see from Kylo Ren next.
"I think – maybe this is such a general answer but you know – humanity," Driver explained to Larry King. "Even though it's very much a blockbuster movie, there was no taking that for granted and that we were forced to be general. There was a lot of plot points that we knew were operating in the first one, that we get to explain more in the second one, to make both of them make sense. But they do kind of feel socially active to me, and George Lucas originally – a lot of Star Wars was in response to Vietnam and a lot of what I remember talking about with JJ and Rian [Johnson] was this idea of terrorism, and two sides being morally justified to behave however they wanted to to get whatever they thought was absolutely correct."
It sounds like there will be some fleshing out of Ren's belief system, and certainly more grey areas than in The Force Awakens. 
Want to learn more about The Last Jedi? Click on to page 2 for SPOILERS!
Star Wars: The Last Jedi Spoilers
There's been a ton of information revealed about The Last Jedi over the last few months. We have a collection of all of the spoiler-y bits we've learned so far:
EW released a bunch of info as part of their cover story a few months back, and even dropped some stills from the movie…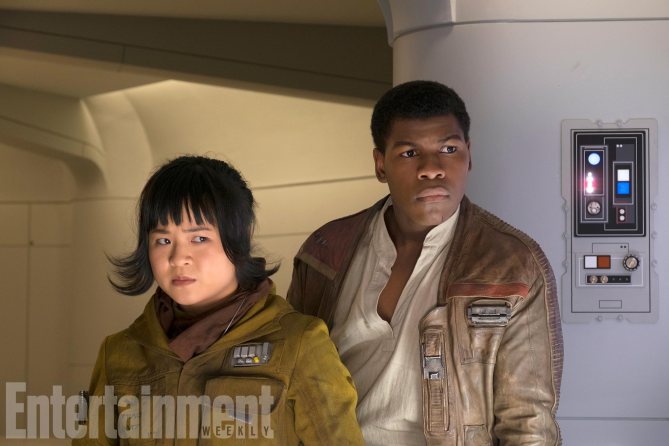 The first photo features Finn (John Boyega) and Rose Tico (Kelly Marie Tran), who go on a covert mission to infiltrate the First Order in The Last Jedi. According to EW, when we reunite with Finn, he's having some major doubts about his future with the Resistance. After watching Han Solo die and being wounded by Kylo Ren on Starkiller Base, Finn is hesitant to rejoin the fight. 
"It got really real for him," Boyega told EW. "And he just wants to get away and not be involved. His intention in the first place was to go to the Outer Rim. He was always brought back [in The Force Awakens,], but this is his chance to get away and perhaps find Rey and go off together. He's trying to do that at first."
When Rose first meets Finn, she considers him a hero. "When Rose first meets Finn, that's how she views him," Tran said. "He is 'a big deal.'"
"He appreciates the adoration for a second, but when he meets her, Finn is trying to escape the whole war. He's trying to leave," Boyega said. "And she comes in and basically gives him a depiction of himself that wasn't necessarily true."
Rose is a mechanic for the Resistance. She has a sister named Paige (Veronica Ngo), a gunner who fights on the front lines. 
"Poe Dameron is super cool. Finn's super cool. Even though [Rose] is good at what she does, she's not known," Tran said. "She's not cool. She's this nobody, this background player, which is what makes her interesting. She's not the best. She's not royalty. She's someone who is just like everyone else."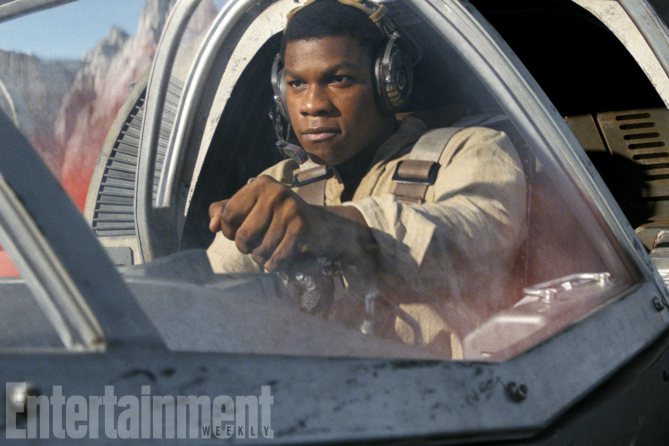 It looks like Finn will also be picking up some new piloting skills in the movie. If you recall, the young hero didn't know how to pilot a ship in The Force Awakens, and instead rescued Poe Dameron in order to make their escape from the First Order.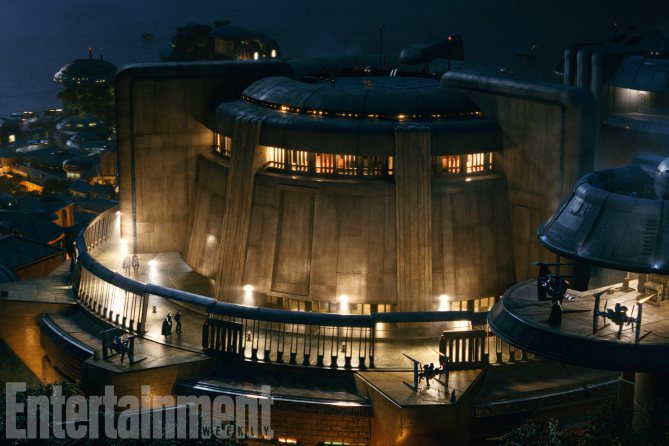 This is the casino at Canto Bight on the planet Cantonica. Finn and Rose's mission take them to this exotic location. 
"The whole city is kind of one sort of luxury resort that's been built on this very otherwise abandoned, arid planet," director Rian Johnson told EW. "It's like Vegas with aliens. So maybe it is just like Vegas."
Johnson also said that through the trip to Canto Bight, which is reminiscent of Cloud City, and Rey off in Ahch-To training with Luke, The Last Jedi evokes The Empire Strikes Back. 
"Rey is off in a remote location with a Jedi master, and the Resistance is in a tough spot, and we're intercutting those stories," said Johnson. "By its very nature, there are some structural parallels. But these are new characters, they're dealing with new things, and that ultimately is what defines the movie. So I think that's going to be unique."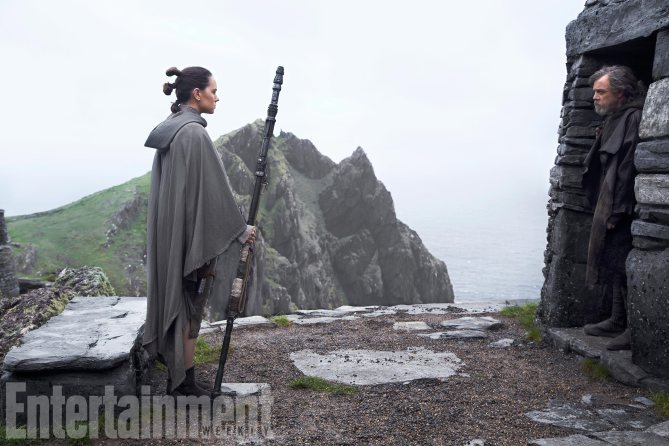 Mark Hamill also spoke to EW, revealing a bit more about the Luke Skywalker we'll meet in the movie. In short, he is a broken man who has no desire in continuing the Jedi Order. In fact, he thinks the Jedi should end.
"When I first read it, my jaw dropped," Hamill said. "What would make someone that alienated from his original convictions? That's not something that you can just make up in an afternoon, and I really struggled with this thing."
According to EW, when Rey first approaches Luke, she is turned away, which is heartbreaking for the young hero. 
"'Oh my God, this other man that I lost within a couple days was somewhat of a father figure. Now he's gone, and instead I'm with this grumpy guy on an island who doesn't want me here,'" said Daisy Ridley.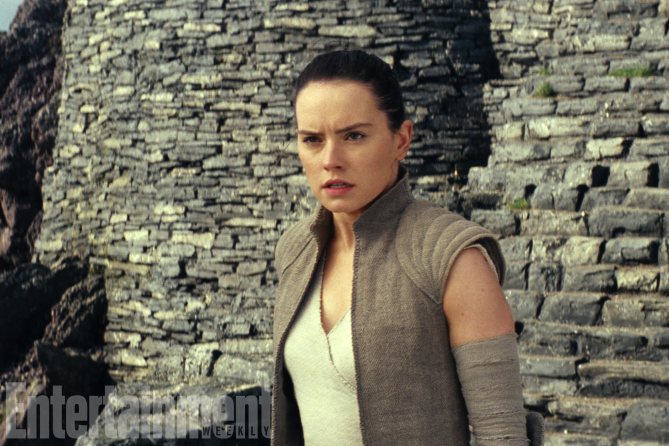 The reason Luke has chosen exile? He thought his nephew, Ben Solo (now known as Kylo Ren), was the Chosen One who would bring balance to the Force — the old prophecy that has brought more doom to the galaxy far, far away than anything else. 
"[Luke] made a huge mistake in thinking that his nephew was the chosen one, so he invested everything he had in Kylo, much like Obi-Wan did with my character," Hamill said. "And he is betrayed, with tragic consequences. Luke feels responsible for that. That's the primary obstacle he has to rejoining the world and his place in the Jedi hierarchy, you know? It's that guilt, that feeling that it's his fault, that he didn't detect the darkness in him until it was too late."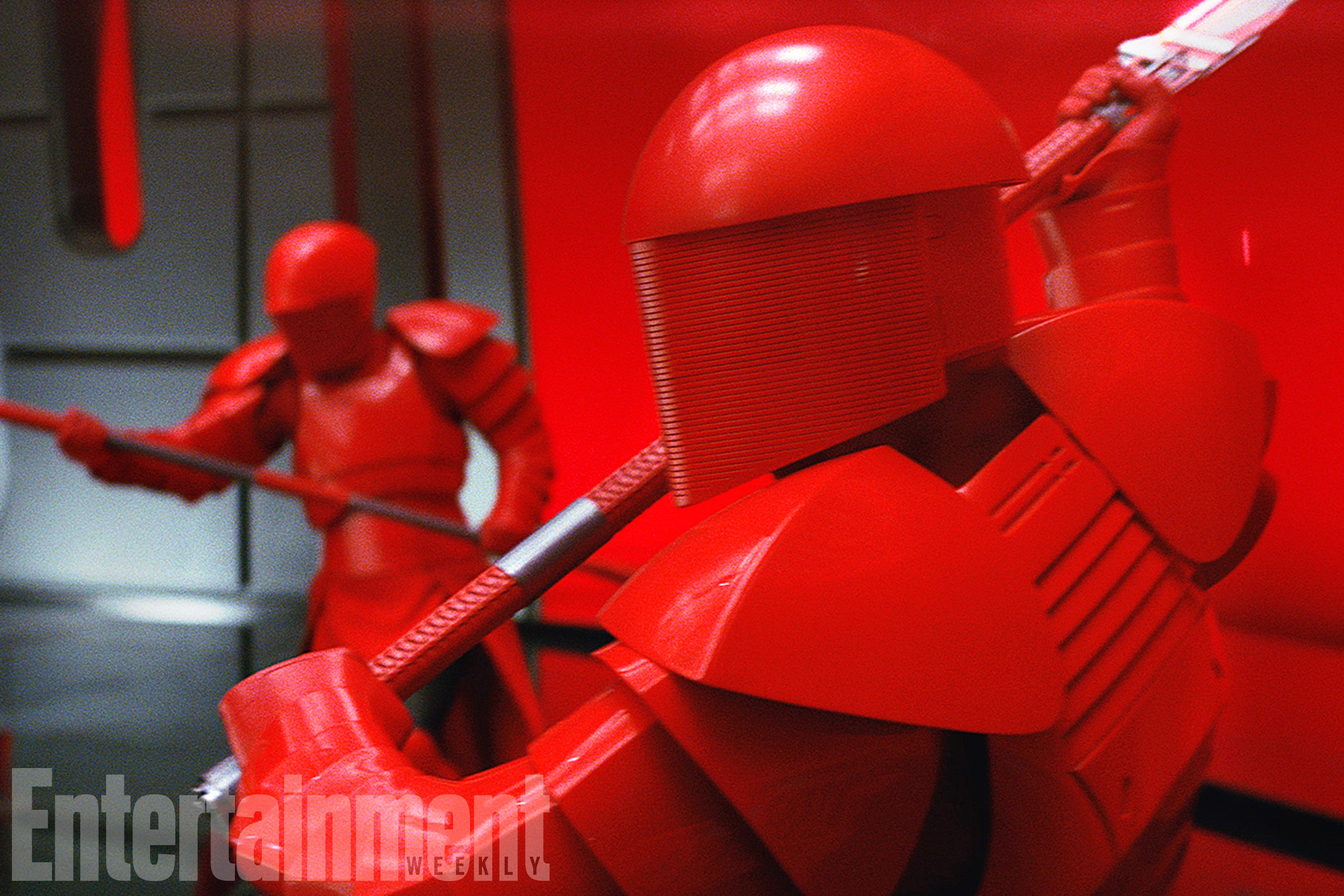 Above is your first look at Supreme Leader Snoke's Praetorian Guard, which look absolutely incredible in their slick red armor. All they're missing are the capes. Johnson describes them as Snoke's personal bodyguards. 
"The Emperor's guards were very formal, and you always got the sense that they could fight, but they didn't," Johnson told EW. "They looked like they were more ceremonial, and you never really saw them in action. The Praetorians, my brief to [costume designer] Michael Kaplan was that those guys have to be more like samurai. They have to be built to move, and you have to believe that they could step forward and engage if they have to. They have to seem dangerous."
In speaking about Praetorian Guard, Johnson also revealed that we will learn more about Snoke's plans, but his origin and identity will remain somewhat of an enigma. 
"Similar to Rey's parentage, Snoke is here to serve a function in the story. And a story is not a Wikipedia page," the director said. "For example, in the original trilogy, we didn't know anything about the Emperor except what Luke knew about him, that he's the evil guy behind Vader. Then in the prequels, you knew everything about Palpatine because his rise to power was the story."
Snoke will be rendered completely through a mo-cap performance from Andy Serkis. Practical effects will not be used for the villain.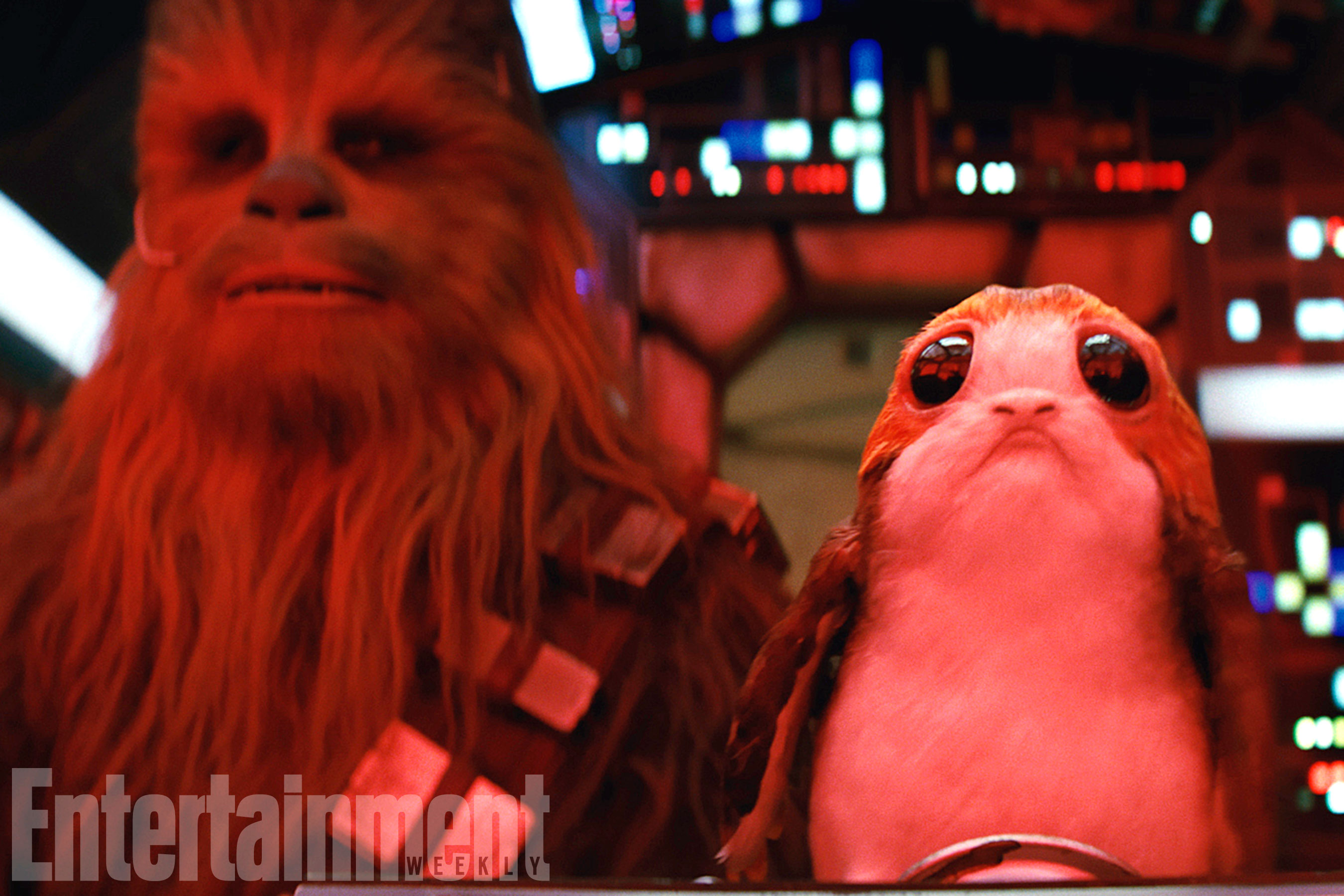 Two new alien species will be introduced in The Last Jedi. Above you can see a Porg next to Chewbacca on the Millennium Falcon. Porgs are native to Ahch-To.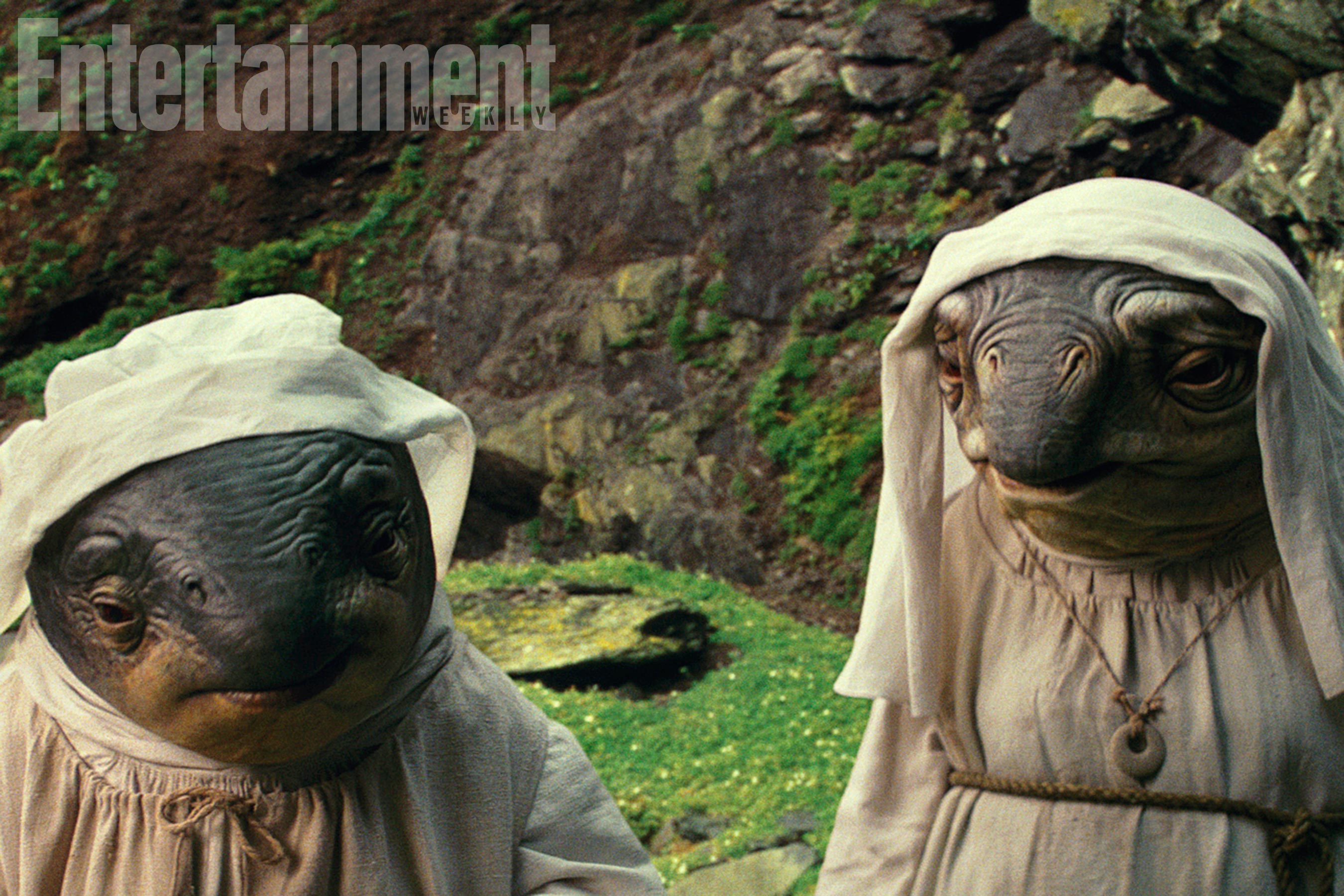 Next are the Caretakers, who inhabit the ancient Jedi Temple on Ahch-To. They maintain the Temple as well as the other structures on Luke's island. 
"They're kind of these sort of fish-bird type aliens who live on the island," Johnson said. "They've been there for thousands of years, and they essentially keep up the structures on the island."
All of the Caretakers are female and wear nun-like outfits. Johnson described their alien language as "a blubbery sort of Scottish fish talk."
Here are the rest of the photos: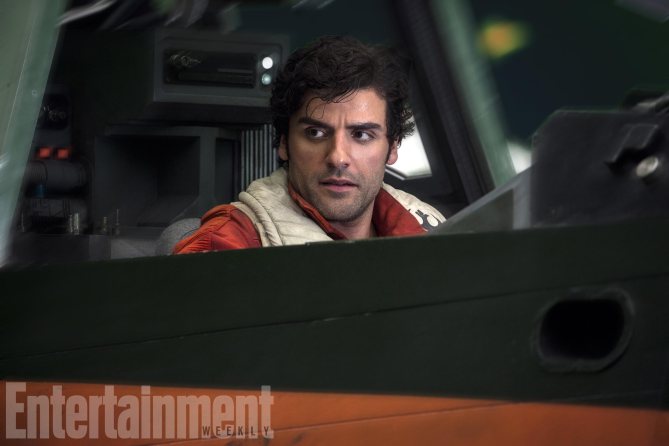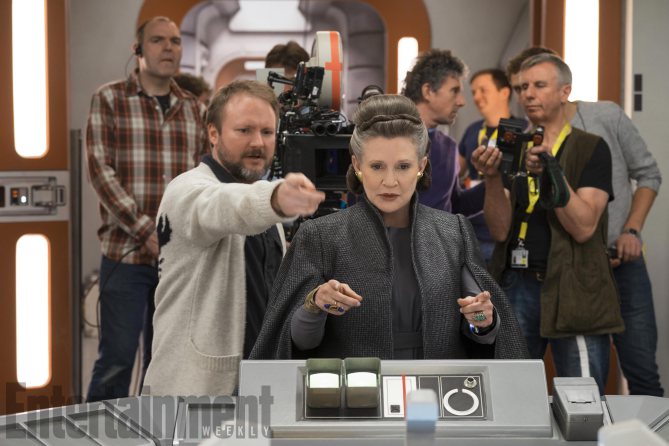 The summer issue of Vanity Fair is full of photos taken by Annie Leibovitz from the set of The Last Jedi. The photos even reveal Laura Dern and Benicio del Toro's characters. Dern plays Vice Admiral Amilyn Holdo, a senior officer in the Resistance with ambiguous motivations. Del Toro is DJ, a codebreaker (hacker) Finn and Rose encounter during their mission in Canto Bight.
Lucasfilm also unveiled some Empire-inspired vehicles, showcasing hybrid aesthetics, that the First Order will utilize in its quest for galactic dominance. While we've seen our share of upgraded Imperial armaments in The Force Awakens, this new batch will certainly fulfill the requisition of even the most die-hard fans of the franchise.
With that, meet the AT-M6 and the Dreadnought!
The AT-M6 (All Terrain MegaCaliber Six), like everything that the First Order does, takes Imperial design – in this case, for the beloved AT-AT walkers that wrought destruction on the Hoth Rebel Base in The Empire Strikes Back – and exponentially upgrades them in size. Indeed, the AT-M6 not only dwarfs the classic AT-ATs in size, armor and output, but brings a different concept.
Design supervisor Kevin Jenkins recalls discussing the concept with director Rian Johnson, revealing that, with the AT-ATs essentially serving as the Empire's dog-inspired equivalent of WWII Sherman tanks, they simply decided to upgrade the animal to simian status, stating:
"I suggested to Rian, 'Well, instead of a dog, what about a gorilla?' I can't remember why I said a gorilla, but I just said, 'They have a great stance, they are very aggressive,' and that's how the idea of the gorilla came. And literally in profile, I molded it over an actual photo of a gorilla to get the initial base pose."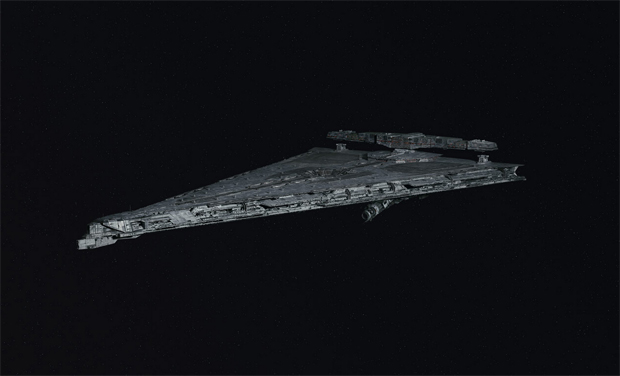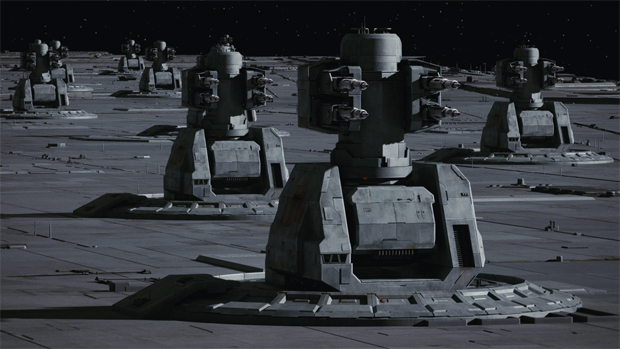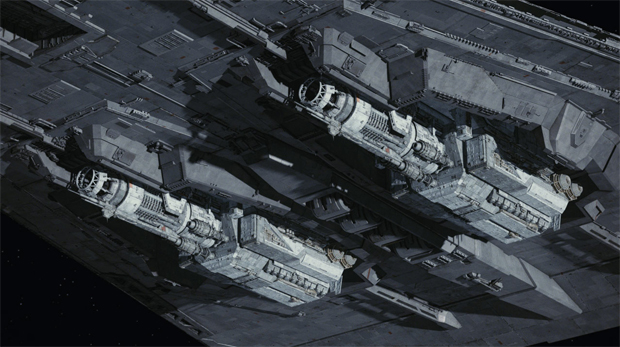 The Dreadnought, a Mandator IV-class warship is big, we mean BIG! 7,669.72 meters in length, or 25,162.8 feet, if you must know; said to be a two-and-a-half times size upgrade from your average old-school Star Destroyer. The ship's artillery is, as expected, intimidating, sticking with the tried and true motif of big guns. As Jenkins muses on the thought process behind the Dreadnought's artillery:
"We had all sorts of design ideas and things, but when seeing an early cut with Rian, I just remember straight afterwards we talked to each other and went, 'We need guns.' We tried radars because, obviously, you look at Return of the Jedi and there were radar dishes. There's one on the Death Star. So, it was also part of that retro, Flash Gordon-esque sci-fi thing, and we went down that path for a while, but then the cut just went, 'Nah. Big guns. It just needs big guns.'"
Yet, it appears that the First Order – with their supersized ships – have seemingly shrunk much of the Death Star's old, celestial-sized offense in a manner akin to the real-life gadgets we obsess over, which become smaller, portable and more powerful as time progresses.
Those of you who aren't opposed to the tiniest bit of Last Jedi spoilers may be interested in this new video that gives us our first real look at what appears to be Kylo Ren's personal spaceship. 
As noted in the video, this spaceship looks an awful lot like the old TIE Interceptor design except this version sports some sleek red tints and slight design modifications.  
In other news, it looks like a classic ship from the Original Trilogy will make its Sequel Trilogy debut! The Duke of Cambridge and Prince Harry have been visiting the sets in Pinewood Studios recently, and one of the pictures has the Prince sitting in an A-Wing!
Look for yourself:
Does this mean we'll also see Y-Wings and B-Wings at some point? We sure hope so!
Want to learn more about The Last Jedi? Click on to page 3 for info on the cast!
Star Wars: The Last Jedi Cast
The cast for the sequel has also officially been unveiled. As we heard before, all of The Force Awakens cast returns—except for Harrison Ford, of course. So we shall see Mark Hamill, Adam Driver, Daisy Ridley, John Boyega, Oscar Isaac, Lupita Nyong'o, Domhnall Gleeson, Anthony Daniels, Gwendoline Christie, and Andy Serkis again. The movie will also feature the late Carrie Fisher in her final performance as Leia.
Joining them are Benicio Del Toro (Sicario) as a hacker named DJ, Laura Dern (Inland Empire) as Vice Admiral Amilyn Holdo of the Resistance, and newcomer Kelly Marie Tran, who plays a character named Rose Tico, a mechanic working with the Resistance.
Billie Lourd, who played Lieutenant Connix in The Force Awakens (and happens to be Carrie Fisher's daughter), spoke to Slashfilm about the upcoming sequel while promoting Scream Queens at Paleyfest. She confirmed that she will be returning for Episode VIII and that she'll have a larger role than her blink-and-you'll-miss-it performance in The Force Awakens. As Lourd said in the quick interview, "The last one was a little Where's Waldo-y."
Warwick Davis, the actor who played Wicket the Ewok in Star Wars: Return of the Jedi, will return for Episode VIII in an undisclosed role. He confirmed this himself in an interview with news.com.au. Of course, this does not mean that we'll see him reprise the role of everyone's favorite Ewok. Davis has returned to the franchise twice before, playing several small parts in The Phantom Menace and The Force Awakens. In the latter, he played an alien named Wollivan, who can be glimpsed in Maz Kanata's castle. It could stand to reason that we'll catch another glimpse of Wollivan in Episode VIII or that he'll perhaps play a new character. Or maybe it's time for Wicket's return!
According to Slashfilm, director Rian Johnson revealed during a Japanese press event that frequent collaborator Joseph Gordon-Levitt will have a voice acting role in The Last Jedi. Gordon-Levitt will voice an alien character, although no more details were confirmed beyond that. 
It's a very brief little thing, but it's fun, and if you watch the movie, maybe you'll be able to hear and pick out Joe's voice in the movie," said Johnson of the actor's cameo. 
It does sound like this might be a blink and you'll miss it moment. Make sure to pay close attention!
Variety revealed that Jimmy Vee replaced the late Kenny Baker in the role of R2-D2 for Star Wars: The Last Jedi. Vee previously did some of the R2-D2 work in The Force Awakens, but Baker was credited. 
"It's been an absolute pleasure to have worked alongside the legendary Kenny Baker," Vee said in a statement. "Kenny was a fantastic actor and taught me all the 'tricks' on how he brought R2-D2 to life which I will continue to portray in his honor. I'm so excited to be a part of the Star Wars universe and can't wait for everyone to see what we've been working so hard on for the last year."
Vee has also played several aliens on Doctor Who, including Moxx of Balhoon from the wonderful second episode of NuWho, "The End of the World."
Baker passed away last August at the age of 81.
IGN has posted a video that reveals a new Last Jedi character named C'ai Threnalli. Threnalli is an Abednedo pilot who apparently serves as Poe Dameron's wingman. We assume that means he flies with Dameron and not that he helps Dameron pick up girls at bars because, let's be honest here, Mr. Dameron probably requires no assistance during the latter. 
It's been long-rumored that Mad Max actor Tom Hardy will make a cameo appeared in Star Wars Episode VIII as a stormtrooper, much like Daniel Craig (Skyfall) did in The Force Awakens. Well, it looks like THR finally got a chance to ask the actor about the rumored cameo. As you'd expect, Hardy played it very coy.
"I don't know if I can even say that. Where did you hear that?" Hardy responded when asked about the cameo. When told the rumor has popped up on the internet, Hardy simply replied, "Ah, the internet is a glorious web of deceit and misinformation, isn't it?"
Not giving as much of an answer as a bit of a tease, Hardy finally answered the question: "It could be, couldn't it?"
Not exactly a yes or a no, but perhaps the best way to play it if you don't want to be seen as a liar later. 
According to an ITV interview (via Digital Spy), musician Gary Barlow, frontman of UK pop group Take That, will have a cameo role in The Last Jedi. 
"I'm not a stormtrooper, but I am in it," said Barlow in the interview. He's probably referring to Daniel Craig's stormtrooper cameo in The Force Awakens. Rumor has it that Tom Hardy also has a cameo as a stormtrooper in The Last Jedi. "Now I've said that, I'll probably be out. I think the Star Wars people are so strict about what information [is out there]. So me saying that, I've probably just done myself out of a role."
We don't know who Barlow is playing in the movie, but we'll let you know as soon as we do!
Star Wars: The Last Jedi Poster
Disney also released the official IMAX poster for the film!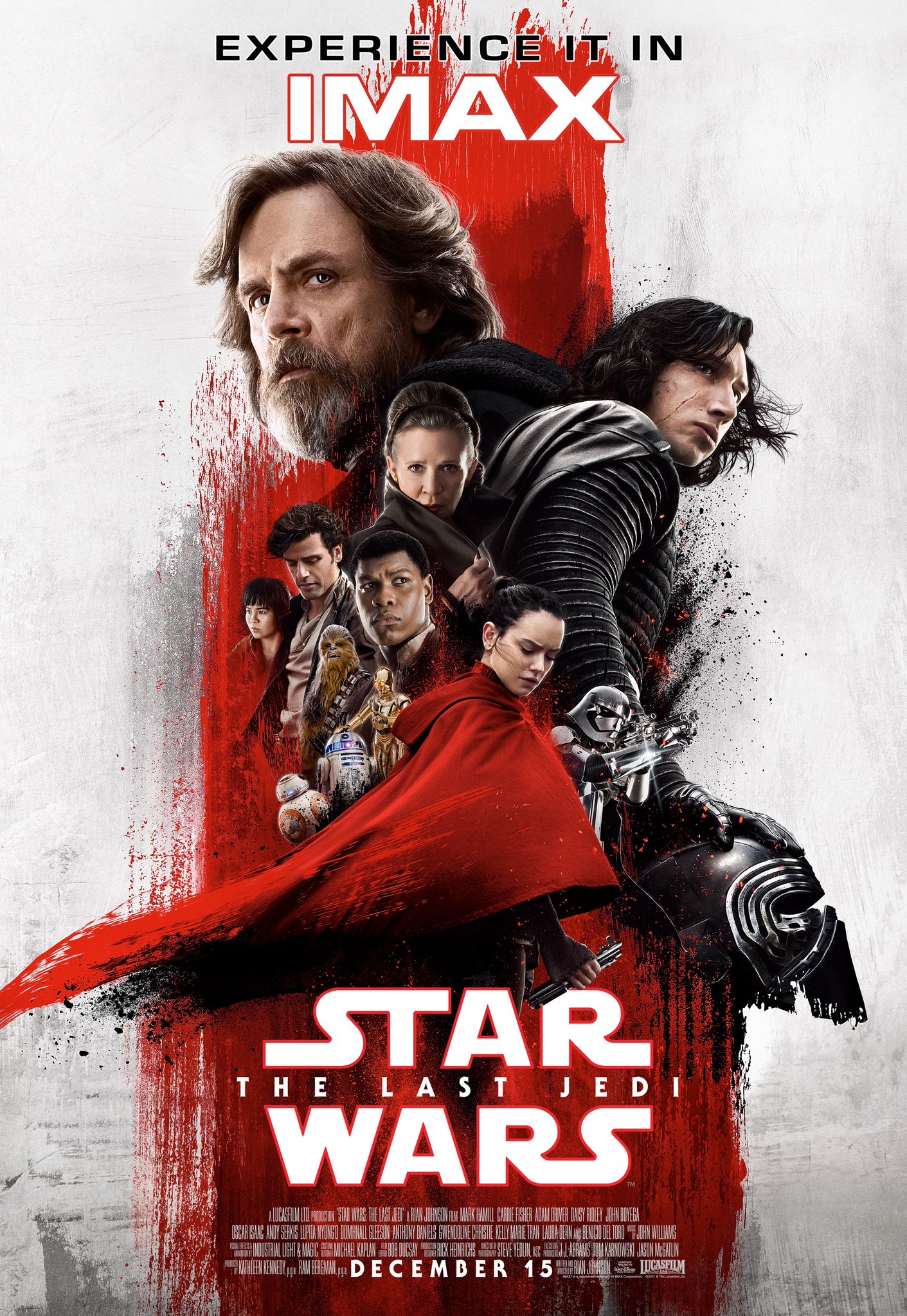 Here's another incredible poster: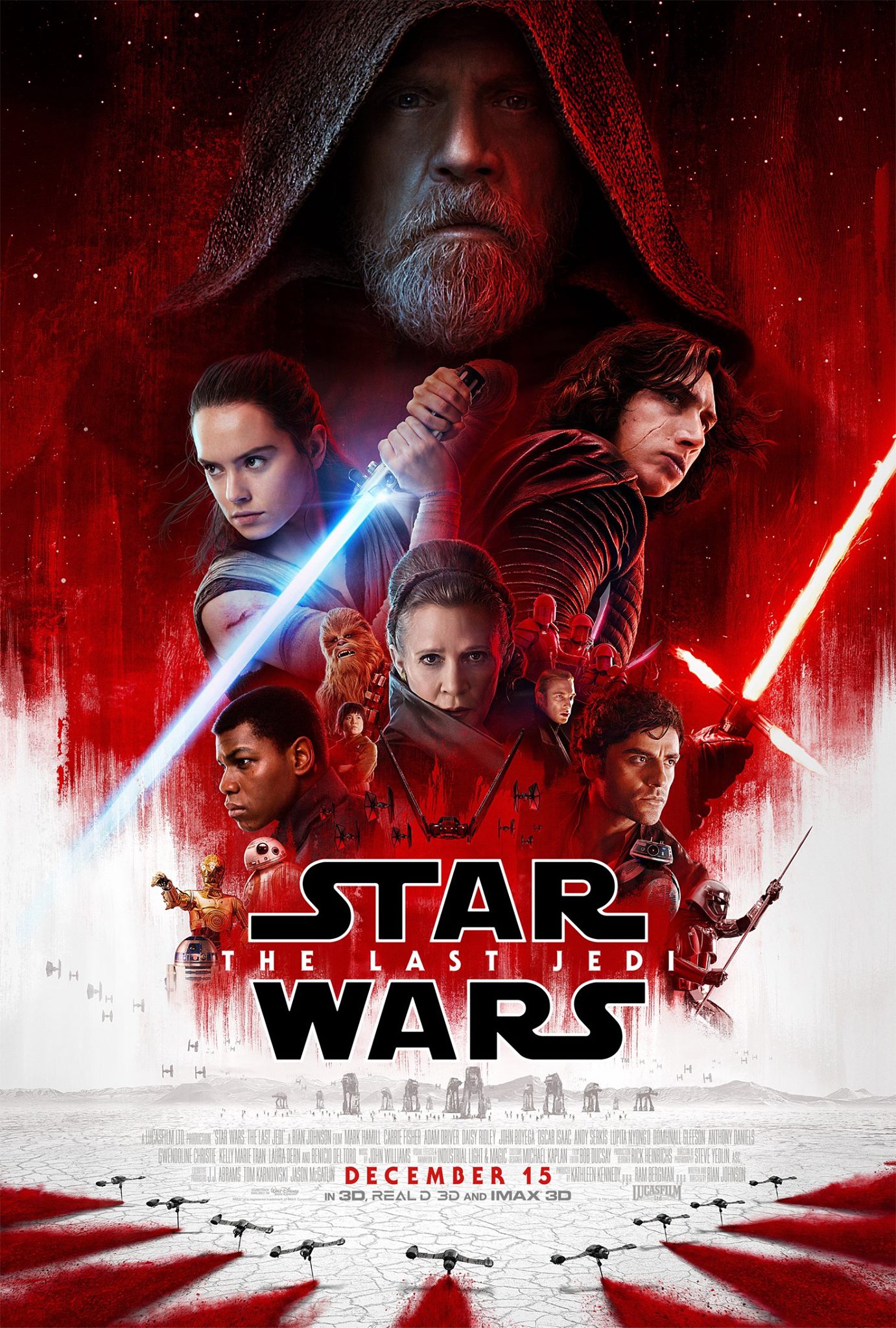 And check out these cool motion posters for both Rey and Kylo Ren:
Rian Johnson revealed the first poster for Star Wars: The Last Jedi at Celebration Orlando. Check it out below: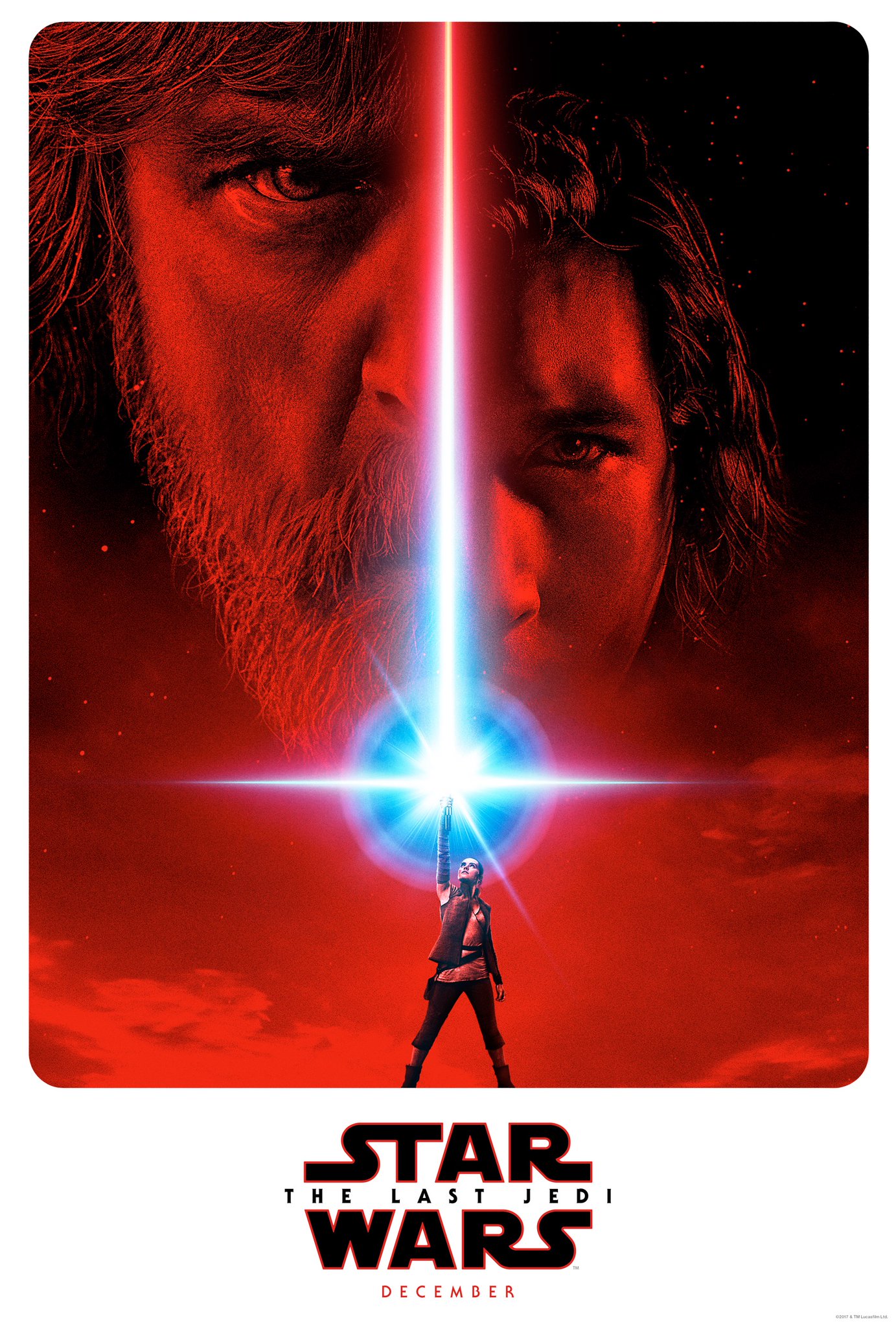 Character posters were also revealed during the movie's D23 presentation. Check them out below: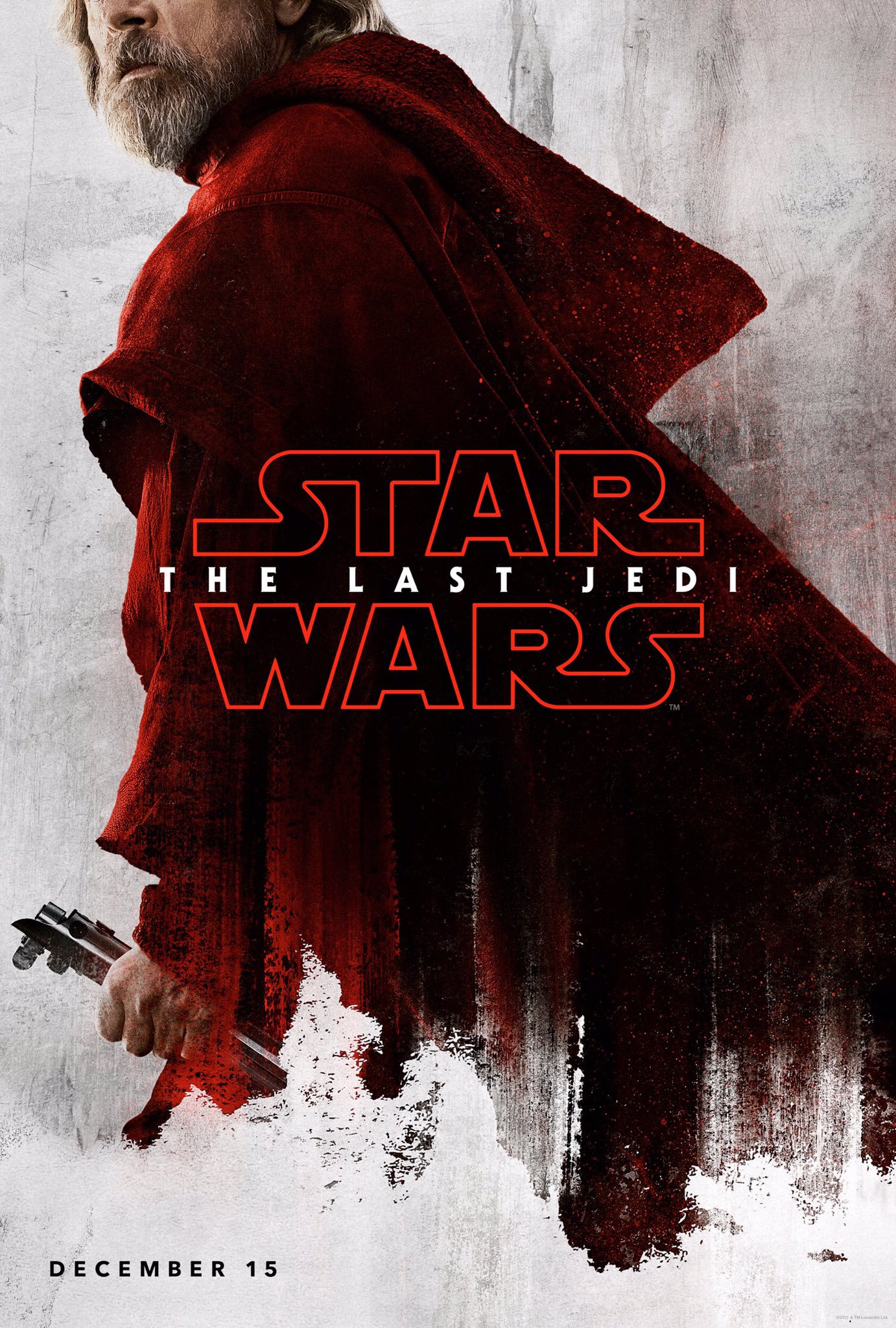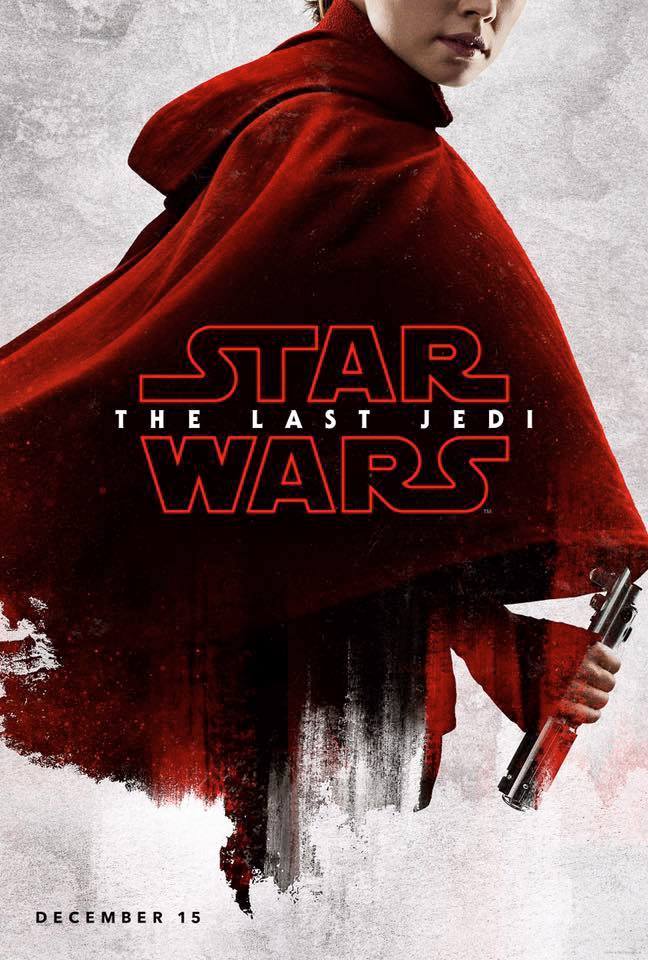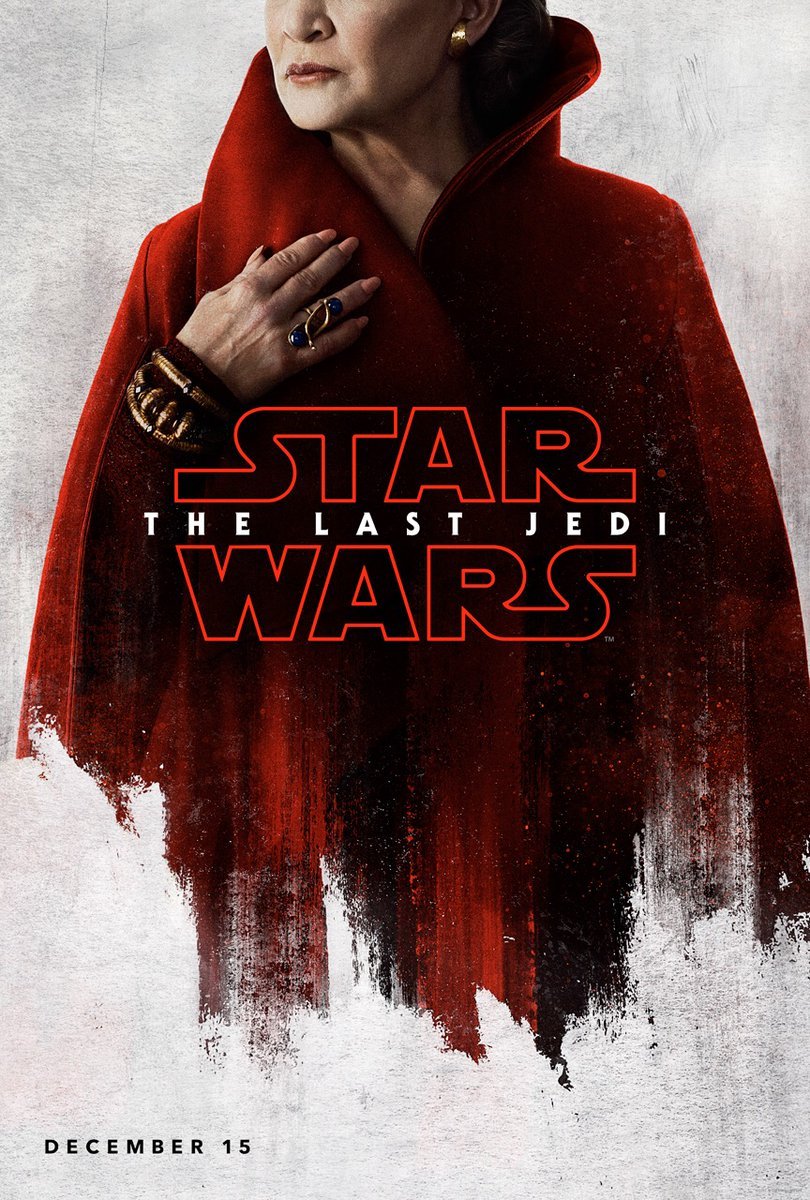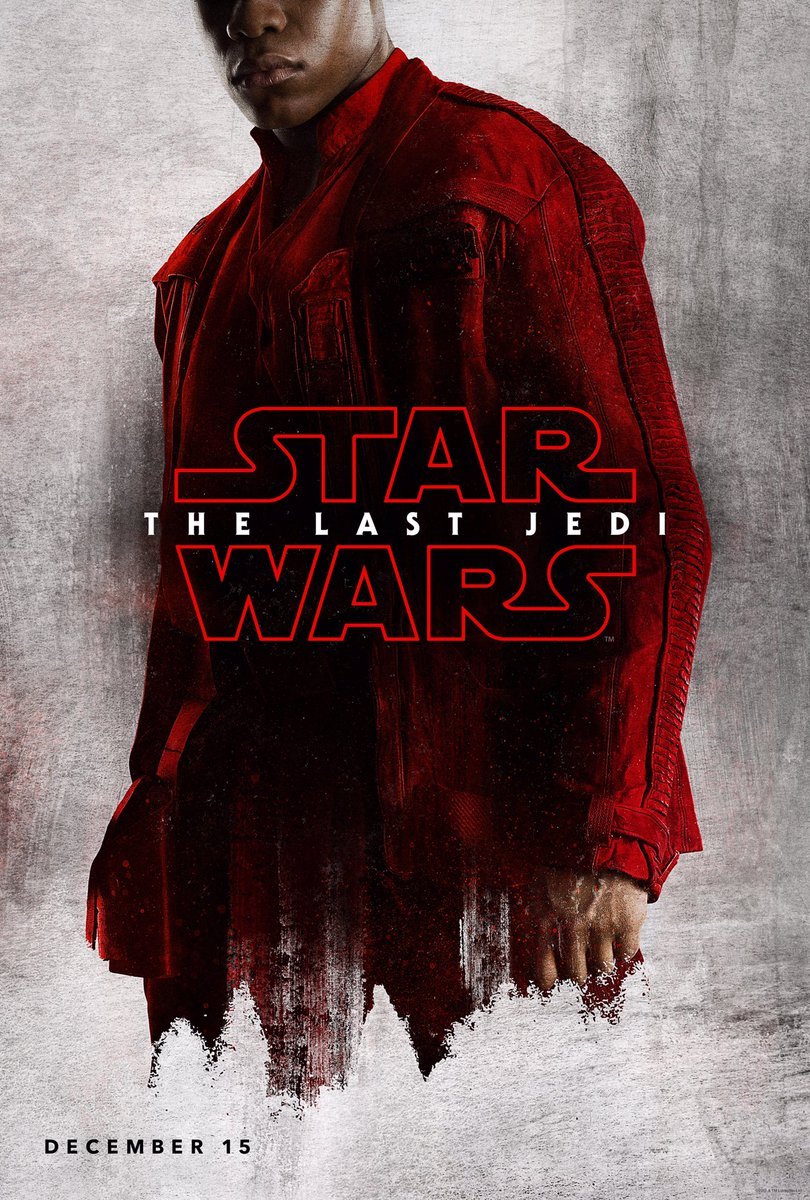 Don't forget to listen to Den of Geek's Star Wars podcast, Blaster Canon!