News
The Last Jedi's Most Divisive Twist Wasn't Rian Johnson's Idea
Daisy Ridley herself jumps into the incessant discourse still surrounding one of Star Wars: The Last Jedi's biggest twists.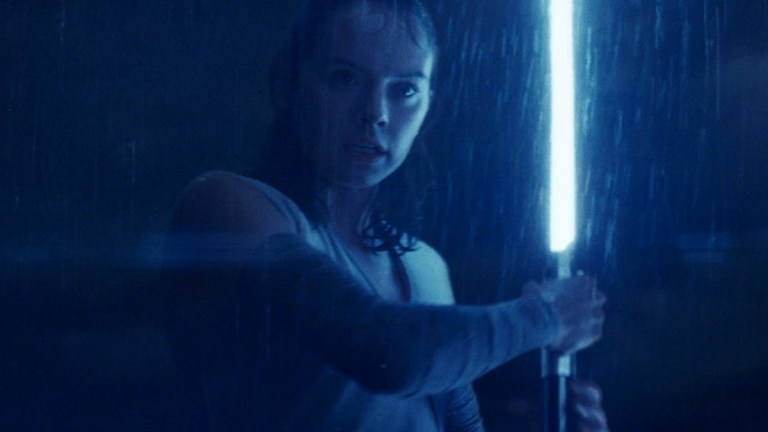 Someday, peace will come to our galaxy. But for now, the war rages on with no end in sight, as warriors from each side gather their armies and ready their weapons, preparing to respond to the next strike. That war, of course, is about 2017's Star Wars: The Last Jedi, the Rian Johnson-directed middle chapter to the Sequel Trilogy. Five years after its release, the film is still heavily debated within the fanbase, with some taking exception with Johnson's storytelling choices, such as turning Luke Skywalker into a bitter old man who tosses aside an elegant lightsaber and devoting a good chunk of the movie to escapades on a casino planet.
To be sure, the stars of the movie have occasionally weighed in on Johnson's movie, too. Most notably John Boyega expressed disappointment that The Last Jedi did not do enough to continue his character Finn's arc as established in predecessor The Force Awakens. But where Boyega's comments have emboldened the anti-TLJ crowd, Rey actor Daisy Ridley is taking a more neutral stance.
We first met Rey as an orphan scrapper on the desert planet Jakku, where she eked out a living while wondering about her parentage, the potential key to answering the question of who she really was and why she was so powerful in the Force. This Force Awakens plot point of course set up high expectations, which may or may not have been paid off when The Rise of Skywalker revealed that her grandfather was Emperor Palpatine.
But in between those J. J. Abrams-directed films, The Last Jedi presented Rey with a family tree devoid of lengthy Wookieepedia entries. When the Force revealed her parents to be non-descript blobs, the villainous Kylo Ren "confirmed" to Rey that her parents were "nothing," describing them as "filthy junk traders [who sold] you off for drinking money."
In other words, despite Lucasfilm building up the mystery of Rey's parents in The Force Awakens, its follow up's answer was that she wasn't actually related to anyone important to the saga. For many in the audience, the message behind this twist was clear: great heroes can come from anywhere in the galaxy, they don't have to be born a Skywalker or a Kenobi.
But some fans took this reveal as hard as Rey, claiming that Johnson went for shock value instead of developing the character. But while speaking to Rolling Stone (via Variety), Ridley said the "no one" parentage idea actually came from Abrams himself: "Well, J.J. was the one who was like, she is of no one, so it wasn't just 'The Last Jedi' where that was the message."
Despite Johnson being blamed for this plot point, Ridley is suggesting here that it was actually in line with what the thinking was even back in The Force Awakens. That of course doesn't explain why Abrams changed his mind in The Rise of Skywalker and turned Rey into a Palpatine. Was it to appease angry fans after The Last Jedi or was there always an elaborate plan to extend the parentage mystery across three films, with the second providing a fake out revelation to challenge the hero? Ridley won't say, but she does think there's merit in whichever side of Rey's story you choose to believe.
"What was interesting about the last one, for me, was that you can be a hero and not come from anywhere or you can be a hero and come from literally the worst person in the universe. You're not your parents, you're not your grandparents, you're not your bloodline, and you're not the generations before you. So, I always was like, sure."
When pressed about her preferences for her character, Ridley provided a workman-like response, saying "It's beyond my pay grade… I say the words, do the thing." Further, she emphasized the benefits of both The Last Jedi and The Rise of Skywalker lineages, explaining, "I do love the version of, you can be anyone you want to be, but I also love the version where you can rectify wrongs and can't help what you're born into."
In the end, Ridley tried her best to bring peace to the Star Wars galaxy. But will fighting cease in comment sections across cyberspace? One can only hope.