News
Spider-Man: Beyond the Spider-Verse Release Date Is Good and Bad News for Fans
The cliffhanger ending of Spider-Man: Across the Spider-Verse may have had some fans throwing their popcorn, but there's so much more to come, and sooner than you think!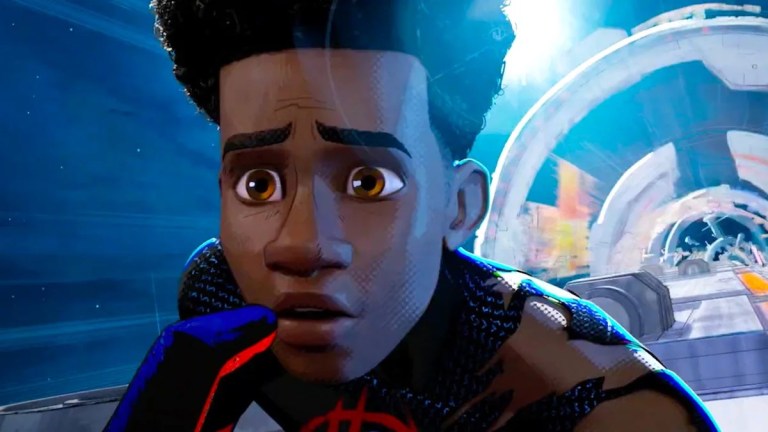 This article contains Spider-Man: Across the Spider-Verse spoilers
Even if you know going in that Spider-Man: Across the Spider-Verse's story will conclude in a later movie, it's still frustrating when those end credits roll. When we leave Miles Morales at the end of the film, he has discovered that he was never supposed to be a Spidey. He's an outlier in the grand Marvel multiverse, having been bitten by a radioactive spider from another universe. As a result, that universe (Earth-42) went on to have no Spider-Man at all, and its own Miles turned into The Prowler, perhaps due to his close relationship with Uncle Aaron.
As Spider-Man 2099 aka Miguel O'Hara and his Spider Society hunt Miles down to make sure he doesn't disrupt any more canon events, Gwen Stacy puts together a team to back Miles up that includes some of his old pals, like Spider-Man Noir and Spider-Ham, and some new ones, including Hobie Brown aka Spider-Punk. But first, it looks like Miles will have to rescue himself from his own clutches, as the Miles Morales of Earth-42 is holding him prisoner – and he seems pretty dang dangerous.
The bad news is that you'll have to wait until 2024 to find out what happens next. The good news is that the third movie, Spider-Man: Beyond the Spider-Verse, is coming sooner than you think. You won't have to wait an entire year to see it, as Sony is planning to release it on March 29, 2024. That's less than ten months from now! Not only that, the studio has a LOT of other Spider-Man and Spider-Man-adjacent projects in various stages of development, including a live-action Miles Morales film that may or may not star Moonlight and When They See Us star Jharrel Jerome, who voices Earth-42 Miles in Across the Spider-Verse.
But first up is this year's Kraven the Hunter, which will be released on October 6 before 2024 delivers a lot more than Beyond the Spider-Verse. January 12 will see the live-action debut of El Muerto, starring Bad Bunny, and just a month later Madame Web will be hitting the big screen. Naturally, Tom Hardy's Venom will also be back in a third movie rumored to also be arriving in 2024. But while Spider-Man producer Amy Pascal has confirmed that a fourth Tom Holland-led Spider-Man movie is in the works, it seems unlikely that this would be ready to release until at least 2025, given the current situation with the writers' strike.
Though it looks like we've seen the last of some heavy Marvel hitters like Iron Man, Black Widow, and Thor, at least for a while, rest assured that Spider-Man isn't going anywhere – he'll be slinging his webs at the theater for a long time to come, and we're less than a year away from his next big adventure.
Spider-Man: Across the Spider-Verse is out now, having been directed by Joaquim Dos Santos, Justin K. Thompson and Kemp Powers. It stars a huge voice cast that includes Shameik Moore, Hailee Steinfeld, Brian Tyree Henry, Luna Lauren Vélez, Jake Johnson, Jason Schwartzman, Issa Rae, Karan Soni, Daniel Kaluuya, Oscar Isaac, Andy Samberg, Amandla Stenberg, and Mahershala Ali.