Features
Spider-Man: Across the Spider-Verse Uses the Spider Society to Address Fandom
Exclusive: the directors of Spider-Man: Across the Spider-Verse give us the lowdown on the film's surprising Marvel antagonists.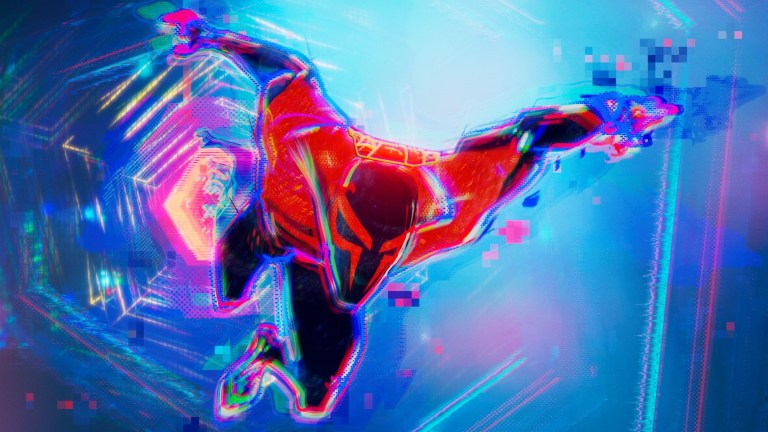 This article appears in the new issue of DEN OF GEEK magazine. Get your copy here.
Sony spun a golden web in 2018 with the smash-hit animated Marvel film Spider-Man: Into the Spider-Verse, and this summer's sequel is set to up the ante with another visually groundbreaking Miles Morales adventure.
In Spider-Man: Across the Spider-Verse, Miles is flung into a wild multiverse where he meets a team of Spider-People who protect it. They're called the Spider Society, and they're led by a Spider-Man from the year 2099 called Miguel O'Hara (voiced by Oscar Isaac). While it might sound like a recipe for a wholesome team-up, Miles soon finds himself at odds with the Society in the midst of some multiversal chaos.
"Philosophically speaking, Miles holds our multiverse together," director Kemp Powers tells Den of Geek magazine. "He's so different from the other Spider-People because he's not so alone. He's close to his friends and family and never hides anything from them." 
Many Spider-People have lost their close family and look to a team for that connection instead, so when Miles enters the frame as something of an outlier with a family but no team, it offers him a unique perspective when meeting O'Hara and the gang, who seem to have lost their way.
"There's an antagonistic relationship between Miles and the Spider Society," director Joaquim Dos Santos says. "As you get older, you realize where the disconnect is between an idea and the enforcement of an idea. The Spider Society is riding a fine line."
Surprisingly, O'Hara and the Spider Society are also a way for the filmmakers to have a conversation with fans about the "preciousness" of comic books and canon. "They're a proxy that allows us to talk to the fandom about what you can and can't do in the world of comics," reveals Powers.
Created in 2015 and making his cinematic debut in Across the Spider-Verse is "Spider-Punk" Hobart Brown (Daniel Kaluuya), who Dos Santos says is a light in the darkness, exposing what that conversation means. "He's a rebel in this crazy tapestry of Spiders, and he sticks out like a sore thumb, pointing at the rules everyone has set for themselves and eager to tear it all down."
"Hobie sees elements of the totalitarian world he comes from, and he knows it's a slippery slope," adds Powers. "He's part of the Spider Society, but he's not drinking the Kool-Aid."
While the Spider Society are antagonists in Across the Spider-Verse, the upcoming film also features The Spot (Jason Schwartzman), a supervillain whose body is covered in portals that allow him to travel through different universes. The team chose to include The Spot early on in the process of making the movie, describing him as an overlooked character on the edge of the Spider-Verse in whom they found real potential.
"The Spot sees himself as more capable than people think and sets out to prove it to the world," says Thompson. "It parallels Miles' journey to write his own story in a surprising and startling way."
The film's story takes place across six different universes, each with its own animation style. The directors say that Sony's visual effects and animation studio Imageworks worked hard to develop new tools to create those worlds, and they often reflect the internal universes of their central characters.
"Gwen Stacy is an emotionally fraught teenager with problems she doesn't know how to deal with," Thompson explains. "Her comics have an illustrative style that almost feels like watercolors, so her world is like a moving mood ring that responds to her emotional state. If she's angry, the world turns red. If she's sad, it turns blue. With every world we have developed, there are things that have never been done before."
"We're essentially making six different films in one," says Dos Santos, and the trio admits there was a certain amount of anxiety about how audiences would react to so many animation styles in one movie, but after the first teaser trailer for the film was released, they realized it wasn't going to be an issue. "They leaned in," Powers recalls. "That was a pivotal moment for us."
After seeing the first cut of Across the Spider-Verse, however, they quickly realized it needed to be split into two films, as there was just too much story for one. Although this movie will stand on its own, a third movie, Beyond the Spider-Verse, is set to wrap things up next year.
"Miles is 15 now," Thompson says. "He's not a man, but he's not a boy. He may be the friendly neighborhood Spider-Man in Brooklyn, but he doesn't know how he measures up against the other capable Spider-People. Miles going from a novice to an expert was a big story to tell. In the first movie, we learned anyone can wear the mask, but in Across the Spider-Verse, Miles learns that it's not just about putting on the mask; it's how you wear it."
Spider-Man: Across the Spider-Verse will be released on June 2