News
Snake Eyes: How Larry Hama Gave Creative License Beyond the G.I. Joe Comics
Snake Eyes: G.I. Joe Origins puts a modern spin on a classic comic story, auspiciously with the approval of writer Larry Hama.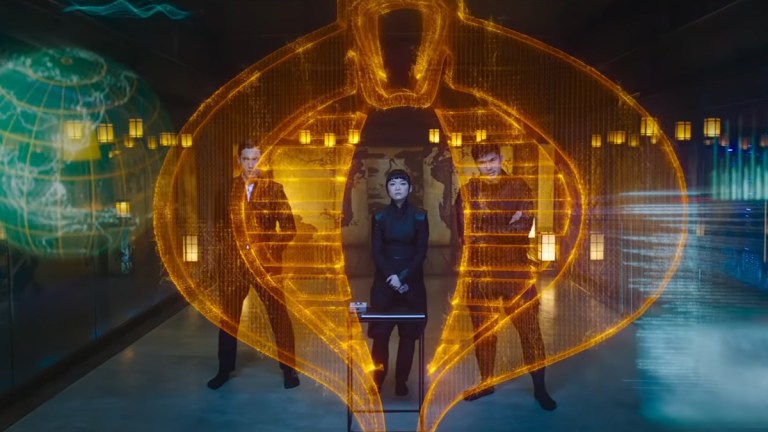 Throughout the annals of story-driven toy properties, there has rarely been a rivalry as complex as the one between G.I. Joe characters Snake Eyes and Storm Shadow. Yet, adapting that relationship is a task that upcoming movie Snake Eyes: G.I. Joe Origins will boldly attempt to tackle, albeit with some contextually-necessary alterations to the classic comic book story famously crafted by writer Larry Hama. While such changes tend to be abhorred by longtime fans, they will manifest with the blessing of Hama himself.
A revelatory new trailer and featurette for Snake Eyes has arrived, further pulling back the story curtain than this past May's teaser trailer. While it was always apparent that the film—a prequel serving to launch a completely new iteration of the Hasbro film franchise—was going to put a contemporary spin on Hama's defining origin story, the specifics have been revealed about how Snake Eyes (Henry Golding) and Storm Shadow (Andrew Koji) will forge a friendship that will inevitably take Cobra-shaped twists and turns with ninja-imbued action against the backdrop of global terror. While the story spin—from director Robert Schwentke and writers Evan Spiliotopoulos, Joe Shrapnel and Anna Waterhouse—is a radical departure from Hama's version, the parallels still seem poignant.
"Snake Eyes and Storm Shadow are the brother loyalty story," summarizes Hama in the featurette, which reveals his role as a consultant for the film.
Indeed, the trailer divulges an initial dynamic between the two, with Snake Eyes—clearly at a wayward point in life—stuck gutting fish in a warehouse seemingly owned by ruthless Yakuza-esque gangsters, when a suit-sporting Tommy Arashikage (otherwise known as Storm Shadow) enters the room and mockingly addresses him as "fish boy." However, Storm Shadow's dismissive haughtiness doesn't last long, and he quickly finds himself branded as a traitor, even offered up for Snake Eyes to execute.
Fatefully, rather than embracing a quick, vengeance-satisfying act for Storm Shadow's earlier mockery, Snake Eyes puts himself on the line to save his life, leading the two to fight their way to freedom. Of course, Snake Eyes' act of bravery would not go unrewarded, since Storm Shadow's family happens to be the center of the powerful Arashikage clan back in Japan.
This, however, is a major divergence from Hama's original comic rendition of the origin story from the 1984-published G.I. Joe: A Real American Hero #26, a key issue in the Hasbro property's classic Marvel Comics run that added dimensions to the mysterious rivals. Having spent months battling it out in the comics—starting with the iconic dialogue-deprived issue #21—the two were, up to that point, essentially just known as 3 ¾" action figures to its young marketed demographic.
Hama's version of the tale took the real-life-inspired angle of being set during the Vietnam War, during which Snake Eyes was serving with Tommy/Storm Shadow and eventual G.I. Joe teammate Stalker. The inciting incident would see an enemy attack leave Snake Eyes missing and presumed dead, leading Tommy to risk his own life on a daring rescue that ends up saving his life. Consequently, unlike the Snake Eyes movie, it is Storm Shadow, not Snake Eyes, who made the initial act of bravery that seals the duo's friendship. Yet, while the Snake Eyes prequel's rendition represents a major reversal of Hama's story, it was a move made with his full support.
"It was so important for us to get that relationship right in this movie," explains star Henry Golding. "Larry gave us creative license to be able tell a story beyond the comics, and launch this brand-new universe for G.I. Joe." Of course, Snake Eyes will hardly be the first example of spins on this story, seeing as the toy property's first live-action film iteration had its own version, as seen in 2009's G.I. Joe: The Rise of Cobra and 2013's G.I. Joe: Retaliation, with the latter film having played out a resolution to the storyline that even somewhat resembled Hama's. Yet, despite the new film's obvious changes to the story, its fundamental theme of an eventually-embattled quasi-paternal relationship between Snake Eyes and Storm Shadow remains quite apparent.
This idea is especially prevalent in the new Snake Eyes trailer, which spends more time on the creeping presence of evil organization Cobra, as represented by Úrsula Corberó's role as the classic spectacle-sporting femme-fatale, The Baroness, who's offset here by the presence of Samara Weaving's eventual G.I. Joe stalwart, Scarlett. Ominously enough, Baroness seems to be insidiously recruiting from the Arashikage clan's ranks on Cobra's behalf. Moreover, expository dialogue from Haruka Abe's Akiko identifies Cobra as "a shadow organization devoted to global revolution," effectively foreshadowing a wider threat that will (as Paramount and Hasbro clearly hope) justify further movie universe offerings.  
Snake Eyes: G.I. Joe Origins will attempt to once again make knowing half the battle on the big screen when it hits theaters on Friday, July 23.