Features
Scream 6 Review: Ghostface Stages Most Brutal Kill Scenes Yet
Six films in and this franchise can still surprise, at least when Scream 6 is focusing on its brutal set pieces as opposed to more perfunctory character interactions.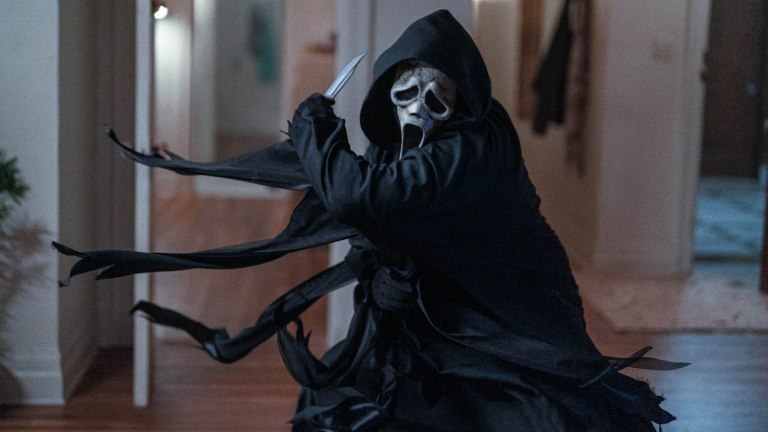 At the start of Scream 6's third act, our heroes board a subway train filled with costumed partygoers. While there are a few generic pirates and princesses, most are dressed as iconic horror characters: Freddy Krueger, Jason Voorhees, and Michael Myers are there, as are Chucky, Pennywise, and the Grady sisters from The Shining. Heck, we even get a quick glance at Sam Neill's reluctant Sutter Cane reader from In the Mouth of Madness. But, of course, nestled throughout the car are a couple of Ghostfaces riding the 1 Train downtown as well.
In nearly any other movie, these easter eggs would be annoying distractions. Instead of being caught up in the tension of the scene where the characters are desperately trying to figure out if these Ghostfaces are tacky fans or brazen serial killers, the audience is seeking out their favorite references. Of course these kinds of namedrops are to be expected in a Scream movie. Heck, the original from 1996 opens with a pop quiz that rewards both film-literate audiences and poor Casey Becker (Drew Barrymore) for her horror knowledge.
But here's the thing about Scream 6: the winks aren't distracting at all. The costumes are so fully integrated into the movie, and the scene so well-constructed, that it remains extremely tense despite the extraneous references. Every time the train goes through a tunnel, immersing both the characters and the audience in darkness, we tense up, wondering if Ghostface will strike. Every time the movie cuts from one train car to another, highlighting the separation between characters, we wonder if the one left behind will meet their end.
It's this kind of first-class horror filmmaking that makes Scream 6 feel so fresh and alive. Even when paying homage to its predecessors, sometimes out of obligation, directors Matt Bettinelli-Olpin and Tyler Gillett (aka two-thirds of the creative collective Radio Silence) keep things exciting and new.
That newness includes our core four characters, each carried over from the previous entry. After staving off an attack by Stab fans determined to bring the movie-within-a-movie franchise back to basics, half-sisters Sam (Melissa Barrera) and Tara Carpenter (Jenna Ortega) have left Woodsboro for New York City, where the latter wants to move on and enjoy the full college experience, and the former wants to keep things safe and quiet as possible. They're joined by fellow survivors Mindy and Chad (Jasmin Savoy Brown and Mason Gooding), children of Martha Meeks (Heather Mazzarello) and niece and nephew of franchise lore-keeper, the late Randy Meeks (Jamie Kennedy).
The quartet forms a surprisingly strong bond, especially for characters we just met in the previous film. Even if the dialogue from screenwriters James Vanderbilt and Guy Busick feels a bit perfunctory, the cast's natural charisma carries the day. We accept that they would follow Tara across the country and understand why they get so protective of her, even as they try to eke out a life of their own. That's particularly true of Sam, who is still dealing with the revelation that she's the daughter of Billy Loomis (Skeet Ulrich), one of the original Ghostfaces from Scream 1996.
The interactions between the quartet provide so much tension and heart that the few other legacy characters from earlier Scream movies feel almost unnecessary. The New York setting gives Gale Weathers (Courteney Cox) an easy excuse to show up when Ghostface strikes, but her flinty reporter schtick is wearing thin at this point, even if her grieving the death of Dewey Riley (David Arquette) provides an interesting wrinkle. More surprising is the return of Scream 4 standout Kirby Reed (Hayden Panettiere), who, as it turns out, survived the attack in her previous movie to become an FBI agent, gaining some maturity but losing the fiery attitude that made her a fan-favorite originally. (Original protagonist Sidney Prescott gets only a brief mention, as Neve Campbell passed on reprising her role.)
They are joined by the requisite new characters/suspects, including Samara Weaving (star of Radio Silence's excellent Ready or Not) as a film professor, Tony Revolori as a rabid Stab fan, Josh Segura as Sam's extremely supportive, but extremely secret, boyfriend, and Devyn Nekoda as Mindy's girlfriend Anika. Rounding out the newbies are Avatar: The Way of Water standout Jack Champion as the Chad's geeky roommate Ethan, Liana Liberato as the girls' sex-positive roommate Quinn, and Dulmort Mulroney as Quinn's detective father, whose own loss of another child makes him just as protective as Sam.
As per the Scream formula, the movie gives us plenty of reason to suspect all of these characters, especially Sam, who continues to see visions of her dad Billy. Yet it's a formula that largely still works, as Bettinelli-Olpin and Gillett forgo mystery for full-on paranoia. There are no good clues to follow leading up to the killer's reveal, no way to identify the person behind the Ghostface mask other than guessing. Instead the directors let the audience sit in our unknowing, aware only that Ghostface will strike at any moment, in any place.
That approach is aided by the change in setting. While not the first Scream movie to leave Woodsboro, Scream 6 takes advantage of New York's distinctive qualities to construct some standout sequences (and yes, if you are wondering, someone does watch Friday the 13th Part VIII: Jason Takes Manhattan). In addition to the aforementioned subway sequence, we get Ghostface using angled mirrors in a bodega to find victims and characters watching attacks from nearby buildings. Every set piece reminds viewers that Bettinelli-Olpin and Gillett are among the best pure filmmakers in horror today.
Less sure are the moments when the movie reaches for larger thematic resonance. At times, the film tries to say something about the nature of family, both in terms of Sam's lineage and in the chosen family that forms after the Woodsboro attacks. It also touches on the complexity of trauma. Each time it reaches for substance, however, the movie loses its way. Clearly disinterested in these topics, the film stumbles over perfunctory character development to get back to another killer set piece.
But when it reaches those set pieces, Scream 6 becomes utterly electrifying. And nothing—not underdeveloped themes, not the weight of a franchise six movies deep, not references to other movies—can keep it from being pure horror perfection.
Scream 6 opens in theaters Friday, March 10.