Features
How Sam Raimi's Spider-Man 4 Would Have Panned Out
Mysterio is set to make his big-screen debut next week, but he might have appeared earlier. Here's the story behind Raimi's ditched sequel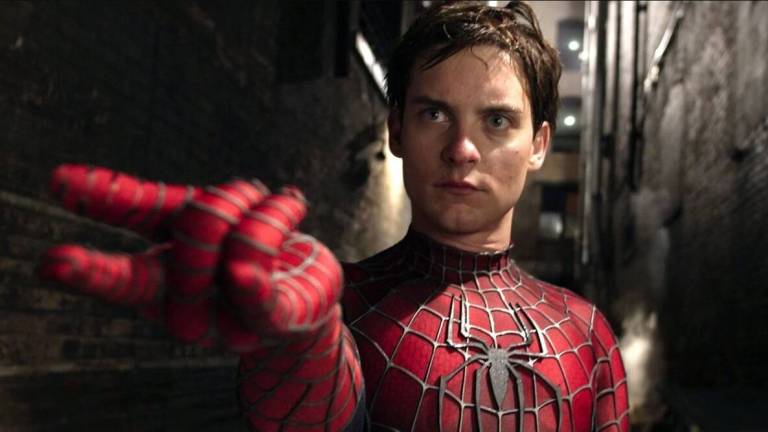 Spider-Man: Far From Home is swinging into theaters on July 2, finally introducing classic nemesis – or is he? – Mysterio (played by Jake Gyllenhaal) to the big screen. But if everything had gone to plan with Sam Raimi's fourth Spider-Man movie, the character might not have had to wait this long for his cinematic debut.
Sam Raimi's Tobey Maguire-starring Spider-Man series wasn't always intended to finish where it did. Despite not-particularly-glowing reviews, Spider-Man 3 made a massive $890 million at the global box office – a very strong total for a solo superhero film, even by modern standards – and talk quickly turned to a sequel. Spider-Man 4 seemed a very likely prospect at the time, and many of us were hoping that Raimi could steer the Spidey ship back towards the high quality of Spider-Man 2, after its somewhat bloated follow-up Spider-Man 3 had incurred so much backlash.
Casting rumors were flying around the internet, and many seemed to think that Raimi was locked in for a fourth instalment in his lucrative and mostly excellent franchise. But, of course, Spider-Man 4 never came to pass and instead we got Marc Webb's Andrew Garfield-led reboot, The Amazing Spider-Man.
But when has the fact that a film doesn't exist ever stopped us geeks from talking about it? Our curiosity is always too strong, and Spider-Man 4 – one of the biggest "what could have been?" moments in comic-book movie history – is no exception to that.
So, without further ado, here's everything we could dig up about the Spider-Man cinematic sequel that never was, from its planned storylines to the reasons it ultimately didn't get made…
Who would have come back?
Spider-Man 3 reached theaters in May 2007. By October 2008, Sam Raimi was talking publicly about Spider-Man 4. He and Maguire had both signed up (with Maguire believed to be taking $50 million, as well as having mornings and evenings off to spend time with his family), and the press were even suggesting that a fifth film in the franchise was being planned concurrently.
There was talk of a back-to-back shoot for Spider-Man 4 and5, and Raimi told MTV in October 2008 that it was "[Sony chief] Amy Pascal's decision. I don't think it has been decided yet, and she's the one that's really going to make that decision; I'm really curious myself."
"It would be a real endurance test," Raimi admitted. "Probably only Peter Jackson knows how hard something like that would be". He also added that "If Tobey and me, and all the producers, like the story for two pictures and Amy wanted to do it, then we would do it."
read more: Spider-Man Villains Who Could Join the MCU
In March 2009, Raimi spoke to MTV again and shot down the back-to-back shoot idea. He said that "right now we're just working on the story for Spider-Man 4, just that one film."
The big cast-based question mark was hanging above Kirsten Dunst, who hadn't formally signed up to the production at this stage…
Asked if the franchise could carry on without its Mary-Jane Watson actress, Raimi said to MTV: "I can't imagine making a Spider-Man movie without Kirsten…Of course it can be done because Spider-Man has existed without the character of Mary-Jane, but she's one of my favorite parts and it would be a shame not to have her in the picture. I'm hoping she'll be in it and I'm planning on having a story with her in it."
Bruce Campbell – having made brief cameo appearances in the previous films – was believed to be returning. Raimi told MTV in a different interview that: "I promised him we would write something because I really love putting him in the pictures. I promised him a good, meaty role."
read more – Every Marvel Easter Egg in Spider-Man: Into the Spider-Verse
"I wish I could work with James Franco again," Raimi told MTV. "But his character died in the last one; same with Uncle Ben. Fortunately, we've been able to bring back all the dead characters [like Willem Dafoe as Norman Osborn or Cliff Robertson as Ben Parker]. I can't let them go, in each and every picture; but it gets harder and harder."
Behind the scenes, there were rumors that the first Spider-Man film's writer David Koepp was eyeing a return. But instead, Zodiac's James Vanderbilt got the job of scripting Spider-Man 4. He was the first writer to take a stab at the screenplay, although playwright David Lindsay-Abaire and Seabiscuit's Gary Ross later came onboard for rewrites.
In autumn 2009, while Ross was penning his draft, Raimi was planning to shoot the film in March 2010. An announced release date of 6 May 2011 loomed ever closer, but Sony seemed to have confidence in the future of Raimi's Spider-Man franchise at this point (as evidenced by the fact that Vanderbilt was tasked with plotting out storylines for Spider-Man 5 and Spider-Man 6, according to a report from Variety).
So, the original Spidey screenwriter didn't come back and Dunst didn't look like a sure thing. Franco probably wouldn't have been in it, and there may not have been another Uncle Ben or Norman Osborn cameo. Plans to shoot two films at once seemed to be quietly shut down, and it took three writers to nail down the script. But, nevertheless, in late 2009, Spider-Man 4 still looked like it was going to happen…
Who were the villains?
Many comic book fans noticed that Dylan Baker's Dr. Curt Connors kept showing up in the Sam Raimi Spider-Man movies. In the comics, this character went on to become The Lizard, a scaly evildoer and recurrent foe of Spidey. On the promotional tour for Spider-Man 3, Baker expressed his interest in making this villainous transition on the big screen sooner rather than later.
"We're hoping it's not too far down the line!" he told IGN about Curt Connor's cinematic evil turn. "I'll be trying to get on the Lizard costume when I'm 80. I just spent time with Alfred Molina [who played Doctor Octopus in Spider-Man 2], and we were both joking about that. But it's like these great characters, that are there in the comic books. And it's like, just open that door up; I'm ready to go!"
"The Lizard is probably one of my favorite characters," Raimi told MTV in 2007, before a script for Spider-Man 4 was in place. "But [Spider-Man 4] will probably have to start with the central journey of the main character to arrive at the proper villain", he added.
Also in 2007, producer Grant Curtis said this to IF Magazine: "For me it's hard to beat the Lizard, it truly is. That's just me talking. I think the Lizard has got a great story of not only personal pain but also emotional pain, and trying to mask both of those, it's a strong storyline."
Despite all this enthusiasm from the cast and crew, it was never officially confirmed that Spider-Man 4 would focus on The Lizard. In fact, lots of other villains seemed to be in contention.
read more: The Best Spider-Man Team-Ups
In that 2007 MTV interview, before a script was in place or anyone was officially attached, Raimi said that he'd "love to see Electro, Vulture, maybe the Sinister Six as a team" in Spider-Man 4, as well as stating that "I love Dylan Baker as a person, and I really like the character he is developing."
There were lots of ideas on the table at this stage, then, and of these potential villains, it was the Vulture that got the most press attention. In December 2009, it was reported by Movieline that John Malkovich was under consideration for the role of Adrian Toomes, aka the Vulture. Despite his advanced age compared to most super-villains, this flying foe has caused plenty of trouble for Spidey over decades of comic-book history.
In the same report, Movieline posited that Anne Hathaway was circling the role of Felicia Hardy, best known to comic book readers as Spidey's occasional love interest Black Cat. Julia Stiles and Rachel McAdams were apparently considered for the part as well, and the top theory was that this version of Felicia would take on a new super-villain identity – The Vulturess – in the film. Perhaps this was an attempt to ensure that Felicia didn't feel too much like a Catwoman copycat.
"I loved what she was doing with the auditions for Spider-Man 4," Raimi told Vulture (the website, not the fictional villain) on the topic of Anne Hathaway's Felicia in March 2013, confirming that there had been some truth to Moveline's report.
So, we know at least that Felicia Hardy would have been in the movie. It seems a fair bet that there would have been at least one other villain as well, especially if Raimi had his eye on the Sinister Six joining the fray at some point.
Concept artist Jeffrey Henderson has since shared some of his work on Spider-Man 4, revealing who this other villain might have been: there are several storyboard frames showing Mysterio being handed over to the police by Spidey (see below). We don't know whether he was a brief cameo surprise or a full-on threat throughout the film, but it's clear that ol' goldfish-bowl-head would have shown up at some point.
Henderson's art also teases a romantic entanglement between Peter and Felicia, and Spidey lobbing a gargoyle at the Vulture.
Then what happened?
Spider-Man 4 had a script, Maguire and Raimi were on board, auditions had been held for Black Cat, a release date had been set for May 2011, and the writing of the next two films in the franchise had already begun. Although the road had been quite bumpy, then, Spider-Man 4 had gotten pretty close to being made. So then what happened?
Presumably owing to Hollywood nondisclosure agreements and everyone's willingness to continue working in the film industry, the exact story of why Spider-Man 4 died a death when it had gotten so close to the starting blocks hasn't been told to the masses. Perhaps it never will be, and we'll have to make do forever with the few PR-department-approved details that were announced.
On 11 January 2010, Deadline reported that "Sony Pictures decided today to reboot the Spider-Man franchise after franchise director Sam Raimi pulled out of Spider-Man 4 because he felt he couldn't make its summer release date and keep the film's creative integrity. This means that Raimi and the cast including star Tobey Maguire are out."
read more: The Craziest Venom Moments in Marvel History
Raimi stayed quiet for a while, but Maguire released a statement that same day saying: "I am so proud of what we accomplished with the Spider-Man franchise over the last decade. Beyond the films themselves, I have formed some deep and lasting friendships. I am excited to see the next chapter unfold in this incredible story."
In March 2013, Vulture asked Raimi to comment on his departure from the Spidey franchise. He said that "it really was the most amicable and undramatic of breakups: it was simply that we had a deadline and I couldn't get the story to work on a level that I wanted it to work."
He continued: "I was very unhappy with Spider-Man 3, and I wanted to make Spider-Man 4 to end on a very high note, the best Spider-Man of them all. But I couldn't get the script together in time, due to my own failings, and I said to Sony, 'I don't want to make a movie that is less than great, so I think we shouldn't make this picture. Go ahead with your reboot, which you've been planning anyway.' And [former Sony co-chairman] Amy Pascal said, 'Thank you. Thank you for not wasting the studio's money, and I appreciate your candour.' So we left on the best of terms, both of us trying to do the best thing for fans, the good name of Spider-Man and Sony Studios."
It all sounds quite respectful, then, with Raimi making the decision to put quality above all else. As Sony already had Vanderbilt working on a reboot script just in case, Raimi opted to leave the franchise rather than make a movie that the fans wouldn't like.
Deadline reported that Raimi "hated" the Spider-Man 4 scripts, but the director has never said anything like that on the record. His last word on Spider-Man was to tell Hey U Guys that he "loved" Marc Webb's new take.
Of course, we got two Vanderbilt-scripted Amazing Spider-Man movies after Raimi quit – the first of which did feature the Lizard (played by Rhys Ifans) as its main antagonist – and Anne Hathaway eventually played Catwoman, instead of Black Cat, in Christopher Nolan's Bat-flick The Dark Knight Rises. Raimi and Maguire have found plenty of work since, as well.
Of course, Spidey is going great guns now, having been rebooted – again – in the shape of Tom Holland and enveloped into the massive Marvel Cinematic Universe. Vulture and Mysterio have also now both finally made their way to the big screen, brilliantly brought to life by Michael Keaton and Jake Gyllenhaal respectively. But it's always fun to wonder what Raimi and friends would have done with them. Of all the shelved superhero projects on the Hollywood junkpile, Spider-Man 4 is arguably one of the most interesting comic-book blockbusters that never was.