News
Russell Crowe's Unhinged Wants to Break Quarantine in Movie Theaters
The new Russell Crowe thriller, Unhinged, will be the first movie to open in theaters since early March when it debuts for the Fourth of July weekend.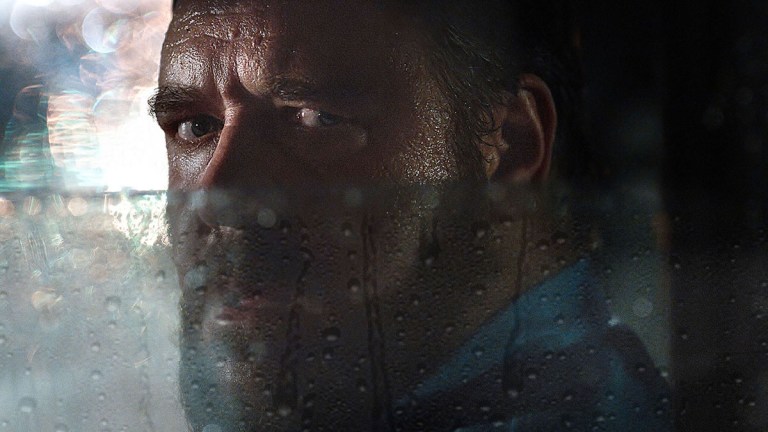 Ever heard the story of the canary in the coal mine? Well, who knew that bird sounded like Russell Crowe screaming out of the side of his driver's seat? For that's exactly what you'll hear when Crowe's new thriller Unhinged becomes the first movie to open in wide theatrical release since the weekend of March 13.
Indeed, Solstice Studios broke the news (via Deadline) Tuesday that they're moving Unhinged, a movie about road rage gone primal, from its intended September release window to the Fourth of July weekend. Suddenly a relatively small scale indie in which Crowe pulls a Duel and stalks a mother and child across the interstate has become one of the highest profile releases of the summer—enjoying a weekend usually saved for the newest Spider-Man movie or whatever Will Smith might have cooking.
"When we green lit this film, I probably figured that July 4th weekend and Christmas would be the two least likely slots," said Solstice chairman/CEO Mark Gill. "We were sitting on September 4 and then COVID-19 happened, and A Quiet Place 2 moved out of its original slot and landed on our date. When you are in a speedboat and a giant ship is coming at you, you better move out of the way. We looked at the rest of the year, fall/winter and spring 2021. The release schedule was already crowded, and when you add all the films that have been delayed, it made it think that maybe we go sooner."
Hence Unhinged now opening on July 1. Gill also stressed the move is being released in accordance with the National Association of Theatre Owners to make sure that the release fits with local public safety guidelines around the country. "We don't want to do anything that isn't safe and expert-guided," Gill said.
Be that as it may, it is definitely a major gamble given the state of stay-at-home orders around the North American markets that Unhinged is hoping to open up. While it is true that many states, particularly in the American Southeast, are starting to already reopen in May, the hardest hit urban centers like New York City and Los Angeles remain mostly closed. In fact, Los Angeles County just announced it plans to keep the stay-at-home order enforced for the next three months. That all but guarantees that one of the two biggest U.S. markets for any theatrical release—and the movie capital of the world—will be closed to movie theaters in July. Things aren't looking much better in New York either.
Still, Solstice Studios has certainly given this original film much higher visibility than it would've enjoyed in September, A Quiet Place or no A Quiet Place.
The film stars Crowe as "The Man," a fellow who clearly took driving lessons from early era Steven Spielberg. On a particularly bad day where he is on the wrong end of a honking horn, he decides to relentlessly stalk and attack Rachel (Caren Pistorious), a single mother who made the mistake of honking said horn without apologizing.
It sounds like Crowe's character doesn't like being cutoff. Well, now he's at the front of the line.