Features
Oscars 2022: Predictions and Analysis
We analyze the Oscars 2022 nominations and provide our best guesses at who will win in the major categories.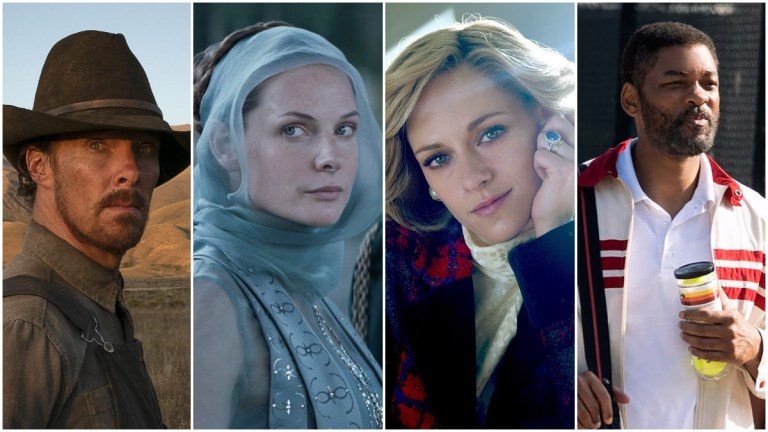 It was a good morning to work for Netflix. The streaming service which was once kept at arm's length by the Academy of Motion Picture Arts and Sciences—and which Steven Spielberg once attempted to prevent from getting more Best Picture nominations by going directly to the Academy's Board of Governors—is now the toast of the Oscars 2022 ball. Indeed, this morning's Academy Awards nominations showered the streaming service with 20 nominations, 12 of which were for The Power of the Dog, more than any other film.
Jane Campion's Western scored the most love in at least the Oscar nomination process with nods being picked up for Best Picture, Best Director, Best Adapted Screenplay, and four acting nominations, including for Benedict Cumberbatch, Kirsten Dunst, Kodi-Smit McPhee, and in a surprise, Jesse Plemmons. The competitor with the closest nomination count is Denis Villeneuve's Dune, which earned 10 nominations, including for Best Picture and Best Adapted Screenplay. Shockingly, however, Villeneuve was snubbed in the Best Director category where Ryusuke Hamaguchi surprised by getting the fifth nominating spot for helming the Japanese film, Drive My Car. Critics groups like the New York Film Critics Circle (which awarded Drive My Car Best Picture) are undoubtedly delighted that the foreign language movie also beat the odds and got a Best Picture nomination while some seeming favorites like Being the Ricardos and House of Gucci were left out in the cold in Oscar's biggest race.
In fact, there were a number of snubs and surprises, the nicest of which, at least from the perspective of this writer, being Kristen Stewart getting a deserved Best Actress nod for Spencer. Once perceived as the frontrunner due to her electric performance—which has been recognized as the Best Actress turn of the year by more than a dozen critics groups—Stewart seemed unlikely to even be nominated by the Academy after being snubbed by the Screen Actors Guild and the BAFTAs. Yet she got in over the more audience-friendly Lady Gaga, who seemingly just missed out in the Best Actress category to Stewart, as well as the welcome nomination for Penelope Cruz in Parallel Mothers.
More surprises include Judi Dench being nominated in the Best Supporting Actress category for Belfast while Caitríona Balfe was snubbed and—at least in the halls of comic book movie Twitter—Spider-Man: No Way Home not getting a Best Picture nod (which we predicted long ago). Overall though, many of the nominations fell into place with expectations, including what in another year would be traditional frontrunners like Kenneth Branagh's Belfast and Steven Spielberg's West Side Story each scoring seven Oscar nominations.
But is this a traditional Oscar year? Frankly, as indicated by the showered love on The Power of the Dog, it feels like a paradigm is shifting in the industry after two years of pandemic—yes, even on Oscar night. It's been more than a decade since the Oscar race has felt this wide open with few obvious frontrunners. For that reason, making predictions, especially this early in the season, runs seriously close to throwing egg on your face… which we now proceed to do.
Below are our foolishly early predictions of who will and who should win the Oscars in all the major categories. Who we think SHOULD win will be italicized. Those we think WILL win will be bolded. And when they're one in the same, they'll be BOTH.
OSCARS 2022 WINNERS PREDICTIONS
BEST PICTURE
Belfast
CODA
Don't Look Up
Drive My Car
Dune
King Richard
Licorice Pizza
Nightmare Alley
The Power of the Dog
West Side Story
Fortune favors the bold, right? In the biggest race of the season, I'm eschewing the safe, likely choice of all that The Power of the Dog love being converted into Best Picture and instead predicting Kenneth Branagh's warm-hearted but humbler Belfast wins the top prize. There are a few reasons for this beyond trying to call a curveball at the top. For starters, The Power of the Dog is going to have a very good Oscar night (more on that below), so Academy members might feel a bit more free to spread the love around on their tiered voting ballot for the final award.
But to put a finer point on it, while the industry seems maybe ready to accept Netflix as worthy of the Best Picture prize after two years of pandemic revealed audiences no longer go to movie theaters for traditional Oscar entertainment, I would argue The Power of the Dog is not traditional Oscar entertainment. It even feels like we were having a similar conversation just three years ago when Alfonso Cuarón's delicate memory of his youth, and celebration of the woman who really helped raise him, was the critical favorite. Yet the foreign language, Netflix-produced, and challenging Roma lost to the conventional and feel-good Green Book.
Now Belfast is no Green Book (despite what Film Twitter cynics might say). In fact, it bears a lot of superficial similarities to Roma, right down to its black and white photography. However, it approaches childhood reveries from a more sentimental and intentionally rose-tinted perspective, celebrating the human spirit the Academy likes. Hence seven nominations, including Branagh getting a Best Original Screenplay nod. It's also telling this is the first year since the Academy changed the rules to allow up to 10 nominations for Best Picture (as opposed to exactly 10 nominations). It seems likely the Academy wanted to make sure a few more traditional or crowd friendly movies made the cut. Belfast would fit that mold too.
So would West Side Story, which was a dazzling achievement that we would argue miraculously improved on the 1961 classic. However, West Side Story flopped, and unlike Belfast, it was expected to be a Christmas box office sensation. The Academy rarely backs a perceived failure.
BEST DIRECTOR
Kenneth Branagh, Belfast
Ryusuke Hamaguchi, Drive My Car
Paul Thomas Anderson, Licorice Pizza
Jane Campion, The Power of the Dog
Steven Spielberg, West Side Story
I suppose I'm beating the West Side Story drum pretty hard at this point, but Steven Spielberg is one of the great cinematic masters of all time. Nevertheless, the filmmaker finally being released on the musical, one of his favorite genres, was still somehow a revelation in West Side Story. The director of Close Encounters and Jaws hasn't felt this kinetic and excited to be casting his spell in ages.
With that said, Jane Campion did craft one of the most gorgeous looking movies of the year, and one in which nearly every frame is dripping with subtext and innuendo. It's as visually layered an achievement as you'll see this year, and given the fact Campion has never won for Best Director—in fact, she lost to Spielberg in 1994—suggests this is her long overdue moment to claim the Best Director prize.
BEST ACTRESS
Jessica Chastain, The Eyes of Tammy Faye
Olivia Colman, The Lost Daughter
Penelope Cruz, Parallel Mothers
Nicole Kidman, Being the Ricardos
Kristen Stewart, Spencer
At this point, Stewart getting the nomination for Spencer feels like the win. It shouldn't. Her immense transformation into Diana Spencer turned one of the most famous women of the 20th century into a haunting figure, a heroine of a great psychological horror. Strangely though, there is strong resistance within the industry against recognizing this impressive turn.
For that reason, we expect an Academy favorite like Nicole Kidman to win. To be clear, Kidman is quite good as Lucille Ball despite what Twitter says. The Australian actress unexpectedly captured the real-life rhythms and cadence of the I Love Lucy star in an otherwise by the numbers Hollywood biopic by way of Aaron Sorkin. For the latter point, some will probably hope Olivia Colman will be the returning Oscar winner to pick up her second statuette, but it's been almost 20 years since Kidman won her first Oscar. Here comes her second.
BEST ACTOR
Javier Bardem, Being the Ricardos
Benedict Cumberbatch, The Power of the Dog
Andrew Garfield, tick, tick… BOOM!
Will Smith, King Richard
Denzel Washington, The Tragedy of Macbeth
It is Will Smith's year. After being previously nominated twice for Best Actor, once for Ali and once for The Pursuit of Happyness, the true blue movie star is poised to receive his greatest recognition from within his industry for King Richard. It's a charismatic, appealing, and audience friendly turn.
Still, I prefer Andrew Garfield's more raw and frazzled transformation into Jonathan Larson. Not a natural singer, Garfield nonetheless plunged himself into the voice of one of the great tragic minds in Broadway history. It's magnetic.
BEST SUPPORTING ACTRESS
Jessie Buckley, The Lost Daughter
Ariana DeBose, West Side Story
Judi Dench, Belfast
Kirsten Dunst, The Power of the Dog
Aunjanue Ellis, King Richard
Aunjanue Ellis gives a quiet but measured turn every bit the equal to Smith's showier interpretation of Richard Williams. (Some might even say Ellis' work is its superior.) And her big speech where she puts the "king" in his place is the stuff Oscar accolades are made of.
But then so is Ariana DeBose's transcendent reinterpretation of the Anita character in Spielberg's West Side Story. DeBose takes an iconic role, which previously won Rita Moreno an Oscar, and makes it her own by bringing a new dimension to the character's effervescence and also despair that hints at the sinister colorism dynamics that persist even among Puerto Rican culture. However, the fact the same role already famously won another actress an Oscar will probably keep DeBose from taking it here.
BEST SUPPORTING ACTOR
Ciarán Hinds, Belfast
Troy Kostur, CODA
Jesse Plemons, The Power of the Dog
J.K. Simmons, Being the Ricardos
Kodi Smit-McPhee, The Power of the Dog
Despite competing against one of his co-stars, nothing is going to stop Kodi Smit-McPhee from taking home a deserved Oscar in this category. And truthfully, this is a real toss up for me personally. Smit-McPhee's performance is so textured, and so deserving of being revisited and ruminated upon over multiple viewings, that it is difficult to say it is not deserving.
That said I still love Ciarán Hinds in Belfast. He's an often underrated actor who brings sly intelligence to the grandfather archetype in the Branagh movie. However, given he didn't get even a SAG nomination (and there is quite a bit of crossover between the SAG and Academy voting pools), he doesn't seem even close to being a major competitor.
BEST ORIGINAL SCREENPLAY
Belfast
Don't Look Up
King Richard
Licorice Pizza
The Worst Person in the World
Traditionally, Original Screenplay is the category where the Academy awards Oscars to movies too challenging or outside their comfort zone for major recognition. And we predict that will happen again with Paul Thomas Anderson picking up his fifth Oscar nomination and first win for writing via Licorice Pizza.
The Academy seems more prone to recognize Anderson this year given he got into the Best Director short list. But this is the category they will do it in.
BEST ADAPTED SCREENPLAY
CODA
Drive My Car
Dune
The Lost Daughter
The Power of the Dog
Call us science fiction nerds, but what Denis Villeneuve pulled off in making Frank Herbert's sprawling and bizarre Arrakis accessible and captivating is worthy of some kind of award. Perhaps if Part Two is as good as the first movie, he'll get that Oscar then. In the meantime, he'll have to settle for the nomination as Campion picks up another Oscar for screenwriting, which will be her second after The Piano.
BEST ANIMATED FEATURE
Encanto
Flee
Luca
The Mitchells vs. the Machines
Raya and the Last Dragon
We may not talk about Bruno, but we can give him Oscars. Indeed, Walt Disney Animation Studios' Encanto was a theatrical and Disney+ sensation this holiday season, and looks poised to be recognized as such by the Academy. But personally, we preferred the same animation house's narratively tighter and just as emotionally cathartic Raya and the Last Dragon.
BEST INTERNATIONAL FILM
Drive My Car
Flee
The Hand of God
Luana: a Yak in the Classroom
The Worst Person in the World
With Drive My Car being the only foreign language film in the Best Picture race, it's obvious who's winning in this "kids table" category for foreign films. Still, there is a charming wistfulness to The Worst Person in the World, which captures the flakiness and self-loathing that comes with being a young person in the early 21st century.
BEST CINEMATOGRAPHY
Dune
Nightmare Alley
The Power of the Dog
The Tragedy of Macbeth
West Side Story
Best Cinematography is likely to be one of the places the Academy at last gives recognition to Dune, a technical marvel, as indicated by its stunning use of IMAX cameras. But personally, what Dan Laustsen achieved in crafting the visual language of Guillermo del Toro's neo noir is stunning.
BEST PRODUCTION DESIGN
Dune
Nightmare Alley
The Power of the Dog
The Tragedy of Macbeth
West Side Story
The production design of Dune succeeded in immersing you in the illusion that you were on another planet. That will probably win it the Oscar in this category. Even so, we feel obligated to give a shoutout to Tamara Deverell, who before Nightmare Alley was mostly known for the world of television. After her decadent art deco sets and layered visions of the American Midwest in the last throes of the Depression, that is certainly going to change.
BEST COSTUME DESIGN
Cruella
Cyrano
Dune
Nightmare Alley
West Side Story
Did you see those decadent gowns and getups Emma Stone rocked in Cruella? They were practically made for this category.
BEST DOCUMENTARY FEATURE
Ascension
Attica
Flee
Summer of Soul
Writing With Fire
Oscar winner Questlove has a nice ring to it, no? Get used to it, because Summer of Soul is a winning crowdpleaser of a documentary that brings long overdue attention to the obscured Harlem Cultural Festival of 1969.
BEST ORIGINAL SCORE
Don't Look Up
Dune
Encanto
Parallel Mothers
The Power of the Dog
It better be Dune. Hans Zimmer created space-age instruments! That and below-the-line voters tend to love films from directors like Villeneuve, who knows how to showcase all the crafts and guilds.
BEST ORIGINAL SONG
"Be Alive," King Richard
"Dos Oruguitas," Encanto
"Down to Joy," Belfast
"No Time to Die," No Time to Die
"Somehow You Do," Four Good Days
We imagine Disney and Lin-Manuel Miranda are kicking themselves for not submitting "We Don't Talk About Bruno" in this category. Disney's biggest musical hit since "Let It Go" is cleaning up on Billboard and TikTok, but because the studio assumed a ballad was a better bet than this quirky ensemble number, they've cleared the way for Billie Eilish to win her first Oscar for the spookiest Bond song to date, "No Time to Die."
BEST VISUAL EFFECTS
Dune
Free Guy
No Time to Die
Shang-Chi and the Legend of the Ten Rings
Spider-Man: No Way Home
Dune immersed you into a world with dragonfly aircraft and enormous worms. It will win here.